Pharmacy Students Don their White Coats
The School of Pharmacy honors two cohorts of students as they transition from pre-professional studies to becoming professional caregivers.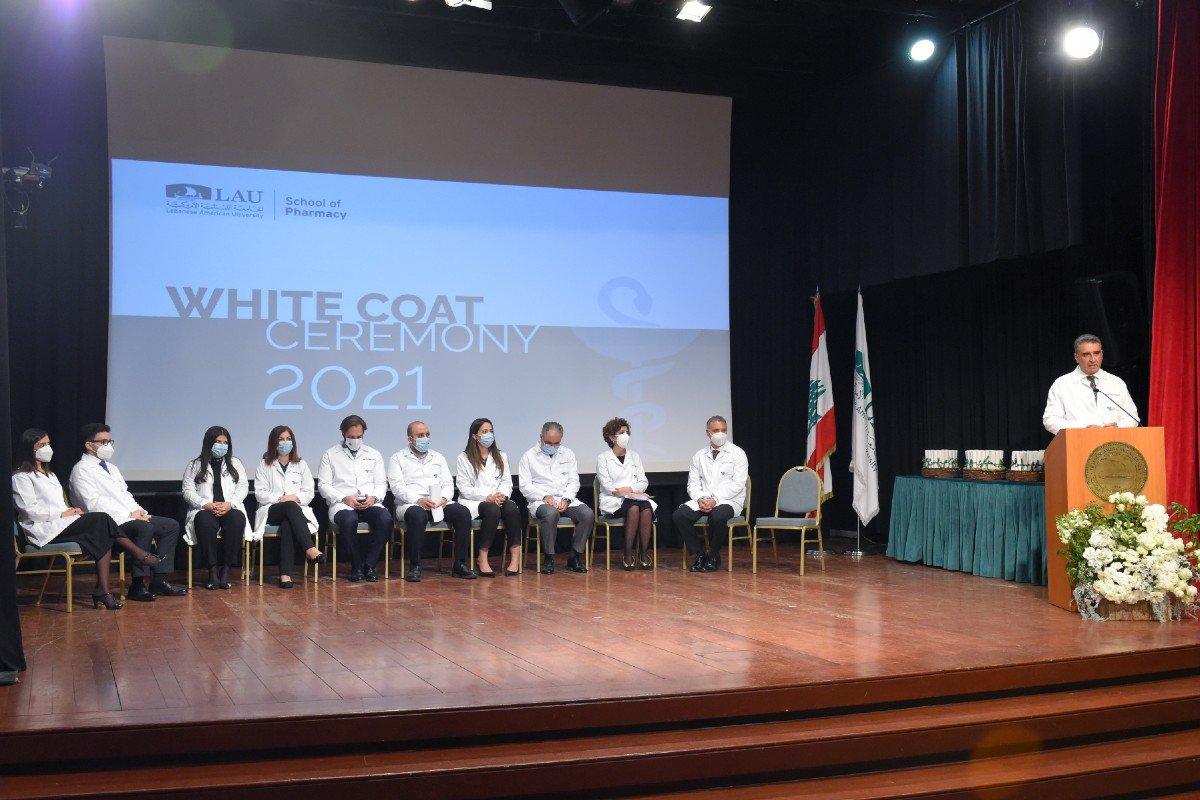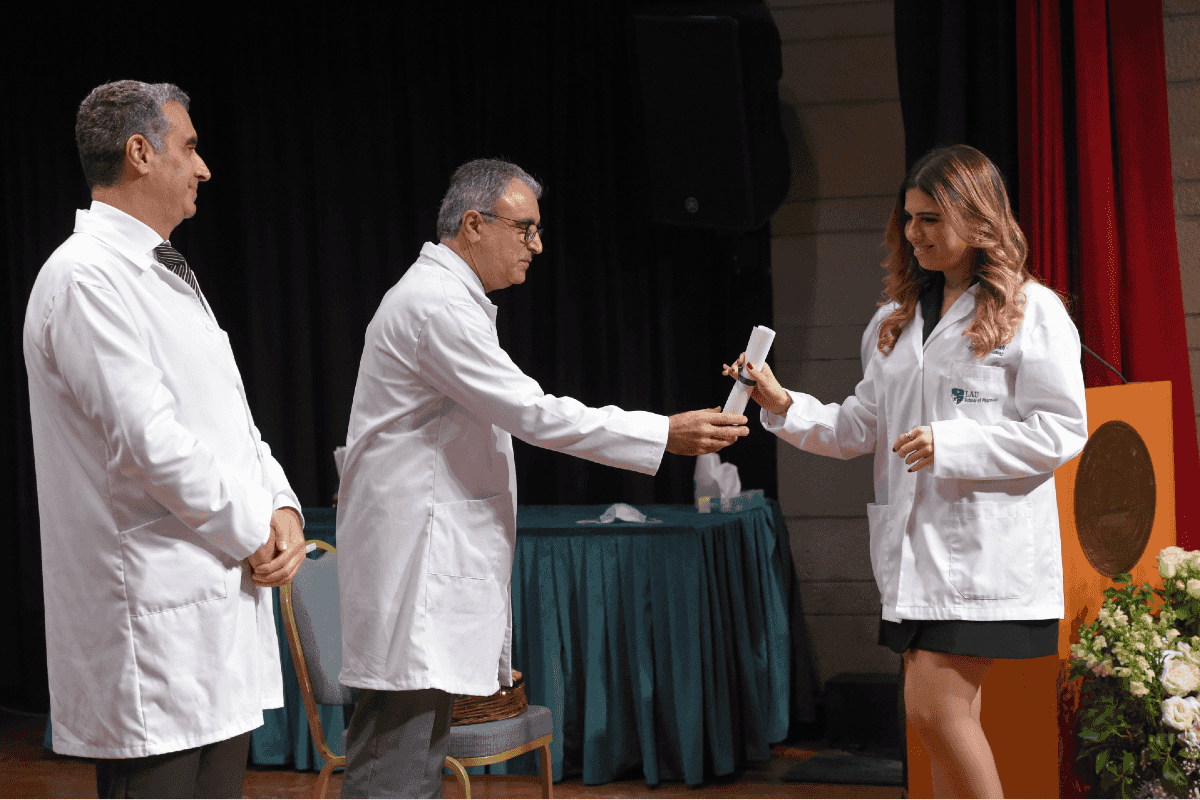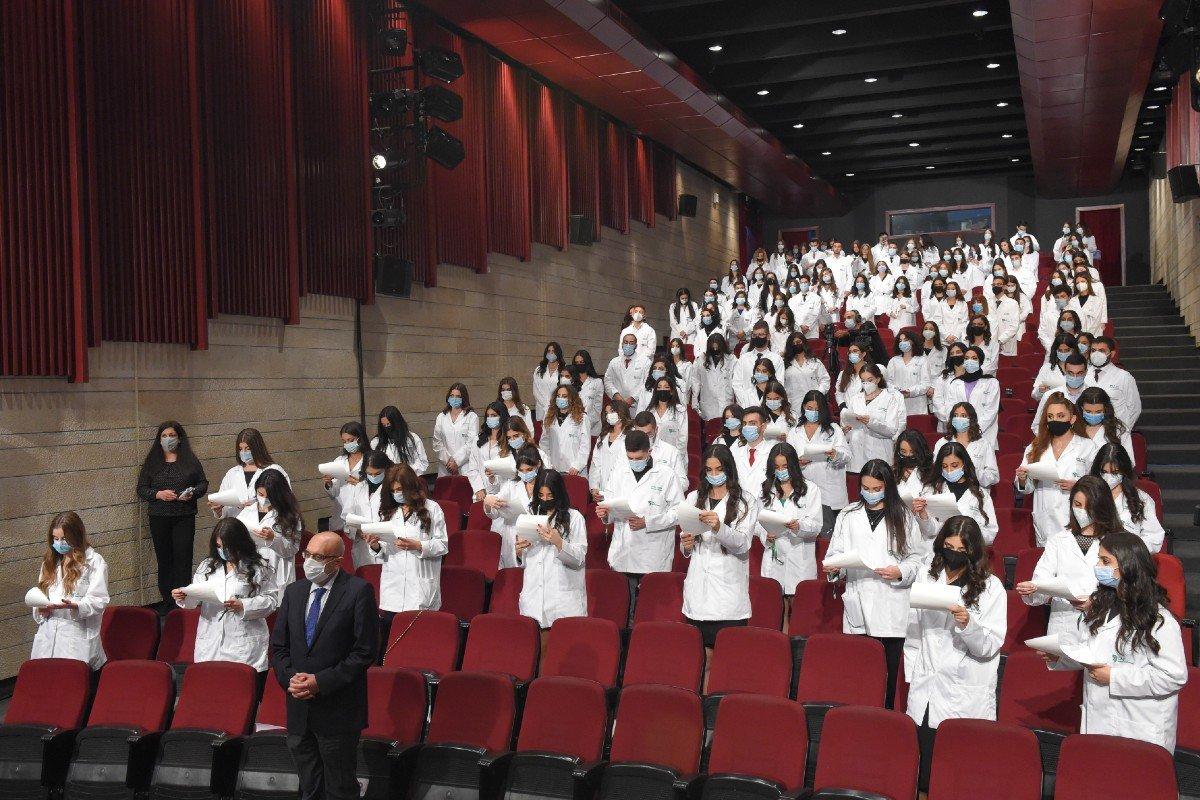 Following a one-year hiatus because of the pandemic, the School of Pharmacy held its White Coat Ceremony to celebrate two classes of 129 future pharmacists: Professional Year 1 (P1) and Professional Year 2 (P2) students.
These two cohorts have started their professional degree program incorporating didactic and lab courses, experiential education, interprofessional education and practice, and co-curricular activities.
The ceremony at the Selina Kurban Auditorium on Byblos campus was attended by LAU President Michel E. Mawad, Provost George E. Nasr, Dean Imad Btaiche, as well as the school's faculty and students, while families and friends followed the event remotely through a live broadcast.
Dr. Mawad drew from his own experience as a physician to impart valuable advice to the students. "You are now privileged to enter into somebody's life and try to help them overcome their diseases and fears – you are now a caregiver – and in doing so, you will become a better person, and surmount your own worries and fears," he said.
The president further underlined the rapid pace of technological advancement in healthcare and the need to embrace it. "From artificial intelligence to gene therapy and cancer treatment, you will play a major role in designing the treatment of the future and administering it," he told the students.
Acknowledging the challenging circumstances in the country that the students have had to contend with for the past couple of years, Dr. Btaiche delivered a message of hope. He encouraged them to count their blessings, to view the future not as worse or better, but as different.
"We have no choice but to keep fighting, despite all the challenges. And truly, as a faculty, we are empowered by your presence, and we derive strength from your own fighting," he concluded.
On behalf of the P2 cohort, Maria Abou Hatem and Mariane Bazzi thanked the school's faculty, their families and friends for their support, especially through exceptionally trying conditions. "We promise to always honor this white coat – this new beginning is a privilege as it creates a feeling of commitment, responsibility and devotion to our profession," said Bazzi.
Celebrating their rite of passage, P1 class representatives Yara Stephan and Mark Anlian pointed to Lebanon's turmoil and events that have come to mark their formative years. "Since healing is an art and science, and excellence is a state of mind, we promise to be excellent scientists and 'artists' of healthcare," said Anlian.
Afterwards, each student walked up to the stage to receive their copy of the "Pledge of Professionalism" and pose for a picture with their faculty member, the dean, provost and president.
The ceremony concluded with the students taking the Pledge of Professionalism read out by the school's Associate Dean for Academic Affairs Roy Kanbar.