URaD: Young Scholars in the Making
The Undergraduate Research and Discovery Program is designed by the School of Arts and Sciences to mold undergrads into future researchers.
By Hanan Nasser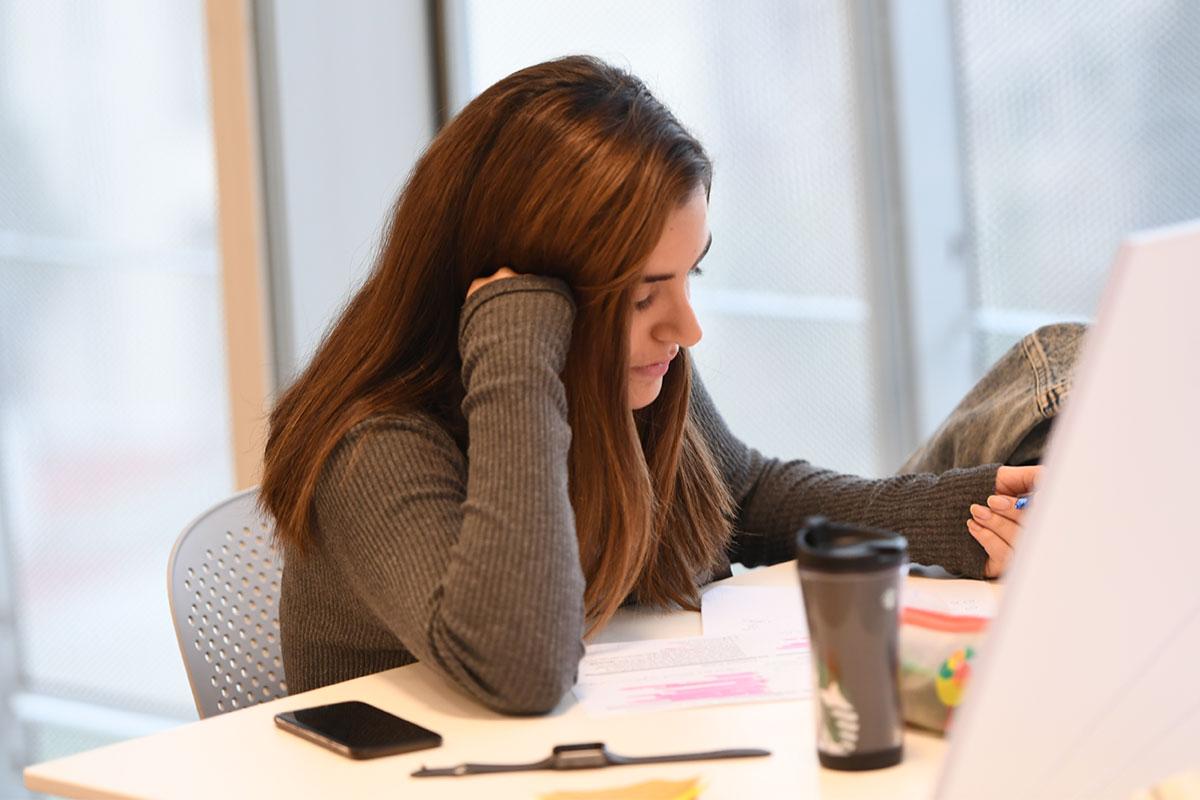 The School of Arts and Sciences (SoAS) has created a competitive one-year program for its junior students from all majors that allows them to conduct research and/or artistic projects under the direct supervision of a faculty mentor, without the pressure of failing their courses.
"The original idea was an academic vision to allow undergraduate students to do research for research's sake, without it being attached to a course or a degree," explained SoAS Dean Cathia Jenainati of the signature program.
"Because we have high achieving students, we thought the best way to do this would be to set up a serious, quite competitive, research program but with low stakes. While the students are made to feel that doing well matters, it is alright, in the end, if their research doesn't actually materialize," she said.
In line with LAU's Third Strategic Plan, the Undergraduate Research and Discovery Program (URaD) helps to promote pedagogical innovation and involve students in research. It adopts a "well-established pedagogic tradition" that teaches students "how to fail better and how to cope with failure in a professional manner," Dr. Jenainati added, as it is designed to push the young scholars to take risks in their research, knowing that any outcome would not affect the course of their education.
The school has now launched a call for applications for URaD's second edition to all SoAS students. Students from any major can apply online by April 12, 2021.
URaD Students: Mazen Al Hammoud – Topic: The Role of mTOR Activation After Arginine Deprivation in Acute Myeloid Leukemia (AML)
Biology junior student Mazen Al Hammoud describes URaD as a turning point in his life that resulted in his involvement in seven research projects, two of which he is leading.
"I am currently working on medical projects with my mentor Dr. Essa Hariri at Cleveland Clinic Foundation mainly, and I am in the process of publishing a few manuscripts as a co-author," he said.
Furthermore, he was selected as the only undergraduate students on the advisory board of medical students of the new medical journal International Journal of Clinical Research. He has also obtained his peer review certificate from Publons Academy and is now helping other medical students take theirs.
"All this would not have been achievable without the amazing work URaD put in last year. Before URaD, I was on the pre-medical track. However, after gaining insight on research, I decided to pursue a master's before going for Med School, aiming for a career as a physician-scientist," he said.
URaD scholars conduct their research under the direct supervision of one or more mentors of their choice from the school's seven departments. Al Hammoud was mentored by Associate Professor of Biochemistry Ralph Abi Habib on cancer therapeutics.
"I don't think there is a biology student who is not interested in knowing more about cancer and trying to dig deeper into the topic," he said of his choice. "Because LAU's faculty members mostly work on cancer therapies, I got in touch with Dr. Abi Habib who was working on targeted therapy for AML [acute myeloid leukemia]. I was interested in taking this opportunity knowing that AML has very limited therapeutic options and receives little funding due to its uncommon nature," he said.
"Dr. Abi Habib's lab already knew that after depriving AML cells from arginine, these cells would die by autophagy – the body's ability to clean out damaged cells – but the mechanism remained vague. This is why I decided to investigate this gap under his mentorship," he said.
URaD enabled Al Hammoud to develop his professional networking, introducing him to alumna Martine Abboud (BS '13), a junior research fellow at Oxford's Chemistry Department, who was also featured in the Europe category of the 2019 Forbes 30 under 30. Dr. Abboud is now Al Hammoud's professional mentor and project supervisor of his educational startup WeGuide Lebanon.
"Through Dr. Abboud, I got in touch with Dr. Hariri at Cleveland Clinic Foundation," he said.
The program also allowed Al Hammoud, still in his junior year, to study advanced concepts in the fields of biochemistry, cell signaling, and physiology.
"I truly think that URaD offers a fertile ground to begin research, especially if the student is proactive and willing to build connections; it's a domino effect," he said.
Program Structure: What to Expect and How to Choose Your Mentor
Once admitted, URaD scholars receive intensive training in the first week by faculty from across the school. The program runs eight three-hour workshops titled Discovery Curriculum, which must be taken as a sequence.
Workshops tackle literature research and review, how to write a research proposal, and how to effectively communicate the research once it is completed.
The literature search session, for example, goes beyond searching library database journals and trains scholars to become more discerning about the evidence they are using.
"It was more about understanding that instead of reading a journal article in literature that mentions theorists, students look up and read the actual theorists," said Dr. Jenainati.
The Discovery Curriculum includes a capstone week, in which sessions are divided into pathways.
"Those who were more interested in quantitative and more technical projects attended a python and programming day. Students who were more interested in qualitative projects did a session with me on mapping the self against the landscape," Dr. Jenainati said.
"I wanted them to understand the way in which research maps itself on different landscapes, be they economic, social, or environmental. We tried to look at case studies of how a typical piece of research could then have implications in different sectors and fields."
Faculty members who chose to be URaD mentors offer consecutive 30-minute meetings with interested students during which they talk about who they – the mentors – are as researchers and the work they do.
This led to some students opting for more than one mentor. For example, a psychology student ended up having two mentors, one in psychology and one in education, Dr. Jenainati said.
"That was the idea of URaD; it is an all-encompassing, interdisciplinary space that allows you as a student to get out of your discipline. No one will ask you what your major is if you say it is for URaD," she added.
Dr. Jenainati said that one unintended positive outcome was that students soon became hooked on their research and were inspired to take it a step further. Some asked to turn their URaD work into capstone or senior projects and to develop their ideas.
At the end of each cycle, all scholars will receive a certificate of completion from the Dean's Office even if the research does not materialize or they were unable to prove a theory.