White Coat Ceremony 2021
LAU honors the incoming class of medical students who have completed their academic learning, as they get ready for clinical training.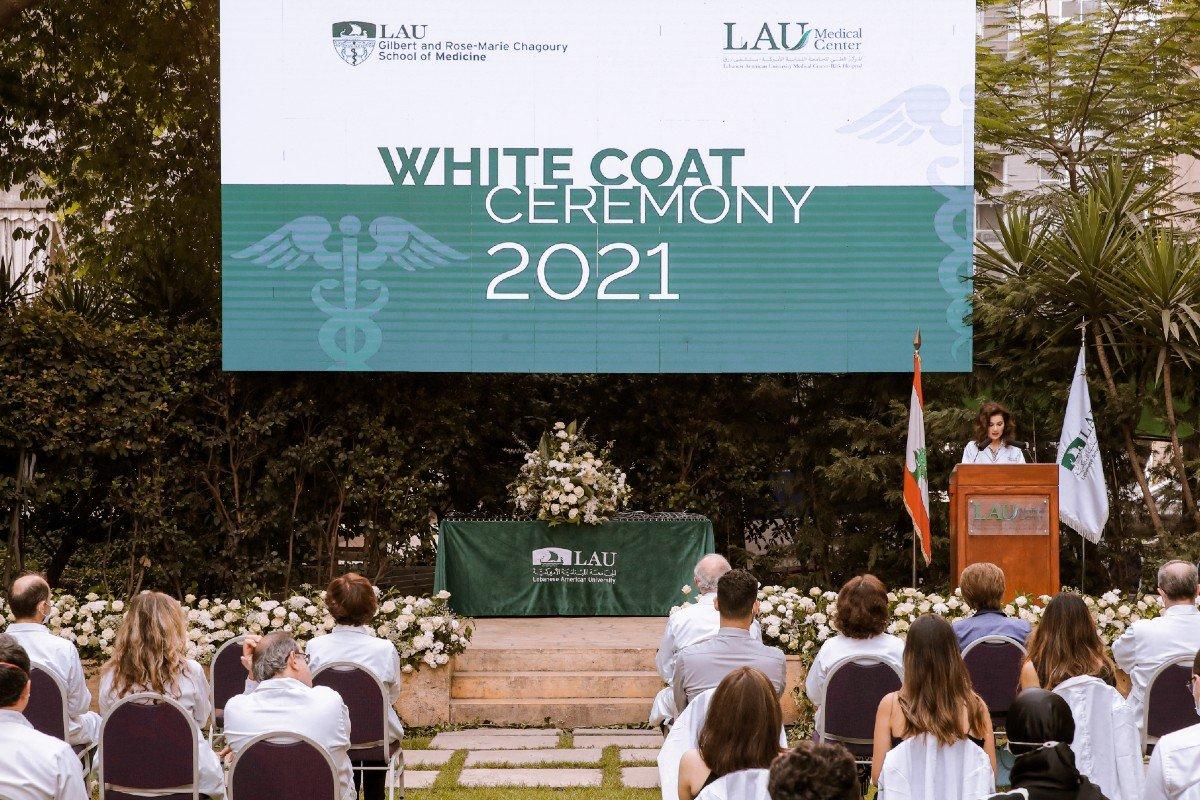 Marking the rite of passage of 61 medical students from the preclinical years to clinical wards, the Gilbert and Rose-Marie Chagoury School of Medicine hosted the White Coat Ceremony at the LAU Medical Center-Rizk Hospital outdoor garden on June 7.
With strict adherence to health and safety measures, LAU students were donned with white coats and stethoscopes to mark their transition into an exciting new chapter of their academic career, as families and friends followed a live stream of the event.
President Michel E. Mawad imparted valuable advice on the students. "You have to be adaptive to technical developments in your daily practice of medicine, flexible in your thinking, nimble in using precious resources, and have a clear conscious toward your patients."
Reminding them of the founding principle of medicine – that all lives are equal – Dr. Mawad urged the students to "recognize the common core of humanity in your patients and develop it within yourselves."
Interim Dean Sola Aoun Bahous spoke about how perception of the medical profession had shifted historically. "Up until the late 19th century, doctors used to wear a black gown – reflecting formality, as diseases were thought to be serious and sinister matters, and as encounters with physicians were viewed as the last resort prior to death, with rarely any benefits," she explained.
At the turn of the century, and following the publication of the Flexner Report that spurred medical schools to elevate their training and graduation standards, views shifted. Progressively, as doctors became more adept, compassionate and caring, "the whiteness of medicine became reflected in physicians' coats – a symbol of hope, humanity and professionalism," continued Dr. Bahous.
"As you prepare to wear your white coats," she told the students, "you will wear responsibility, teamplay, and a countless set of values in every act of care toward your patients."
Expressing his respect and admiration of the resilient cohort, keynote speaker and Clinical Assistant Professor of Pediatrics Edouard Sayad (MD '13) said: "You give us hope to continue building a better country, to providing better healthcare, and to enriching medical education."