A Seat at the Table: Women Participation in Decision Making in the Arab World
LAU-MEPI TL Symposium probes female involvement in political and public life, focusing on Tunisia and Lebanon.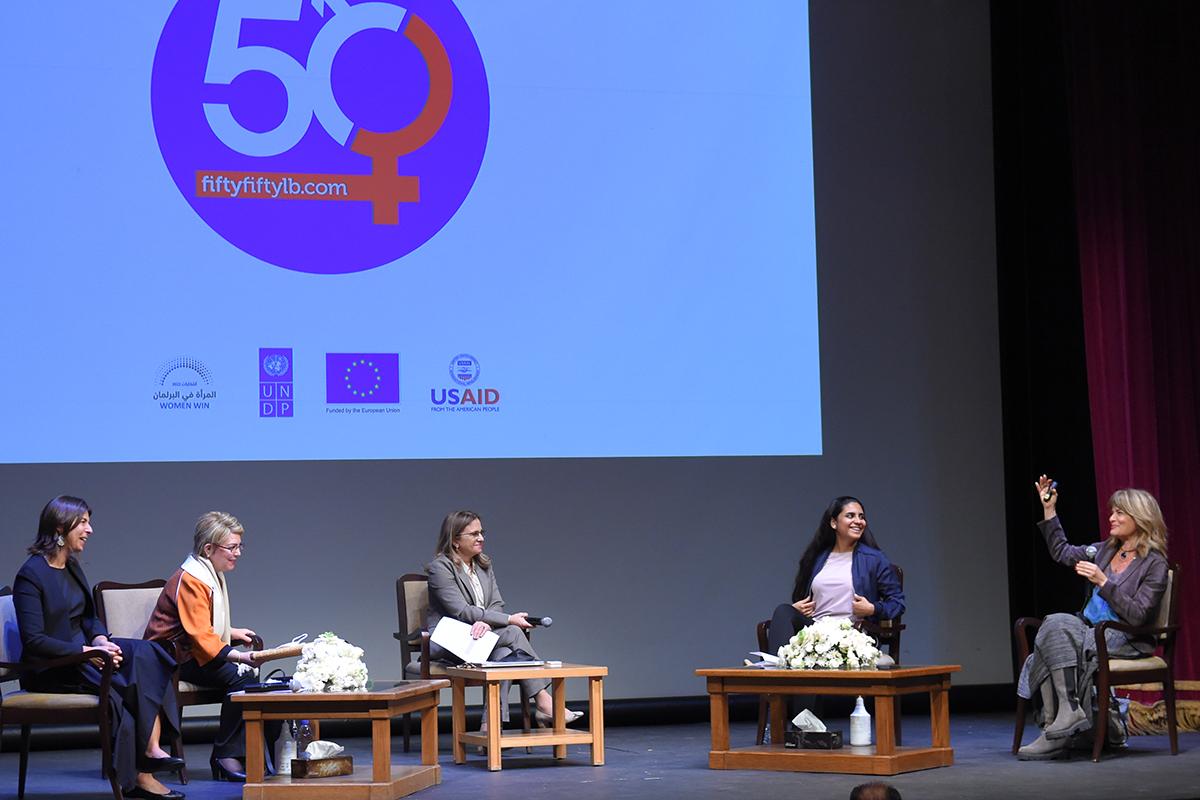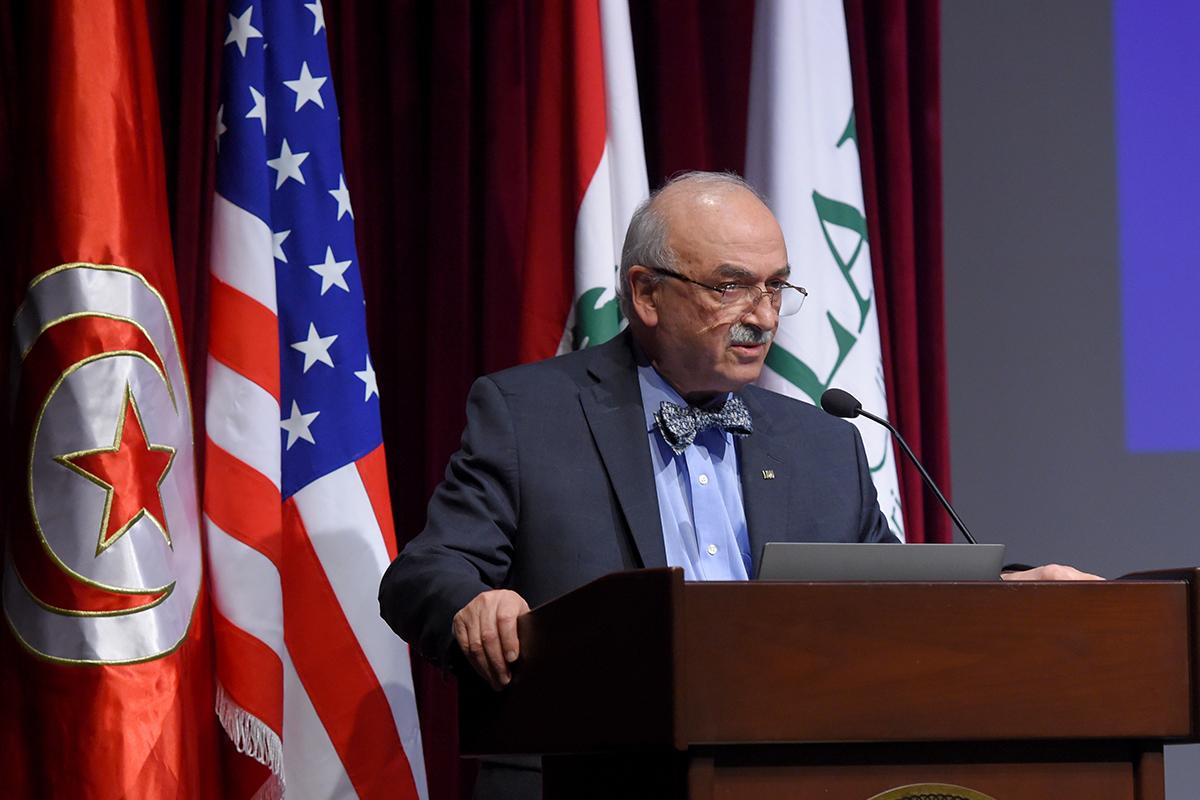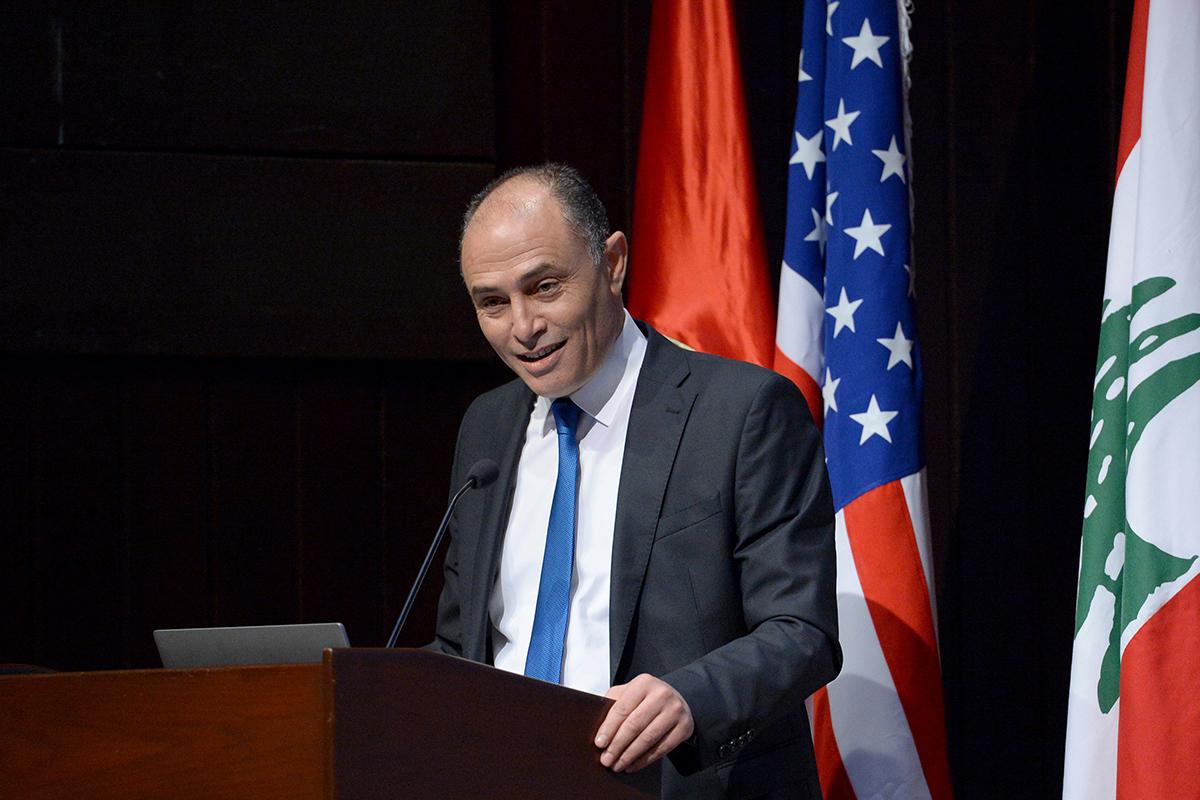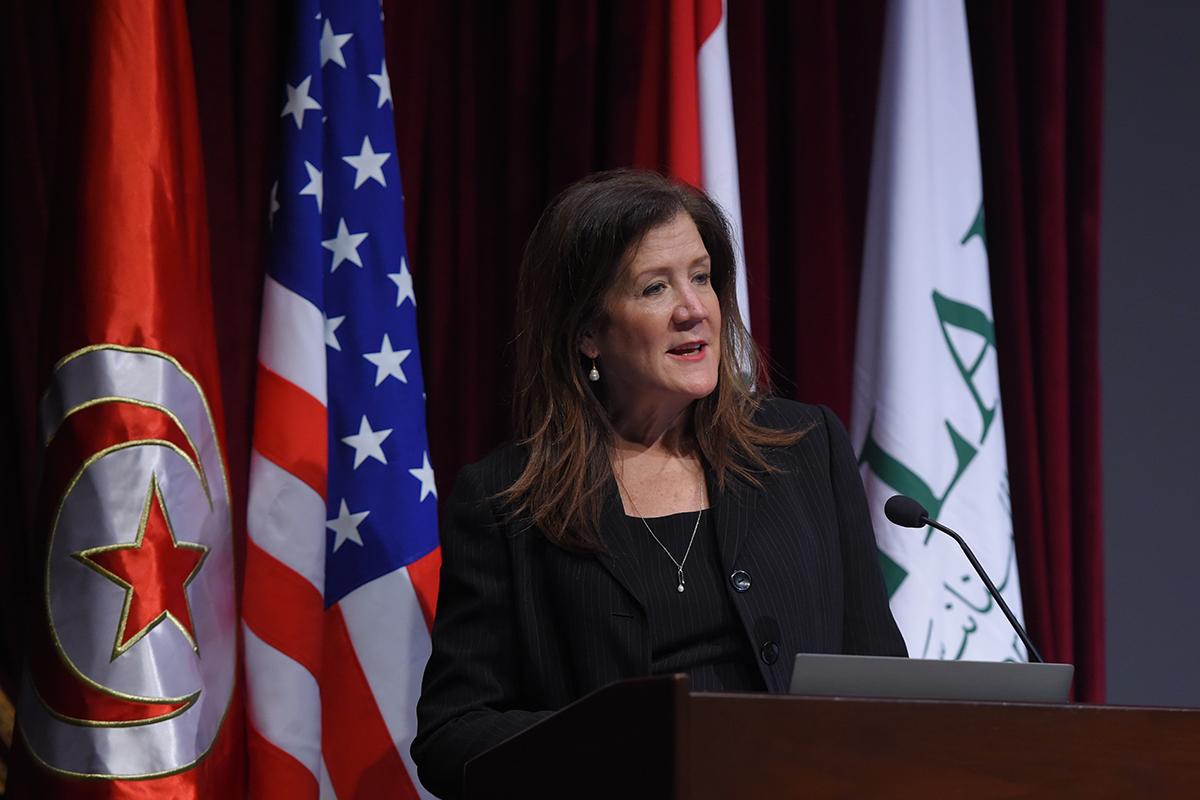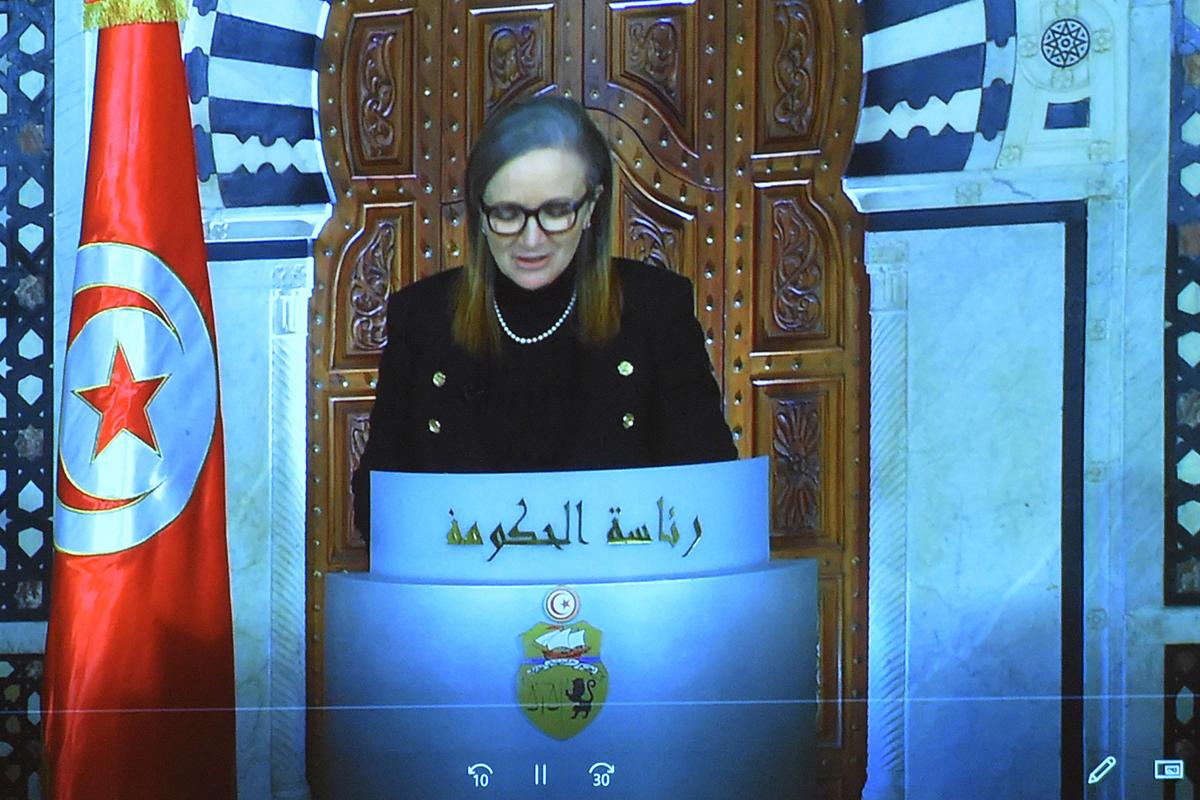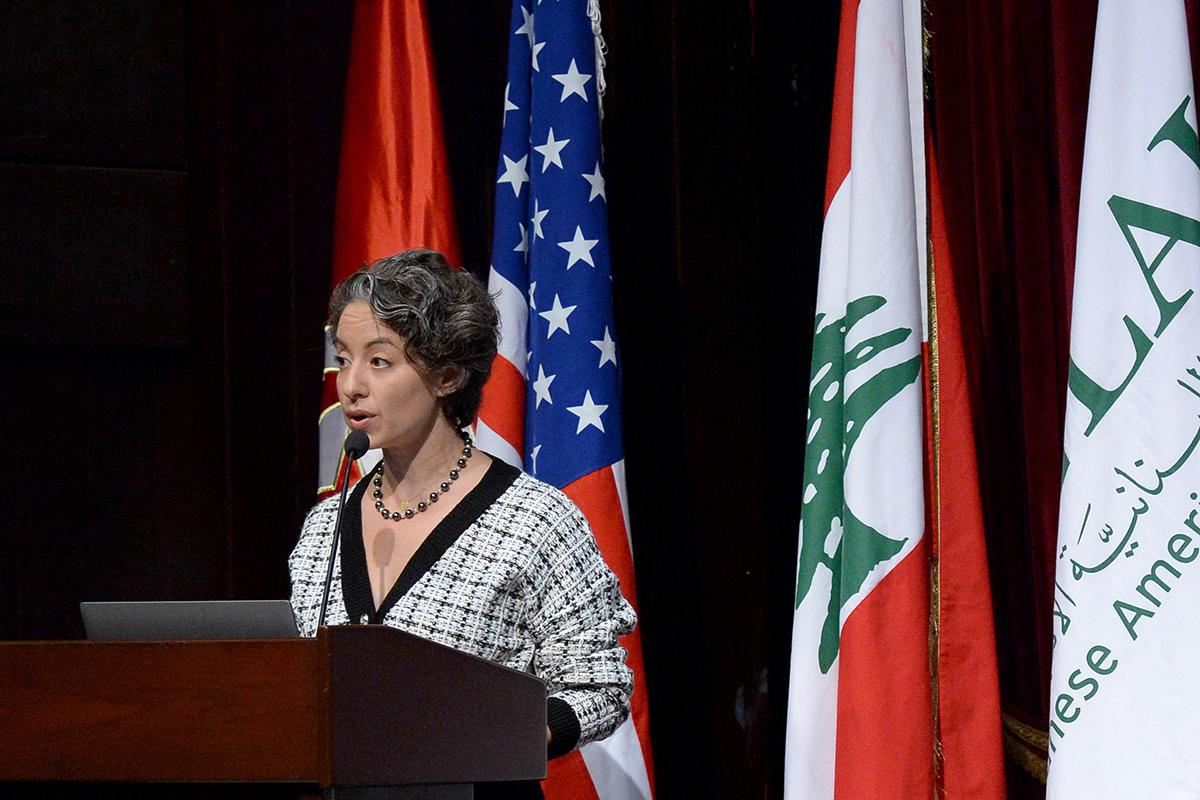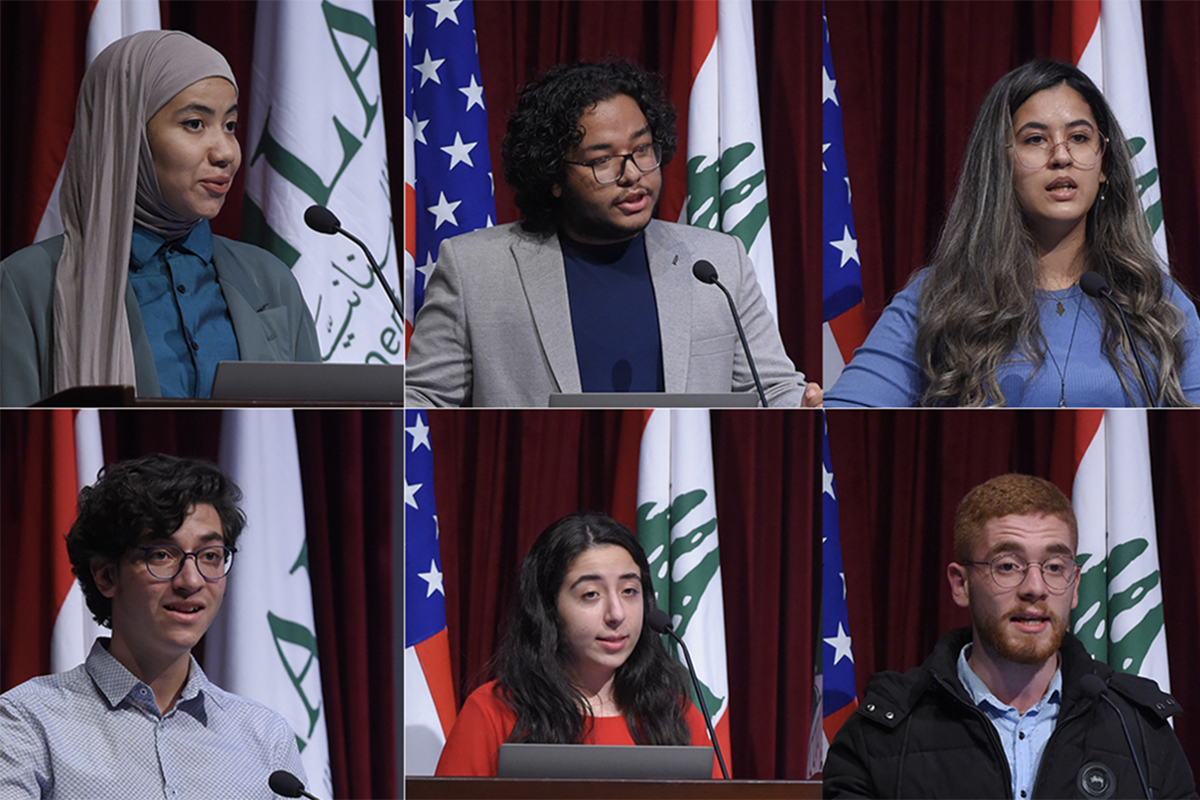 Prompted by the recent appointment in Tunisia of the first female prime minister in the Arab world, the US-Middle East Partnership Initiative Tomorrow's Leaders program (MEPI TL) at LAU hosted a panel discussion on Women's Participation in Decision-Making in the Arab World, held in collaboration with the Embassy of Tunisia in Lebanon.
The discussion focused on the opportunities and challenges shaping women's participation in decision-making positions in the Arab world, highlighting good practices and measuring progress in the region related to women's equality and how that can help create more stable governments.
The idea for the panel came from the Tunisian MEPI TL scholars at LAU, for whom the appointment of Prime Minister Najla Bouden Romdhane in October 2021 was momentous. Their mentors at the university – spearheaded by LAU-MEPI TL Executive Director Dina Abdul Rahman – helped them prepare for and organize the event.
The symposium at Irwin Hall was attended by the Ambassador of Tunisia in Lebanon Bouraoui Limam, the Ambassador of the US to Lebanon Dorothy C. Shea, LAU President Michel E. Mawad, Vice President for Student Development and Enrollment Management Elise Salem, representatives from both embassies, and LAU faculty, staff, and students. It was also livestreamed on social media platforms.
Background
Uprisings across the Arab world in the name of democracy, equal rights, and, for women in particular, inclusion in the decision-making process have yielded uneven outcomes. In Tunisia, Iraq, and Libya, women have won seats in parliament and government, but progress is not uniform in the region, least of all in Lebanon, where the current parliament refuses to institute a female quota for the upcoming parliamentary elections.
But what has been accomplished so far is only the beginning of an uphill battle. "In the case of Tunisia, the 2010 revolution has been characterized both by successes and challenges," said Ambassador Limam.
"Tunisia is currently cultivating a rather extraordinary capacity to have a public debate on the different ways to evolve the society on values of democracy, equality, and justice," he said, drawing parallels with Lebanon in terms of capable human talent.
The revolution's achievements, he added, are owed to "a dynamic civil society and brave women's rights associations," which have paved the way for the appointment of Bouden Romdhane as the first female Arab PM and nine women in the new cabinet.
In a recorded message played at the event, Bouden Romdhane spoke about the current economic, health, and societal challenges facing all leaders in positions of power, and how these challenges become more pronounced for female leaders.
"The struggle for women to benefit from the same opportunities as men and to access decision-making positions is a long-term fight and we have only just begun," she said, adding: "But it is thanks to the participation of all – men and women – and with a deeper thinking of educational, cultural, and social precepts that we will manage to create long-lasting change."
Echoing these thoughts, Ambassador Shea affirmed the US Government's commitment to "create and help develop a cadre of leaders who will use their education, concrete experience, and skills to enact positive change in their respective countries and communities" – the ethos upon which the MEPI TL program was founded.
To date, the US State Department has invested through the Middle East Partnership Initiative (MEPI) over $50 million in the TL program and through the US Agency for International Development (USAID) another $70 million in the Higher Education Scholarship program (USP Program). Ambassador Shea said, "We are a proud, committed partner to LAU, to MEPI, and to everyone who is working to make Lebanon a stable, secure, sovereign, and prosperous country."
Dr. Mawad noted how, only a short while ago, having women in decision-making positions had sounded like a far-fetched dream. "Not anymore, however, thanks to the likes of Najla Bouden, who sure-footedly made her way into a man's world and broke a barrier that has for long deprived society of all of its grey matter," he said, affirming: "Progress toward gender equality is irreversible."
Before opening the panel discussion, Algerian LAU-MEPI TL Graduate (TLG) student Safa Difi explained that she, along with 17 of her MEPI TL colleagues, had conducted research on a volunteer basis to provide background information on the representation of women across 22 Arab countries. The results of their research were displayed in the form of a poster presentation at Irwin Hall for attendees to view.
As examples of major milestones achieved, their findings showed that in Qatar, 51 percent of women were employed, while the percentage in Kuwait was quite similar with a total of 53 percent of women in the workforce. Mauritanian law allowed for a 20 percent quota for women in municipal councils and the November 2006 elections resulted in more than 20 percent representation of women. While women's participation in the Egyptian parliament increased from 2 percent in 2012 to 15 percent in 2016 up to 25 percent in 2021, the percentage of female ministers in Lebanon reached 31.6 percent.
The following students presented an overview of the research findings: MEPI TL Undergraduate (TLU) scholars Hiba Kammoun from Tunisia, Mohamad Hedi Jaza from Tunisia, Omar Eladarousy from Egypt, as well as MEPI TL Gender Studies (TLS) scholars Perla Bou Dehen and Hadi Baher from Lebanon.
The Panel Discussion
LAU Visiting Assistant Professor and LAU-MEPI TLS Academic Director Dr. Lina Kreidie opened the panel with an overview of the situation in Arab countries. Dr. Kreidie said, "Since 2010, the Arab people have been struggling to build peaceful and democratic nations and women have been at the forefront of the revolutions, trying to pave their paths from the bottom up to the top political decision-making ranks."
The obstacles they have had to face are many and on different levels. Speaking about gender justice and women's political participation, Regional Consultant on Gender Equality at the United Nations Economic and Social Commission for Western Asia (ESCWA) Menaal Munshey defined the main barriers keeping women from public life in the Arab world as institutional, social, and cultural.
"Especially in light of the pandemic, we know that women suffered many setbacks, especially those working in the care economy. In order to build back better, we need more women at the center of decision-making and national response plans," she said.
The Tunisia Case Study
International Expert in Gender and Sustainable Development Policies, Monia Braham, presented the Tunisia case study, citing data on women's participation in politics and governmental positions. The numbers were encouraging and exceeded regional (and even global) averages: With women constituting 26.3 percent of parliament in 2019, Tunisia placed third out of 15 countries from the MENA region.
She explained that the transition from the quota system to the gender parity principle was promising for Tunisian women, as it allowed them to be largely involved in the decision-making process.
However, some gaps have yet to be addressed, she added, such as exerting more efforts to combat gender-based violence, advocating for gender justice policies, and ensuring women's engagement and voting rights, especially in rural areas.
The Lebanon Case Study
Co-founder and President of Fifty Fifty Joelle Abou Farhat expounded on the urgent need for a women's quota to ensure Lebanese women's representation in public office.
The numbers she presented were bleak: In 2021, the World Economic Forum ranked Lebanon at 183 out of 187 countries in terms of women's participation in parliament. On top of this, and ever since Lebanon became a sovereign state in 1943, only nine out of 88 governments included women. Out of 11 elected parliaments since 1963, only eight have included women, with the highest number being six representatives out of 128.
Abou Farhat drew a logical conclusion: "Without a quota system, women will not reach the parliament." The draft law proposed by Fifty Fifty suggests instating a 26-seat quota for women in the parliament while enforcing a 40 percent gender quota on candidacy on electoral lists, but it has yet to be reviewed by parliament.
The involvement of the youth in bringing about change is critical, said the Director of the Arab Institute for Women (AiW), Myriam Sfeir. She spoke about the October 17 Uprising and its impact in shifting the dynamic between various women's rights groups, manifest in how they came together, months later, in the aftermath of the Port of Beirut Explosion, to draft a unified charter of demands.
"The personal is political, and for democratic systems to operate efficiently and professionally, the equal representation and participation of women in politics and public life is a non-negotiable imperative," said Sfeir. "The argument for women's political participation is irrefutable – democracy cannot exist nor persist if half of its population is not wholly and equally engaged in decision making – nothing about us, without us," she concluded.