Building a Better Future with ASHA
Continued support from the United States Agency for International Development (USAID)'s American Schools and Hospitals Abroad (ASHA) promotes a culture of entrepreneurship, innovation and equality, and bolsters LAU's job-focused higher education.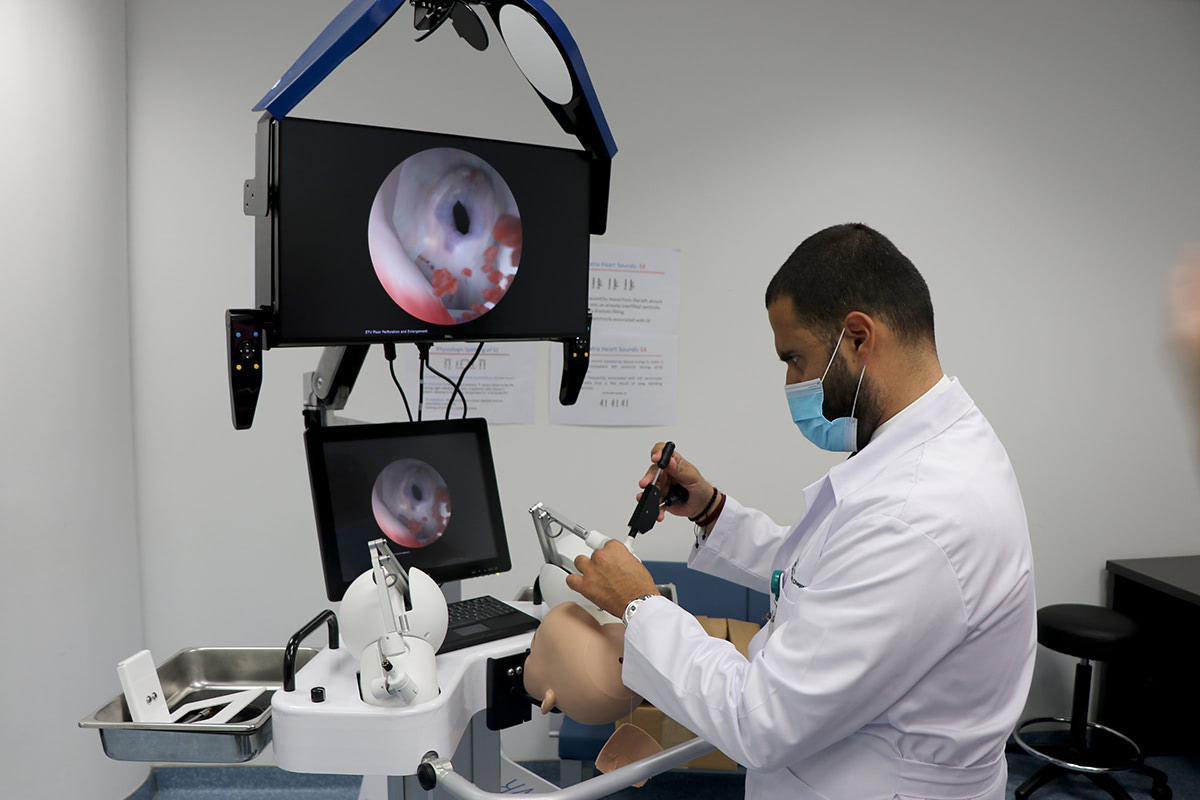 In 2020, when LAU's Clinical Simulation Center acquired through USAID's American Schools and Hospitals Abroad (ASHA) new virtual reality (VR) simulators and web-based education modules, it provided a rare opportunity for medical students, residents and physicians to hone their neurosurgical and interventional radiological skills without fear of harming patients.
Since then, and again thanks to ASHA, VR simulators have also been placed at the disposal of LAU postgrads and physicians, with the aim of producing safer and more capable surgeons and improving patient care.
These state-of-the-art simulators are among a set of innovative technologies the university was able to procure over the years, which was made possible by the generous support of the American people through USAID's ASHA. LAU's gratitude runs as deep as its need for such cutting-edge technology at its medical centers.
LAU currently has three ongoing ASHA grants with a total of just over $3.4 million with the objectives of expanding its outreach capabilities, developing its experimental capacity, and advancing education in environment and health.
These grants have helped LAU upgrade its labs and facilities at the health schools, as well as the schools of arts and sciences, engineering, architecture, and business to improve experiential learning based on US practices. More specifically, ASHA grants established an environmental lab at the school of engineering, 'smart' trading rooms at the school of business, and a genetics lab at the school of medicine, among others. Durable assets such as a business analytics simulation laboratory, advanced 3D digital modeling, functional engineering and architectural prototypes, and pharmaceutical design and evaluation have helped integrate entrepreneurship education into the academic curricula. The ASHA-funded VR and augmented reality educational resources have allowed students to learn, design and create prototypes, explore and test innovative ideas, and experiment with novel solutions to real-life situations – activities that encourage knowledge transfer and empower them to become better equipped for the marketplace.
"The steady support that our institution has received from ASHA and the American taxpayer over the decades is immeasurable," said LAU President Michel E. Mawad. "The focus of LAU's long history of successful partnerships with ASHA has been to graduate competent, well-rounded and ethical individuals through job-focused higher education, which was made possible by the indispensable tools it has provided us to fulfill this mission."
"The equipment we acquire through ASHA is quite essential for us in providing cutting-edge American higher education and healthcare," he added.
"The skills and practices that students as well as faculty hone by using the ASHA-provided technologies enable them to contribute to the country's economic growth, a more sustainable environment locally and globally, and safety in healthcare – altogether a better, safer and more equitable Lebanon," said Dr. Mawad.
Dr. Mawad concluded by reiterating, on behalf of the university, his sincere gratitude to ASHA, USAID, the American people and the US Government for being always there for LAU, and enabling it to promote cherished American values and showcase US generosity in supporting the pursuit of a better future for our society.