Careers in Translation: What to Expect and How to Establish Yourself in the Market
Alumnae provide insight to aspiring translators on employment opportunities and tips on how to maintain a clientele network.
By Hanan Nasser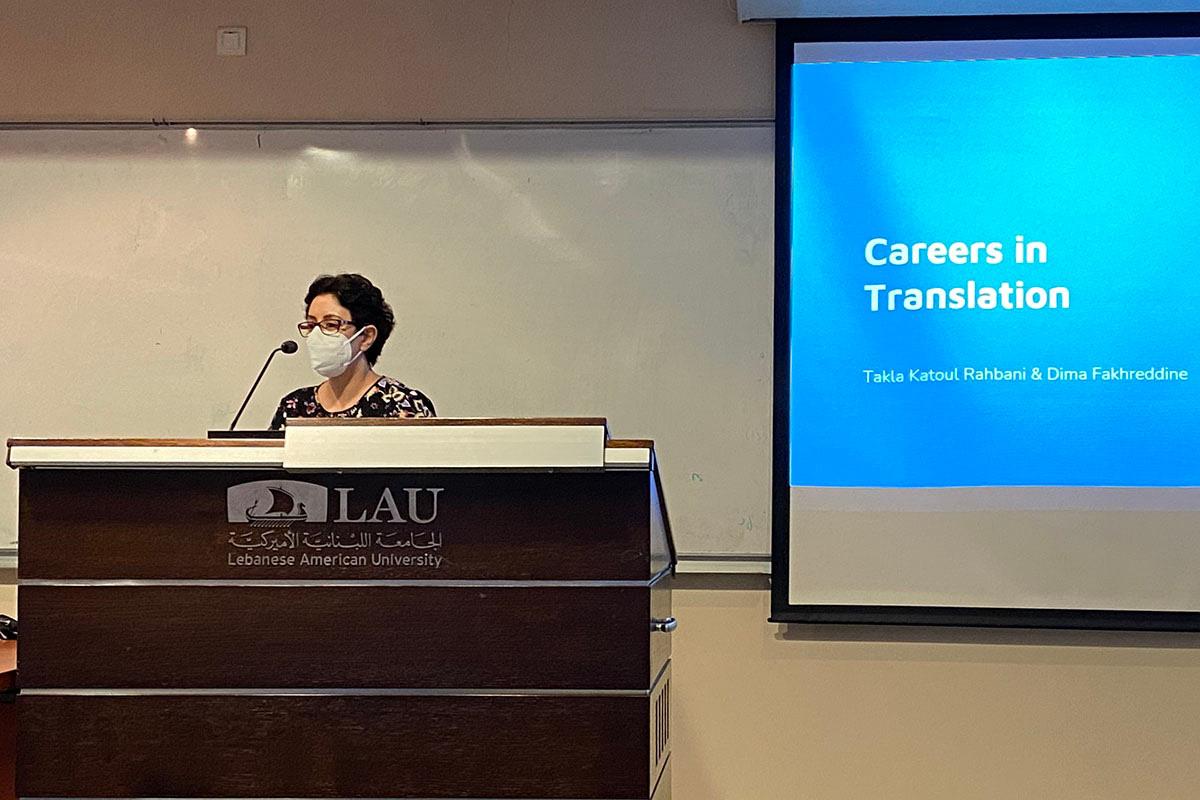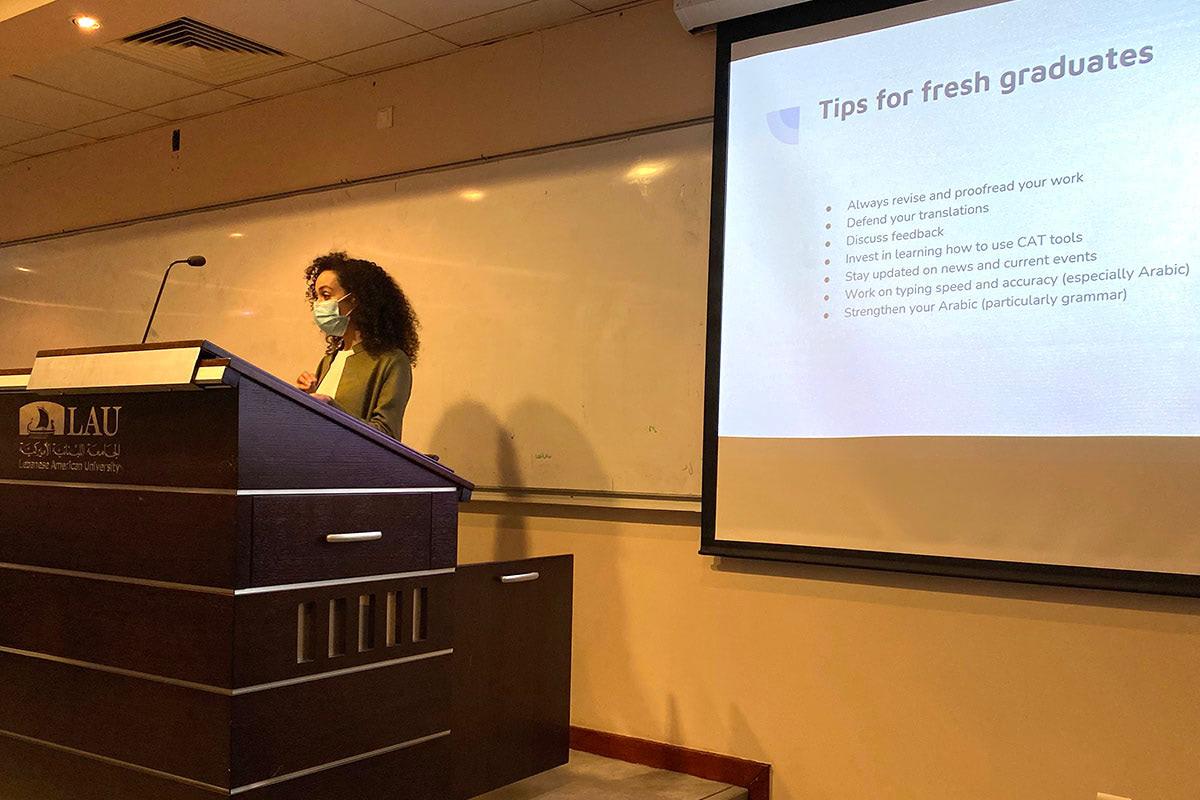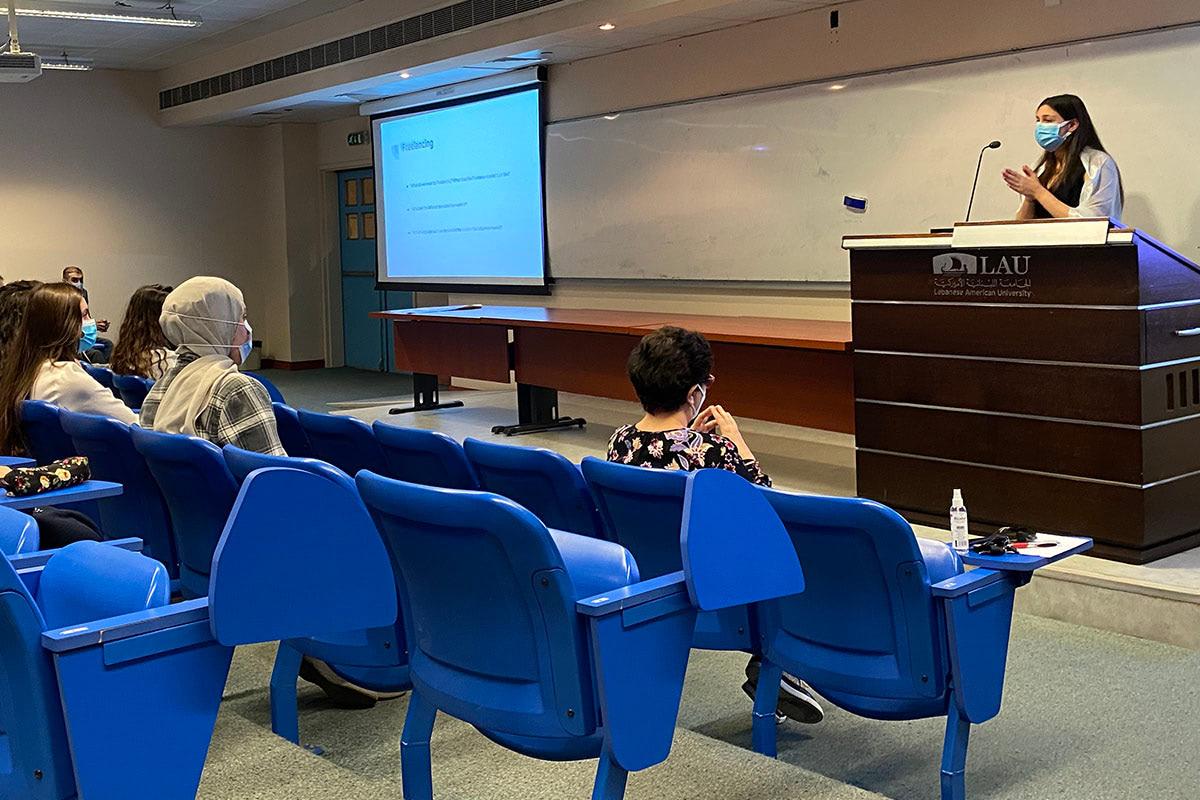 Translation is a versatile field when it comes to employment opportunities. Aided by a practitioner-oriented translation program at LAU, graduates get to wear several hats and navigate careers in translation, editing, copy writing and project management either as freelancers or in-house translators.
"Translation lies at the crossroads of languages, communication and linguistics, which makes it a multidimensional field involving activities in various areas," said Assistant Professor of Translation and Coordinator of the Unit of Linguistic Studies Andree Affeich.
Offered by the Department of Communication, Arts and Languages (CAL) at the School of Arts and Sciences, the translation program at LAU – which was launched in 2013 – has been growing steadily and has become known for its "high-quality, practitioner-oriented approach that is committed to developing highly qualified translators and linguists," she added.
In addition, what makes the program unique is its emphasis on two languages: Arabic and English. Students also have the option to take French courses, which allows both English-educated and French-educated students to apply.
Using labs equipped with modern software and databases, students take courses in specialized translation such as official and legal documents, business and economics, technical texts, and medical and pharmaceutical texts, among others.
"The program at LAU prepares the students well for the job market by exposing them to new methods of teaching, based on active learning and centeredness," Dr. Affeich said.
Acknowledging the importance of networking to help students find employment, the program organizes several events throughout the year with the participation of national and international scholars. "We introduce our students to potential employers, mainly publishing houses, translation companies, sworn translators, and UN institutions that are always present at these events," she added.
During an event organized by the CAL department on Careers in Translation, two alumnae of the translation program, Takla Katoul Rahbani (BA '18) and Dima Fakhreddine (BA '19) offered students insight about the job market in Lebanon and the region, what to expect, and how to build a solid reputation as reliable translators.
While at LAU, before embarking on her career in 2019, Fakhreddine had translated several circulars for the Lebanese Ministry of Education and Higher Education, reviewed the work of first-year students, and helped graduates and departments with translation material. Currently a senior analyst at Bablex, she is responsible for translating and reviewing legal, business, financial and technical documents, among others, as well as training interns.
Despite the ongoing economic crisis, she said, translators are still very much in demand, because there is no shortage of material that needs to be translated.
"But you should be less concerned about the number of opportunities out there and more concerned about establishing yourself in the market," Fakhreddine told the students. "You should not only be concerned about getting a job but working toward keeping that job, because the market is extremely competitive."
Prospects for in-house translators, she added, exist with language service providers, publishing houses, international organizations, NGOs, academic institutions, startups, multinational firms, in addition to marketing and advertising agencies, among others.
"Some translators choose to take on other lines of work, as reviewers, editors, proofreaders, copy writers, language instructors, terminologists, researchers, and/or interpreters," she said about the various roles that translation graduates can seek.
For her part, speaking from a five-year experience as a freelance and contractual translator for lead organizations and agencies, Rahbani focused on the freelance market and the kinds of opportunities currently available for graduates.
A senior translator for marketing, advertising, and digital content at the RWS – a global leading provider of technology-enabled language, content management, and intellectual property services – Rahbani specializes in government, NGO, and marketing translation.
"The freelance market is really big and diverse," she said. "You are always in demand, as nowadays with digital media, everything is posted online in multiple languages. Regardless of the type of texts, or who you are working for, there will be content to be translated."
In Rahbani's view, translators should not be selective when it comes to projects and should adopt a certain level of flexibility. She also advised the young audience to enrich their Arabic language skills and establish themselves as solid translators in their native language since it is the most in demand.
Among the challenges they might face in their profession is maintaining clients, and there is one way around that: Providing perfect quality translation. "This is when clients will send you work again and when they would recommend you to someone else," she said.
While the alumnae offered valuable advice and shared their professional experiences, LAU also strives to prepare its students for the job market through internships and employment opportunities.
"We rely first on the university's excellent reputation at national and international levels," said Dr. Affeich. "As the coordinator of the Unit of Linguistic Studies, I always receive requests from people or companies in Lebanon or abroad asking for translation services and offering translation jobs for our students."
The program also builds on a vast network of connections, specifically in Lebanon where senior students are requested to do internships before graduation. Furthermore, opportunities abound in the university's community service or civic engagement activities, "which are considered a great asset in helping the LAU community and the Lebanese community at large translate different types of documents," said Dr. Affeich.
In addition to employability, the translation program focuses on encouraging undergraduates' research output by increasing their chances "to engage with faculty in research and publication of creative and innovative topics related to translation," she added.
Dr. Affeich and her students have already published three research studies in international indexed and peer-reviewed journals and are now working on two more that they are hoping to publish in the last quarter of 2022.
"Students learn all aspects of the scientific and the publishing processes," she said. "This provides them with the deep knowledge they need to pursue graduate studies or join the job market, as people equipped with unique skills and the competence to analyze and translate texts differently and to a high standard."
Read more about career opportunities in translation here.