Dr. Jad Abdallah Reflects on his First Semester as Dean of Students
Student wellbeing, campus life, career preparation and more are all in a day's work for the new dean.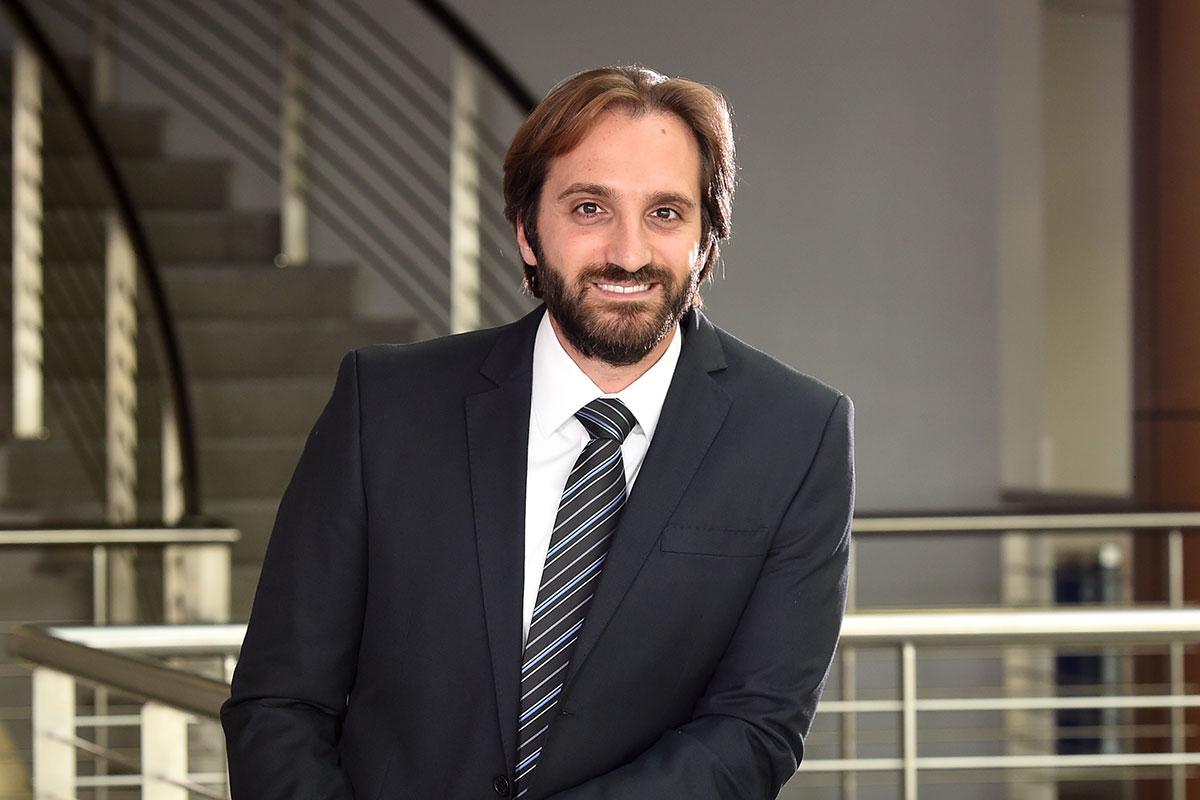 With a friendly demeanor, calm determination, and a deep desire to help students succeed in these challenging times, Dr. Jad Abdallah seems like a natural for the role of Dean of Students, the position he assumed last fall semester on Byblos campus.
During the past 12 years at the School of Pharmacy, the associate professor of pharmaceutical sciences doubled as assistant dean for student affairs, and more recently as coordinator of the Co-Curriculum program that helps students grow personally and professionally.
He is now steering student life on a campus-wide level. In the following interview, Dr. Abdallah speaks about his new role and his vision for it.
How is the Office of the Dean of Students an advantage for LAU students?
I graduated from a French university, and the experience felt similar to that of high school: We went to classes, took notes, and sat for exams. Networking was limited to the group of friends who attended the same classes, and campus life was practically non-existent. When I first joined LAU as a faculty member, I discovered a whole new universe that changed my perception.
LAU stands out in helping students in the non-academic setting. The two Dean of Students offices complement and enrich students' academic experience – largely the responsibility of our schools – with campus life, personal development and career-readiness, among others.
What first motivated you to work with students and find ways to support them?
I was a Scouts member for 26 years, covering practically all the stages, and the experience made me gravitate toward the youth and help them with their development.
When I joined LAU, I was naturally driven to serve on school committees dedicated to students' affairs – namely the Admissions, Events, and Students' Grievance Committees. The school dean and my colleagues noticed that I could deal effectively with students, which led to my appointment as acting assistant dean for student affairs.
I remained in that position for three years during which I focused largely on developing the Student Affairs Office and on student-related matters, such as including students in governance and shared decision-making; encouraging them to freely voice their opinions and share their perspectives via different modes and venues; and improve admissions, student life, students' relationship with school administrators, faculty and staff.
Later on, I was asked to serve students again as the coordinator of the co-curricular program. We devised activities that centered on developing soft skills, such as advocacy, empathy, leadership and professional communication.
As students return to campus under dire circumstances in the country and after two years of studying online, what support services is LAU offering to help them cope with mental health issues and stressors?
Most of our students are undergraduates who typically complete their degrees within three years. This means that the majority of them, whether sophomores, juniors or seniors have spent [a good part of their university] years at home.
To start with, they are not familiar with campus life, and for many of them, the transition from high school to university has been very abrupt. The pandemic added to their daily reality of life in Lebanon, and the stress of transitioning back to in-person learning. Back at home, the lines were blurred as students woke up and just turned the laptop on. Now, they have to practice time management.
We have an excellent system of mental health counseling on campus, and I see that as a first line of defense to help our students, even with seemingly minor issues, and to support them as they navigate through these daily stressors. Notably, there has been an increase recently in the number of students seeking help from our counsellors. The Dean of Students offices are also doing their best to alleviate students' stress by listening to their problems, helping them with their courses and registration, advising them on their schedule, major and career, and orienting them to de-stressors such as games in the student lounge, gym, student clubs, etc.
On another front, our counsellors are extending their expertise to faculty and staff, who have been working from home for the past two years as well.
Campus life is an integral part of university life. What is your vision for clubs and athletic activities?
I am advocating for a quasi-normal life on campus. The resumption of athletic activities and varsity teams will help raise students' spirits. We also hope that in-person club events will allow students to interact and engage in topics they feel passionate about.
During my first year as an LAU faculty member, I used to come across all sorts of vibrant events on campus, involving music, food and dance. I later learned that these were the work of student clubs, which I believed was an essential dynamic: to have students organize events for other students – and today, as dean of students, this is the approach I want to follow.
I would love to see the student council not just pass on the grievances, but also truly help their peers – with physical, mental, and even social health. I would like to work closely with the student council to bring back on-campus activities and promote soft-skills activities and workshops.
What role does your office play in students' professional development and employability?
LAU grads are sought after locally, regionally and internationally. Through our Career Development Services, we are working on students' job readiness and making up for any lag caused by remote learning. Though the team continued to work closely with students despite campus closures – holding webinars dedicated to CV writing and interview skills – more needs to be done so we can maintain our graduates' good reputation among employers.
As for students' professional development, the plan is to schedule personal and professional development activities designed to enhance their knowledge, skills, abilities and attitudes in terms of leadership, innovation, self-awareness, advocacy, empathy and lifelong learning.
I really hope that throughout my term, I will be able to inject more of a can-do attitude among students, and to have them counter an otherwise prevailing mindset that change is not possible. In fact, I think it is time for change in Lebanon, and it will have to start with these students as they are the future of the country.