Dr. Sola Aoun Bahous Appointed Dean of the School of Medicine
A practicing nephrologist and educator, Dr. Bahous' track record at the Gilbert and Rose-Marie Chagoury School of Medicine is a testament to her leadership, her expertise in her field and in medical education.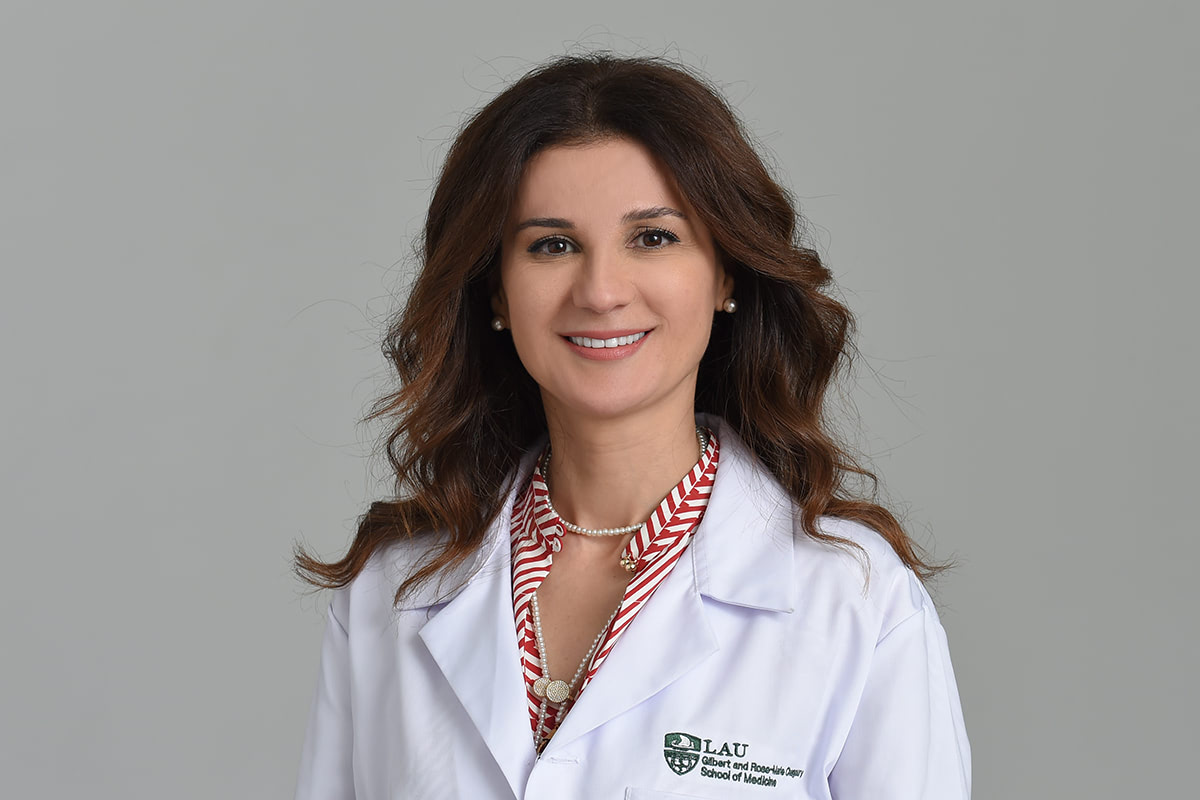 Dr. Sola Aoun Bahous was a household name at the Gilbert and Rose-Marie Chagoury School of Medicine well before she assumed the deanship in April 2022. As one of its founding members back in 2008, she took an active part in developing the MD program curriculum, particularly the nephrology module and the pharmacology discipline.
Since then, her rise through the ranks has been gradual, and she would not have had it any other way. "I grew into every position I took," she says, "acquiring a lot of experience as I went along, which helped me take on every new post with comfort and confidence."
A practicing nephrologist at the LAU Medical Center-Rizk Hospital with expertise in the evaluation and management of hypertension, Dr. Bahous had recognized early on in her career her talent as an educator, which she reinforced with a master's in Health Professions Education from the University of Illinois at Chicago College of Medicine in 2017.
As assistant dean for clinical affairs, she built the clinical curriculum and launched the clinical years – Med III and Med IV – of the MD program. From there, she took charge of the undergraduate medical education program in her capacity as associate dean for medical education, before assuming the role of interim dean of the school from October 2020 until March 2022.
During that time she was instrumental in obtaining provisional accreditation from the Turkish Association for Evaluation and Accreditation of Medical Education Programs (TEPDAD) for the MD program, and will pursue full accreditation within a period of two years.
Going forward, Dr. Bahous would like to see the school strive for more innovation in education and recognition among medical schools for its high standards, through rankings and awards. She wants to raise its visibility, have it join consortia, and become known as a school that attracts talent and cultivates innovation.
"This crisis put us on the international map of medical schools as we took part in forums such as that of the Alliance of Academic Health Centers International (AAHCI) where academic health centers and medical schools shared their handling of COVID-19 and what they had learned," she says. "They commended our resilience, our will to continue growing, and our positive mindset."
The steps to achieve Dr. Bahous' aspirations for the school are being laid out in its second strategic plan, due out in March 2023. The plan, which integrates LAU's medical centers and the Clinical Simulation Center, will be a product of the collective work of several committees and stakeholders, and based on a string of interviews and surveys, including input from renowned education and health experts.
A proponent of shared governance, decision-making and flat leadership, especially in times of crises, Dr. Bahous strongly believes in recognizing the efforts of staff and faculty, ensuring that they derive satisfaction from their work, and capitalizing on their strengths. Hence, another pillar of the strategic plan will address the "We" – the people – at the school of medicine, its faculty, students and patients, under which fall student and faculty retention and attraction.
"To boost diversity in the student body, we will be introducing for the first time a plan to attract international students and applicants from varied backgrounds," says Dr. Bahous. "We also want to develop models to attract and retain talents, not only clinicians, but administrators, researchers, people with great ideas. For that, we're considering flexible contracts for faculty, to allow researchers the time they need to build on an idea, and educators to capitalize on curricular innovation."
Additional pillars will cover the school's positioning and role as an academic health center in Lebanon and the region, and healthcare in general. "We want to be more effective and accountable toward society, by impacting policy, and playing a role toward refugees and the underprivileged," explains Dr. Bahous. "We need to bridge the gap between discovery or knowledge generation and policy."
While contributing to the healthcare sector, the school and its medical centers will continue to distinguish themselves in specific healthcare areas, such as the Comprehensive Stroke Center and other specialties as they evolve.
Last but not least, the strategic plan will target innovation in education, research and discovery.
Asked how she would motivate students and faculty in times of crisis, Dr. Bahous says role-modeling, availability, transparency and frequent communication are key, especially when the crisis is not of the institution's making. The strategic plan, this time, will also include a parallel operation/crisis mode.
Hardly an opportunity came by that Dr. Bahous did not pursue in her career. In addition to her MD, she obtained an MSc in Cardiovascular Pharmacology from Claude Bernard University, Lyon, France, a PhD in Cardiovascular Pharmacology from Pierre and Marie Curie University Paris VI, France, aside from two fellowships and the master's in Health Professions Education, while raising triplets.
So, how would she react if a faculty member, staff, or student were to provide an excuse for not completing a task or achieving a goal?
"My advice is to always aim high, specifically for people whom I know can achieve," she says. "As it all depends on the personality, my advice tends to be tailored. I try to talk them through it, find out more about their goals, the steps they have in mind to achieve them, and alternative ways to do so."