"Exemplifying the Spirit of Serving": LAU's Newest Nurses Honored
The Alice Ramez Chagoury School of Nursing celebrates three cohorts of graduates, reminding them of their wide responsibilities toward the patient, their profession and country.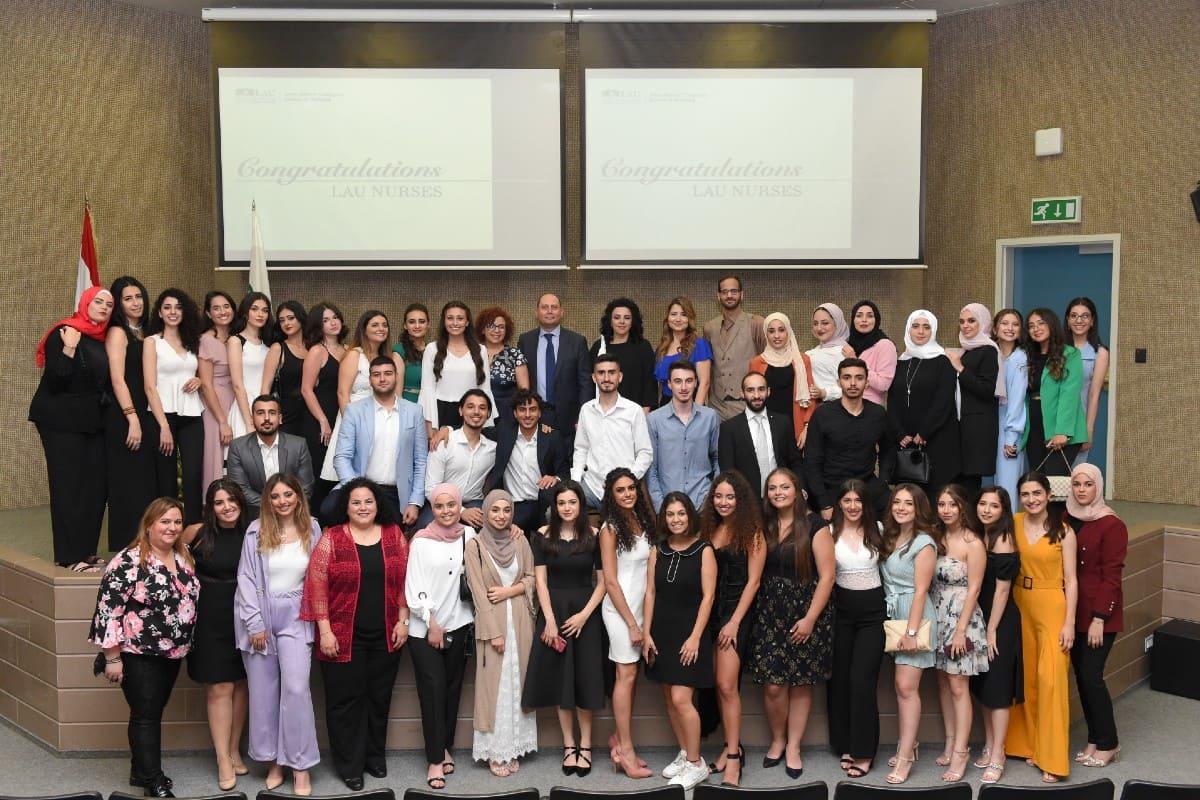 The notion that nurses provide a supportive role in the healthcare system is outdated if not false. In this day and age, in addition to good patient care, nurses bear the responsibility of advocating for change, advancing their profession, and actively taking part in decision-making.
Empowering nursing students with the skills, knowledge and autonomy to assume these roles has been the mission of LAU's Alice Ramez Chagoury School of Nursing (ARCSON), as the classes of 2020, 2021 and 2022 were reminded at the pinning ceremony on June 7.
"Lebanon, the region, and the world are currently in dire need of well-trained and compassionate nurses," Provost George E. Nasr told the graduates. "There are vast professional opportunities and enriching experiences waiting for you, as well as a chance to use all that you have learned at LAU to try and make a difference: to individual patients, to healthcare and the nursing profession, and to society in general."
Indeed, from concept-based learning, cooperative education, clinical learning experiences, liberal arts core requirements and interprofessional education, nursing students receive a strong foundation in the values, roles and responsibilities of their profession, interdisciplinary teamwork and the healthcare system.
Not only does the school offer them an outstanding curriculum, but also lifelong lessons in leadership, compassion, and diligence, said Dr. Nasr.
Nurses have an obligation to turn their "knowledge into an effective advocacy to change our Lebanon into a better one," said Nursing Program Director and Associate Professor Rita Doumit, exhorting the graduates to place "advocacy at the core of your nursing practice – for your patients, for your colleagues and for future generations."
She urged them to raise their voices and lead by example. "Always speak for the good of those who cannot speak for themselves. Defend health equity and every human's right for safe and quality healthcare," she said.
Echoing this thought, ARCSON's Interim Dean Costantine Daher encouraged the new graduates "to reimagine, transform and disrupt the ways nurses lead and impact society."
"Go forth to play a critical role in the implementation of patient-centered care and in the delivery of effective primary care services," he said.
A shining star of her class, Zoubaida Alberjawi paid tribute to their collective effort, and singled out their moments of pride despite the hardships. "We will continue to care, to comfort, to show up when someone is in need and help them to heal. And each and every time we make a difference, it will be worth it," she promised.
At the event, awards were presented to graduates who excelled in specific areas: the Dean's Inspirational Award to Araz Keofteian, the Dean's Research Award to Andrew Aoun, the Dean's Award for a BSN II Student to Nour Waizani, the President's Award to Andrea Khalil, the Torch Award to Liane Buhamdan, and the Lions Club Award to Paul Kolanjian.