Food Security Is Not an Impossibility
Lebanon-specific research and panel discussion called for meaningful interventions that can mitigate food waste generation and its repercussions.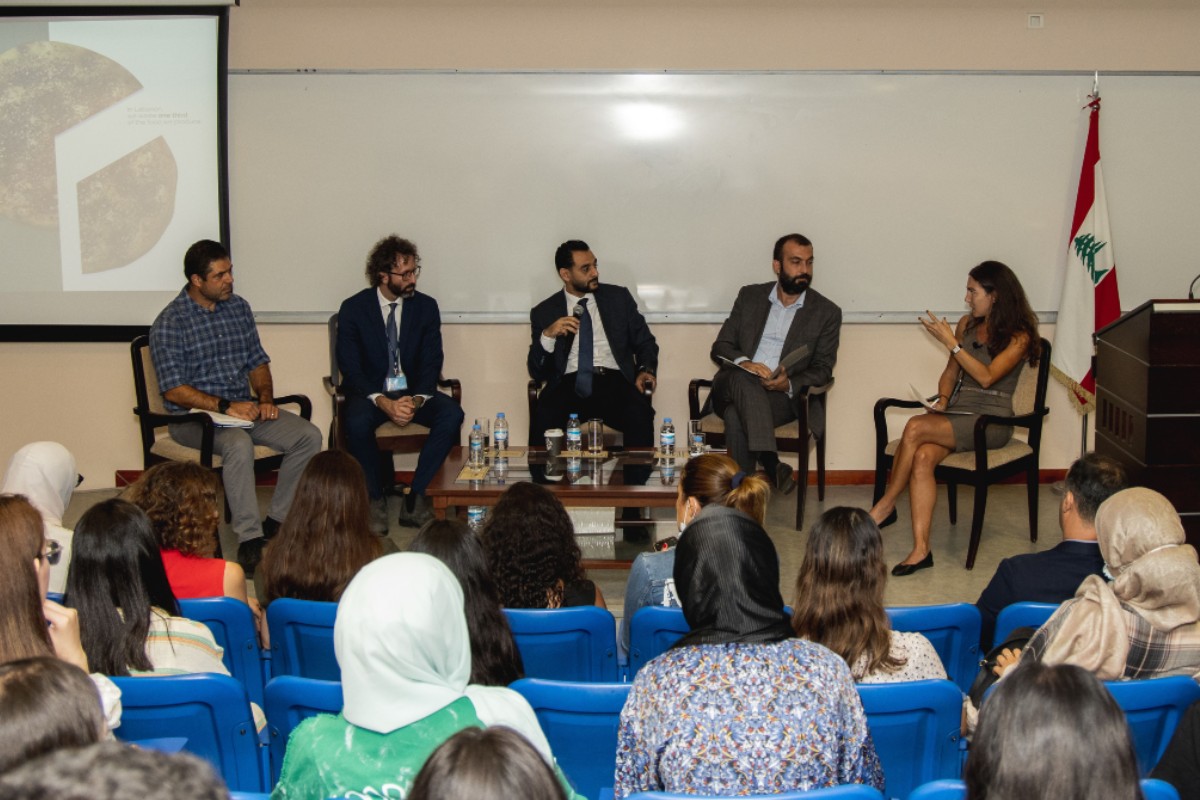 According to a report by the United Nations Environment Programme (UNEP) and the World Resources Institute (WRI), one-third of all food produced worldwide is either wasted or lost every year, and 61 percent of this waste happens in households. In parallel, more than 800 million people suffer from hunger globally, while enough food is produced to feed two billion people.
In Lebanon, the gravity of the issue has been exacerbated by the multifaceted socioeconomic crisis and power outages, as more households struggle with food insecurity.
Well before the onset of the crisis, LAU Associate Professor of Food Science Hussein F. Hassan, LAU Associate Professor of Nutrition Lama Mattar, Professor of Food Science at the American University of Beirut (AUB) Mohamad G. Abiad, and Associate Professor of Applied Economics at AUB Ali Chalak had been actively researching and publishing at length about drivers of food waste generation and its impact on the environment, economy and food security, at both the household and hospitality levels in the country.
Most recently, they found that an estimated 1,620 tons of food are wasted by people dining out in Beirut alone every year– "an alarming rate, as Lebanon highly depends on food imports and has limited resources for increased food production to sustain food and nutrition security."
This staggering figure also produces the equivalent of 4,110 tons of carbon dioxide and contributes to the country's solid waste-management crisis, as food waste from restaurants alone in Beirut amounts to 0.15 percent of Lebanon's total organic waste, yearly.
Their research findings and proposed solutions were presented at a panel discussion jointly organized by LAU and AUB on September 29, International Awareness Day for Food Loss and Waste. Titled Combatting Food Waste for Improved Food Security in Lebanon, the event brought together Director General of the Lebanese Ministry of Economy and Trade Mohamad Abou Haidar, International Specialist-Resource Efficiency and Sustainable Consumption and Production at UNEP Regional Office for West Asia Paolo Marengo, as well as Dr. Hassan and Dr. Abiad. The discussion was moderated by Dr. Mattar.
In the hospitality sector, people tended to generate more food waste when dining out, said Dr. Abiad. "For a table of four, about half a kilogram of food is wasted per meal – the equivalent of the average food wasted at home in an entire day," he explained.
Other factors contributed to more waste generation, according to Dr. Abiad, such as the types of cuisine and service. "At restaurants that serve mezze, where people order and share several dishes, the average food wasted is 34 kilograms per day, and that rate goes further up when it comes to open buffets," he said.
On that score, Dr. Abou Haidar spoke about a draft law that was successfully passed in the Lebanese parliament in June 2020, which offers incentives to the hospitality sector in exchange for adopting measures that limit food waste, such as donating the surplus to food banks. The law has yet to be implemented.
Until then, combatting food waste remains an individual pursuit, starting at the level of households, which account for 61 percent of the total food wasted in Lebanon, per a UNEP report, as Dr. Hassan pointed out. In comparison, 26 percent and 13 percent of food waste are generated from the hospitality sector and supermarkets, respectively.
Apart from cultural drivers, such as generosity and topping up dishes when serving them at home, Dr. Hassan named two additional factors that have recently contributed to generating more food waste: the power and fuel crises, which have resulted in food preservation and transportation challenges.
On the household level, other variables, such as employment, education level, number of members in the household, and income directly influence the food waste volume, according to another study done by the LAU-AUB team. "Rural households in Lebanon, where food is typically shared with relatives and neighbors, wasted less food than their urban counterparts," said Dr. Hassan, adding that the level of religiosity and guilt feelings about wasting food also seemed to be driving factors.
Ultimately, the panelists agreed that the best approach to combat food waste is by spreading awareness of its economic, environmental and social impact to influence behavioral change. In this regard, Marengo spoke about the UNEP's Recipe for Change Campaign aimed at maximizing the visibility of the rampant global food waste problem by engaging leading chefs from the region to convey the messages to a wide audience and specifically the youth.
A nationwide competition will also be organized in 2023 in collaboration between LAU and the Ministry of Economy and Trade. It will call on university students to create and produce short awareness videos on combatting food waste.
In his closing remarks, Dr. Hassan described Lebanon's current crisis as "a golden opportunity for us to address food waste and to change our attitudes and behaviors." He gave practical tips such as logging food waste, meal planning, following recipes accurately, avoiding impulsive buying or shopping for food when hungry, checking for expiry and best-before dates, and sharing and donating surplus food.