LAU Names its Honorary Doctorate Recipients
After a three-year hiatus, the university will be bestowing the first honorary degrees since 2019 on virtuoso Abdel Rahman El Basha and eminent cardiologist Dr. William A. Zoghbi.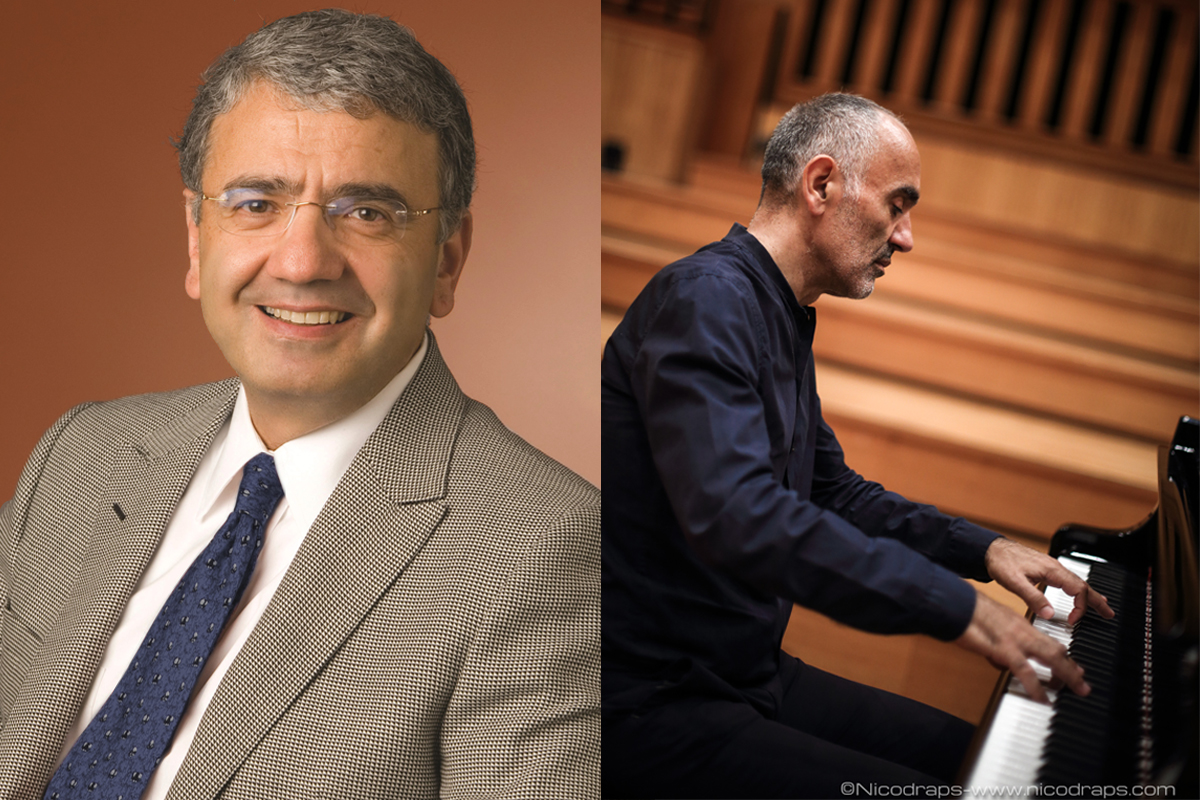 The Honorary Doctorate of Humane Letters will be conferred on renowned pianist and composer Abdel Rahman El Basha and pioneer in cardiology, echocardiography, and cardiac imaging Dr. William A. Zoghbi during this year's exceptional commencements graduating the classes of 2020, 2021 and 2022.
"We are honored to recognize Mr. El Basha and Dr. Zoghbi, two men of great talent and a passion for their calling, who have carried Lebanon in their hearts to the world and possess that noble human spirit that distinguishes our university's mission and goals," said LAU President Michel E. Mawad.
Abdel Rahman El Basha
When Lebanese born pianist and composer Abdel Rahman El Basha was barely 15, Chilean pianist Claudio Arrau León, who was at the 1973 Baalbeck Festival, predicted that he would enjoy a stellar career. By then, El Basha, who was born in 1958 to a family of musicians had had his first orchestral concert at the age of 10, a year after he had started piano lessons with Zvart Sarkissian, herself a student of renowned French pianists Marguerite Long and Jacques Février.
When France, the Soviet Union and England offered El Basha a scholarship, he chose France out of a cultural affinity with the country and entered the Conservatoire National de Musique de Paris in 1974, in the class of French composer, pianist and conductor Pierre Sancan, where he obtained four first prizes: Piano, chamber music, harmony and counterpoint.
His exceptional talent was revealed when, at age 19, he won the Queen Elisabeth Competition in Belgium by a unanimous jury in addition to the Audience Prize.
El Bacha has performed in the most prestigious halls worldwide. From the Mozarteum in Salzburg to the Théâtre des Champs Élysées in Paris, the Concertgebouw in Amsterdam to the Herkulessaal in Munich, he has played with prestigious ensembles such as the Berlin Philharmonic Orchestra, the Royal Philharmonic Orchestra, the Orchestre National de France, the Orchestre National de Belgique, the Gulbenkian Orchestra, the NHK Tokyo, and the Orchestre de la Suisse Romande, to name a few, under the direction of eminent conductors.
In addition to live concerts, he has recorded Bach concertos, Ravel concertos, works by Schumann, Ravel, Schubert, Chopin and Rachmaninoff.
Notably, in 1983, he was awarded the Grand Prix of the Charles Cros Academy for his recording of Sergei Prokofiev's first works with the label Forlane, which was presented to him by Prokofiev's widow.
In collaboration with the Mirare label, he released Prokofiev's works for solo piano followed by Beethoven's Complete 32 Piano Sonatas in 2013, which received great acclaim. A recording of his own compositions for solo piano for Mirare is now published by Éditions Delatour France.
A dual French Lebanese national since 1981, El Bacha was awarded the title of Chevalier des Arts et des Lettres by the Minister of Culture of the French Republic in 1998, and the Medal of the Order of Merit in 2002, the highest decoration in his native country, by the President of the Lebanese Republic. The International University of Leuven in Belgium has just awarded him an honorary doctorate.
Yet, Lebanon has remained close to his heart. Soon after the August 4, 2020, explosion, El Basha held a concert in France to help alleviate the despair of his people and in aid of those whose homes were destroyed.
William A. Zoghbi, MD
A renowned leader in cardiology, echocardiography, and cardiac imaging, Dr. William A. Zoghbi is a professor of medicine and cardiology, an Elkins Family Distinguished Chair in Cardiac Health, and chairman of the Department of Cardiology at Houston Methodist and the DeBakey Heart & Vascular Center.
Dr. Zoghbi has developed new techniques to evaluate heart function and valve disorders without resorting to invasive procedures. He is known for his research on ischemic heart disease, myocardial function and hibernation, and for his development of novel echocardiographic methods to evaluate the severity of valvular disease.
Born in Beirut, Dr. Zoghbi left the American University of Beirut (AUB), where he had started medical school to complete his studies in the US after 1977. He trained in medicine and cardiology at Baylor College of Medicine and joined its faculty from 1985 to 2005, where he was the John S. Dunn Professor of Medicine. In 2005, he joined Houston Methodist and was appointed chair of the department of cardiology in 2016.
In 2012, he became the first foreign-born cardiologist to be appointed president of the American College of Cardiology – a 60 thousand-member-organization representing all cardiologists in the US – since its inception 65 years earlier. That same year, he carried the Olympic Torch on behalf of heart health and represented the global cardiovascular community at the United Nations and World Health Organization.
Dr. Zoghbi has authored more than 350 original publications and has been invited to lecture on his work at every major cardiology conference around the globe. He was elected president of the American Society of Echocardiography in 2008 and has chaired several national guidelines for valvular heart disease.
Among his honors are a designation of Master of the American College of Cardiology, the Research Merit Award from the Interamerican Society of Cardiology, The Presidential Award for Transformation Excellence, the Ben Qurrah Outstanding Achievement Award, and election to the Association of University Cardiologists.
Dr. Zoghbi has maintained strong ties with the Lebanese Cardiology Society, AUB and the Middle East region. He established a chapter for the American College of Cardiology (ACC) in Lebanon and initiated a new ACC conference for the Middle East, attracting more than 1,500 medical professionals from the region. He received the National Order of the Cedar from the President of the Republic of Lebanon.
The honorary doctorates will be conferred on Abdel Rahman El Bacha during the commencement ceremony on June 14 (Byblos campus), and on Dr. William A. Zoghbi on June 19 (Beirut campus).