LAU Receives Major Grant from GCC-NIHR to Implement Emotional Intelligence Training for Young Lebanese Adolescents
The Grand Challenges Canada and the National Institute for Health Research fund a two-year intervention program, designed by LAU faculty, to be implemented in schools across the country.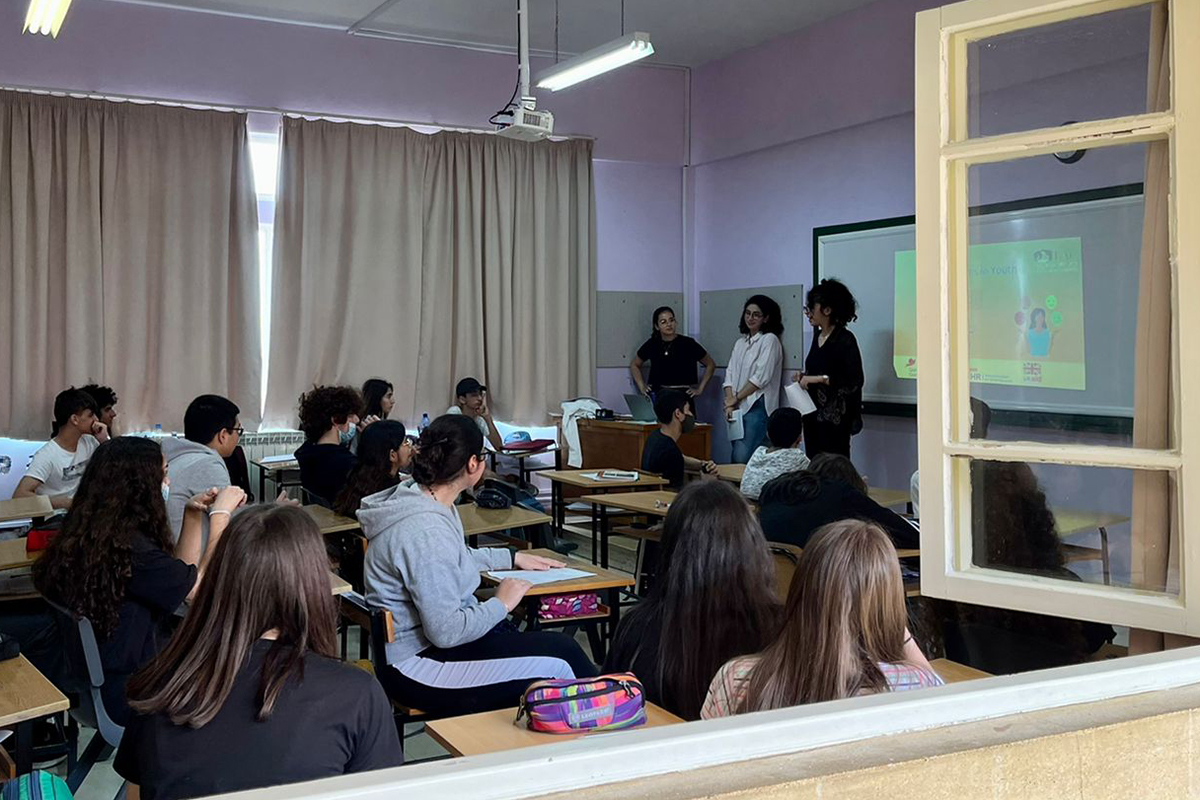 Developing emotional intelligence is becoming more timely, especially for young Lebanese, given the ongoing socioeconomic and political crises that have deeply impacted their mental health.
Even before the pandemic, and in the wider global context, "research had shown that this generation is less happy than its predecessors, despite access to leisure, comfort and technology. The accumulating adversities have dramatically increased their psychological distress," explained assistant professor of psychology Myriam El Khoury-Malhame.
Driven by their worrying findings and worldwide red flags on deteriorating youth mental health, LAU faculty from the School of Arts and Sciences and the Alice Ramez Chagoury School of Nursing designed a youth-led evidence-based intervention program that offers emotional intelligence training for Lebanese adolescents in public schools and addresses the lack of youth-friendly mental health services in the country.
Their efforts culminated in a CAD 248,553 (USD 185,000) grant from Grand Challenges Canada, funded by the National Institute for Health Research (NIHR).
Leading the study at LAU are former Associate Professor of Psychology Maria-Jose Sanchez-Ruiz – the principal investigator of the project, who has recently joined the Universidad de Alcalá de Henares (UAH), Spain – Dr. Myriam El Khoury-Malhame, Associate Professor of Nursing Rita Doumit – a public health nurse and researcher with prior proficiency working with vulnerable adolescents – and Assistant Professor of English Sleiman El Hajj.
Dr. Sanchez-Ruiz's work over more than a decade has shown that emotional intelligence is a key protective factor against psychopathology and a predictor of positive outcomes in Lebanese youth.
Titled Yes to Emotions in Youth (YEY), the program focuses on empowering young students to better understand, express, regulate and use their emotions; altogether increasing their emotional awareness as a first step to transforming their personal challenges into opportunities for growth.
This training will facilitate the development of the so-called soft skills needed to navigate current and forthcoming challenges such as compassion, positive communication, stress management and cognitive reframing. It teaches mindfully accepting upsetting situations and developing optimal coping strategies to adversities through evidence-based, youth-led training.
The YEY program includes 11 weekly sessions and targets high-school students in different regions in Lebanon, in close collaboration with the Lebanese Ministry of Education and Higher Education. The project has already been piloted and is currently implemented in three schools around Beirut and Keserwan areas. The hope is that YEY would become more sustainable by subsequently scaling it up and integrating it within the Lebanese school curriculum in the future.
A key feature of the YEY Program is having faculty experts prepare young graduate students to deliver the training in colloquial Arabic at the schools. "This dynamic of having Youth train Youth goes a long way in building a connection, speaking the same language, being relatable, and mostly establishing trust to help trainees open up to the trainers, much like the dynamic we see in organizations such as the scouts, for example," noted Dr. Malhame. The graduate students – dubbed "Youth Leaders" – will be assisted by Youth Facilitators and will take on the implementation of the YEY Program inside the classrooms.
To ensure the program is culturally adapted and age-specific, Dr. Doumit added that focus groups had helped them identify and integrate real-life scenarios of common challenges faced by youth in Lebanon. The program touches upon challenges that were raised by students during the pilot study related to bullying, conflict with parents, exam worries, physical emotional and verbal violence, body image, gender inequalities, academic engagement and goal setting.
YEY will make use of active learning approaches like role plays, class discussions, interactive games, etc. to better involve the students during the sessions and leave them with take-home sheets to reinforce learnings outside class time.
Having worked on similar youth-empowerment community programs in the past, Dr. Doumit affirmed YEY expected benefits. "Based on evidence-based studies and previous experiences, emotional intelligence training contributed to curbing anxiety, depression, and even suicide rates," she said.
Dr. Malhame further expounded on the mixed methodology, where the program will evaluate both the physiological and psychological wellbeing of the high schoolers before and after the training to monitor its effectiveness, with a follow-up stage as well. Dr. Elma Nassar, an LAU faculty alumna and statistics specialist, will lead the quantitative analyses and models whereas Dr. El Hajj will oversee the qualitative data collected in the form of emotional diaries and weekly take-home sheets.
For Dr. Sanchez-Ruiz, "'Yes to Emotions in Youth' is a message for adolescents to get curious about their emotional world, rather than avoid it or identify with it, despite the heavy challenges. YEY is a space for sharing and building emotional self-efficacy and self-control to promote their wellbeing, which can have a positive ripple effect in their friends, families, and communities at large."
The team is working on designing a website and actively planning to manualize the YEY program in English and Arabic so it can be readily accessible to adolescents and easily implemented by teachers in schools to improve overall outcomes of this sensible age group across the country, providing a cost-efficient alternative to fostering community resilience.