Prevailing Together: Beirut Campus Bursts Into Celebrations
LAU revels in honoring the classes of 2020, 2021 and 2022 over three ceremonies that promise possibility and better days to come.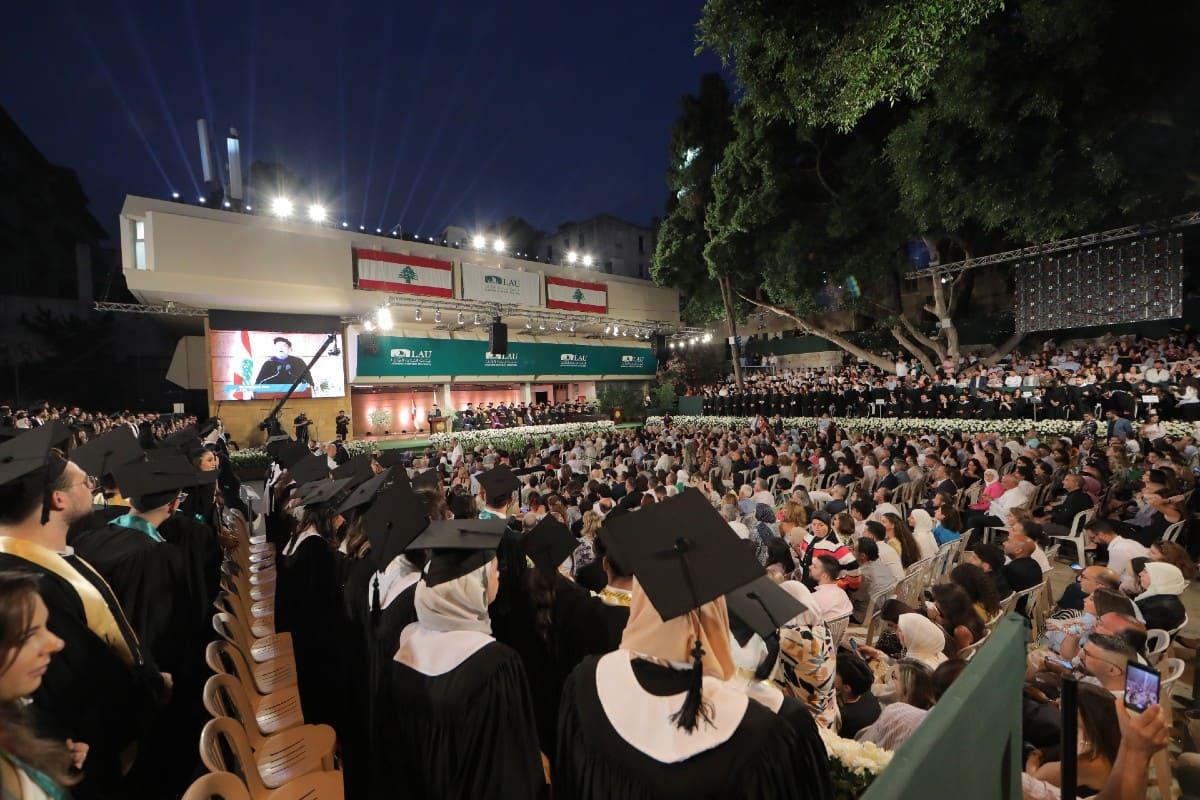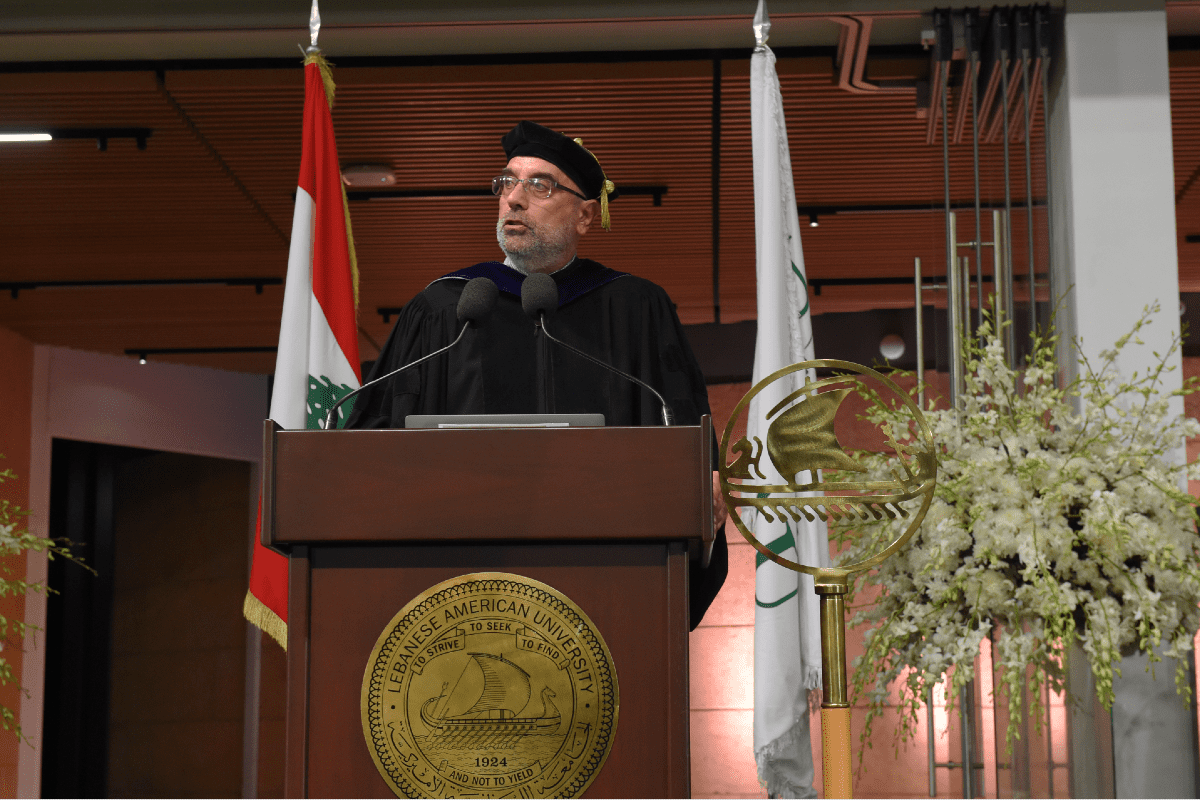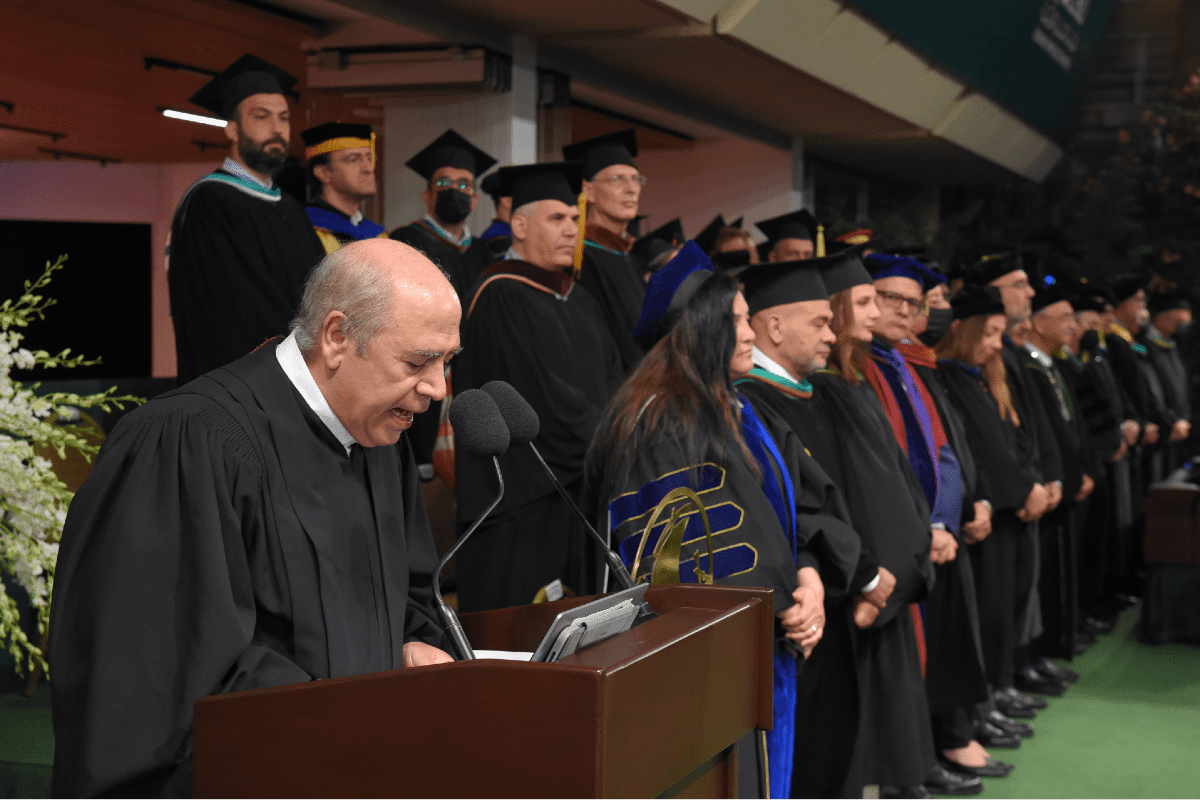 The classes of 2020, 2021 and 2022 have been the generation that was caught in the eye of the storm, a global pandemic, an unthinkable explosion, hardships and crises, and emerged triumphant.
It is, therefore, no surprise that their day of graduation was charged with emotion, pride and hope for better days to come. LAU honored all 3,320 of them over three evenings on June 17, 18 and 19 on Beirut campus, following the ceremonies on Byblos campus last week, that jointly marked the university's 97th Annual Commencement Exercises.
In his address, LAU President Michel E. Mawad commended the graduates for turning adversity into opportunity, especially under extremely testing conditions. He exhorted them to be "a force of moderation and tolerance in your troubled country," and reminded them that their training is universal and their professional constitution cross-cultural.
"Citizens of the world you are, but citizens of your country first, and sons and daughters of your alma mater," added Dr. Mawad.
Speaking about the hardships that befell Lebanon and the university's efforts to mitigate them – most notably increasing its financial aid budget to $100 million – Dr. Mawad highlighted two cardinal principles: caring for students and patients, as well as safeguarding LAU's high standards, multiple accreditations and ranking positions.
"LAU was, is, and will remain, a world-class university that offers cutting-edge programs, and produces first-rate graduates that are universally competent, keenly sought after, and coveted by employers," he said.
Addressing her peers, class valedictorian of the Adnan Kassar School of Business Celine Boutros said: "We proved wrong all those who doubted us, so let's make proud all those who believed in us." She thanked LAU for providing "a home, a safe space to experiment and the courage to chase our dreams."
Those dreams were central to Dona Atallah's story, who spoke as valedictorian at the June 17 ceremony. The performing arts major, who also minored in public relations and advertising, urged her classmates to "love with every fiber of your being," and to "keep passion alive." After an emotional speech, she sang I Have A Dream by ABBA, leaving the audience in tears.
On the evening of June 19, two valedictorians, Wassim Khatoun and Zahraa Berjawi gave a joint speech. A third valedictorian, Hussein Kaafarani was unable to attend due to unforeseen circumstances, but his commencement address was relayed by his peers.
Khatoun thanked his parents and family profoundly. "Tonight is dedicated to each and every person who helped us along our journey and empowered us to reach such amazing feats," he said.
Berjawi acknowledged the prevailing sense of uncertainty in the country but was quick to counter it with words of hope. "All I see in front of me is a wave of dedicated leaders in a vast ocean of possibilities," she said, indicating the graduates. "The generation of tomorrow has a great responsibility because you are the light at the end of the tunnel for all who reside in the darkness of these dire times," she added.
At the same ceremony, LAU bestowed the Honorary Doctorate of Humane Letters on Dr. William A. Zoghbi, a world-renowned leader in cardiology, echocardiography, and cardiac imaging, and former president of the American Heart Association.
Among his many honors are a designation of Master of the American College of Cardiology, the Research Merit Award from the Interamerican Society of Cardiology, the Presidential Award for Transformation Excellence, the Ben Qurrah Outstanding Achievement Award, and election to the Association of University Cardiologists.
Dr. Zoghbi opened his address by expressing his connection to LAU's legacy of academic excellence, civic engagement and commitment to social justice. "I share these values, so I feel particularly privileged to be recognized today along with this graduating class."
He went on to congratulate the graduates for having achieved this milestone in the midst of hardships, reassuring them that they have "already developed certain qualities of character that you will need as you make your way forward into an uncertain future."
Proud parents, faculty and staff applauded each of the graduates from LAU's Adnan Kassar School of Business, the School of Architecture and Design and the School of Arts and Sciences, as they received bachelor's and master's degrees on stage.
Special awards were given to excelling graduates from the class of 2022.
Nabila Arab, Maya Jurdak and Hadi Zeaiter each received the Torch Award, in recognition of their leadership and spirit of service.
Balsam Gharib, Kamar Shamieh and Karen Khoury each received the President Award, acknowledging their high-caliber leadership traits.
For exemplifying dedication and service to others, Yasmina El Masri received the Rhoda Orme Award, while Karim Harik received the General Mahmoud Tay Abou Dargham Award. Based on her good academic standing and leadership skills, Joy Khalil was also given the Riyad Nassar Leadership Award.