The Making of a Leader
In his newly published memoirs, President Emeritus Joseph G. Jabbra imparts the invaluable lessons he learned on both the personal and professional levels from his life journey.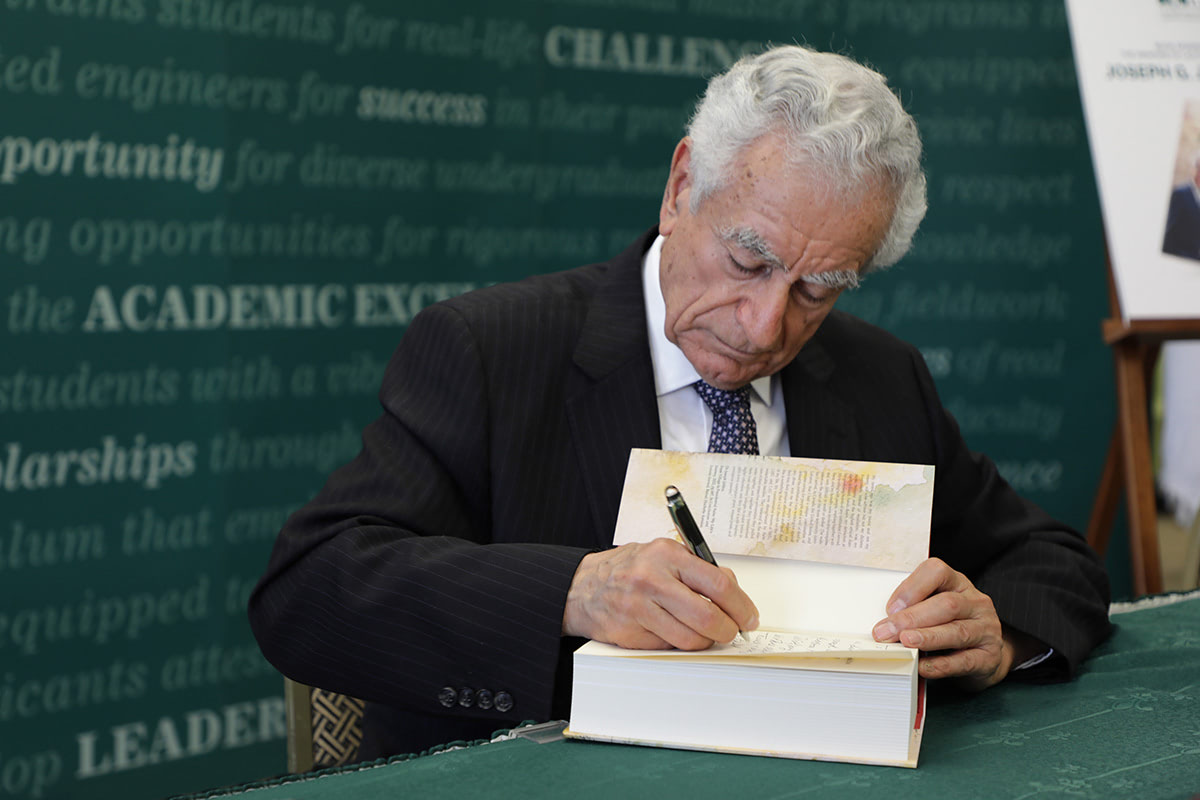 He dedicated 16 years of his life to LAU, during which he raised it to another level of excellence to rank among one of the leading universities in the region. Anticipating the Fourth Industrial Revolution, he steered the institution toward innovation, digital transformation and first-class higher education and healthcare.
Throughout his tenure, he spoke with passion about giving and giving back; that LAU should work toward cultivating civic-minded individuals who would contribute to the welfare of their society. To this day, more than a year after the end of his presidency, he, himself, is giving still to the university and the community dear to his heart.
In his recently published memoirs From Village to Presidential Suite: My Life's Journey, dedicated to his "LAU Family," President Emeritus Joseph G. Jabbra chose to relay his life story "with emphasis on people," on those who inspired and supported him from his childhood to his presidency.
Drawing on his experience, he also wanted to share "with those who aspire to become academic leaders the myriad lessons my upbringing, education, and professional life have taught me."
At the book signing, LAU President Michel E. Mawad expressed his admiration for his predecessor's feat in completing his memoirs in a record six months after his retirement. "This is your home," he said, "this is your university, and I say it from the bottom of my heart." Having already benefited from Dr. Jabbra's lessons, he added: "What you have done for this university is here to stay for the future, and for future generations to remember what Joseph Jabbra did for LAU."
Born in the village of al-Firzul in the Beqaa valley, the young Joe Jabbra would always live by his Uncle Mike's principle that "If you want to be happy in this life, make others happy," one of his uncle's golden rules that would serve him well in his career.
After obtaining a law degree from Saint Joseph University, the graduate Joe Jabbra boards the Esperia for Italy and from there the Leonardo Da Vinci for the US, making the most of the long sea crossing to pick up as much English as he can from fellow travelers.
His acceptance into a PhD program at the Catholic University of California in Washington, DC, turns out to be fortuitous, for it is there that he would meet his future wife and intellectual equal, Nancy Walstrom. Once equipped with a degree in political science from an American university and now near-perfect English, it was time for him, he says, "to be on the giving end of this cycle that had carried me so far."
His introduction to the inner workings of academia comes in the form of a professorship and later chairmanship of the Department of Political Science at Saint Mary's University in Halifax, Canada.
His career takes an unexpected turn when he accepts the post of Academic Vice President, a fork in the road that he had never intended, convinced that "academic administration would pale in comparison to the noble mission of learning, contributing directly to the education of young men and women in the classroom and beyond, and pushing out the frontiers of knowledge through serious research and scholarship."
This new trajectory eventually leads to the position of Academic Vice President at Loyola Marymount University in Los Angeles, where, while serving under three presidents, he would continue to observe and learn from others' actions and mistakes, and to build on the pillars of leadership that would underpin his presidency at LAU: strategic planning, shared governance, fundraising, research and scholarship, integrity, transparency, ethics, tolerance, and diversity, among many others, to which he would bring his love for learning and students.
Throughout obstacles and challenges, Dr. Jabbra would stay true to his high principles and retain his faith in human nature. "There is always a temptation to become cynical," he says. "But I think I made sure that the values I held, the good values of being a human being dealing with other human beings always had the upper hand in my life and in my behavior."
For him, he adds, "leadership means equal service. And the caliber of your leadership is assessed by the degree of service you provide others. That is the significance of life. So, it's not only an experience, but a philosophical approach to life."
This autobiographical account is certain to bring LAUers even closer to a president who, during his years-long tenure, rarely spoke about himself, but united the LAU family with his open-door policy and affability.
The book will also enchant non-LAUers with its storytelling and invaluable advice on solid stewardship. As far as Dr. Jabbra is concerned, writing his memoirs was not only therapeutic but fulfilled his belief that "each one of us has the obligation to provide others with the opportunity to learn about life in one's area or in another depending on our field of specialization."
That, to him, is what matters. "If the readers like it, then that's fine," he says with a glint in his eye, "and if they don't, they can throw it in the trash."
From Village to Presidential Suite: My Life's Journey is published by Hachette Antoine. Information on purchasing a copy is available here.