Arab Art Awakens
The School of Architecture and Design inaugurates its Institute of Art in the Arab World dedicated to the study of contemporary and modern artistic productions from the Arab world and its diaspora.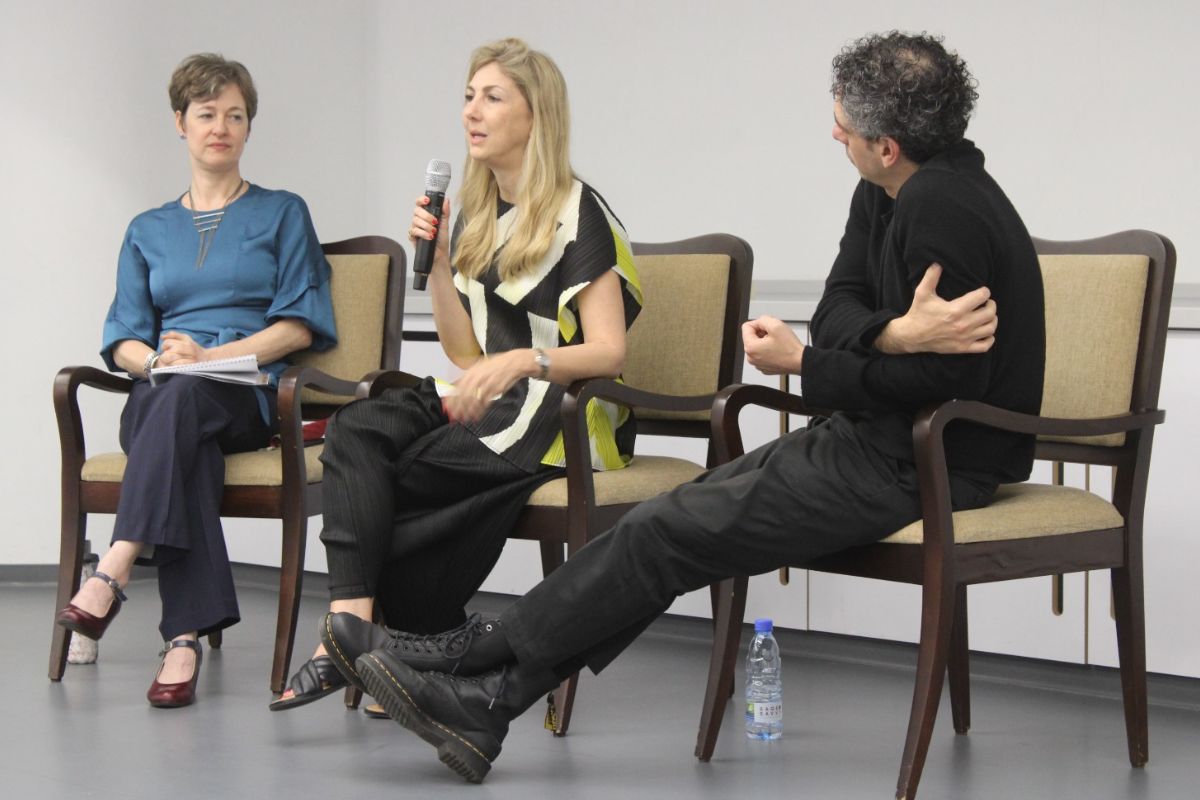 Though it might be far-fetched for one to be fluent in all languages, a single universal language rests easily on one's tongue: Art. Given its interdisciplinary dimensions and because art is a medium accessible to all, it opens up a space for wide-ranging discussions.
With the aim of expanding the breadth of such discussions, Director of the Institute of Art in the Arab World (IAAW) at the School of Architecture and Design, Dr. Yasmine Nachabe Taan laid the foundations of the institute in an inaugural event on May 2, featuring Lebanese visual artist Rayyane Tabet and AUB Associate Professor of Anthropology Dr. Kirsten Scheid.
Together, they expounded on the need to promote "interdisciplinary research on artistic production and curatorial practices that tackle social, economic and political issues through art."
The school established this institute to assist in the documentation of notable artistic works and figures in the Arab World and to shed light on their experiences, which were foundational in the development of an artistic culture in Lebanon and the Middle East," said Dean Elie Haddad.
"The role of art cannot be restricted to the current practice of uncritical representation of certain trends; it goes beyond the naïve portrayal of reality to address more existential issues and ideas," he added.
Propelled by a mission to highlight this role – which, according to Dr. Taan, reflects the trajectory of one's life rather than just being oil on canvas – the IAAW was launched in hopes of fostering conversations between scholars and artists from different countries and the local scholarly and artistic community.
"Such a goal can be achieved by organizing seminars, lecture series and other events that explore the intersections of art, post-colonial studies and gender studies in the Arab region," said Dr. Taan. "This allows us to address historical circumstances and political discourses coalescing in and beyond the region in relation to political conflicts, pandemics, the environment and other issues in a Middle Eastern context."
Using the city of Beirut as an example, Dr. Taan dwelt on its rich heritage, and how this artistry had yielded an archive of artistic productions that brought forth its own definition of social, economic and political expression.
"I am one of those people who truly believe that learning in the present happens by looking into our past, and that, along the way, the future somehow becomes a product of that," she said. "It's pure artistic evolution, given that culture does not happen overnight, which is why we need to look into our heritage and into past practices to learn from and become exposed to them."
In light of that, inaugurating an institute as such, added Dr. Taan, serves to enrich and stimulate students, faculty, artists and art critics as they would not only learn about the heritage and culture of Arab art but also learn enough to move toward redefining what it means to engage with and appreciate art in the Arab world.
By inviting Tabet and Dr. Scheid ­­– the former discussing his three works: Steel Rings, The Dead Sea in Three Parts and Arabesque, and the latter examining her book Art Acts, Local Art Histories, and Taswir: Studying Lebanon through Modern Art, and Modern Art through Lebanon – Dr. Taan was proud to launch IAAW through an eminent contemporary artist and a prominent author.
"I insisted on having Mr. Tabet and Dr. Scheid," she explained, "because, with their knowledge and experience, they can be the ones who get to psych the students up on what it means to be a contemporary artist in the Arab world and have to engage in debates about today's climate through their work."
Although the institute has just seen the light of day, added Dr. Taan, it has started preparing a line-up of events in multiple fields, such as art and design. This goes in tandem with celebrating LAU's centennial and the 50th anniversary of the Arab Institute for Women (AIW) with which the institute has collaborated and will continue to do so on an array of projects, including podcasts focusing on women artists.