At the Cutting Edge of Drug Development
LAU's School of Pharmacy featured LAU trustee and entrepreneur Dr. Moise Khayrallah to share insights on innovation and the latest advancements in drug development.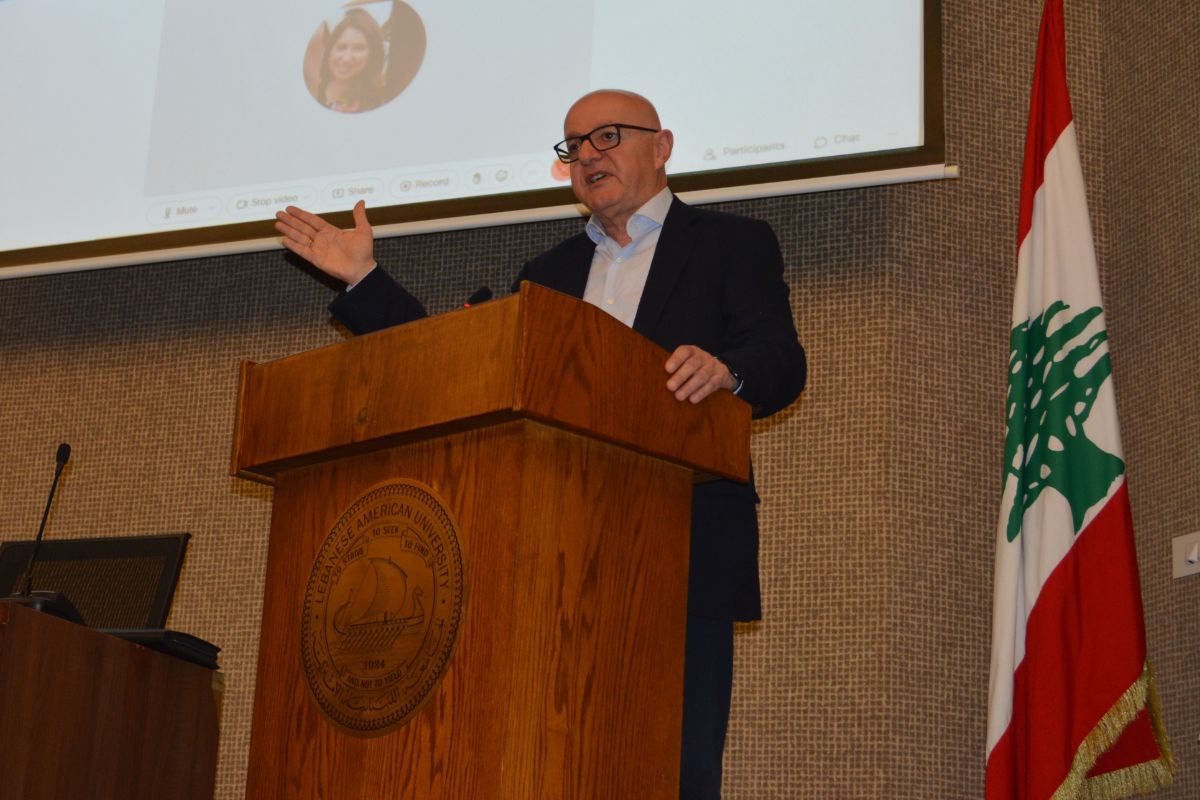 Bringing a new pharmaceutical drug to the market is a knowledge-intensive procedure that requires an extensive amount of data collecting and analysis. This complex and time-consuming process undergoes rigorous testing and faces mighty challenges, but at the heart of drug development lies a critical role in advancing healthcare and improving patient outcomes.
Following his presentation last year on his successful and impactful 35-year journey in pharmaceutical drug development and biotechnology, LAU Board of Trustees Member and entrepreneur Moise A. Khayrallah honored the School of Pharmacy with a talk on the critical role of research and innovation in the drug development industry.
Welcomed as a "true scientist who exemplifies humility," Dr. Khayrallah initiated his interactive talk by relaying his acquired expertise in the US and identifying the milestones that can be achieved in Research and Development (R&D).
With a majority of students as his audience, he highlighted the diverse sources of funding and implementation of R&D, including the pharmaceutical industry, government and academia to ensure that more effective drugs are not only manufactured but also brought to the market.
Given that it is a rather extensive process involving patients' health and lives, drug development in the US is monitored by the United States Food and Drug Administration (FDA). All the information pertaining to the production and approval of drugs – thorough chemistry, non-clinical testing, clinical studies and analyses and regulatory review – must be supervised by the FDA to make safe and effective drugs available to patients.
"Before it reaches humans, a drug has to undergo appropriate processing and testing," said Dr. Khayrallah. "Medicinal chemists are usually the first people who tweak the drug to make it work and become available for use in humans. The discovery phase, therefore, can last years before the drug can undergo preclinical and clinical testing in appropriate studies that must be completed."
Dr. Khayrallah then proceeded to list the phases of drug development and his own contribution within his field. From discovery and preclinical research to clinical development and market approval, the division of drug development into these four phases, he said, "helps to ensure that new medications are safe and effective for patients, while also providing valuable data to inform clinical decision-making."
As part of the co-curricular activity sessions, Dr. Khayrallah engaged the students and responded to their questions about the pharmaceutical field and other inquiries related to the topic at hand. "I am not here just for a presentation, but to provide a forum to answer specific questions you may have about drug development," he said.
Dr. Khayrallah also expanded on the measures students need to take in shaping their careers. To make his point, he reflected on his PhD in Psychology and the fact that it did not deter him from becoming the lead scientist and drug development expert he is today.
"To all of you students in the audience," he said, "don't agonize trying to pin down the specific path for your job or career. Rather, seek to identify the necessary building blocks, put them in place and trust that the opportunities will arise to give you a meaningful and rewarding career."