Australian Ambassador Visits the LAU Industrial Hub
Ambassador Barnes discusses progress with the LAUIH's "Padvocates" on their quest to eradicate period poverty.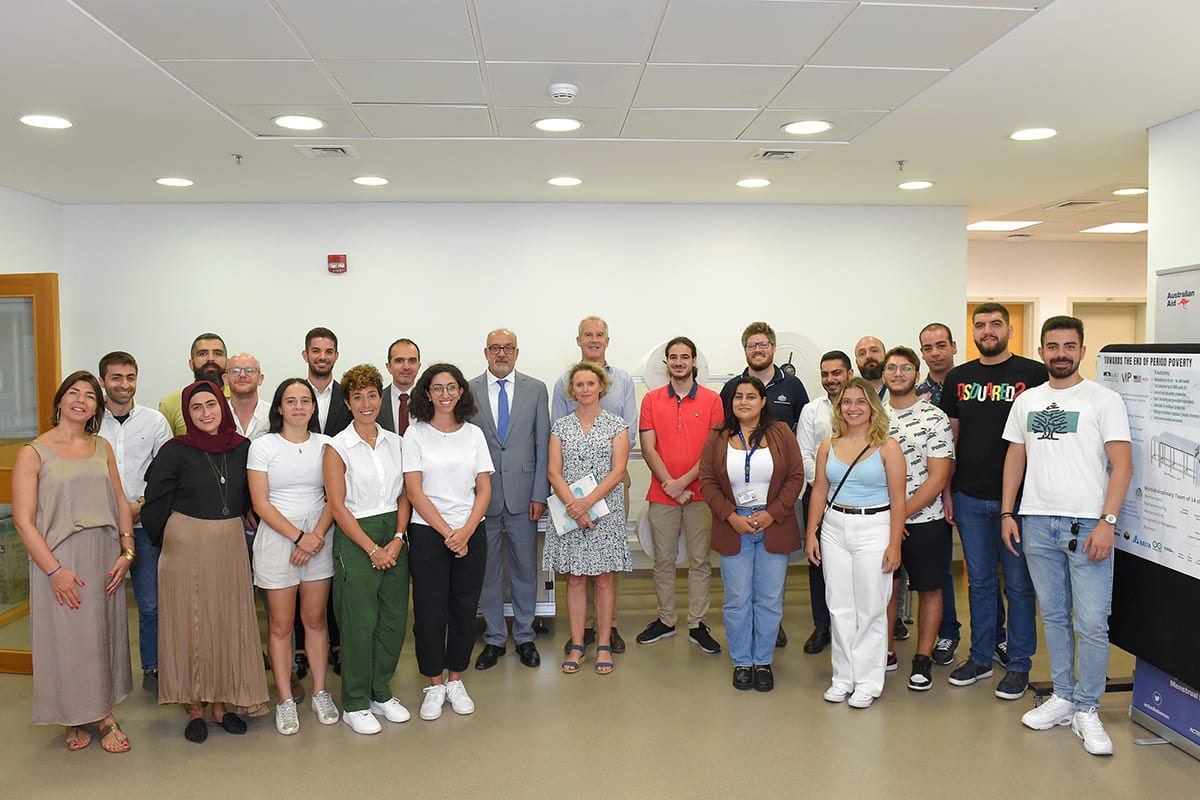 Australian Ambassador Andrew Barnes made a significant visit to the LAU Industrial Hub (LAUIH), putting the spotlight on a crucial issue — period poverty. Supported by Australian Aid, the project aims to manufacture affordable and hygienic menstrual care products, serving the dual purpose of job creation and addressing an urgent healthcare problem.
Welcoming him were LAU Vice President for Business Development and Global Affairs Elie Badr, LAUIH Director Ali Ammouri, Arab Institute for Women Director Myriam Sfeir, Assistant Professor at the School of Engineering Evan Fakhoury and the students undertaking the initiative. Representatives from Australian Aid, Acted and UN Women, who are also collaborators on the project, were present as well.
Dr. Badr reflected on the mission of the Industrial Hub in harnessing academic expertise for the advancement of industries on one hand, and, on another hand, bolstering collaborations between university students and their fields of work before they graduate.
Dr. Ammouri emphasized that the Industrial Hub isn't merely a connector between academia and industry, but also "a powerful catalyst driving innovative solutions for real-world challenges." He also highlighted the diverse range of transformative projects currently in progress at the hub.
The team of 14 students – who call themselves the "Padvocates" – presented on the project: designing and assembling a machine that manufactures hygienic menstrual care products. From creating job opportunities and offering quality products at an affordable price, to fast-paced production and adherence to international standards, the effort helps solve a vast number of challenges for women.
These challenges, explained the team, "became exponentially more pronounced in Lebanon with the onset of the economic and financial crises, where 66 percent of women and girls could no longer afford safe and hygienic products."
Expressing his pride in the "outstanding project," Ambassador Barnes congratulated the leaders, staff and students working at the LAUIH, and affirmed his country's commitment to gender equality, and supporting women in need. "We are happy to partner with LAU and other international organizations to help realize this humanitarian endeavor and hope to collaborate on similar projects in the future," he added.