Charting the Course to Professional Success in the Fifth Annual Pharmacy Residency Conference 2023
The School of Pharmacy and LAU Medical Center-Rizk Hospital collaborate with AUBMC and CCAD to facilitate opportunities for residents to showcase their projects and research.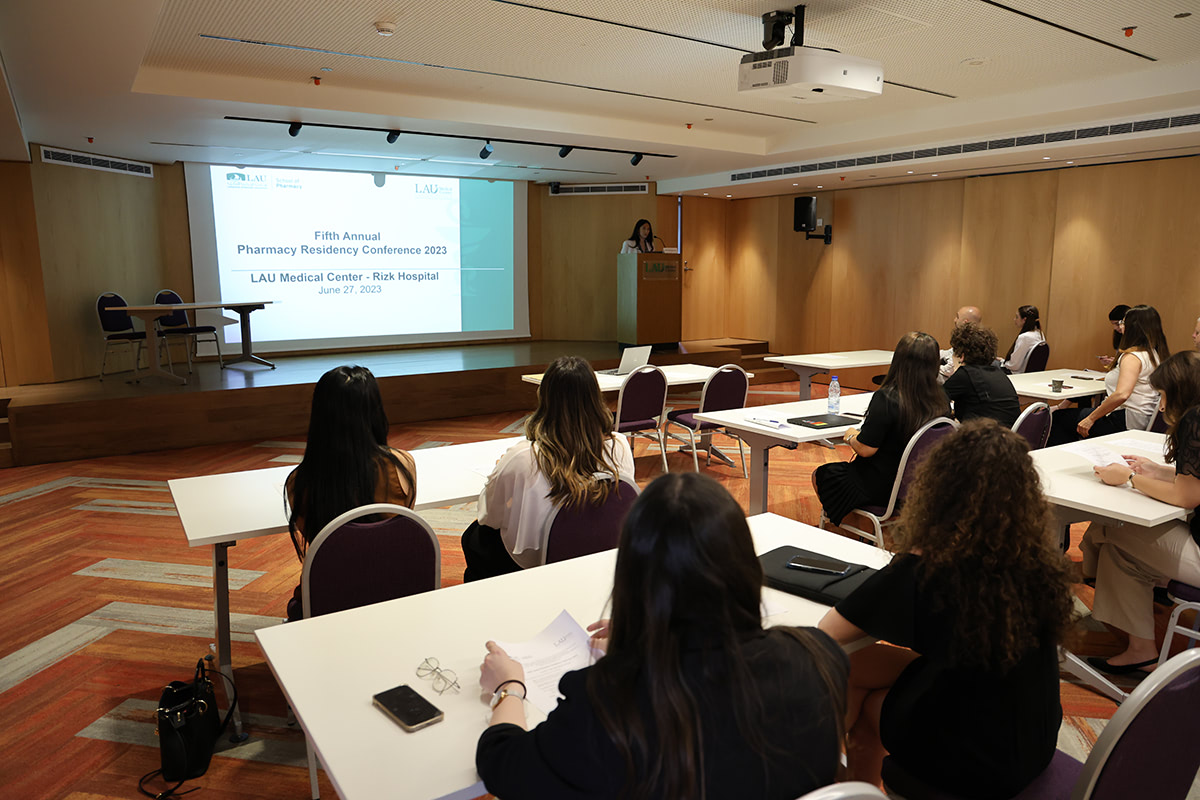 In today's globalized workplace, it is no longer enough for new graduates to do their job well. Gaining a competitive edge hinges in part on their ability to help advance their profession on the national, regional or international level for the benefit of society at large.
This is particularly true of healthcare where research, interprofessional collaboration, and synergy between healthcare providers, within or outside the clinical setting, are fundamental to optimal patient care.
For this reason, experiential learning at the ACPE-accredited LAU School of Pharmacy ensures that students and graduates of the Doctor of Pharmacy (PharmD) program are afforded every opportunity to engage with practitioners and gain insight into the evolving landscape of their profession.
In addition to putting their clinical skills into practice during their Postgraduate Year One (PGY1) Pharmacy Residency – a program accredited by the American Society of Health-System Pharmacists (ASHP) – PharmD students acquire the research and scholarly skills to generate new knowledge and improve patient care.
By way of enriching this experience, the school hosted its Fifth Annual Pharmacy Residency Conference 2023 at the LAU Medical Center-Rizk Hospital in collaboration with the American University of Beirut Medical Center (AUMBC) and, for the first time, Cleveland Clinic Abu Dhabi (CCAD). The event provided a platform for residents from Lebanon and the UAE to formally present their research projects and engage in knowledge transfer with their colleagues.
Other than inviting input on the research from interprofessional stakeholders, this collaborative effort contributes to "the residents' professional development, and increases their visibility and outreach," said Clinical Associate Professor and Residency Program Director Nibal Chamoun (PharmD '09).
Like Dr. Chamoun, the directors of the residency programs at AUBMC ­­– also ASHP-accredited – ­and CCAD were LAU alumni: Dr. Rony M. Zeeny (PharmD '05) and Dr. Rania El Lababidi (PharmD '05) respectively. Founder and President of IVPN-Network, a pharmacy networking and mentorship enterprise, Dr. Osama Tabbara, was the guest speaker.
Over two sessions, moderated by the school's Clinical Associate Professor Hanine Mansour (PharmD '02) and Senior Antimicrobial Stewardship Pharmacist at AUBMC Nisrine Haddad Sarkis, the residents expounded on their research projects, which varied from the impact of health literacy on patients, guided monitoring strategies and pharmacy-led protocols, to medication reconciliations, among others.
The residents undergo rigorous preparation for these final presentations. From day one of their orientation, they are guided by preceptors in the ethical process of conducting research. They first present their research proposals to mentors and other practitioners for feedback, and again, during Research Day at LAU.
Their projects are submitted for review by the Institutional Review Board to ensure they adhere to the ethical principles outlined in the Belmont Report and comply with the regulations governing research and the protection of participants. Preceptors help them collect data by interviewing patients, asking for their consent and analyzing the results.
"My interactions with the residents," said Clinical Associate Professor and Assistant Dean for Student Affairs Lamis Karaoui (PharmD '05), "center on finalizing their research project required for graduation. As such, the conference is a venue to showcase their year-long research project findings." The feedback the residents receive on their projects helps them improve their final manuscripts before they are submitted for peer review and publication, she added.
"Afterward," said Dr. Chamoun, "residents have more opportunities to present their poster research at the American Society of Health-System Pharmacists (ASHP) Clinical Conference, one of the largest meetings for clinical pharmacists and healthcare professionals in the US."
Over the years, four such research papers have been published, with many currently in draft form or the submission process.
This year's conference was distinguished by the presence of pharmacy academicians, physicians, nurses, hospital pharmacists and statisticians whose input helped to enrich the residents' experience and projects.
Such exposure enables the residents to develop a reputation and possibly connect with the audience, which can help secure jobs in the clinical, academic and research fields, noted Dr. Mansour. It also allows them to become actively involved in publishing their research papers, composing clinical assessments and contributing to the education of pharmacy students.
"The conference objectives align with the School of Pharmacy's strategic plan and constitute an excellent testament to the school's momentum in fostering interprofessional practice, intraprofessional collaboration and leadership in pharmacy practice and education," remarked Dr. Karaoui.
In retrospect, said Dr. Chamoun, given that clinical pharmacy had its initial introduction at the LAU Medical Center-RH with a small team of clinical faculty members from the School of Pharmacy, the notable growth in its services at the medical center has paved the way for collaborative research initiatives between participating institutions regionally and globally.
"This can be done by offering resident exchange rotations, fostering academic partnerships and providing continuing education programs," Dr. Karaoui stated. "All these factors can contribute to advancing the program and driving changes in national and international pharmacy practice."
Looking ahead, Dr. Chamoun hopes to enlist the participation of multiple regional residency programs in the conference to diversify the experience and input along the lines of regular conferences across the US that foster collaboration in advancing the pharmacy profession.