From Medical Students to Physicians
LAU's Gilbert and Rose-Marie Chagoury School of Medicine celebrates the hooding of its 11th cohort of medical students.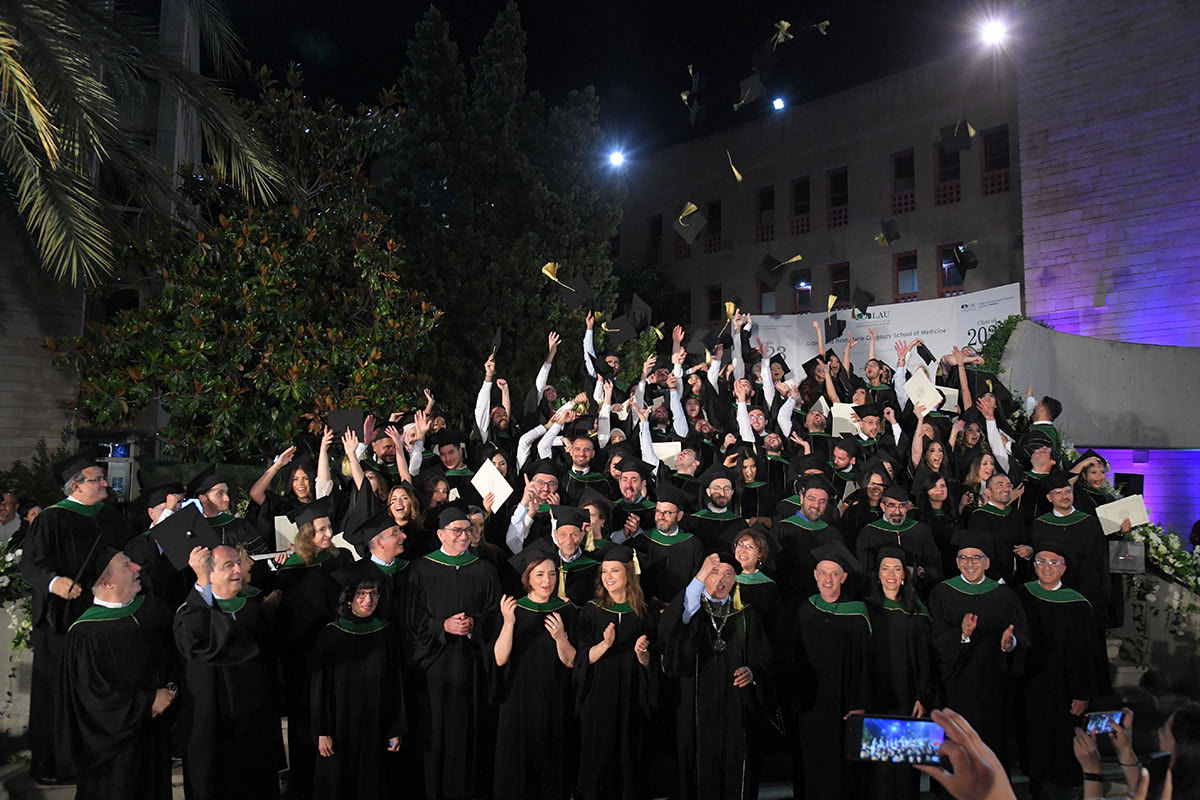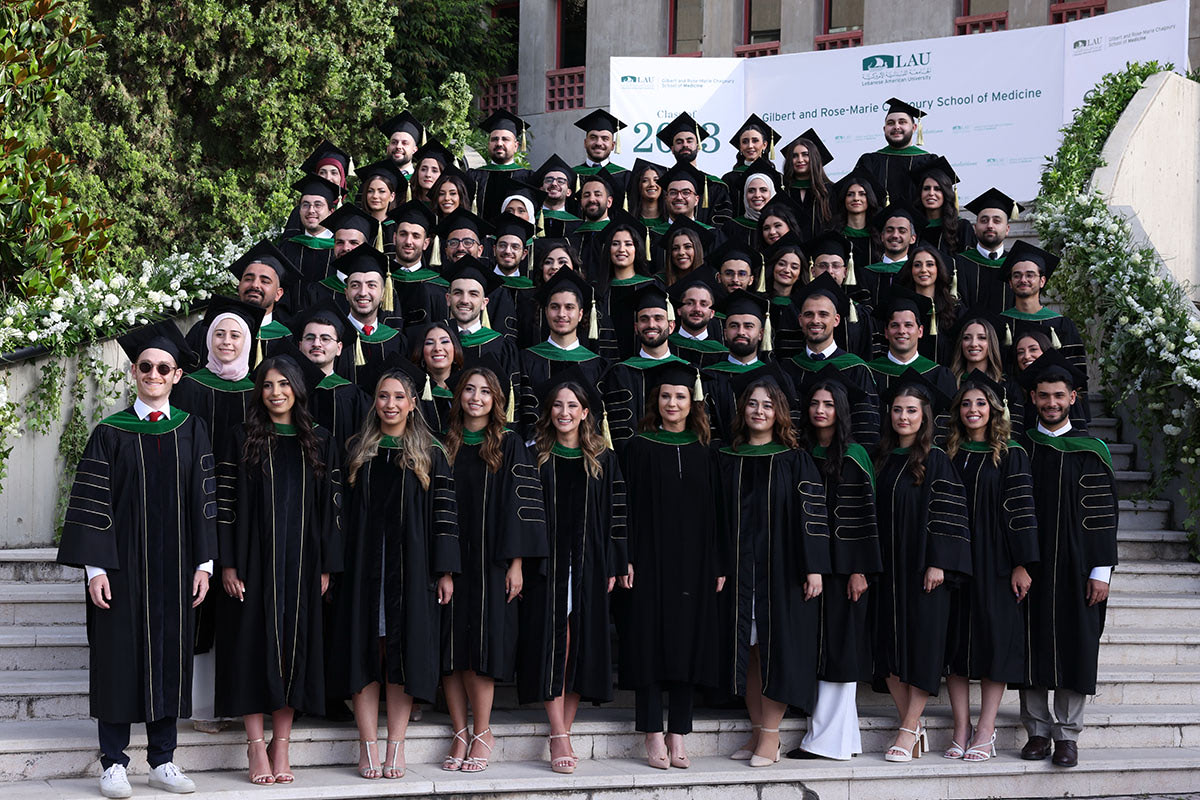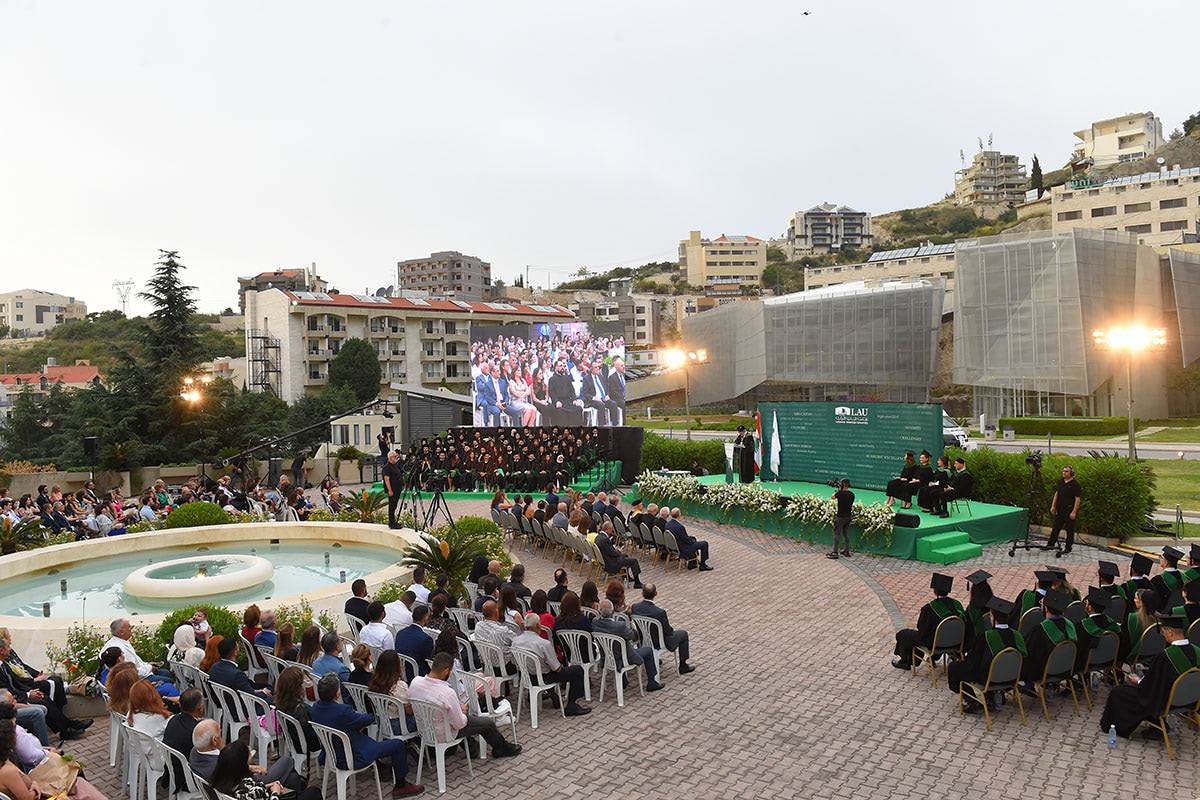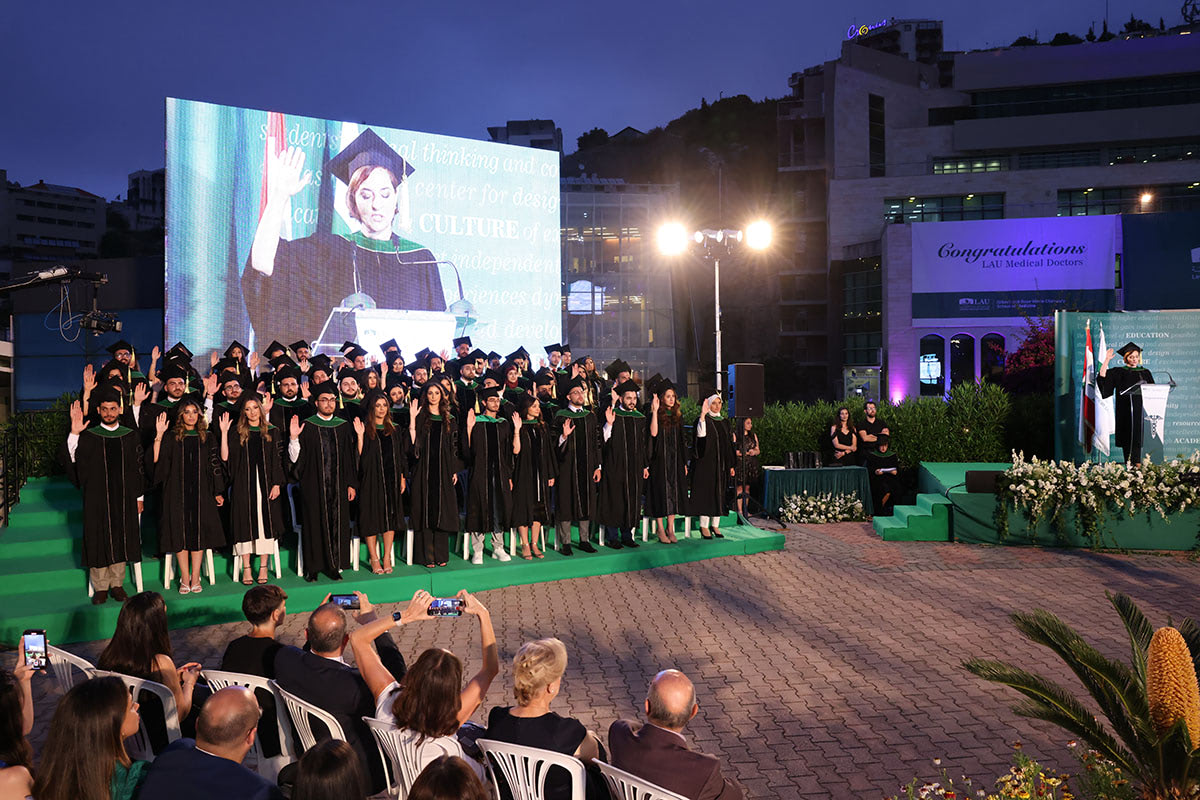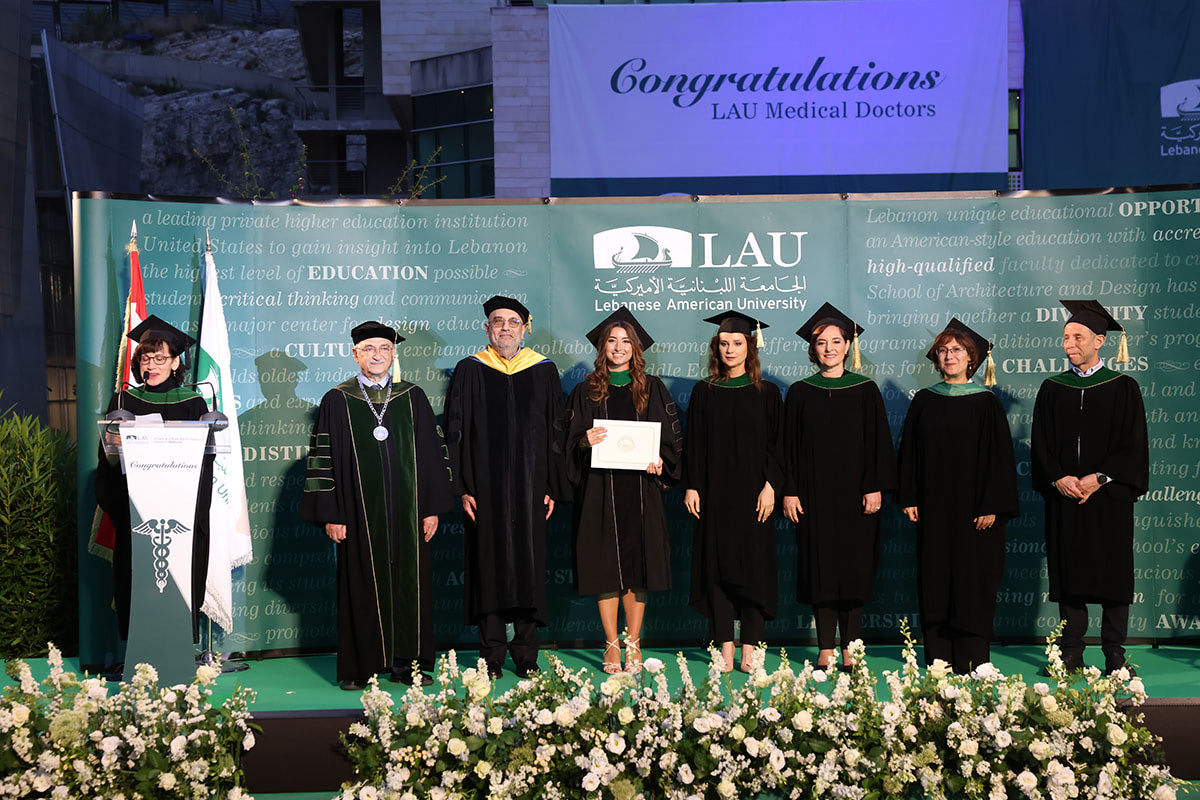 Sixty graduating medical students filled the stands on the Byblos campus, each no doubt with a story to tell about how they persevered through the lockdown, power cuts, natural and man-made disasters in one of the worst periods in Lebanon's history and a grueling curriculum to be there on that day.
June 3, 2023 marked their transition from students to physicians in the 10th Hooding ceremony of the Gilbert and Rose-Marie Chagoury School of Medicine. The event was attended by LAU President Michel E. Mawad, Provost George E. Nasr, the school's Dean Sola Aoun Bahous and faculty members, LAU leadership, school deans, family and friends.
Also present from the LAU Medical Center-Rizk Hospital were CEO Sami Rizk, Deputy CEO for Strategy and Development Georges Ghanem, Assistant CMO Daniel Mahfoud, and Medical Director of the LAU Medical Center-Saint John's Hospital Wadih Ghaname.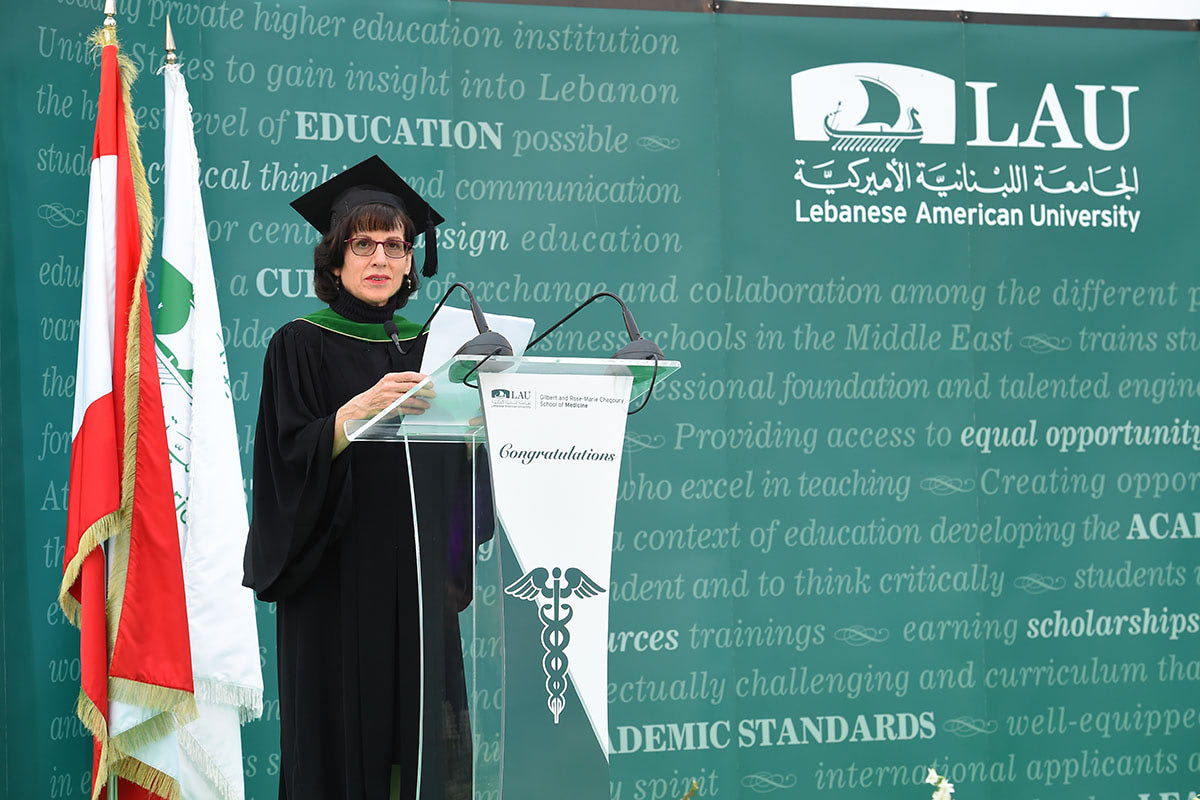 Clinical Assistant Professor and Director of Student Affairs Nancy Chedid, who emceed the event, expressed her admiration for the graduates who, despite the fact that "the sky seems to have opened and rained catastrophes" in their first year, transcended the challenges to "become the skilled and compassionate future physicians we see before us today, radiating maturity and wisdom beyond your years."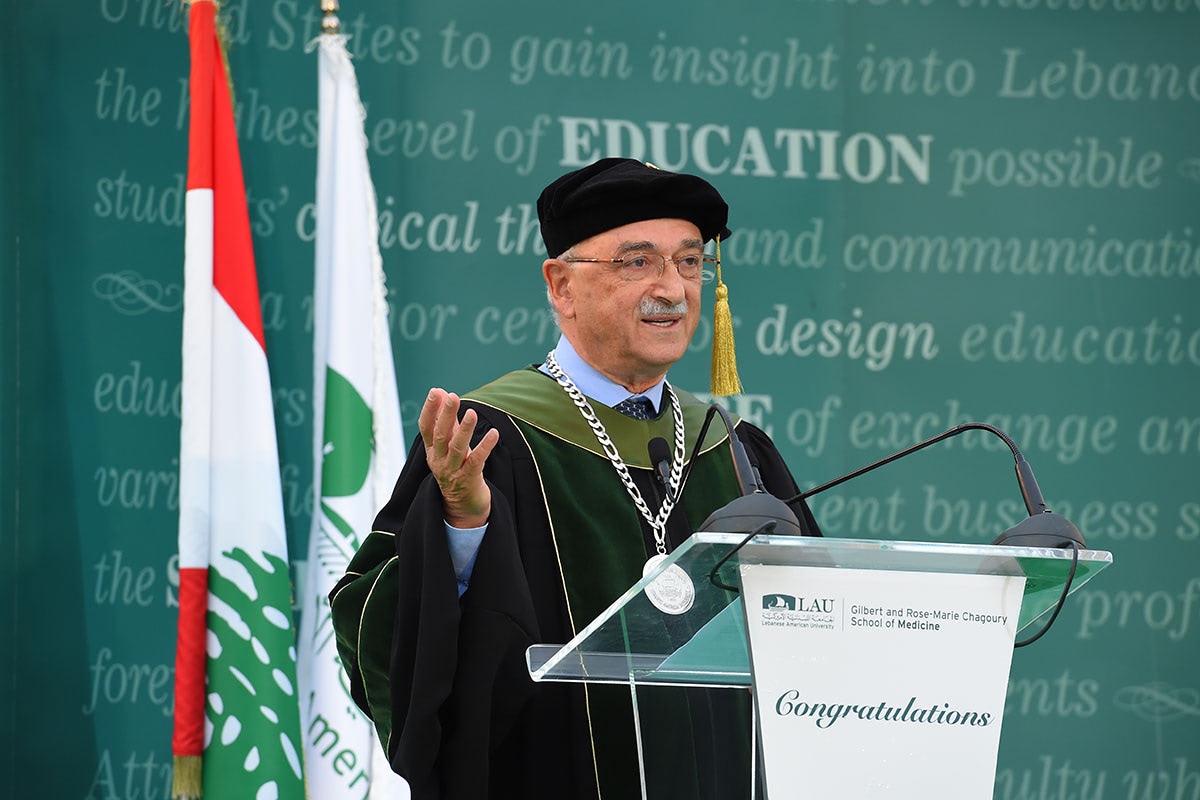 Addressing the graduates, his "dear colleagues," as the president and a distinguished neuroradiologist who had served as the school's dean, Dr. Mawad said that they were "now crossing into a world of immense fulfillment, daily challenges and corresponding gratification, continuous learning and constant vigilance." A world where "what is important is not us but the people we serve. What should be always paramount is not our ego but our deeds, and the good we have done to alleviate the suffering of so many around us."
He commended their hard work, their will and their determination to grow from students to physicians, from novices to professionals, reminding them that these qualities that will serve them well had blossomed thanks to the efforts of their teachers and the school's administration.
"LAU has certainly done its part," added Dr. Mawad. "We prepared you well academically, professionally and behaviorally. We have also helped you inculcate the ethics of the profession that we all respect and cherish, its noble mission, and sacred purpose." Encouraging them to venture forth into their future, guided by their ethics, integrity and compassion, he nevertheless urged them, should they go overseas, to eventually return to their country, where they are needed the most.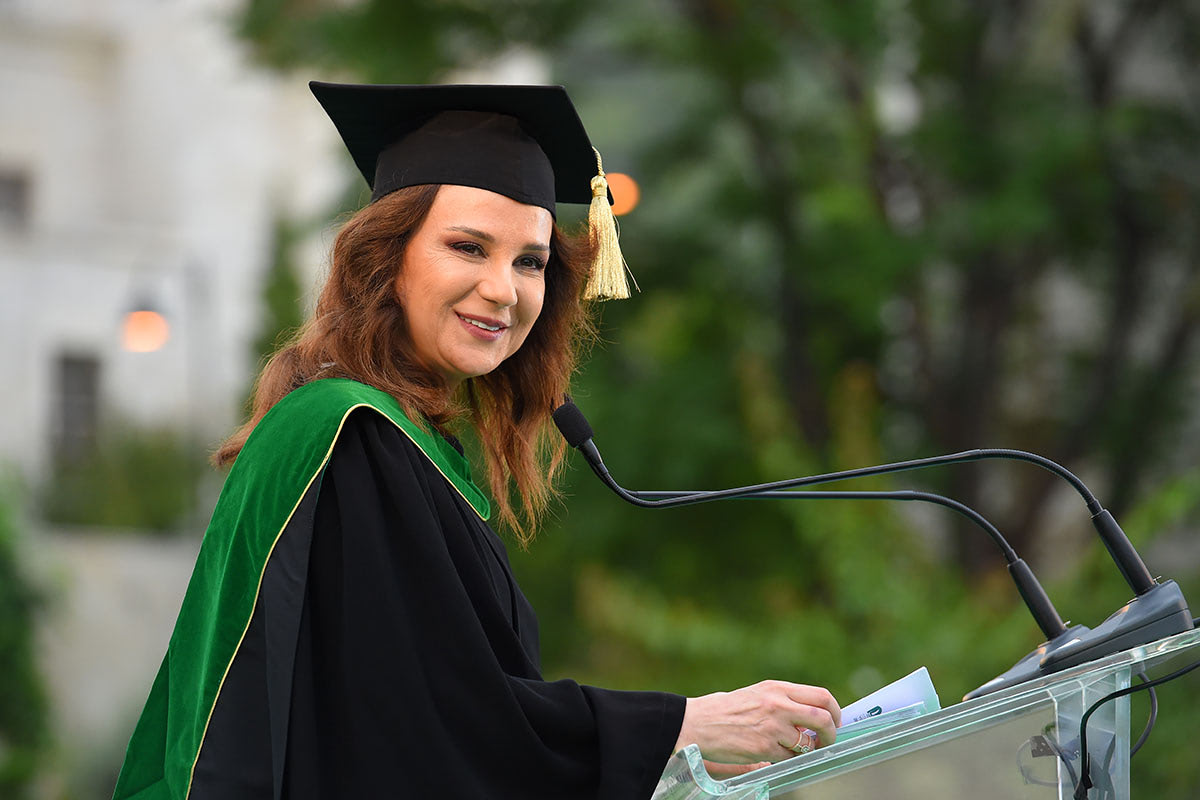 For Dr. Bahous, the 10th graduation year held a special significance, not only as a milestone in the life of LAU's medical school but also because of the uniqueness of its remarkable cohort. "In most cultures around the world, the no. 10 is commonly associated with skill, leadership and creativity, a symbol of completeness and perfection, and you who have embarked on your journeys just before the economic crisis, political unrest and the world pandemic and made it here today, you are the perfect 10," she said.
They are a 10 for being the cohort of Plan B, the emergency plan, and crisis mode, for the uncertainty they experienced in all its forms and the faith and trust they kept in their future, and for the exceptional bravery and endurance they have shown over the past four years, she said.
Dr. Bahous went on to encourage the new physicians to dream big, challenge the status quo, question the norms, push for progress, and support one another. She exhorted them to remember, above all, that every patient they treat is a unique human being with their own story and struggles, and that they have the power to make a change in their patients' lives and have a profound impact on their wellbeing.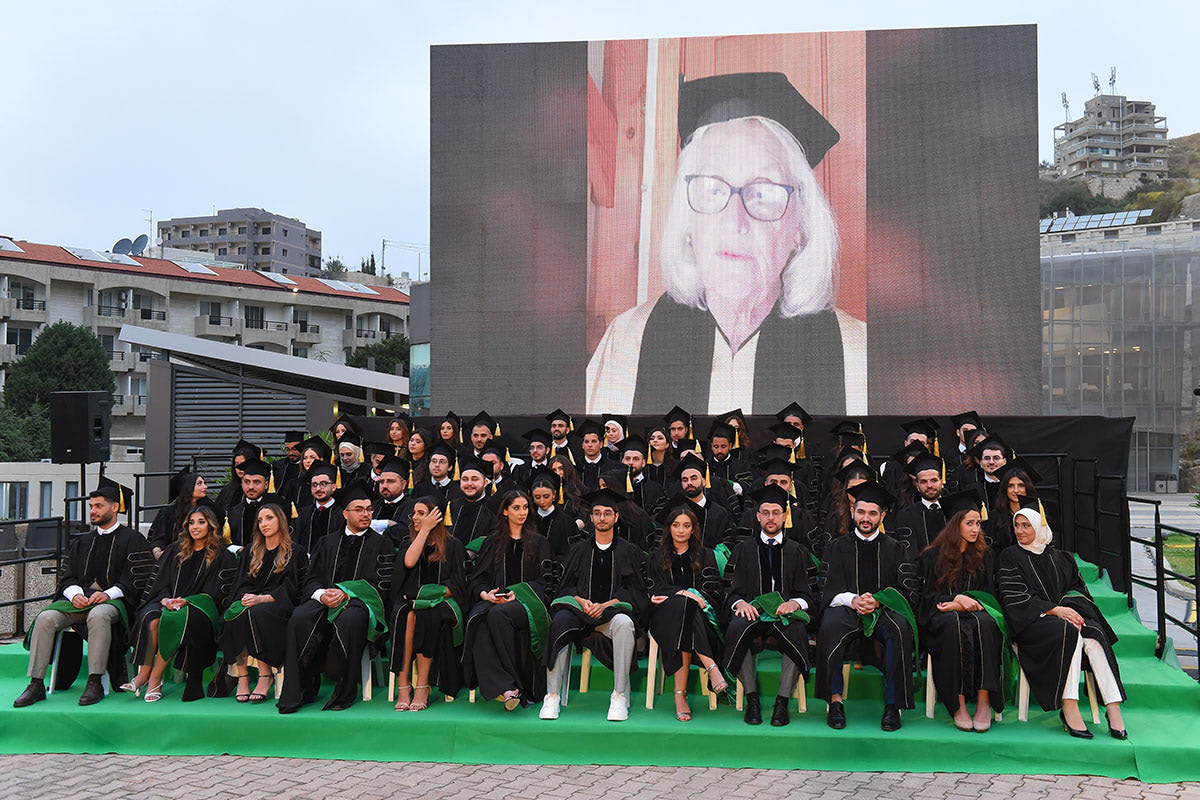 In a virtual address, Keynote speaker, Professor of Family Medicine and Community Health at the University of Massachusetts and Senior Lecturer at Harvard Medical School Lynn Eckhert relayed the medical school's history, in which, she said, "are the pearls of medical practice." In 2005, Dr. Eckhert was one of three Harvard Medical School faculty invited to conduct a feasibility study for an innovative medical school that would graduate "future leaders of healthcare." She also served as the school's interim dean from 2011 to 2013.
"An innovative medical school called for impassioned faculty who would question the same old ways, embrace the newest trends in medical education and seek creative solutions," she said. Hence, a core group of highly motivated faculty and staff inspired to create a new medical school were recruited, among whom Dean Bahous, one of the founding faculty.
The core faculty members spent time at Harvard Medical School learning about innovations in medical education, lessons that they brought back to their LAU colleagues. Harvard faculty came to Lebanon to advise and collaborate in creating a unique organ-based integrated curriculum designed specifically for LAU.
"I now watch LAU School of Medicine from a distance. The record of success is remarkable. The program has grown, the graduates are doing well, clinical care is expanding," said Dr. Eckhert. "LAU School of Medicine is a recognized leader in medical education. Despite the immense challenges Lebanon faces I see LAU School of Medicine as a beacon of hope."
The school's history, Dr. Eckhert told the graduates, was their history. "Take with you the creativity of the faculty who designed and taught a new medicine, the commitment of an administration and staff who supported the dream of a new generation of physicians and the spirit and camaraderie of the inaugural class who dared to take a risk on a new medical school," she said. "Take those lessons forward with a boldness and tenacity to be the agents of change in healthcare. We are all counting on you."
Dr. Vanda Abi Raad, associate dean for Faculty Affairs and Development, led the graduates in the recitation of the Hippocratic Oath.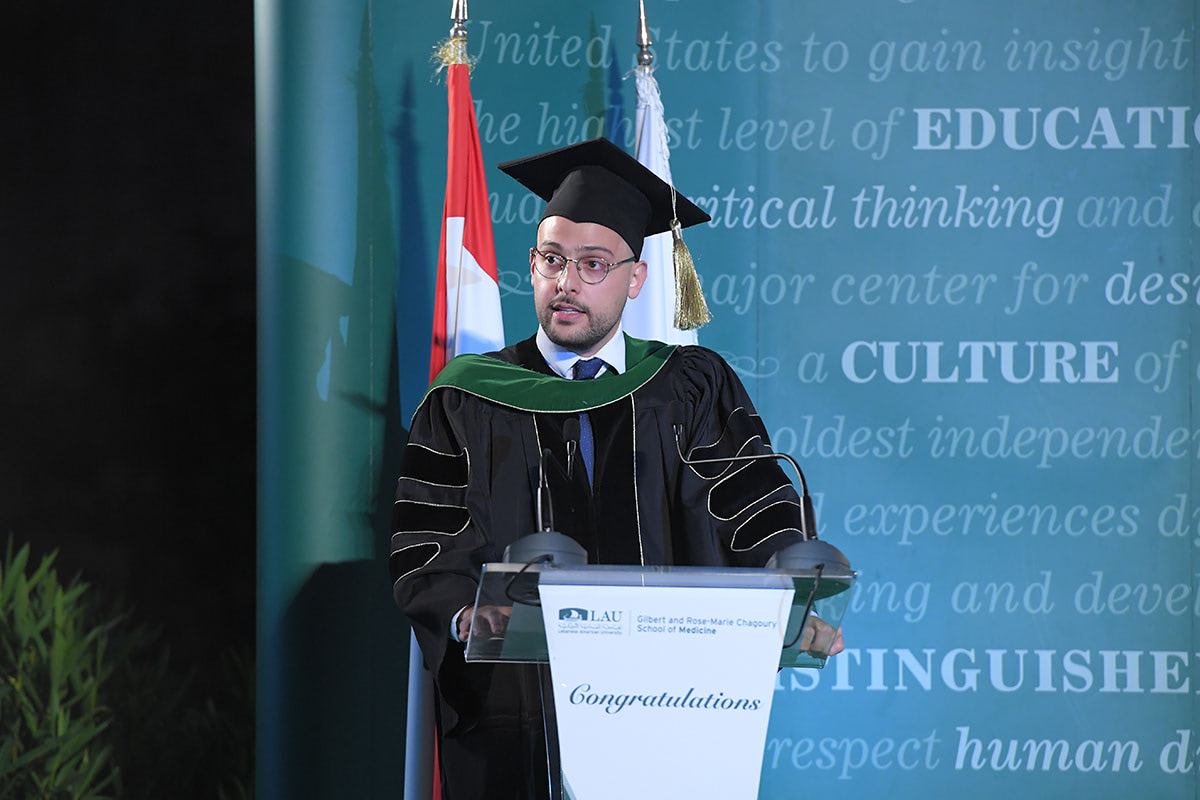 On behalf of his class, Valedictorian Wael Azzam expressed their heartfelt gratitude to all the faculty and staff at the university and its medical centers for their instrumental role in the cohort's journey. "During all adversities," he said, "your unwavering commitment to our education, your patience, and your belief in our potential have paved our way to this exact moment." He then resorted to lyrical Arabic to convey his gratitude and love for his precious parents.
At the end of the ceremony, a video was screened in which the 2013 LAU medical graduates congratulated and imparted career advice to the new graduates.
Awards were presented to graduates who exemplified high standards in the following areas: professionalism (Dr. Carl Ammoury and Dr. Mario Maalouf), community service (Dr. Eliane Aoun), leadership (Dr. Fadi El Tom), research (Dr. Nour Barmo), excellence and innovation (Dr. Marc Ghanem-first prize; Dr. Jana Sharara-second prize), and academic excellence (Dr. Wael Azzam).