Managing Anxiety Through a Holistic Balance of Mind and Body
LAU Medical Center-Rizk Hospital hosts a cross-departmental initiative to increase awareness of the relationship between the physical and mental impacts of anxiety.
By Sara Makarem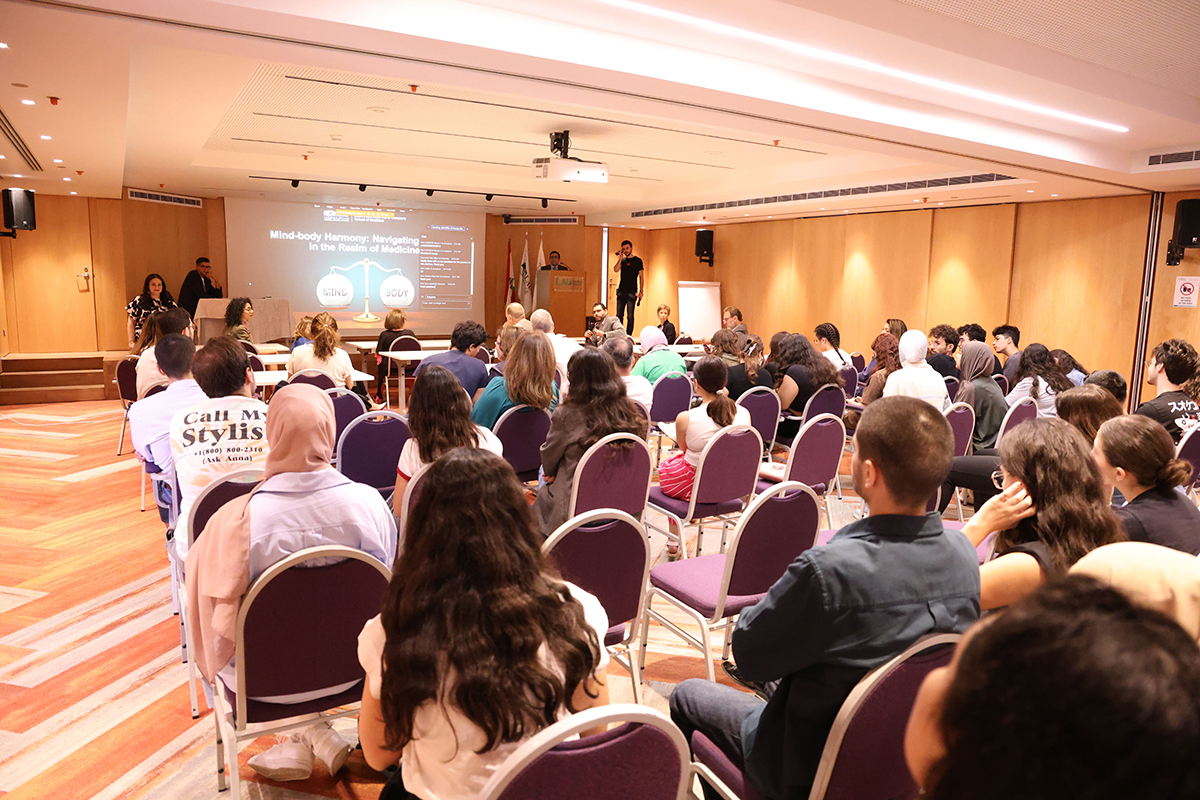 With 14 types of anxiety disorders affecting more than 300 million people globally, the condition can have a profound impact on the mental, physical, and overall wellbeing of individuals across age groups. However, due to the prevalent siloed approach toward patient care, the medical community faces challenges in early screening, diagnosis, and treatment of one of the most common psychological disorders.
To tackle this significant issue, the Gilbert and Rose-Marie Chagoury School of Medicine, in collaboration with the Psychology Program at the School of Arts and Sciences, organized a symposium titled Mind-Body Harmony: Navigating Anxiety in Medicine at the LAU Medical Center-Rizk Hospital on November 4.
"This important and timely subject seeks to enhance our understanding of the intricate interplay between the mind and body, leading to better diagnosis, empathetic healthcare, and enhanced quality of life for those dealing with anxiety and its physical impact," said Dr. Vanda Abi Raad, associate dean for faculty affairs and development at the school of medicine.
When left unregulated, anxiety usually leads to somatization, whereby psychological symptoms manifest as physical complaints like fatigue, abdominal pain, and insomnia, among others. Unfortunately, physicians working independently often miss the link between these symptoms and underlying anxiety disorders.
That is why it is crucial "to have effective collaboration among physicians, psychologists, psychiatrists, nurses, and social workers in providing a comprehensive diagnosis," said Dr. Jocelyne Azar, clinical assistant professor and director of the residency program in psychiatry at the medical center, which "guarantees the delivery of optimal care to our patients."
The symposium is one of the school's many activities to foster interdisciplinary knowledge dissemination among its departments, institutional partners and the community.
Featuring keynote speakers from partner institutions like the American University of Beirut (AUB) and Hôtel-Dieu de France, the event was attended by students and staff, in addition to residents and physicians as part of their continuing medical education. Invitations were also extended to the Lebanese Order of Physicians and the Lebanese Psychological Association.
Though patients can experience various anxiety disorders throughout their lives, "anxiety is not inherently negative," posited Dr. Leyla Dirani, associate professor at AUB's Department of Psychiatry and president of the Lebanese Order of Psychologists. Anxiety, she said, can be instrumental in children's development and identity formation, helping them for example develop a healthy fear of strangers and preparing them to cope with separation from caretakers.
However, when anxiety becomes chronic, individuals may manifest psychosomatic symptoms that impact the musculoskeletal, respiratory, gastrointestinal, immune and nervous systems.
For this reason, physicians play a pivotal role in identifying these symptoms since "anxiety can present as any focal neurologic symptom such as paralysis, seizures, and movement disorders," said Dr. Nancy Maalouf, LAU clinical assistant professor of neurology. The challenge lies in differentiating between pseudo-syndromes and organic symptoms, a task that can be addressed through a combination of clinical expertise and comprehensive patient evaluation.
Moreover, "if chronic stress and trauma go untreated," noted LAU Assistant Professor of Psychology Myriam El Khoury Malhame, "it has the ability to alter our genetic makeup in the form of increased aging which can be inherited by future generations."
Anxiety can also potentially cause eating disorders like binge eating, anorexia, and bulimia, explained Dr. Rami Bou Khalil, an associate professor of psychiatry at Saint-Joseph University in Beirut and chair of the psychiatry department at Hôtel-Dieu de France. Conditions like PTSD and chronic stress can reduce the appetite by triggering an aversion to food.
After the presentations, interactive workshops provided healthcare providers and patients with practical strategies for dealing with anxiety, such as psychoeducation, promoting good sleep, implementing lifestyle changes, and employing effective stress management techniques.
Treating the emotional aspect involved in patient care, one workshop focused on effective communication between patients and healthcare providers, as well as among healthcare providers, laying out compassionate approaches to breaking bad news. At the medical level, another session explored the intricate connection between anxiety and cardiac-like symptoms and the associated challenges and interventions, particularly in children experiencing psychosomatic symptoms.
The challenges and interventions related to anxiety and psychosomatic symptoms in children, however, are unique, noted Dr. Pia Tohme, assistant professor of clinical psychology at LAU. Discussing how anxiety affects children, particularly those with terminal illnesses, she stressed the importance of early intervention by psychologists and psychiatrists to help them cope with psychosomatic symptoms related to their illness. Dr. Tohme put forward strategies to help staff in pediatric units care for children who present with anxiety and/or psychosomatic symptomatology.
To learn more about the speakers and the abstracts of the presentations go to: https://medicine.lau.edu.lb/conferences/mind-body-harmony/speakers-abstracts.php