Pharmacy Doctors Graduate as "Ambassadors of Healing"
The School of Pharmacy honors its newest cohort of PharmD graduates and residents.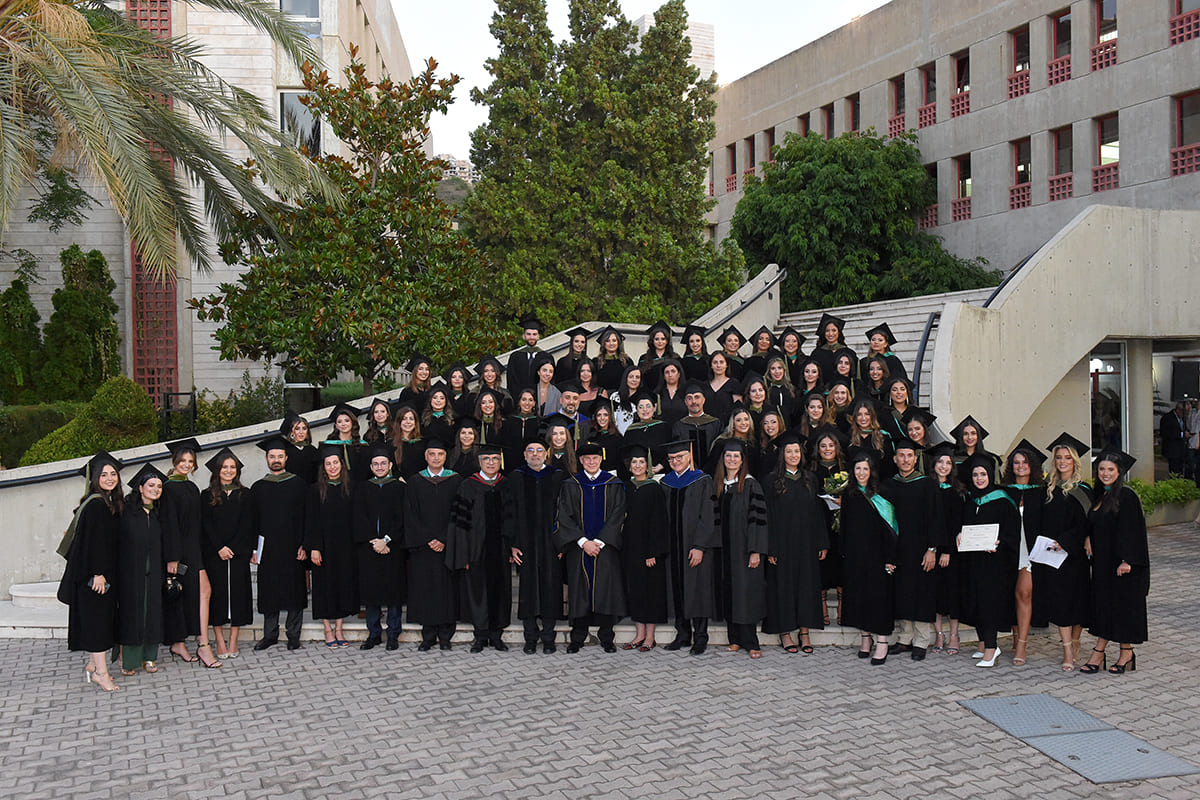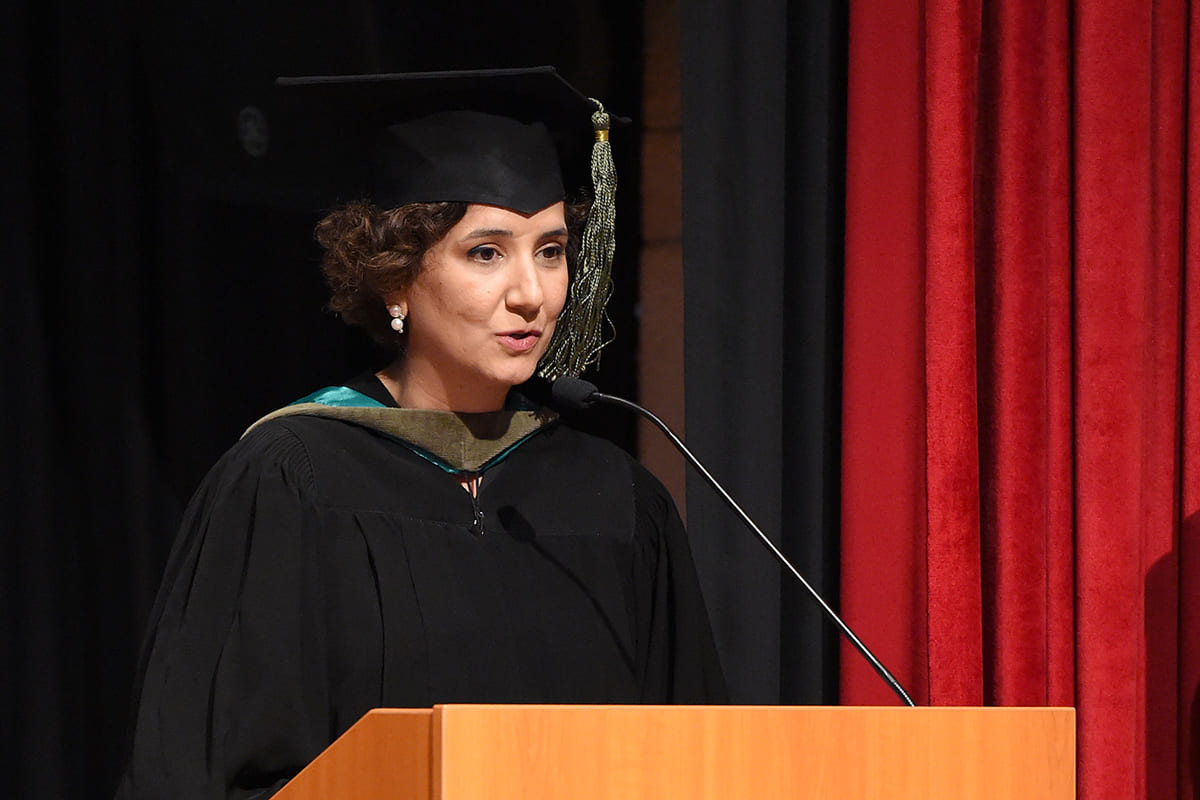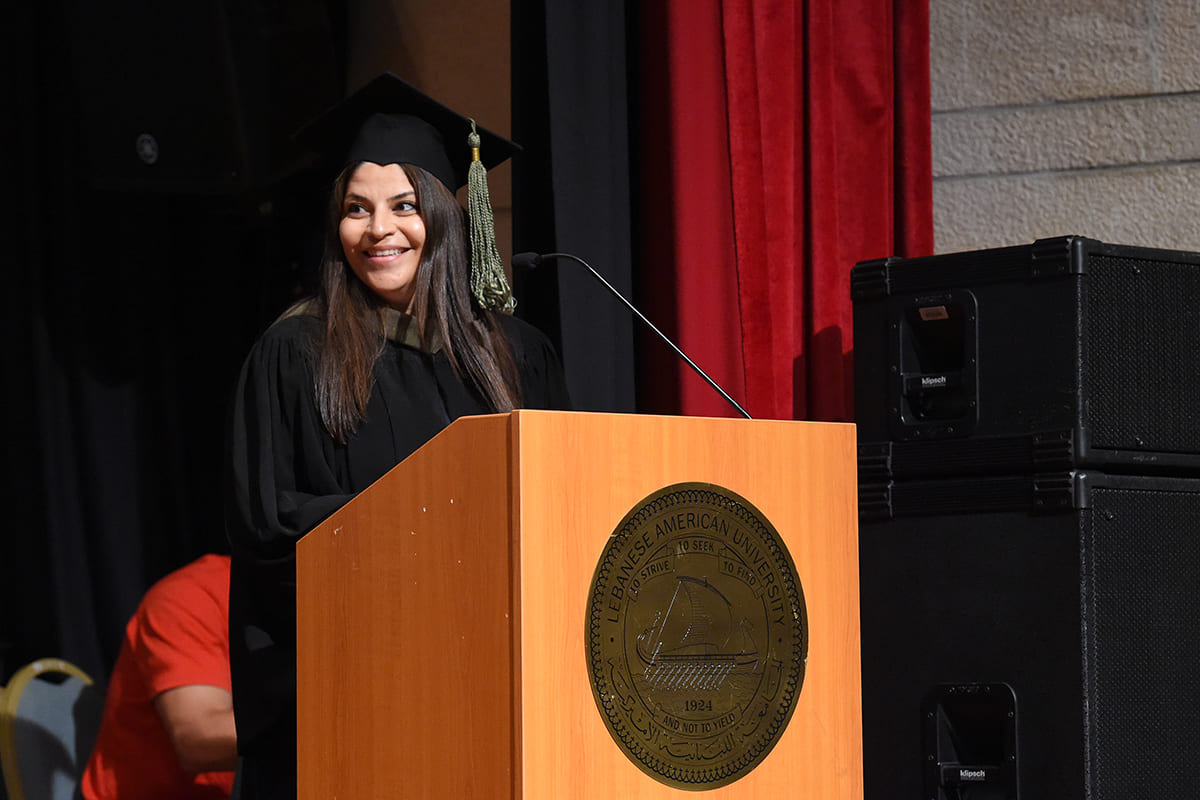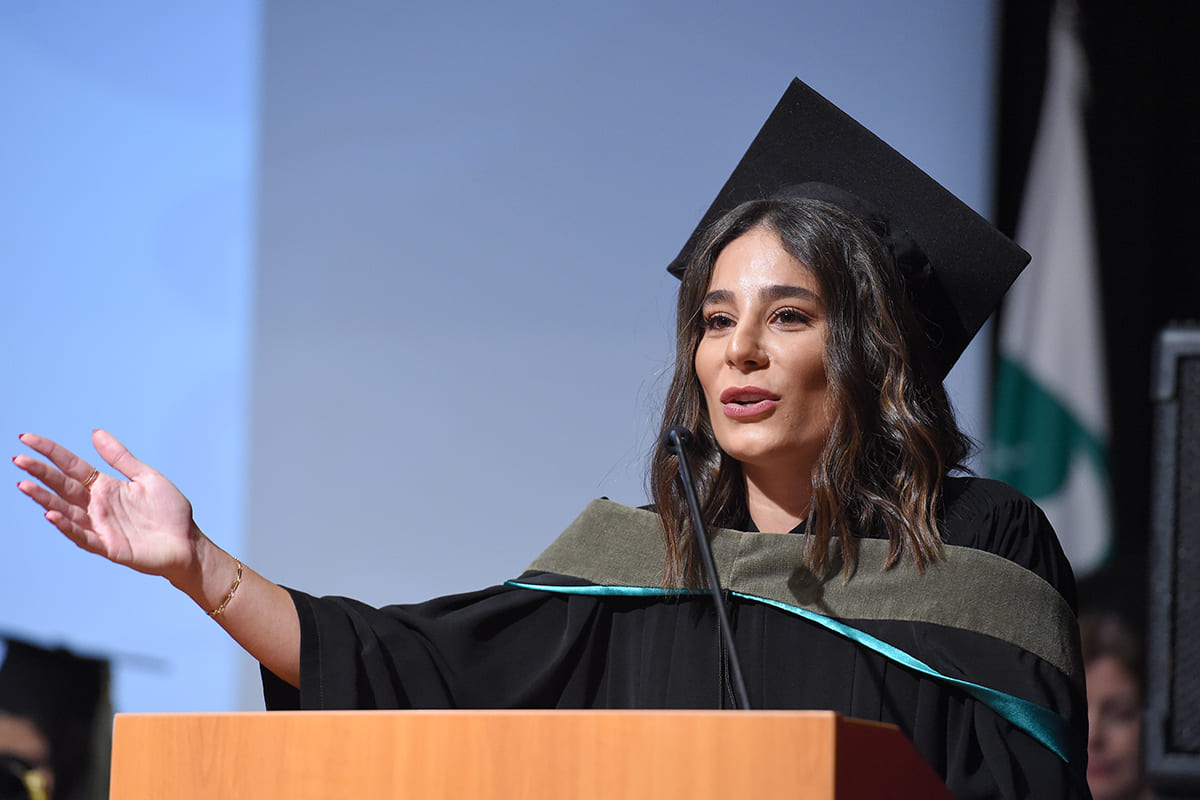 The School of Pharmacy at LAU celebrated the rite of passage of 37 Doctor of Pharmacy (PharmD) graduates and two residents at its annual Hooding Ceremony and Graduation of Residents, held on July 12 on the Byblos campus.
Attendees included LAU Provost George E. Nasr, Member of the Board of Trustees Moise Khayrallah, Vice President for Institutional Advancement for Lebanon and the Middle East at LAU Gabriel Abiad, School of Pharmacy Dean Naser Z. Alsharif, Dean of the Alice Ramez Chagoury School of Nursing Costantine Daher, faculty, staff, parents and friends.
The ceremony also featured a keynote address by Senior Vice President for Retail at CVS Pharmacy Brian Bosnic, who came all the way from the US to attend the event, along with CVS Executive Director and LAU alumnus Edward Aoun (BS '03; PharmD '04), who has been instrumental in creating an experiential learning collaboration with the school.
In his welcome note, Dr. Nasr declared the graduates "ambassadors of healing, who are entrusted with the responsibility of impacting lives and serving humanity." Noting that they have been well-equipped with knowledge and experience, he encouraged them to embrace this noble calling with enthusiasm and empathy, saying: "You will become advocates for patients' wellbeing, guardians of drug safety and catalysts for positive change in healthcare."
Dr. Khayrallah drew from his own experience as an entrepreneur in pharmaceutical development to impart valuable advice. He urged the pharmacists to keep an open mind for opportunities. "You are graduating at a moment of an accelerated pace in drug development and research, including here – at this very campus – where we are working to increase the potential for pharmaceutical research in Lebanon," he said.
Expounding on this thought, Dean Alsharif listed the diverse future possibilities for the graduating cohort: "I see before me resilient, highly committed, knowledgeable, skillful, ethical, moral and caring human beings, future practitioners, educators, scientists and entrepreneurs."
He underlined their roles as part of the interprofessional healthcare team, as well as their responsibility in delivering "culturally sensitive care to decrease healthcare disparities and improve health for all."
Dr. Alsharif also called upon them to "advocate to increase the scope of practice for pharmacists to be acknowledged for their cognitive contributions to patient care, thus changing the definition of what pharmacy is in Lebanon."
Inviting the graduates to cherish all the moments that have defined their journeys so far, Bosnic reminded them that pharmacy is also about "creating more meaningful moments for others, making a positive impact in people's lives, and being their advocates for health and wellbeing."
He also urged them to "embrace innovation, stay curious and never stop learning, as the field of pharmacy is constantly evolving."
Residency Program Director and Clinical Associate Professor Nibal Chamoun expressed her pride in the graduates' accomplishments and eagerness to learn.
"In this profession filled with devotion to patient care, commitment to pharmacy practice advancement and continued education," she shared three overarching guidelines with the graduates: "be active listeners, embrace change in a rapidly changing world and do not shy away from recreating yourselves."
Honoring and recognizing her faculty, peers and family, class valedictorian Dr. Lea Ghajar delivered an emotionally charged speech describing her doctorate journey. She advised her fellow graduates to "pursue your passion in new ways, to walk before you run and, when life gets heavy, pull yourself right back up!"
At the ceremony, the Sara Khatib Inspiration Award was bestowed upon pharmacy student Nour Chidiac, in recognition of her being a role model of courage, determination, endurance and hope in the face of obstacles, while maintaining high academic standards. The award is named after the late pharmacy student who passed after a long and difficult struggle with cancer.
Chidiac delivered a recorded message from Houston, TX, where she is currently completing her PharmD rotation, while her parents, Mr. Antoine and Mrs. Rita Chidiac received the award on her behalf from Mr. Adib and Mrs. Rolla Al Khatib.
"Sara serves as a constant reminder that even in the face of adversity, one can find the strength to continue giving to others and today, I have used only a small part of her strength to overcome my own obstacles," said Chidiac. Echoing this very spirit, she noted how the award will always act as a reminder that "with resilience, hope and support, anything is possible."
During the ceremony, the following PharmD graduates received awards:
Lea Ghajar received the Highest GPA Award and the Student Professionalism Award.
Amanda Rose Khater received the Student Clinical Excellence Award.
The following BS in Pharmacy graduates were also recognized:
Abdo Frensawi received the Highest GPA Award and the Therapeutics Award.
Myriam Stanbouly received the Student Outreach Award.
Angela Wardan received the Student Professionalism Award.
The following class representatives received Certificates of Appreciation, and in turn presented elected faculty members by the students with the inaugural Teacher of the Year in Didactic Teaching Award:
Abdo El Hayek and Haya Rahal, P1 Class Representatives, presented the award to Dr. Nancy Fayyad.
Marc Anlian and Adriana Sadek, P2 Class Representatives, presented the award to Dr. Marwan Sheikh-Taha.
Maria Abou Hatem and Mariane Bazzi, P3 Class Representatives, presented the awards to Drs. Aline Bou Maroun and Nisrine El Hadi.
Lea Ghajar, Yara Srour, Lynne El Ghorayeb and Lea Hleiss, P4 Class Representatives, received their certificates of appreciation on stage.