Pharmacy Training at the Military Level
Students learn about unique experiential learning opportunities within the Lebanese Armed Forces healthcare system.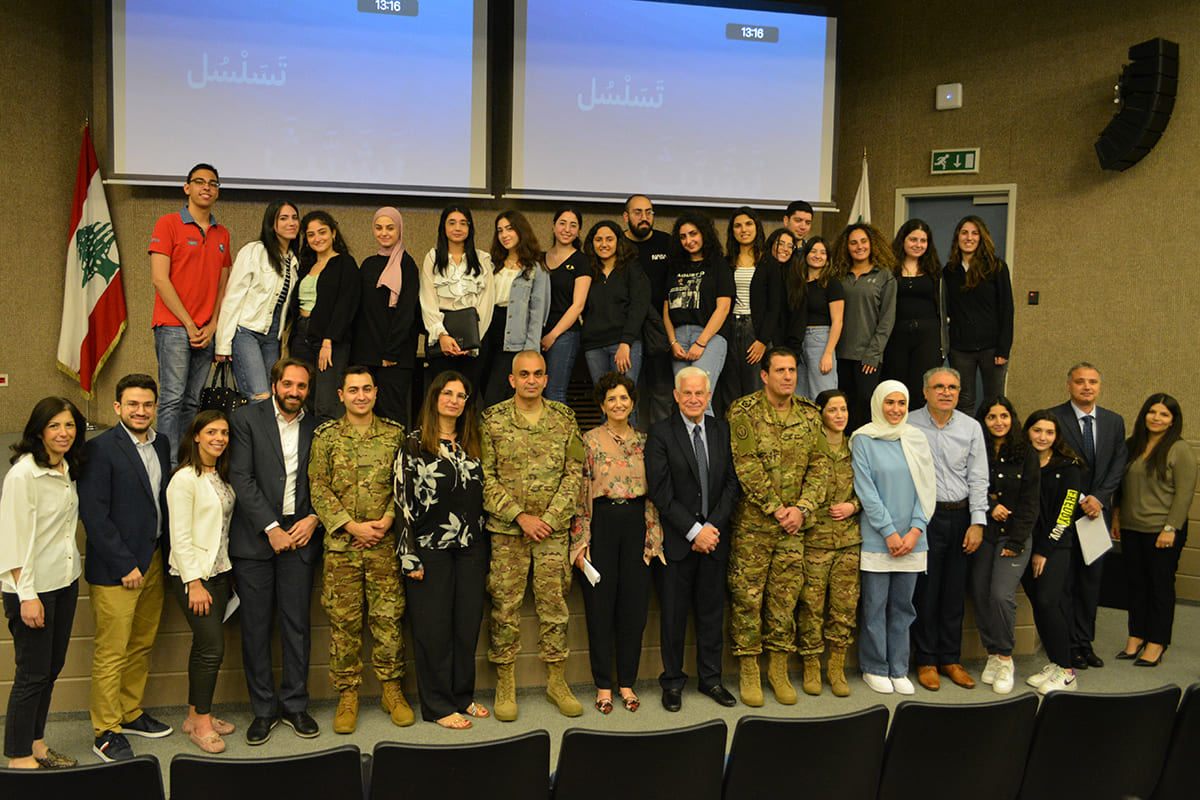 Last August, third-year pharmacy student Mariam El Housseini completed her internship at the Central Military Pharmacy. Her drive to pursue this opportunity was rooted in a personal experience, as her father, a retired army adjutant, was able to secure his medications through the military pharmacy despite the nationwide drug shortage.
"I was curious to get an insider's view of how the Central Military Pharmacy managed the crisis," said El Housseini, who, by the end of her training, had learned far more than she had anticipated.
Gaining insight into biosimilar drugs – medicines that are very close in structure and function to biological medicines – was among her internship highlights. "These treatments are rare, and it is not very likely for a pharmacy student to come across them if they train at a community pharmacy," explained El Husseini.
El Housseini's internship opportunity will soon become accessible to other students at the LAU School of Pharmacy, as plans are in motion for signing a Memorandum of Understanding between the university and the Lebanese Armed Forces, which will open more doors for experiential education.
On April 28, the school hosted an informative session for students on the Lebanese Military Healthcare System, delivered by army colonels and captains who work at the Central Military Hospital, Laboratory and Pharmacy.
"Our students need to see the profession through the eyes of role models, such as the army personnel who have presented here today," said Dean Naser Alsharif, underscoring the importance of on-site learning.
Lieutenant Colonel Habib Abdo gave an overview of the military healthcare for the Lebanese Armed Forces and expounded on the role of the Central Military Labs within the system.
"We cater to around 400,000 military personnel and their families – which amounts to 10 percent of the Lebanese population," he said. Students who train at the Central Military Labs, he added, "have a unique opportunity to develop strategic thinking and problem-solving skills as they practice discipline and commitment."
Echoing that thought, Colonel Pharmacist Ali Hussein highlighted the acquisition of other soft skills, such as leadership and management, considering the large scope of work that the military healthcare system tackles. Furthermore, he said, trainees who wish to pursue a career in academia can also have access to a myriad of case studies.
Captain Pharmacist Michel Khoury gave an example of the scale of operation at the Central Military Pharmacy, where "an average of 2,000 prescriptions are processed per day," – a load that is incomparable to any community pharmacy.
For students, the outcomes of their training can be multifaceted. They would be working under pressure and need to be vigilant and disciplined as they will be dealing with centralized patient records that offer traceability. "This system allows for effective pharmacist interventions and validations," said Captain Khoury.
The centralized system, as Lt. Colonel Abdo explained, helped the Lebanese Armed Forces alleviate the impact of the ongoing economic and financial crisis. The centralized procurement strategy, for instance, allows for acquiring medications and treatments in large quantities and makes the process exponentially more cost-effective.
Other advantages include the centralized command of guidelines, information systems and training, as well as the flexibility of resource allocation and the swift shifting of priorities according to changing economic circumstances.
Advanced technologies and future development projects were the subjects of Captain Pharmacist Nisreen Hatoum's presentation. She spoke about plans for adopting an automated medication dispensing system at the Central Military Pharmacy, whereby interns can benefit from working with advanced equipment and state-of-the-art technology.
The session was eye-opening for students, especially in terms of broadening their knowledge of pharmaceutical practices in the public sector. The training and potential career opportunities with the Lebanese Armed Forces will further diversify an existing rich offering by the school through its network of preceptors and partners in Lebanon and abroad.