Rare Disease Day 2023 at LAU
The Department of Human Genetics sheds light on rare diseases, the latest advances in their treatment and the need for early diagnosis.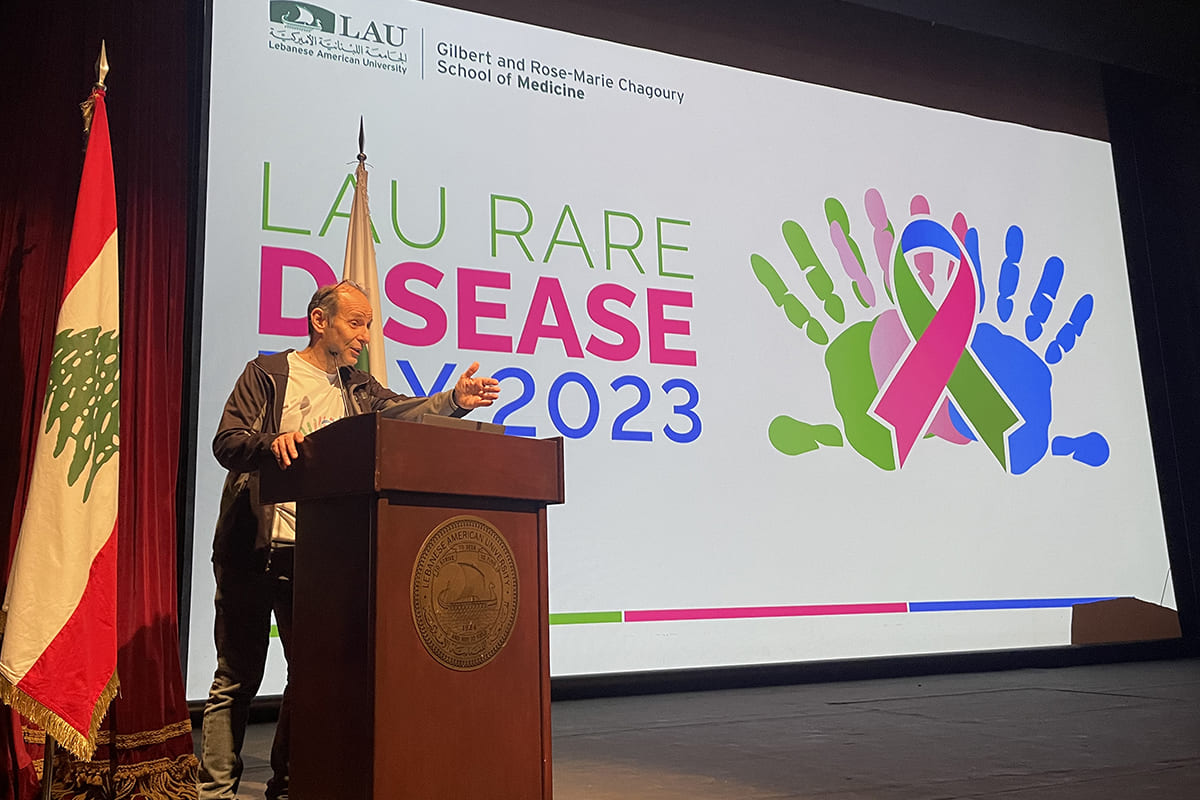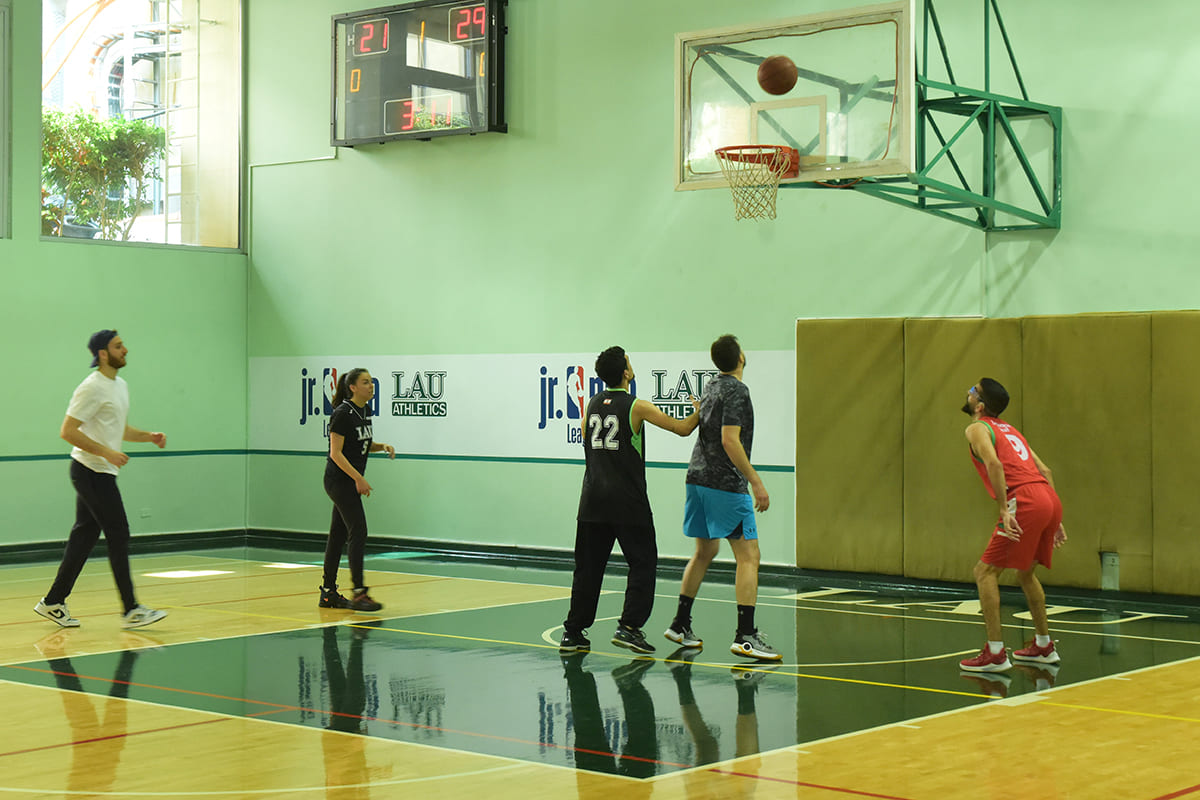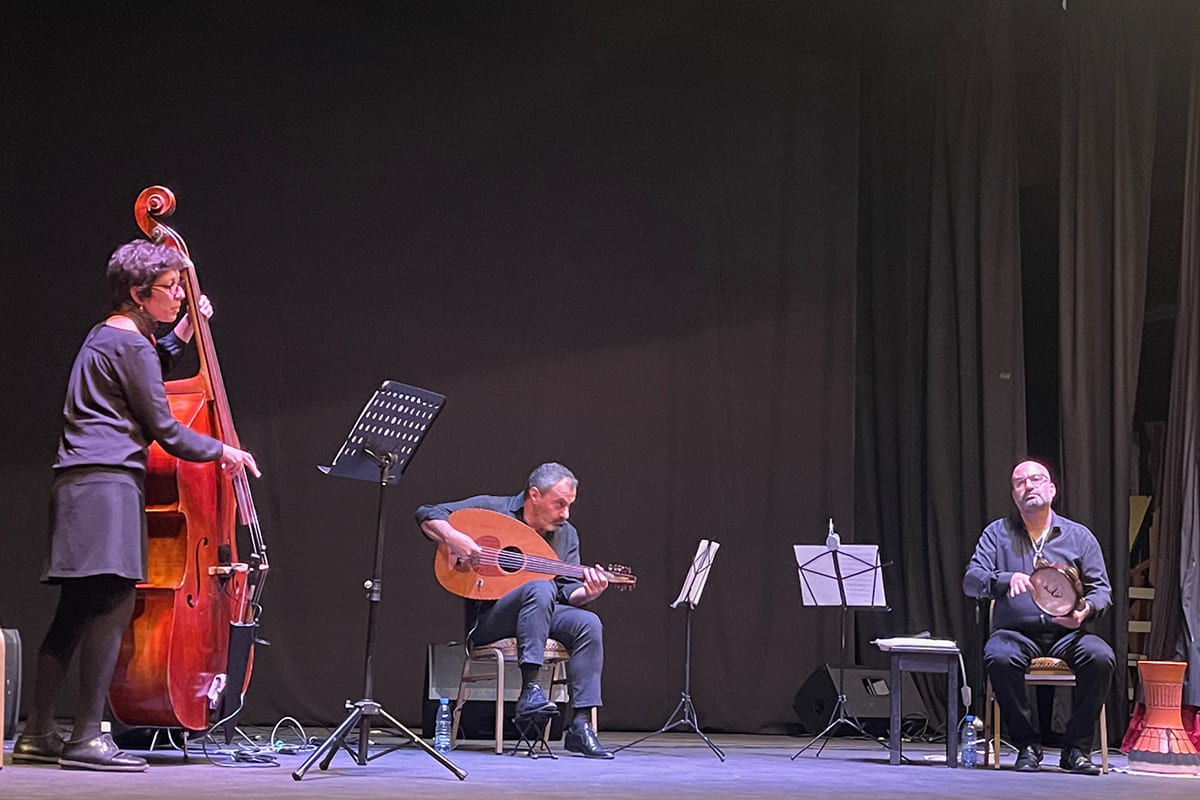 It is estimated that 300 million people worldwide, and 250,000 in Lebanon alone, suffer from a rare disease that is often life-threatening and can drastically affect their quality of life and autonomy.
The gradual decline that patients and their families endure due to the chronic, progressive and degenerative nature of these diseases is exacerbated by the fact that most of them are often misdiagnosed initially, for lack of scientific knowledge on the disease, or have no effective or accessible cure.
To raise awareness on this topic, the Department of Human Genetics at the LAU Gilbert and Rose-Marie Chagoury School of Medicine held a medical conference on March 4, bracketed by a basketball game and a musical concert, to commemorate Rare Disease Day on 28 February, or 29 in a leap year – the rarest day of the year. Since its foundation in 2020, the department has led and published more than 400 studies in peer-reviewed journals and continues to work with scientists from reputable universities in the US, Europe, Qatar and the UAE.
The purpose of the event on the Beirut campus, said Department Chairperson and Assistant Dean for Research Professor Andre Megarbane, "is to send out a clear message to patients of rare diseases and their families that they are not alone." Though the Lebanese community is increasingly more aware of the value of referring to genetic testing, he added, "a lot more has to be done, especially in terms of avoiding or correcting a misdiagnosis."
At the conference, local and international physicians and scientists covered the latest advances in testing and treating rare diseases, expounded on genetic disorders, consanguinity (blood relations), and the social and financial challenges related to gene therapy.
In her opening remarks, Clinical Professor and Associate Dean for Faculty Affairs and Development Vanda Abi Raad pointed to "the power of education and awareness in driving positive advocacy to improve the life of persons with rare diseases."
Considering that 72 percent of the 7,000 rare diseases identified so far have a genetic cause, Assistant Professor Cybel Mehawej and Associate Professor Eliane Chouery stressed the importance of genetic research. "The very identification of the genetic cause of a disease can guide the clinical management, and whenever possible, even prevent its consequences and manifestations," said Dr. Mehawej.
Dr. Chouery, who is currently conducting research at the department on hearing impairment related to congenital diseases, noted that "when you identify the gene, you can infer its molecular mechanism, and there is a chance to correct it." Thus, early genetic diagnosis can eliminate unnecessary tests, procedures, and treatments, lowering healthcare expenses, as well as enabling personalized therapies.
Meanwhile, to support families of affected patients, the department is offering them genetic counseling to help determine the risk for other members, added Dr. Chouery. "This can influence their future plans for conceiving other children or marriage, and can help them reduce the risks, or even ease their worries," she said.
Dr. Valerie Delague from Aix Marseille University (Marseille Medical Genetics), who presented on hereditary neuropathies – nerve damage that can affect the whole body – has been poring over research on consanguineous families in Lebanon and the region. "In genetic research terms," she said, "Lebanon is a mosaic of different ethnic origins."
Speaking about the next generation sequencing and gene therapy in his presentation on neuromuscular diseases, Professor Andoni Urtizberea of the Institute de Myologie in Paris confirmed that "a growing number of those diseases, which are predominantly genetic, are now amendable."
To that end, the LAU school of medicine is planning to offer a certificate in genetics for physicians, especially pediatricians and family medicine doctors to help them identify and refer patients to genetic testing.
Raising awareness and monitoring patients from an early stage is critical as 50 percent of those affected by rare diseases are children. LAU Clinical Assistant Professor and Pediatric Neurologist Abeer Hani underscored the need to support families through different means such as joining family support groups and talking to other families to limit the feeling of isolation. According to her, "the time from the onset of symptoms to diagnosis can take anywhere between five and 30 years, during which rates of misdiagnoses can be as high as 40 percent."
Clinical Assistant Professor of Pediatrics at the University of Balamand Hicham Mansour also elaborated on neurometabolic diseases, while Drs. Chouery and Mehawej presented the latest molecular diagnostic technologies and discussed clinical cases.
The mother of a player in the friendly basketball match between LAU varsity athletes and the Lebanese Deaf Basketball Team, Riva Constantin, spoke about the hardship of raising three boys, Wissam, Marc and Ralph, who suffer from total hearing loss. "They went on to lead normal lives, assume full-time jobs and even play basketball professionally," she said, referring to Wissam, who is a member of the Canadian Deaf Sports Association.
Her advice to parents whose children are diagnosed with a rare disease is "to set new goals, celebrate every little milestone, and live in the now, constantly seeking out the opportunities that you are bound to discover alongside your children."
Closing on a positive note, Dr. Megarbane pointed to the strides that the department is making to ease the patients' plight and promised: "we will never stop searching for treatments."