Uniting Youth Leaders From Around the World
LAU student volunteers share their experience organizing the Global Classrooms International Model United Nations Conference in New York.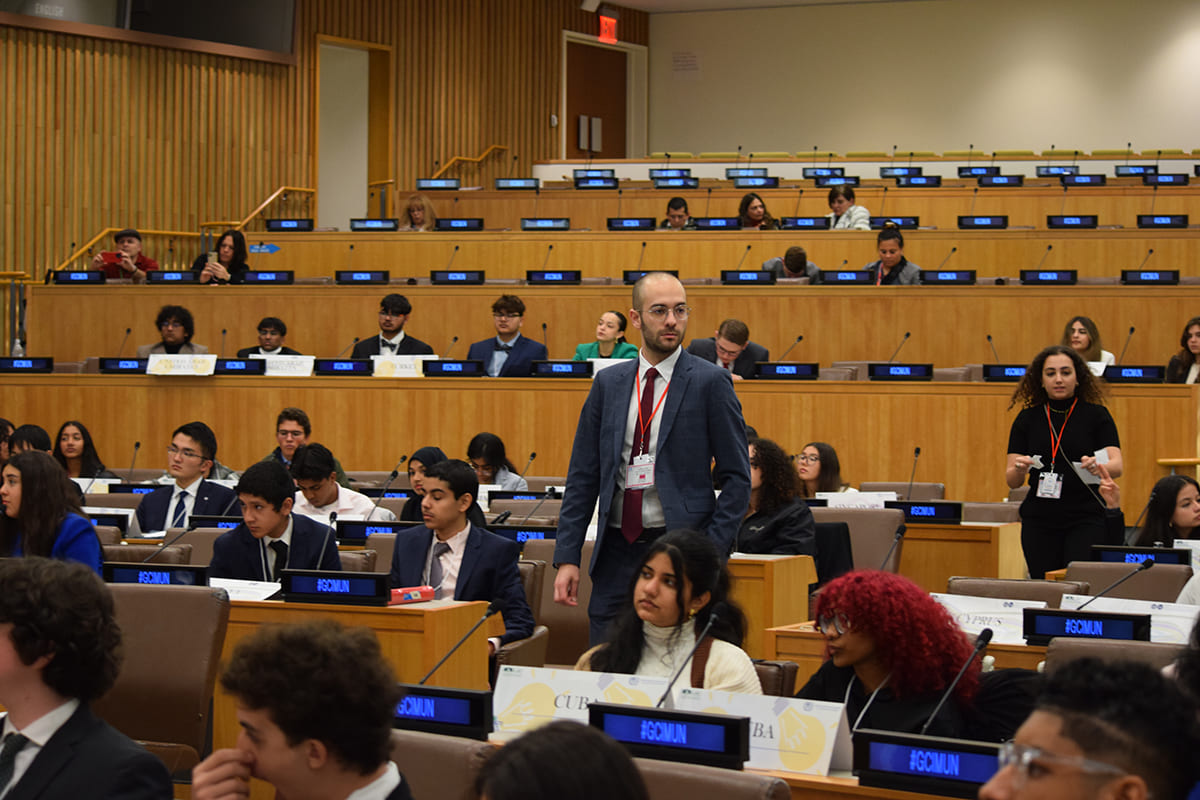 After three years of absence due to the pandemic, the Global Classrooms International Model United Nations Conference (GCMUN) returned, marking a significant milestone.
Themed Diversity in Adversity, the conference in New York from April 27-29 hosted more than 1,000 high-school students from 10 world capitals and 22 American states. Notably, committee sessions were organized at the United Nations Headquarters, and the Closing Ceremony took place at the UN General Assembly Hall, reflecting the conference's global significance.
From LAU, a long-time partner of Global Classrooms International, 50 alumni and current students volunteered to organize the event.
By bridging gaps between different educators around the world to enhance educational value, the GCI conference served as a platform for discussions and debates. "It is a conference that engages and brings together bright and passionate minds from all over the world," said Lead Outreach and Leadership Programs Manager Ghina Harb. Participating students undergo a rigorous process of training and simulation models, she added, stressing the importance of developing professional skills and reinforcing leadership values.
An exceptional leadership spirit was exhibited by the volunteers who collaborated in organizing the event to ensure seamless coordination. One of them, Karl Joe Boyajian, highlighted how the planning process differed from that of local conferences as it required adapting to a whole new culture and connecting with delegates on a professional and personal level.
"Since the beginning of my MUN journey in the eighth grade, the experience as a whole contributed majorly to the person I am today," he said, emphasizing the soft skills he had acquired, such as research, public speaking, and leadership.
For Rita Theresia Makhlouf, volunteering for the conference was particularly rewarding as the work entailed accommodating individuals from various backgrounds, ages, and academic levels. "Once again, my interpersonal skills, leadership experience, and overall youth-oriented impactful drive were all reinforced during this conference, but this time I got to do it in the heart of New York and the UN," she said.
Vice President for Student Development and Enrollment Management Elise Salem expressed her gratitude to everyone who took part in this conference and made it come to life, noting how it was "a once-in-a-lifetime experience for all."
Drawing the connection between the GCI purpose and LAU's mission to "empower the youth and provide leadership opportunities to prospective and current students," Dr. Salem underscored the success of the university's own youth leadership simulation programs on the national level.