VIP+ Workshop Bolsters Students' Public Speaking and Pitching
Students build and advance their skills to properly promote their entrepreneurial ideas.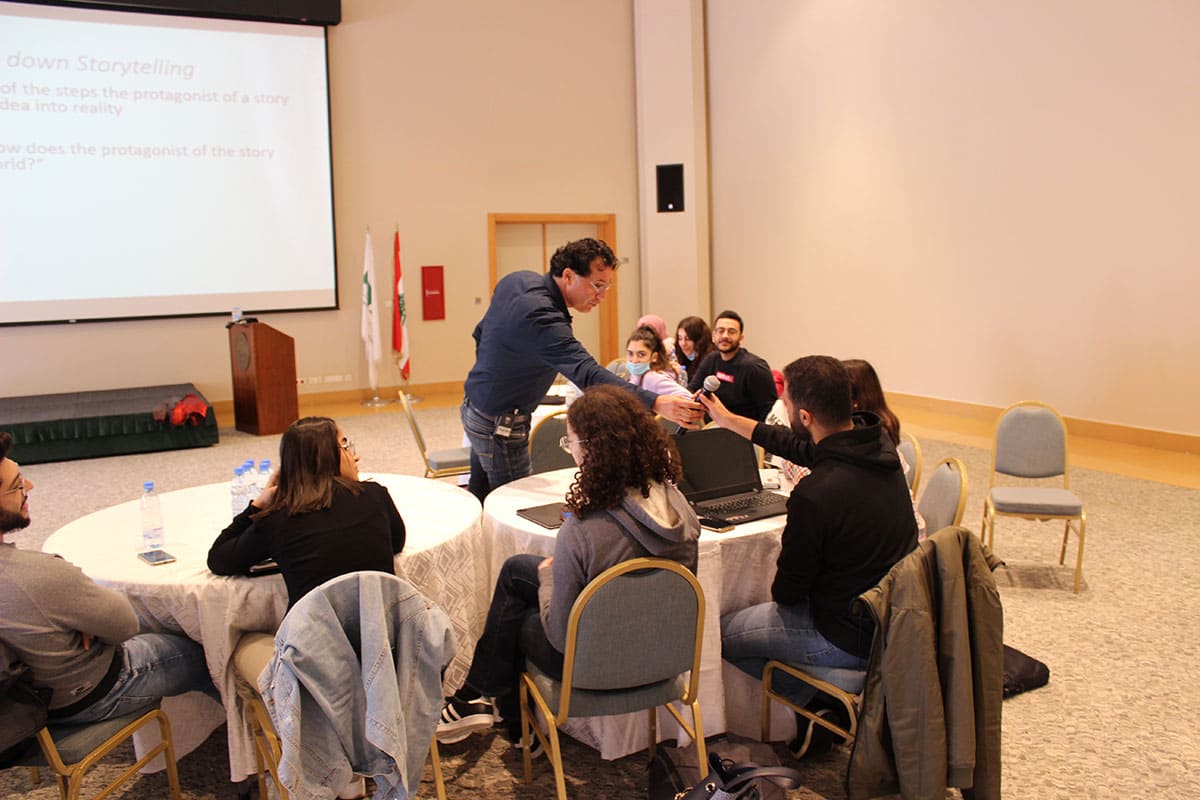 The LAU Vertically Integrated Program (VIP+) – under the Middle East Partnership Initiative (MEPI) Tomorrow's Leaders College to Work Pipeline (TLP) program – recently held a Public Speaking and Pitching workshop for students registered in the program to provide them with the necessary skillset to pitch their entrepreneurial ideas to potential investors and partners.
The workshop, organized in collaboration with the School of Engineering (SOE), and the LAU Fouad Makhzoumi Innovation Center (FMIC), took place over two weekends, where two cohorts of students trained on public speaking, voice projection and designing a compelling pitch deck, then put their new skills to practice the following week. They were trained and mentored by Associate Professor of Applied Linguistics Victor Khachan.
FMIC Director Ali Ammouri, who is also an associate professor of practice at the SOE, underscored how the workshop presented "an important opportunity for VIP+ students to learn from a respected voice and public speaking coach, while gaining hands-on experience on how to present their ideas."
"The skills and knowledge that they acquired during the training will prove invaluable as they continue to develop their projects and pitch them," continued Dr. Ammouri.
The extra-linguistic aspects of communication, remarked Dr. Khachan, "have recently surfaced as the trickiest part in a speech event." Inexperienced speakers wrongly assume that public speaking is message-focused, he said, leading them to believe that they may be able to connect with the audience by passively reciting their ideas.
The workshop addressed this verbal-nonverbal dichotomy "as trainees were exposed to the dynamics of pitch structuring, the patterns of engaging storytelling, and the emotional subtleties in narrative building and development," he added.
For the participants, whose majors ranged from all engineering fields to computer science, applied physics, business and biology, these workshops are crucial for skills building, securing internships and kickstarting their careers.
"This project has toughened me up and taught me that every challenge has a solution – patience is key," said biology student Tonia Chaine.
Another biology student, Dalal Bakhos Doueihy, noted how these trainings, as well as the internships, have helped her "experience real-world cases and not only learning in theory."
Dr. Ammouri emphasized how the collaboration between the LAU VIP+ program and FMIC "is a testament to the university's commitment to providing students with a well-rounded education that includes entrepreneurship and innovation." The center is a vital resource for students, he added, as it is dedicated to providing them with the necessary tools and support to bring their ideas to fruition.
SOE Dean and TLP Project Director Michel Khoury underscored how this modality is increasingly important for engineering students, specifically those interested in startups and entrepreneurships. "This training is designed to lay down the bricks needed so that students are able to relay their notions in an appealing and convincing manner, capturing the attention of the audience," said Dr. Khoury.