Comprehensive Stroke Center an Example for Others Worldwide
A major medical tech company is using the center in a video showcasing excellence in care.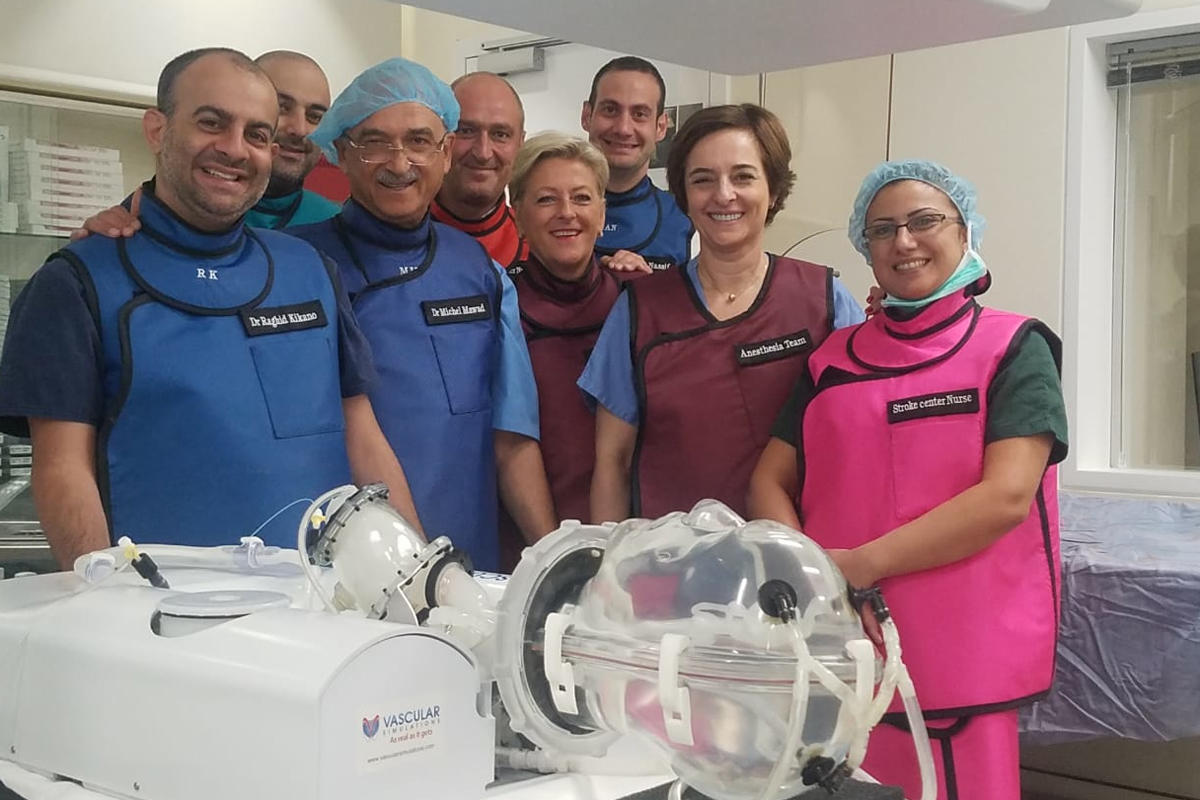 Having chosen the Comprehensive Stroke Center as an example of excellence for a video about treatment and patient care for stroke victims, Medtronic, a global leader in medical technology, has reached out to Dr. Michel Mawad, dean of LAU's Gilbert and Rose-Marie Chagoury School of Medicine and the driving force behind the creation of the center.
The company's Senior Director of Neurovascular for Europe and the Middle East Dan Raffi called the Comprehensive Stroke Center "one of the most advanced" in the world, highlighting the School of Medicine's international leadership in the field.
Opened in March 2018 under the auspices of the School of Medicine, the center is housed at the LAU Medical Center-Rizk Hospital in Beirut.
Qualifying Medtronic's choice, Raffi cited the center's partnership with the Lebanese army to hasten the transportation of stroke victims when every second counts; the importance placed on training and education to increase success rates; and its track record of excellence, set within months since its opening.
He also noted its world-class technologies – such as RAPID imaging software and a replicator, which allows students to receive pre-clinical training in a simulated environment – as well as its multidisciplinary medical team, on call around the clock to ensure continuity of care. "Putting together the human element is crucial for establishing and maintaining a comprehensive stroke center," acknowledged Dr. Mawad.
Collaboration between health providers and medical technology, services, and solutions companies, like Medtronic, is essential to addressing healthcare needs and achieving best patient outcomes. For this reason, LAU's School of Medicine had partnered with Medtronic, in order "to create a first-class, state-of-the-art training center for all physicians in Lebanon and neighboring countries in the MENA region," said Dr. Mawad.
On that score, Manal Abdel Sater, Medtronic's regional medical education coordinator, said that it was "very rare for us to find an entire well-trained team in one center that is qualified to provide this education."
The responsibility rests on medical teams not only to promote safe practices, but also to inform the wider community, said Director of LAU's Clinical Simulation Center and Clinical Professor of Anesthesiology Dr. Vanda Abi Raad, and in that, "the role of the stroke center exceeds patient care and safety. It is a source of education for the community, and it is education that increases quality in healthcare."
Since its launch in March, the Comprehensive Stroke Center has accommodated 48 patients, a number that is bound to increase as the general population learns more about strokes and the possibility of obtaining help in good time. "Everything begins with awareness," said Carla Abou Zeid, Medtronic's regional marketing manager, "and awareness begins with authorities – medical societies, and healthcare professionals before moving to patients."
"What we are doing sets the example of a cooperation between a center of excellence for medical care and education, and multinational medical companies," concluded Dr. Mawad.