If Students Ruled the World
Problem-based simulation exercises give students from across disciplines a platform to offer solutions to pressing issues in Lebanon.
By Hanan Nasser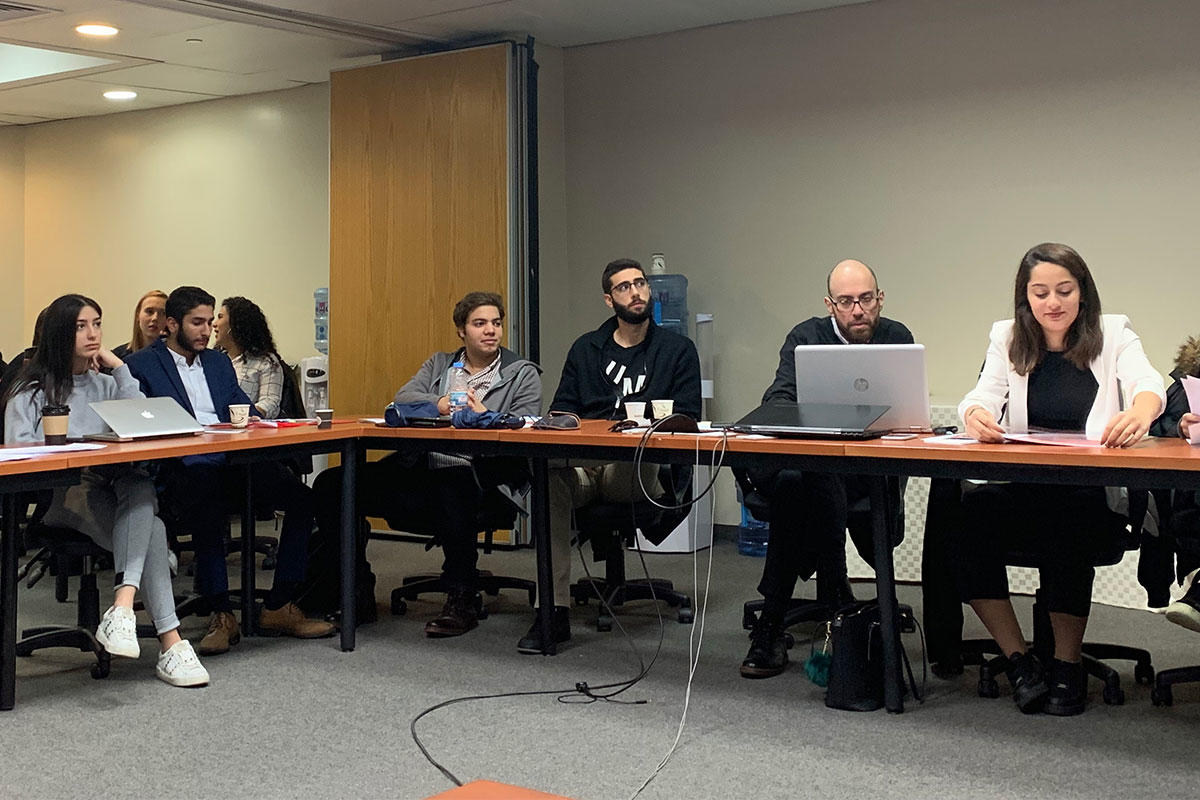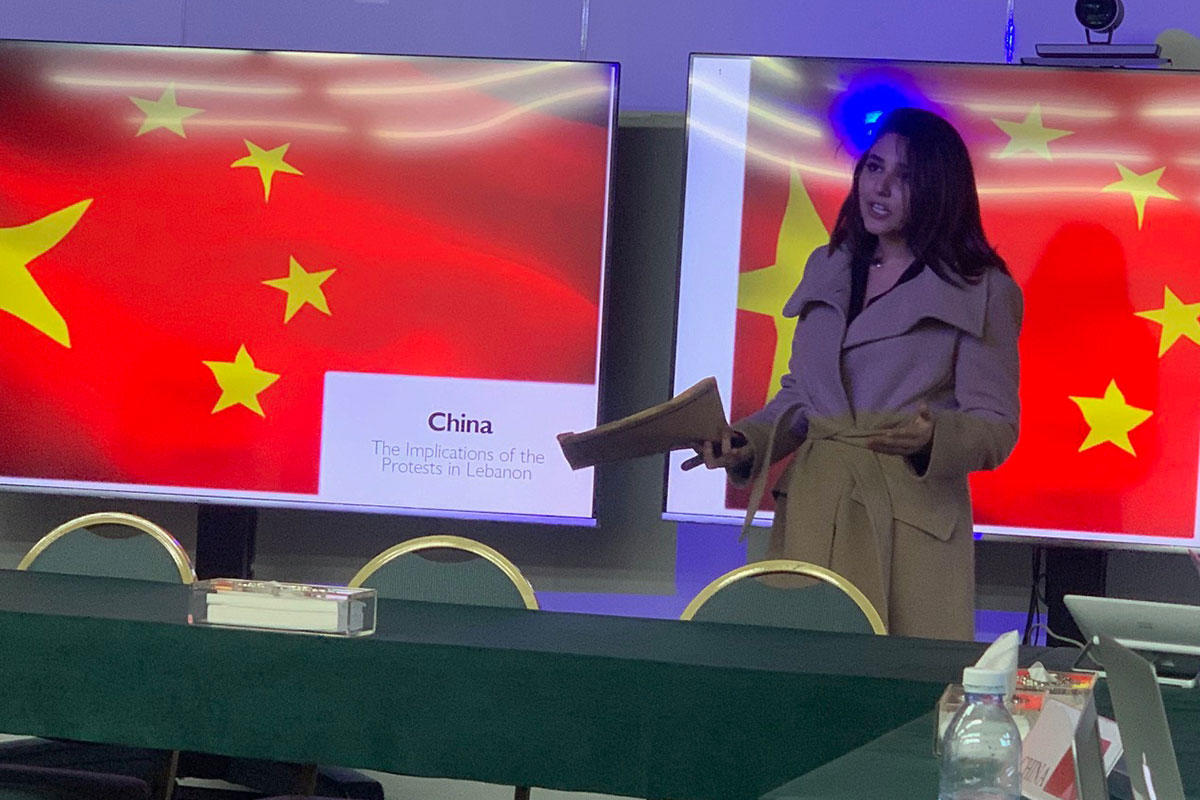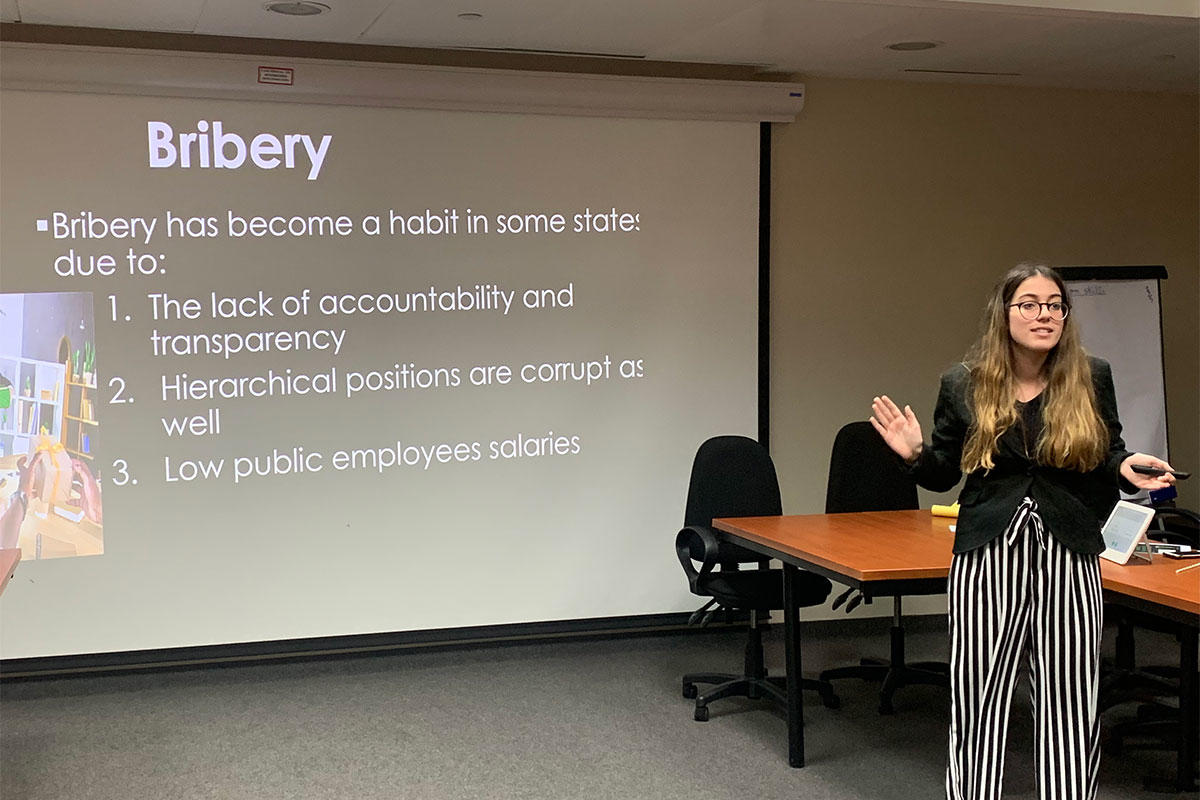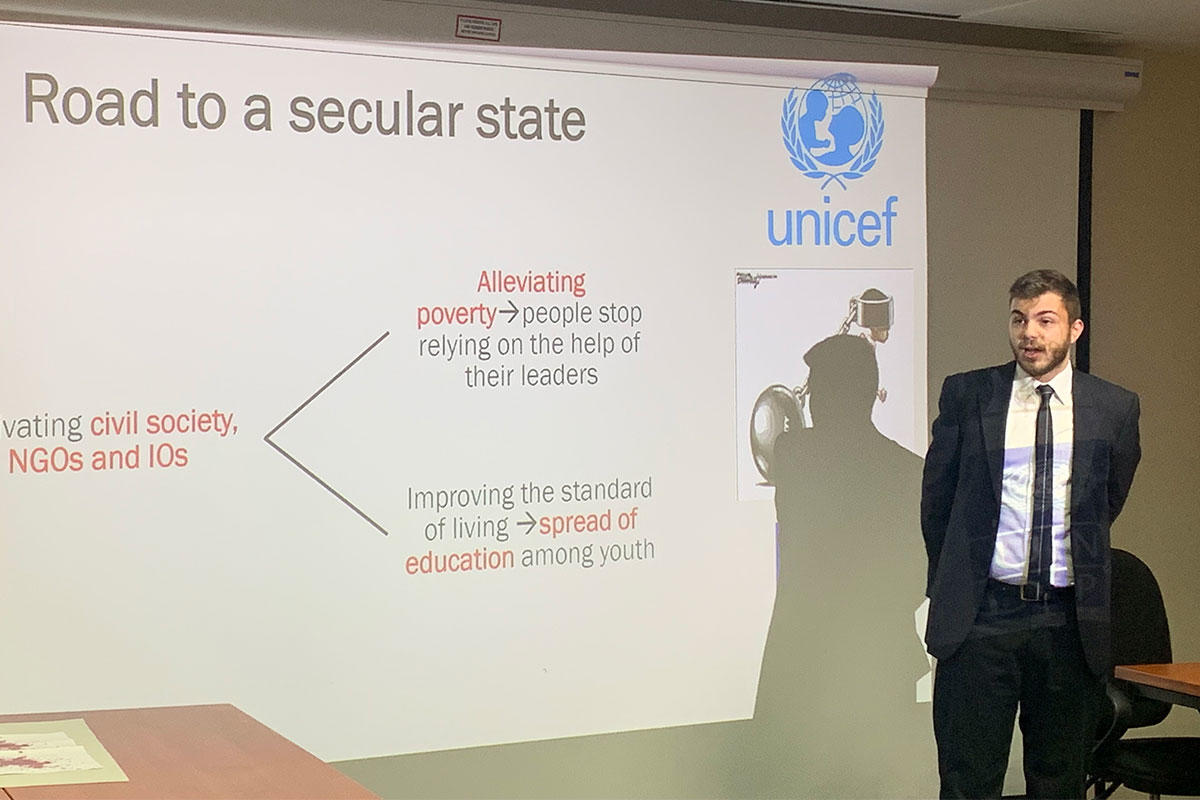 For a few hours on a Saturday, LAU students became advocates for anti-corruption laws, supporters of equal representation of women in public institutions, and UN representatives debating how best to approach the Lebanon uprising.
Guided by their professor, Assistant Professor of Political Science and International Affairs Jeffrey G. Karam, students in Introduction to Political Science (POL201) and Foreign Policy of Major Powers (POL332) were asked to offer their suggestions for managing some of the most pressing issues facing Lebanon today and globally.
Introduction to Political Science: An interdisciplinary approach
In the POL201 simulation exercise, students from across majors, including architecture, biology, bioinformatics, chemistry, political science and psychology, tackled topics ranging from the politics of infrastructure, the gender gap, corruption and transparency in Lebanon, to the role of the judiciary in combating environmental problems. Other global topics included climate change, cybersecurity and gun laws in the US.
The main objective of the active learning exercise, Dr. Karam said, "is for students to learn how to bridge the gap between theory and reality."
In their presentation about Breaking the Gender Ceiling in Lebanon, the group showed that the gender gap in Lebanon is at 50 percent, and that 55 percent of women have been victims of physical and verbal abuse. They also highlighted the blatant under-representation of women in governmental institutions, with women never holding more than 5 percent of the seats in the Lebanese parliament.
For Political Science and International Affairs major Hiba Jabbour the topic is "a fundamental issue in today's society, as providing equal rights for all is the first requirement within our global fight for equality."
Among the group's recommendations was the "equitable representation of women in governmental positions," with a quota system specifically for women. They called for "the reservation of seats on lists in a way which is actually legislated, enforcing this time a specific percentage of women that each party has to appoint in any given list."
"Quotas in governmental institutions would be paralleled in smaller scale institutions such as municipalities and companies," they said.
Jabbour said the problem-based exercise allowed her and her teammates "as students from the major and those taking the course as an elective, to grasp the method with which world issues could be resolved, encouraging us to work toward progress while being engaged citizens."
Among the issues that students felt passionate about were sustainable development and protecting the environment.
Taking as an example Lebanon's ongoing waste crisis, one of the teams criticized the government for its inability to properly manage the crisis, accusing it of apathy when it came to the environment.
"Instead of establishing effective waste management infrastructure, they overly rely on landfills or burn trash which has been proven to be an unsustainable waste management technique," the group said.
In their presentation, the students outlined a number of strategies that the government can adopt to tackle the garbage crisis, which included consulting international or local environmental experts on sustainable solutions, cooperating with NGOs such as Greenpeace, and appointing environmental friendly legislators who would enact laws to protect the environment.
"Another way to establish a stronger, more environmentally friendly state is by holding the citizens and the government accountable for their actions," they said.
They called for imposing fines on citizens who pollute the streets or beaches, and holding ministers accountable "if they fail to follow through with their promises or break the laws."
Drawing from successful stories across the country, they pushed for the creation of a decentralized system "in which municipalities take more responsibility and control over waste management techniques." They gave Beit Mery as an example of decentralization with its dual trash bag system for biodegradable and non-biodegradable waste that can be recycled.
Finally, they urged citizens to vote for environmentally aware legislators and to put pressure on the legislative, judiciary and executive branches, by participating in protests.
Team member and psychology major Sophie Samen – who has always been passionate about the environment especially following the 2015 garbage crisis in Lebanon and the state's failure to implement alternative solutions – said that the skill she had acquired in conducting extensive scientific research came in handy for the project.
"I had to relearn how to search for information that is relevant and credible. In psychology, you learn to think critically about every information you find, and to recognize your biases, which I think is extremely important for arguing or finding solutions to a topic as objectively as possible," she said.
For Samen, who had no political science background prior to taking POL201, the course showed her how real-world problems are "interconnected" with politics one way or another.
"Politics is a crucial part of today's world. It can ruin countries and people, but it can also create a powerful state in which citizens can live prosperous lives," she said.
Foreign Policy of Major Powers: Taking on the Security Council
For the more advanced course POL322 – Foreign Policy of Major Powers – students role play as the five permanent (P5) members of the UN Security Council (China, France, Russia, the UK and the US) addressing ongoing protests in Lebanon.
Dr. Karam said the students were asked to take a step back from what Lebanon is going through, and "prepare memoranda on how great powers are perceiving the protests and the policies, as well as strategies that they will pursue to maintain their self-interest."
The idea was for students to "question how and why great powers bicker over internal issues in weaker states for their selfish foreign policy objectives and interests."
Dana El Khoury, a political science/international affairs and economics major, presented a memorandum about China's position regarding the Lebanese uprising. She showed China as trying to mediate the situation with strategies that are peaceful, promising, and diplomatic, over military intervention and violence.
"The general focus of those strategies relies on China's economic development, and some reform strategies it believes can be implemented in Lebanon to provide long-term solutions for this issue," she said.
The exercise helped her take into account "the different international views of this topic which vary according to the state's position and interest."
After presenting their memoranda, students engaged in heated rebuttals, finally offering their draft resolutions.
"While students based their memoranda on past interactions between Lebanon and the P5, it was crystal clear that all their solutions involved a heavy degree of involvement in Lebanon's internal affairs, as well as resolutions to rehabilitate the failing economy," Dr. Karam said.
Active learning exercises, he added, train students to "craft policy positions on current issues, assess the implications of how other states would react to the same situation, and allow them to understand the importance of diplomacy and formation of alliances with other states."
Political Science and International Relations Palig Giritlian, who represented France in the exercise, said her group called for an independent transitory government, and a decrease in US-imposed sanctions that further crippled the Lebanese economy, in order to ensure a sovereign state.
"This exercise taught me how hard it is to reach one solution for the greater good of Lebanon as a Security Council, because our approach to the problem had to line up with our interests," she said. "It showed that the sectarianism and division in the Lebanese community create complexities for the UNSC in taking effective action."