Inside the BMW Internship
SOE students share their experiences with peers at VIRA 2019.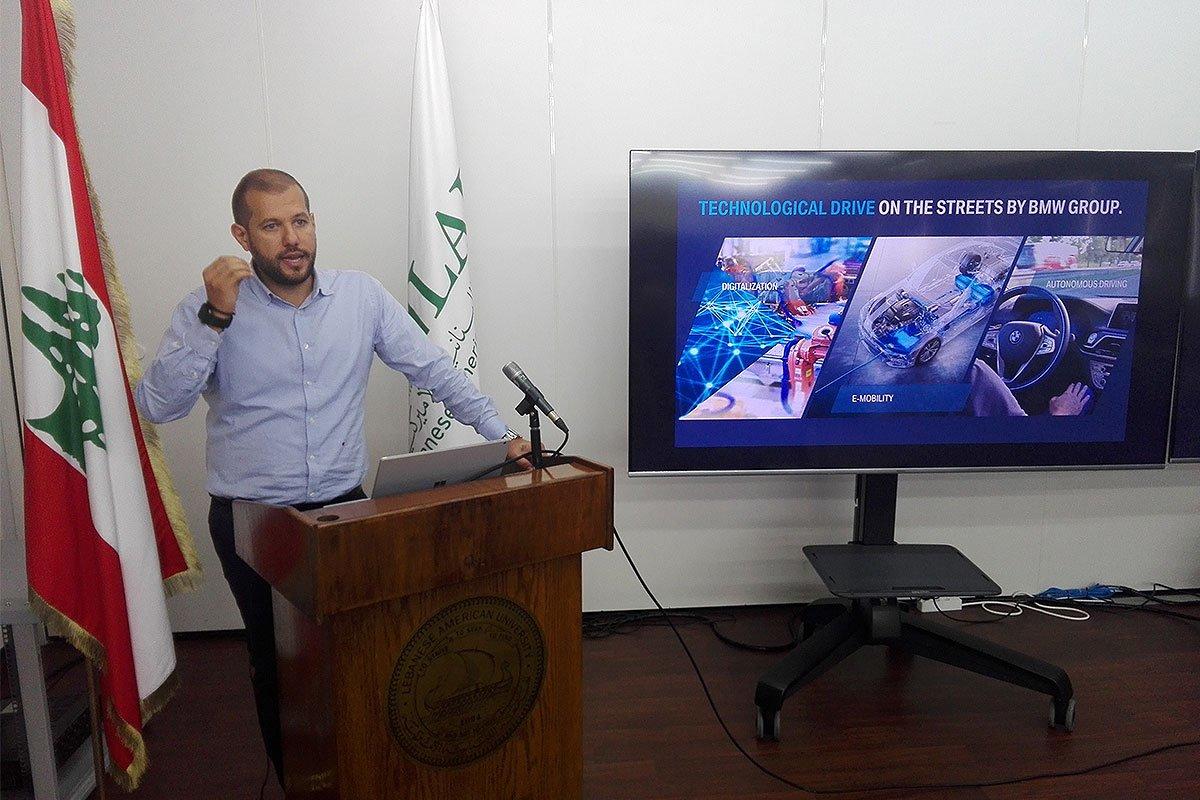 Computer Engineering students and alumni shared a busy and fruitful exchange at the second edition of LAU-BMW workshop day mid-September. Titled Vision Intelligence and Robotics Applications (VIRA), the event provided a platform for students who had completed six-to-12-month internships at BMW Group to share and reflect on their learning experiences.
The School of Engineering (SOE) Acting Dean Michel El Khoury emphasized the importance of the solid collaboration between LAU and BMW Group, which has allowed more than 40 engineering students to conduct their internships at the BMW headquarters in Munich since Summer 2018.
Associate Professor of Computer Engineering and Interim Assistant Dean Joe Tekli pointed to the significance of dwelling on this learning curve. "Such extended internships offer a treasure trove of conversations, for both those who have lived through the experience and those considering it," he noted. He further hoped that VIRA not only answered some vital questions, but also informed the joint LAU-BMW efforts to fine tune and elevate the internship program on the one hand, and help adapt SOE's curricula to the anticipated requirements of the market on the other.
Chairs of the Electrical and Computer Engineering and Industrial and Mechanical Engineering, faculty, and fellow students were all in attendance as the interns presented their work across various fields, including computer vision, Artificial Intelligence (AI), robotics, electronic hardware, mechatronics engineering and control systems.
Executives from the BMW Group, some of whom had also supervised the interns, were also on site. Head of IT Planning Systems Jimmy Nassif, Product Owner for Business Intelligence and Quickwins Daniel Neumeier, and Product Owner for Artificial Intelligence and Data Analytics Boulos El Asmar gave an overview of innovation at BMW Logistics.
To illustrate the absolute necessity for accuracy in car assembly, Nassif revealed that a car is completed within seconds at BMW. "That's why advancing digitalization is integral to optimizing our processes," he noted. Nassif also revealed how his company is innovating in the field of e-mobility and autonomous driving, with the latter relating to car development at large, as well as robotics – creating machines that could deliver car parts for assembly.
One intern's story particularly stood out as he had worked on a project for Rolls Royce, the famous British luxury automotive company that is also a subsidiary of BMW group.
Final-year computer engineering student Anthony Kreimati explained that since Rolls Royce cars are manufactured by hand, the process inherently poses a different set of challenges for which they helped build solutions. "We created a 3D tool for manufacturers to be able to optimize the visualization of all parts needed to build the car," clarified Kreimati, adding "we hope that our solution will have a serious impact on their design and manufacturing processes."
For Guy Abi Hanna, another computer engineering senior student, the internship was a chance to apply many skills learned at LAU. "We were equipped with what we acquired organically in the course of our learning, as in the Game Programming and Data Structures courses, and also at workshops run by student clubs and through case studies," noted Abi Hanna. His team had worked on an app that reproduces a scene at the BMW plant to help planners locate and place objects through virtual reality. "Though it sounds futuristic, the experience was truly an amazing learning opportunity," he concluded.
Many of the former BMW Group interns are currently preparing to coach their colleagues and participate in the upcoming BMW Group Beirut Hackathon 2019, which involves more than 90 students from eight major universities in Lebanon who will compete in a 24-hour programming marathon defined by the BMW Group.