SOE Faculty to Spearhead Wastewater Management Project
LAU signs MOU with the Litani River Authority to implement promising research findings.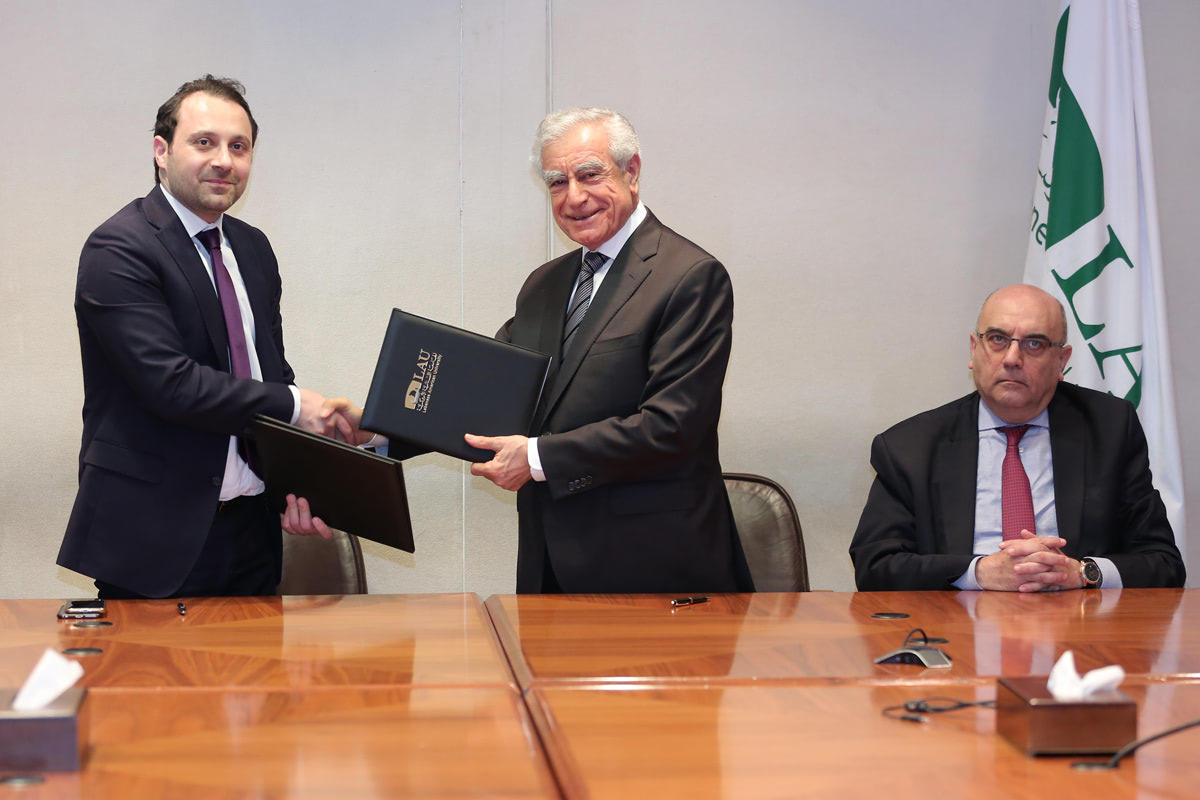 LAU is collaborating with local authorities to tackle a problem that affects a large area of Lebanon: extreme pollution in the Litani River Basin.
The Litani is Lebanon's longest river and terminates in Lake Qaraoun in the western Beqaa Valley. Locals and scientists have long sounded the alarm about illegal waste dumping from a slew of factories along the basin as well as household sewage leaking into the water body.
Now, an LAU initiative is being launched to tackle the environmental disaster.
Associate Professor of Civil Engineering Mahmoud Wazne, who was previously awarded a PEER research grant by USAID to study solutions to the problem, is working with the Litani River Authority (LRA) to improve wastewater treatment options for the water body.
On March 13, LAU signed a Memorandum of Understanding (MOU) with the LRA to formalize and actualize the efforts being made to solve the problem. Along with university leaders, LAU President Joseph G. Jabbra welcomed to Beirut campus President and General Director of the Litani River Authority Sami Alawieh, as well as a representative of the Minister of Industry Wael Abou Faour.
Dr. Jabbra referred to the collaboration as "a milestone in our indefatigable drive to serve society, particularly our beloved Lebanon, in all its regions." He saluted Dr. Wazne and the LRA and promised to use "all the power we have as a university" – referring to faculty, students and labs – to make this endeavor successful.
Dr. Alawieh said that the LRA has intentionally sought the support of "a prestigious academic institution," in reference to LAU, and not any commercial entities and contractors. "This is not just a collaboration between a government-supported authority and a university, as we also represent our very community – the Lebanese people, who are charged with undoing 50 years of damage to our environment for the generations to come." He also commended Drs. Wazne and Amacha for bringing forth an innovative way to address the problem without taking a toll on the industrial sector.
Dr. Wazne previously noted that "because Lebanon's food processing industries are not incentivized to improve the situation by treating their plants' discharge," scientists and the local leadership must find ways for waste streams to be treated in a way "that can meet both industry and environmental needs." He envisions treating industrial waste streams by combining different sources in a process termed 'anaerobic digestion treatment,' whereby microorganisms are used to break down the biodegradable material in order to purify the water.
The project is set to run for two years, starting with sampling industrial waste discharge in the coming weeks. "The first year will focus on characterization and treatment of industrial waste discharge," explained Dr. Wazne, while during the second year his team will be collaborating with researchers at Washington State University to optimize this treatment. He also confirmed that a group of civil and environmental engineering students will be joining him for the sampling and treatment at the LAU labs.