Alumnus Hamid ElDarwish: On Big Breaks and the Cities of the Future
The Princeton PhD student pays tribute to the people who helped him at LAU and reflects on events that changed the course of his academic and professional career.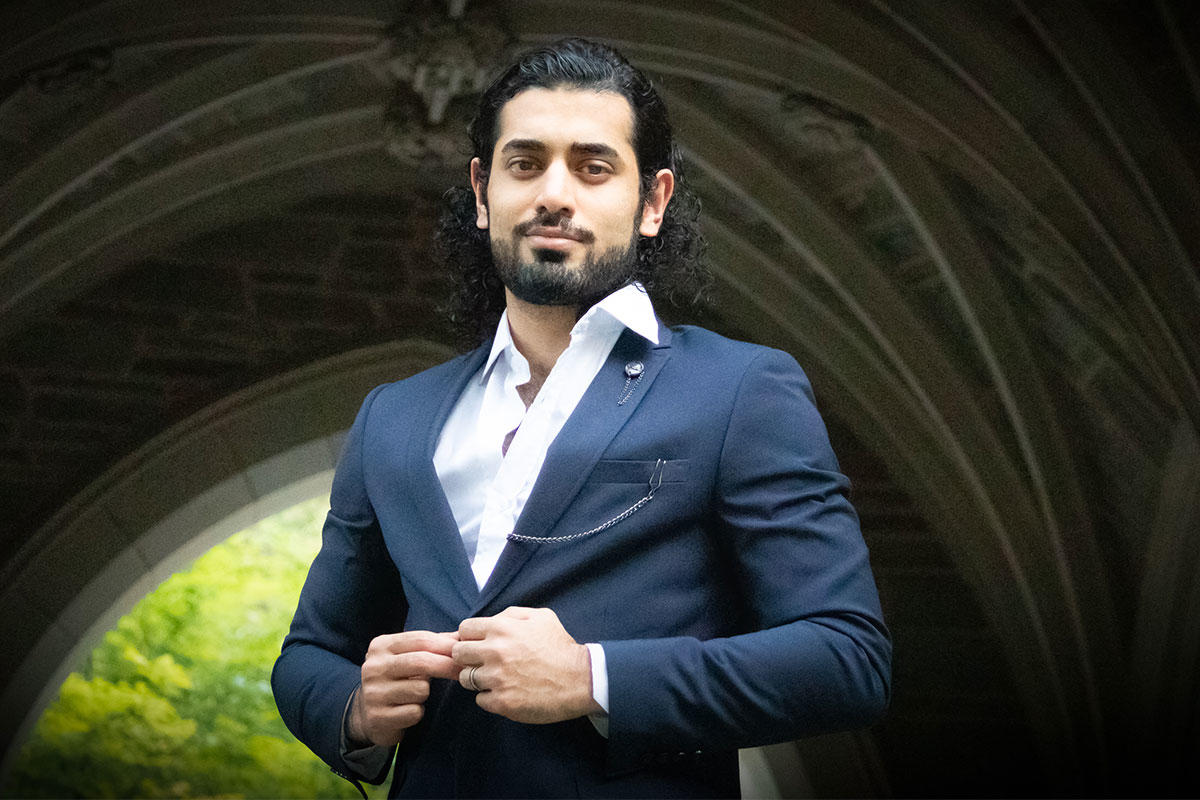 Born and raised in the Jal El Bahr Palestinian refugee camp on the coastal city of Tyre, Hamid ElDarwich (BE '18) made it his life plan to transcend borders.
He set out to learn English, and his high scores in the Lebanese Baccalaureate earned him an entrance scholarship to LAU, where he majored in civil engineering.
During his undergraduate years, ElDarwich came across life-changing events and people, among whom the CEO of Dubai Contracting Company (DCC) Abdallah Yabroudi, who funded him to pursue an MS in Structural Engineering at Syracuse University in New York.
Viewing each step as an opportunity to push ahead, ElDarwich soon aspired to pursue a PhD at Princeton University, where he is currently a student in Mechanics, Material and Structures Engineering.
His research, perhaps not surprisingly, is focused on transcending coastal boundaries through futuristic urban planning: floating cities.
In the following interview, ElDarwish touches on his incredible academic journey, why ocean colonization makes sense, his unexpected YouTube success and academic career prospects.
Could you tell us more about your research and interest in floating cities? What urban advantages do they offer, and what problems do they help solve?
By the year 2050, almost 70 percent of the world's population will live in cities according to the UN. Among several city congestion problems to consider is the spread of pandemics such as the one we are living through right now, and flooding, which is increasing at an alarming rate.
Through each historical era, civilizations have resorted to different means to survive, starting with moving into caves to escape from predators. Thousands of years later, the next step would be to move to floating cities and maybe even colonize space.
Ocean colonization involves researching and developing the theory to build man-made floating structures that can be permanently inhabited by humans. It is a complex concept that requires a wide range of knowledge such as structural engineering, ocean engineering, climate study, and many others to ensure that a structure floats and is resilient to waves and natural disasters.
When I lived in Tyre, I remember looking out to sea and wondering why we are not using this huge space. More than 70 percent of the earth area is water, and I do not think we are utilizing this space in the right way. But the idea of floating cities, or ocean colonization, caught my attention specifically because it is a radical urban planning proposition, and because it has direct applications in society.
What about sustainability and avoiding harm to ocean diversity?
Sustainability is a key consideration while designing floating cities, and I believe that with the right planning, they have the potential to be more sustainable than our traditional cities.
Collecting energy from sea waves or through solar panels are some of many viable options to consider. The key is to have structural and mechanical engineers work side by side with scientists, marine biologists and ecologists. For example, engineers in Dubai have been able to design floating villas, and along with marine biologists, were able to create an entire ecosystem for sea life that did not exist there initially.
What prompted you to start a YouTube channel? What's your future vision for it, considering its success?
I posted my first YouTube video to improve my English communication skills. I could reach out to engineers across the world and teach them what I am passionate about: understanding engineering concepts rather than just plugging numbers into equations. That is why I called my channel "Engineering Philosophy."
In my opinion, countless superficial videos on YouTube attract millions of viewers, and I blame educators for not creating good, attractive content to counter this. My vision is to create quality content that dives deep into the concepts and calculations. People love science, and we just need to present it in an attractive way to make them enjoy it.
I also plan to keep my videos available for free online, as not all students can afford to go to college or even buy a course. This is very important for me.
What direct influence did LAU – and its people – have on your academic and professional careers?
LAU is the people who work, teach, and learn there. LAU really paved the way for me to be where I am.
I met many professors who inspired me to keep learning and challenge myself and who gave a new purpose for my interest in civil engineering. The courses I give online are in fact inspired by CIE courses that I took at LAU.
Most importantly, had it not been for Dr. Caesar Abi Shdid, I might not have ended up studying at one of the top universities in the US. I remember him asking me to leave the classroom once because I didn't have my book or calculator. That was in 2014, when I wasn't really serious about my studies. I worked harder after that, and Dr. Abi Shdid rewarded my improvement. He introduced me to Mr. Yabroudi, who went on to offer me a fellowship to Syracuse.
I also owe credit to Joumana Haddad, counselor in LAU Byblos, who helped me when I was struggling with my academics back in 2014. I cannot describe how much she contributed to my success; she taught me to set up a daily schedule to balance my personal and academic life, and for this, I will always be grateful.
Last but not least, I would like to mention my dear friend from LAU Ali Jarekji (BE '18) who has just arrived in the US to pursue his PhD as well. Ali and I were together in a calculus course in 2013, which we were both nervous about, so we started studying together, and our friendship evolved quickly. We are both proud LAUers.
Would you consider coming back to the Middle East after graduating from Princeton?
This is an ongoing discussion I am having with my wife, who is pursuing her PhD in Biomedical Engineering.
I would consider returning to the Middle East if we were to work in the Arab Gulf, especially in the United Arab Emirates.
My wife, who's American, joined me on a trip to Lebanon for the first time last January. Though she hoped to visit again, on our way back to the airport, we had to cross several miles on foot due to road closures. If I were to move back to Lebanon at this time, I will have no solid opportunities. I would, however, support students from Lebanon to pursue better opportunities in the US. I believe everyone should.