Research Highlight: Insights into SARS-CoV-2 Genome Sequences
Dr. Sima Tokajian and a team of LAU alumni and student detect interesting correlations and differences between a protein that is found in SARS-CoV-1 and SARS-CoV-2.
By Hanan Nasser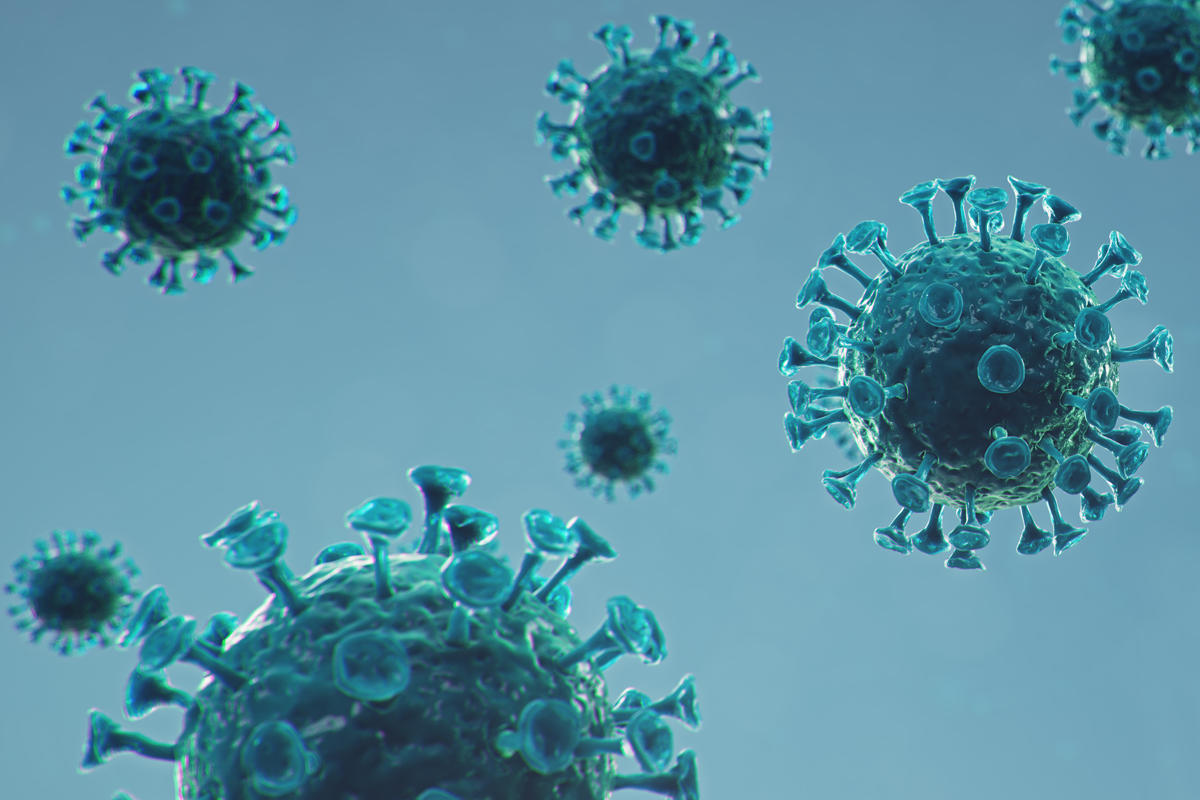 A variation in part of the genome of two recovered SARS-CoV-2 viruses – focusing on the ORF3a protein – was detected by a team of microbiologists at LAU, led by Chair of the Natural Sciences Department in the School of Arts and Sciences Sima Tokajian.
"The observed mutations and their impact on the function of the protein are significant because it will help us better understand how the virus is evolving and behaving in its new host (humans). At this point, we are trying to understand its biology and track its evolution, and more time is needed before we move on to actual combat," Dr. Tokajian said.
On Sunday March 1, after closely following the developments of the COVID-19 pandemic, Dr. Tokajian formed a team that included LAU biology alumni Tamara Salloum (BS '13, MS '15), Balig Panossian (BS '17, MS '19) and Georgi Merhi (MS '19), and senior undergraduate biology student Elio Issa to further research the virus' sequenced genomes.
A genome is the genetic material that makes up an organism and controls its behavior, namely its DNA – or RNA in RNA viruses, that is to say viruses whose genetic material is RNA (ribonucleic acid). Each genome contains all the information required to build and maintain that organism. Genome sequencing is the process that determines the DNA – or RNA – sequence of the organism's genome.
Issa, who has been volunteering in Dr. Tokajian's lab since his second semester at LAU, said that while following publicly available data he noticed a "significant number of sequenced isolates that had a peculiar mutation in ORF3a protein, thought to have an unknown function."
This observation prompted Issa to follow the lead only to find that the "protein is actually crucial for the survival of this virus inside human hosts." Consequently, this dimension of the virus became the scope of the team's work.
Dr. Tokajian heads a pathogenomics lab at LAU which allowed for the smooth initiation of the SARS-CoV-2 task force, as she calls it. The lab is equipped with the most novel tools in microbiology for whole-genome data generation and analysis. Using a variety of bioinformatic tools, the team dug deeper to confirm their observations.
"Our target was to dig into the SARS-CoV-2 sequenced genomes and build phylogenetic trees, decipher the differences and study mutations introduced in its genome as it spreads across the world, and understand the biology behind this enveloped evil," explained Dr. Tokajian. Phylogenetics refers to the study of evolutionary relationships among species, individuals or genes.
"After three weeks of extensive and continuous work looking into every single deposited genome while following up on the fast-growing literature, we were finally able to see some exciting variations" she said.
For her part, Salloum – a PhD candidate at the Institute for Cell & Molecular Biosciences at Newcastle University, currently pursuing her research at LAU under Dr. Tokajian's supervision – explained that the study focused on analyzing the ORF3a protein in SARS-CoV-2 for two important reasons.
"First, the 3a protein is unique to SARS-CoV and is important for disease pathogenesis and second, it has been previously shown to modulate the immune response in SARS-CoV-1," she explained.
The aim of the study was to compare and characterize the 3a protein structure and spatial orientation in SARS-CoV-2 as compared to SARS-CoV-1, she said.
What has fascinated Salloum, and in fact the rest of the team, is that SARS-CoV-2 is an interesting RNA virus. RNA viruses are a class of viruses responsible for diseases such as Ebola, Hepatitis B, SARS, and COVID-19, among others.
The genome of this new coronavirus is made of less than 30,000 bases, said Salloum, "and yet has paralyzed the whole planet and caused thousands of deaths worldwide in a short period of time. Having a glimpse into the clever organization of its genome reveals a lot of similarities and differences with previously characterized viruses such as SARS-CoV, MERS and influenza," she said.
As the team worked tirelessly day and night, the lockdown posed an additional challenge as they juggled the research, exams and working remotely. Yet they persevered, led by their passion and enthusiasm to be part of scientific efforts to understand this virus.
"We were in race against time. At the same time, I had to balance between research and my exams," said Issa, who also contributed to data analysis and design for the research.
"It was stressful and nerve-wracking, but the highlight of my senior year. To be able to work on a topic that is valuable on an international level was extremely fulfilling."
Merhi agreed, saying the hardest challenge was working from home during the lockdown.
"We have to race the outpour of novel research that is being put out into the world with the limited resources that we have locally," he said.
"Despite the sudden and harsh changes, I am thrilled to be working on research related to the SARS-CoV-2 virus and contribute to further our understanding of the virus," he said.
"This particular novel strain can undergo specific mutations for invading and spreading in human hosts and it has taken the world by surprise."
The task force did not stop here. In parallel with the research, the team is in the final stages of customizing an online tool initially designed for the analysis of bacterial genomes, spearheaded by Panossian, who holds a BS in biology and an MS in molecular biology from LAU.
"A ton of information, be it scientifically credible or not, is being generated online on the recent coronavirus outbreak, sometimes acting as a psychological burden instead of solid scientific evidence," said Panossian.
The plan behind the web tool, he explained, is to utilize the online data correctly "by providing open access to anyone with a web browser to customize their visualization of our generated data."
The tool will be especially significant for professionals in the medical field interested in the population genomics – the large-scale comparison of DNA sequences of populations – of SARS-CoV-2, he added.
It will enable them to refocus their efforts to a more specialized subset of the data on the COVID-19 pandemic such as vaccine development, targeted drug therapy and phylogenetic analysis of specific hypervariable genetic regions.
Next, the team will finalize hosting the visualization tool of their analysis for scientists across the globe to explore. The interactive page will be hosted by LAU and will enable researchers to access a detailed overview of fully annotated SARS-CoV-2 genomes.
"We aim to make this visualization tool publicly available as a resource to contribute to the worldwide collaborative efforts against COVID-19 by creating this stepping stone for researchers to utilize in order to move forward at a higher pace."
A short manuscript of the final findings was submitted for publication and is currently being reviewed.
The team's research complies with LAU's Third Strategic Plan, which aims to boost the university's quantity and quality of research and expand its academic and professional footprint beyond Lebanon.