Electrical Engineering Student Finds Wins in Research Competition
Sawsan El- Zahr's winning telecommunications project gets published in renowned peer-reviewed journal.
By Hanan Nasser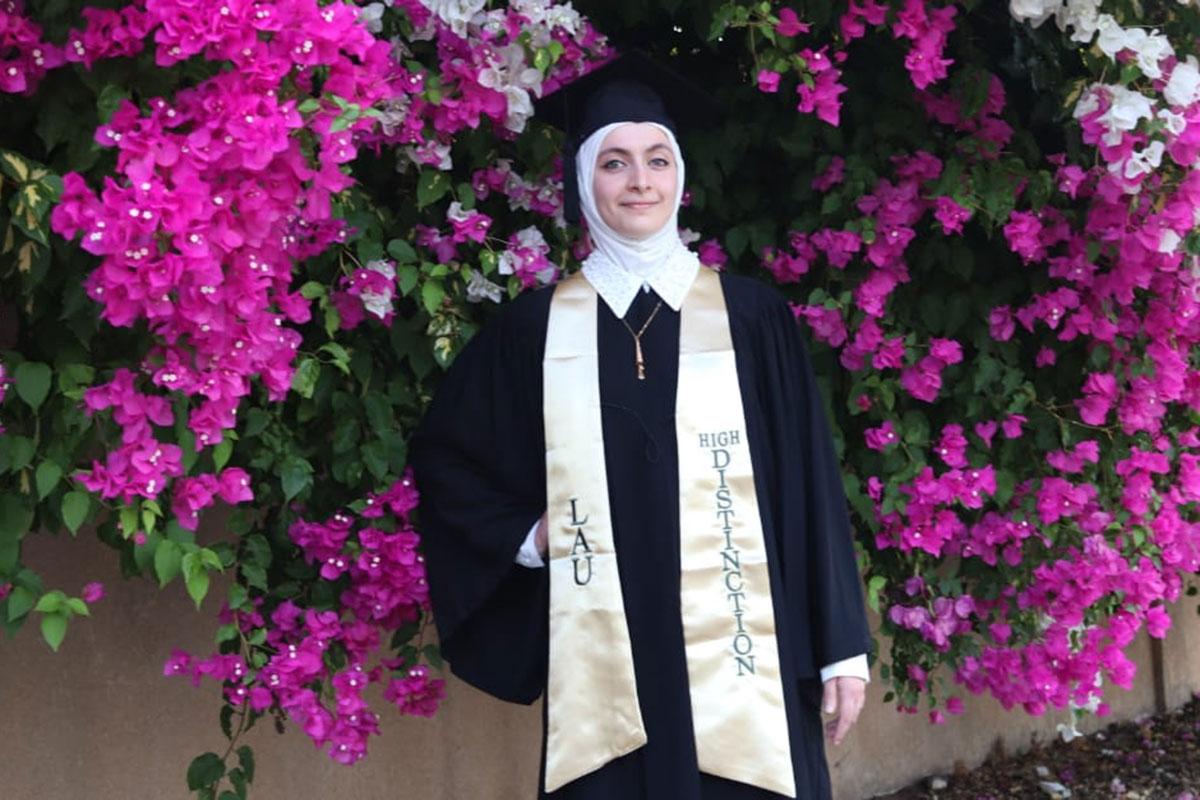 LAU's School of Engineering (SOE) electrical engineering alumna Sawsan El-Zahr (BE '21) has won third place in the 8th Undergraduate Virtual Research Competition organized by Abu Dhabi University for her research project on telecommunication systems and cooperative networks.
The competition saw the participation of 87 universities with 315 projects from the across the MENA region.
El-Zahr's research project "Threshold Based Relay Selection for Buffer-Aided Cooperative Relaying Systems," under the mentorship of Professor Chadi Abou-Rjeily, also resulted in the publication of a paper in leading telecommunications journal IEEE Transactions on Wireless Communications.
"The goal of this project is to increase systems' efficiency by introducing the concept of cooperation between the entities of the system – such as a mobile phone to a base station, or a vehicle to the infrastructure – to reduce outages and minimize delays," said El-Zahr.
Encouraged to participate in the competition by Dr. Abou-Rjeily, El-Zahr felt it shed light on her research work and put her on an unstoppable research track. Her second article, also co-authored with her mentor, is currently under revision by IEEE Transactions.
"The research opportunities that our university offers are amazing and very helpful for graduate studies later on," she said.
In turn, Dr. Abou-Rjeily underlined the importance of engaging students in research – as part of the university's strategic plan – especially in engineering disciplines.
"In addition to the hands-on involvement in working on state-of-the-art topics and applying the technical skills acquired in the classroom, students are introduced to the culture of research and life as a scientist. As such, they can make better-informed decisions about their future career plans early on," he said.
To that end, the school offers an undergraduate research course, where SOE students participate in faculty-student collaboration and learn to tackle real-world challenging problems – one of many course offerings that aim to bolster the curricula, said SOE Dean Lina Karam. The school has also recently introduced Vertically Integrated Projects (VIP), an initiative that invites both undergraduate and graduate students to engage in multidisciplinary, real-world projects and use-inspired research.
Dr. Abou-Rjeily's approach to mentorship centers on having students gain a sense of "ownership" of the research project, by placing "a well-defined research topic" and providing "continuous motivation."
While day-to-day guidance is essential during the early stages of the project, he said, it is "particularly rewarding to witness the student evolve in the direction of becoming an independent researcher, taking initiatives at later stages." Even more so when the students' research efforts culminate in a peer-reviewed publication, giving them an edge in their applications to graduate studies.
This undergraduate research experience, said Dr. Karam, is enhanced by LAU's state-of-the-art Engineering Laboratory and Research Center (ELRC) that is "set to harness the full creative potential of our community, and is definitely on the path to becoming one of the finest learning and research environments available at any engineering school in Lebanon and the region."
For El-Zahr, the successful and edifying undergratuate experience has already led her to pursue her master's degree at LAU, which she believes will pave the way for a PhD further down the line.
"This was a major reason behind my decision to continue my research journey with faculty members at this prestigious university," she said.
To learn more about all scholarly output by the LAU community, browse our open-access digital archive, the Lebanese American University Repository (LAUR).