Hybrid Hooding and Graduation Ceremony 2021
The Gilbert and Rose-Marie Chagoury School of Medicine celebrates a new cohort of graduates and residents who "walked the change and were central to its happening."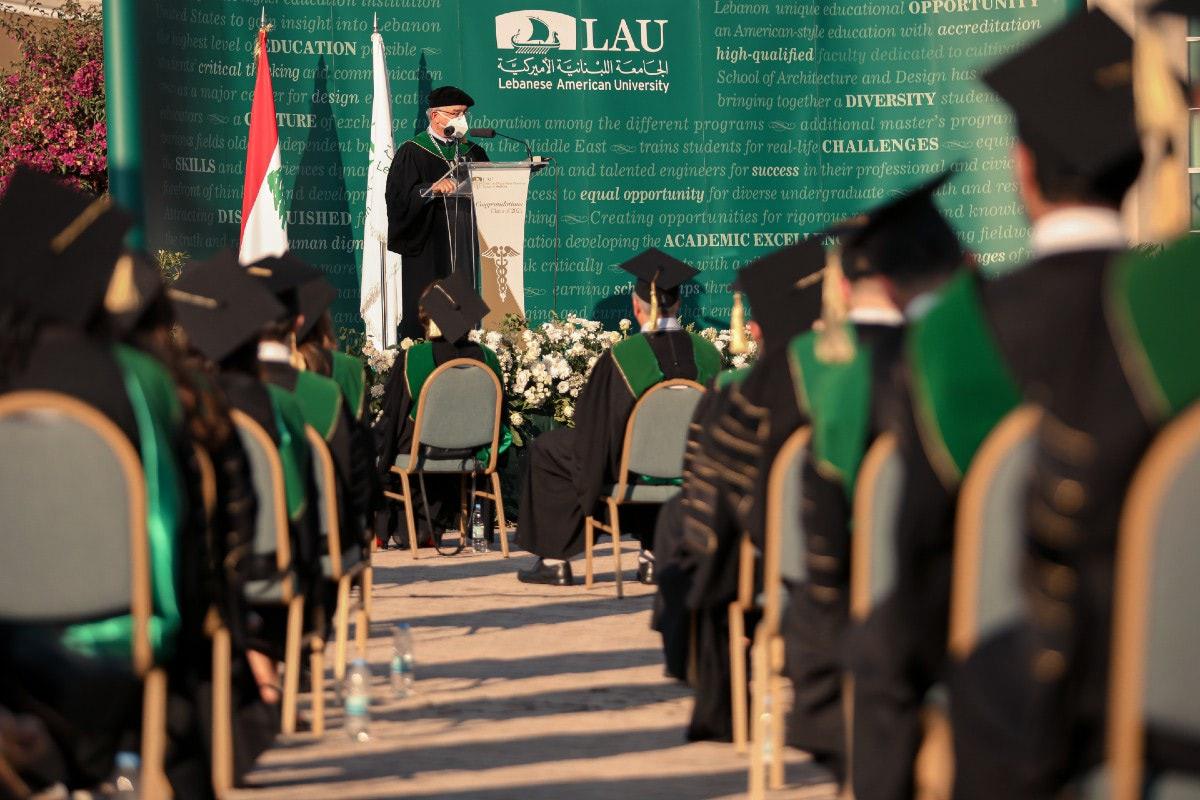 In keeping with social distancing measures, LAU's Gilbert and Rose-Marie Chagoury School of Medicine celebrated its ninth graduating class, sixth group of residents, and second cohort of graduating fellows at a hybrid ceremony that was livestreamed from Byblos campus.
Clinical Assistant Professor and Director of Student Affairs at the school Nancy Chedid, who was also Master of Ceremonies, said that the event was "all the more special because we are beginning to see the light," in comparison with last year's mostly virtual ceremony.
While Lebanon grasps for good news, as President Michel E. Mawad pointed out, securing another group of trained physicians to join the ranks of the medical profession is truly remarkable.
He exhorted the graduates to deliver good health to patients "with a work ethic and moral fortitude that distinguishes you from other physicians – embodying high competence, conscientiousness, and compassion."
In her address to the students, Interim Dean Sola Aoun Bahous said that the hood bestowed upon the graduates was a token of trust. "You endured unprecedented uncertainty, which you have navigated with an inspiring level of understanding, wisdom and creativity – how can we not trust you?"
From caring for COVID-19 patients and shifting to virtual learning, to embracing historic difficulties and serving the community in the aftermath of the August 4 explosion, Dr. Bahous congratulated the class for winning a hard-fought battle. "Go and earn the trust of your patients and always remember that the highest level of wisdom is humility, a virtue you have demonstrated to great lengths and still."
Keynote speaker Dr. Bermans Iskandar, who is a pediatric neurosurgeon at the University of Wisconsin-Madison, spoke of hardships throughout history and how they were overcome. He called on the new cohort of medical doctors to "have a clear understanding of your goal, and unambiguous pursuit of excellence while staying motivated and grounded by the challenges you face."
Delivering a heartfelt speech, class valedictorian Dr. Abdulrahman Al Kotob touched on these very challenges: the uprising, a once-in-a-lifetime pandemic, a crushing economic crisis and a blast that destroyed half the capital. "Despite the unspeakable, we persevered, studied every last lecture and stayed for that last call," he said, paying tribute to "the hearts that held us, the backs that carried us, and the eyes that watched over us – parents, families, friends, mentors and teachers."
On behalf of residents and fellows, Dr. Jad Mansour closed the ceremony with a positive note. Addressing the inevitable reality that some graduates will be seeking fellowships and positions abroad, he remarked that "it is places like LAU that make us want to take part in the change in our country." Despite feelings of hopelessness, he continued, "we should remain optimistic because we are the frontliners – the very beginning of change."