Summer Camps: Enhancing High Schoolers' Learning Experience
The School of Arts and Sciences offers 11th graders university-level online courses and partial scholarships.
By Hanan Nasser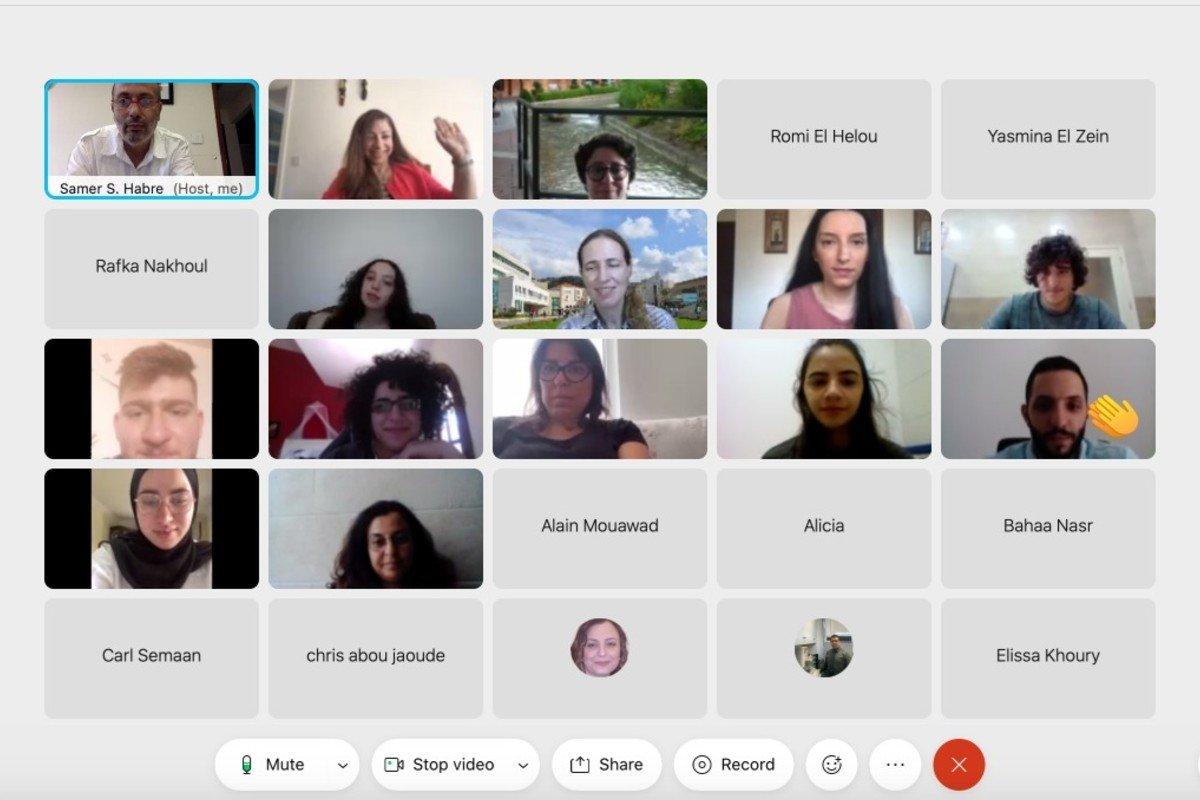 LAU's School of Arts and Sciences (SoAS) held the ninth edition of its summer camps online, attracting enthusiastic students from across Lebanon to learn about their favorite subjects in a stimulating and interactive environment.
The camps are among the school's social engagement and outreach activities that aim to inform Grade 11 students about education opportunities during a week of university-level courses offered in subjects of their interest.
The free camps spanned translation, English creative and speech writing, computing, nutrition and food science, chemistry and the newly added mathematics.
By the end of the week, up to six students from each camp won partial scholarships to LAU for their final projects.
The high schoolers' attendance, despite the deteriorating situation and constant power cuts, was commended by SoAS Dean Cathia Jenainati.
"There are many reasons why many of you could have dropped out of the camp. There are many reasons why this could not go on," she said during the online closing ceremony. "But despite all of this, here you were. You enjoyed the camps and our dedicated instructors as usual turned up to run them."
It is the young people's "strong spirit," added Dr. Jenainati, that enriches education. "We are feeding on your spirit, your enthusiasm, your hope and your dedication and all of that energy that you bring to us."
Thanking them for their participation, Dr. Jenainati pointed out that the camps reflected "one percent of the kind of fun and intellectual engagement you will have at LAU were you to join us in the future."
Assistant Dean Samer Habre reaffirmed the school's commitment to the summer camps regardless of the dire conditions in the country, hoping they would be "a learning curve for the students and also a rewarding experience in terms of the knowledge they gain and in terms of the scholarships they win."
Each camp introduced the participants to principles of the subject they are studying.
In chemistry, campers discovered diverse experimental procedures, virtually isolated natural products and synthesized medicinal active ingredients. In the nutrition and food science camp, modules included macro and micronutrients, energy balance and weight regulation, nutrition-related diseases, physical activity, eating disorders and food safety.
"I was so surprised," said Emma Sleiman, a chemistry camper. "Who would have thought that during only five days, you, professors [Elie] Akoury and [Brigette] Wex, have succeeded in giving us the vision, and that vision is seeing ourselves as chemists."
A student in the nutrition and food science camp, Rasha Saad, expressed her gratitude for the opportunity to take part in the course, describing it as organized and informative.
"The information I learned from this was not just applied; it was one that I could talk to other people about, as nutrition is a part of our lives," she said, adding that the camp was also an opportunity to share a class with students from across the country.
Instructors from the Department of Computer Science and Mathematics introduced students to Python – one of the most commonly used programming languages – and in Logic and Proofs covered the rules of logic in distinguishing between valid and invalid mathematical arguments.
"This experience with LAU was very engaging, intensive and very challenging," said computing student Ghassan Abboud. "There was some advantage to it being online because we were able to start coding right away and better understand the concepts involved."
What he liked most about the camp, he added, was the fact that "not only did it teach you how to code in Python, but also how to learn Python on your own, how to figure out the resources." Experimenting with the actual process of developing an idea, designing the code and fixing any bugs left him with a sense of achievement.
In the newly introduced mathematics camps, Riham Al Bayaa said that despite the poor internet connection, instructors always provided a solution through recorded sessions.
The English speech writing camp trained campers to communicate with better clarity and impact, while the English creative writing sessions were designed to foster an appreciation of literary works and help students refine their creative writing skills.
"I loved the activities, how they challenged you on the spot and how they kept everything on blackboard so that you could always go back to them anytime. Our instructors were more like friends," said camper Nancy Slim. "I felt I really belonged here, with the groups of amazing students and teachers."
Last but not least, the translation summer camp familiarized students with a rich array of texts, including journalistic, legal, scientific, technical and business, in addition to some approaches in translation.
"This program introduced us to LAU and the translation camp educated us in different fields and topics, such as coronavirus, fake news and more. It was also a chance to make new friends. It was fun and helpful; I would recommend others to enroll next year," said camper Roumi El Helou.
The summer camps have proven to be an excellent tool to attract high-achieving students and to provide education opportunities through scholarships.
"Summer camp students who later join LAU, especially the ones who win scholarships, are a sample of the student population we are seeking to expand," said Dr. Habre.
"Campers have shown since the inception of the camps nine years ago that they rank among the best, earning high GPAs, winning best capstone awards, and being academically engaged in their fields. Many of them have pursued graduate degrees, which attests to their academic excellence," he added.