A Decade of LAU Self-Expression Through Creative Writing
The Department of Communication, Arts and Languages celebrates the 10th anniversary of its flagship Creative Writing Competition, informed by the newly revamped Creative Writing curriculum.
By Rayane Shami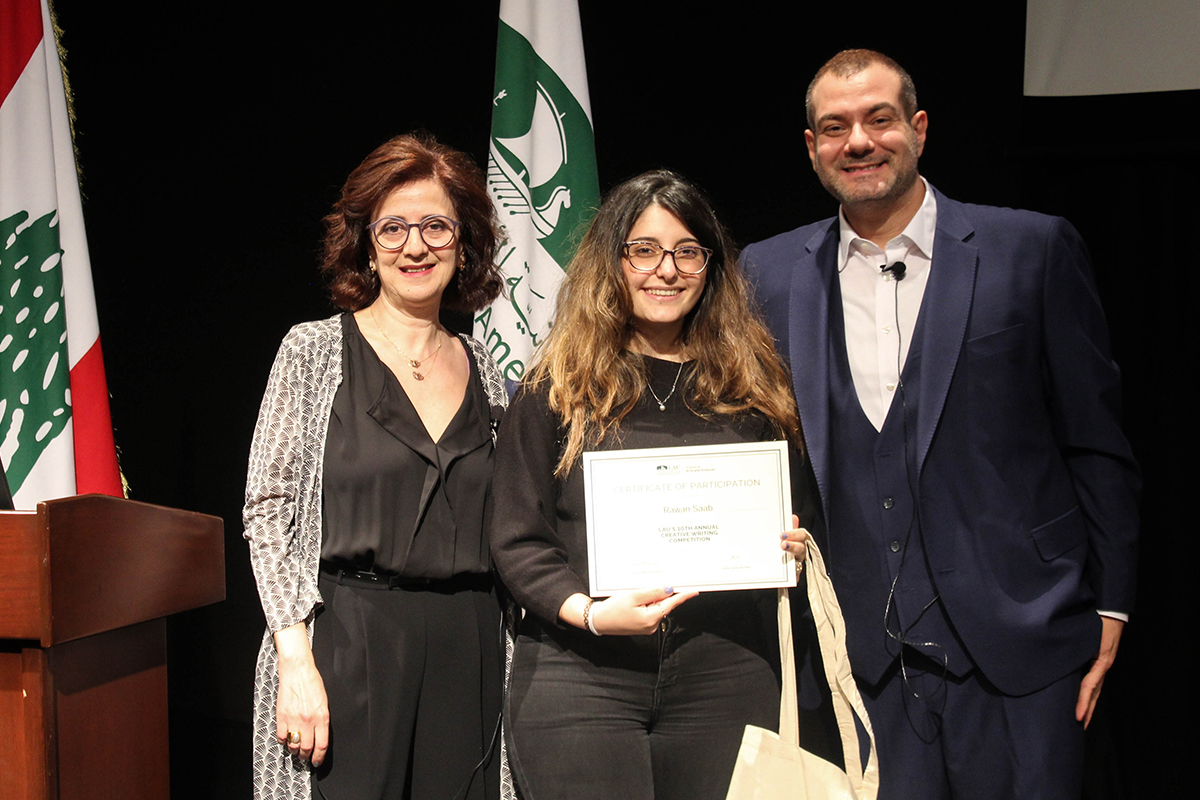 For a decade, the LAU Annual Creative Writing Competition (CWC) launched by the Department of English, currently subsumed by the Department of Communication, Arts and Languages in the School of Arts and Sciences, has provided a platform for all LAU students to express themselves freely.
Initially limited to ENG 102 and 202 students, the Creative Writing Competition grew into a university-wide writing competition, giving students a platform that was not always found in their courses.
"The competition, along with whatever few creative writing workshops or competitions are available in Lebanon, presents a glorious platform in which you can advance your writing skills, get in touch with your humanity and speak from your soul," said Reef Aman Eddine, a previous third-place winner and premed chemistry student.
Creative Writing at LAU
The Creative Writing program, much like the CWC, has also come a long way, especially in the past four years. New courses including Life Writing and Illness Writing have been added and old courses, such as Fiction Writing and Playwriting have been revamped or, like Poetry Writing, and Food and Travel Writing, have been offered for the first time at LAU.
"As I worked on redesigning the program, I was struck by two major realities," said Dr. Sleiman El Hajj, assistant professor of creative and journalistic writing and a co-organizer of the CWC since 2019. "The first was the absence of auto/biographical course offerings not only in writing courses but in humanities and cultural studies curricula more generally."
"At the same time, through delivering a number of workshops in introductory creative writing classes and in the community, students' need for self-expression, especially in the social, politically, and economically turbulent climate of Lebanon, became very clear," he added.
The theme for this year's competition, Gender, derives from the ideas and topics that have been previously explored by students over the years. Some examples include sexism, #metoo, sexual harassment, sexual minority rights, youth and gender activism, bullying, and coming of age.
Dr. El Hajj links students' need for self-expression to the lack of topical, present-day life narratives young people may relate to or learn from in the Lebanese context.
"For so many university students today, the Lebanese civil war is at best a distant memory or something they never witnessed to start with, and a lot of their coming-of-age experiences as they transition from school age to young adulthood are quite different from what already exists in postwar Lebanese literature that, to this day, continues to explore the immediate aftermath and legacies of the civil war," he said
"As I have observed," Dr. El Hajj added, "this reality means that for many students the need to write, and share, personal experience discursively is all the more urgent, in the absence of local narratives the students can get knowledge from or identify with, when it comes to issues of personal identity, finding home, mental health, and increasingly pressingly, gender and sexuality."
Indeed, both in creative writing classes and in the annual Creative Writing Competition submissions, there has been, since 2019, a significant emphasis on translating lived experience into personal narratives, which El Hajj explained may themselves become "a form of knowledge or scholarship."
The Creative Writing Awards, 2022
The Creative Writing Awards were held this year at the Gulbenkian Theatre, Beirut Campus, on Friday, April 29. The event was formally opened by the Provost George E. Nasr.
Despite the grueling economic times we are plodding through, the CWC was able to secure a generous monetary prize allowance through a major sponsor, AllPrints, explained Senior Instructor of English, Paula Habre, a founding member of the CWC Organizing Committee.
Four winners from the 22 participants were chosen based on a specific rubric: first place went to engineering sophomore Christina E., a nom de plume; second place to English literature sophomore Assile Michlawi; third to sophomore biology premed Leen Kesrwane; and fourth to TV and film senior Vincent Jabr.
All participants received memorabilia offered by the sponsor and the winners received monetary prizes.
The ceremony concluded with a cocktail reception, attended by faculty, staff, and the families of the student participants representing all six schools at LAU.
Moving forward, especially after this milestone, the organizers hope to expand the creative writing competition to include submissions from LAU alumni and to create a digital archive of the previous winning competition submissions. They also hope to apply for a grant that will allow for organizing a nationwide young-adult creative writing competition.
The future of the creative writing competition looks bright – hopefully entering another decade of both a program and competition that inspire students to speak their mind and express themselves to the fullest.