A Fitting Tribute to the Pioneers of Girls' Education in the Arab World
Rev. Robert D. Stoddard talks about his book, Sarah and Her Sisters, a tribute to the missionary pioneers in Arab female education and an inspiration to LAU coeds today.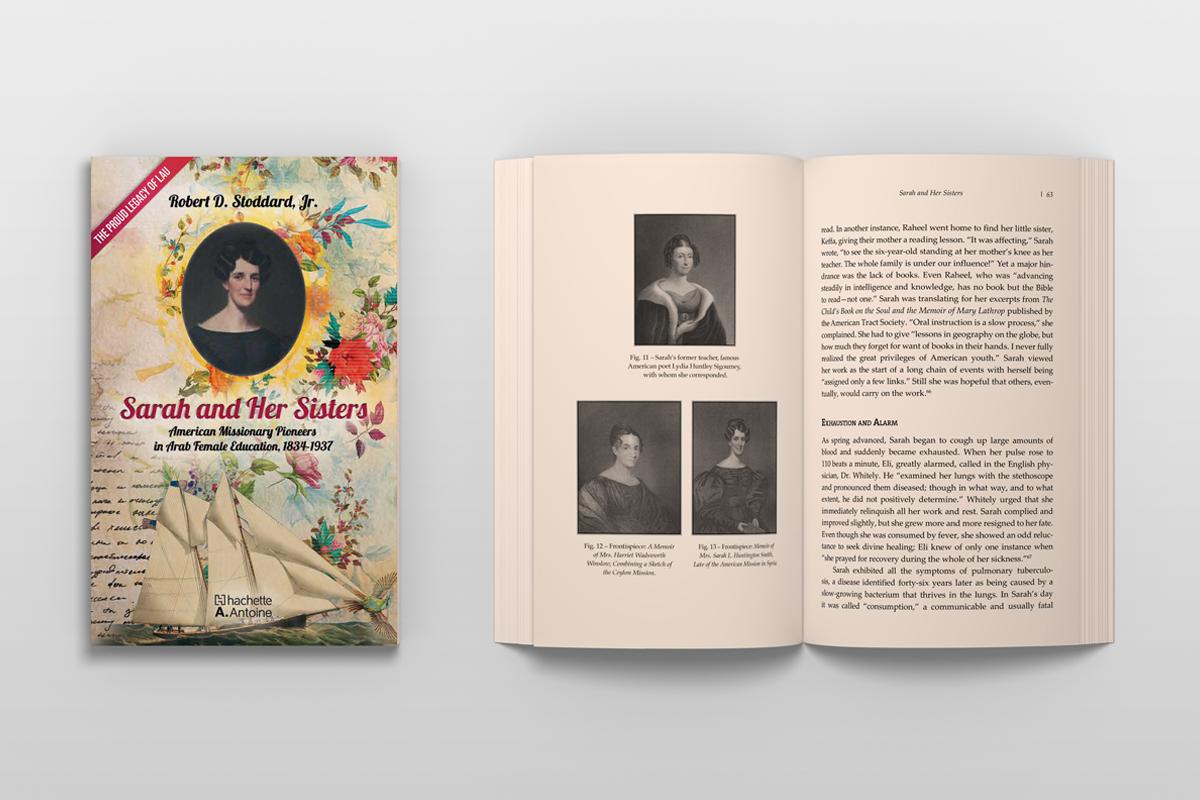 The name Sarah Huntington Smith is well-known to those familiar with LAU's origins as the founder of the Beirut Female School in 1834 to which our university traces its roots.
But it was not until a century later, in 1933, that the first iteration of LAU, the American Junior College for Women (AJCW), came to be. So, what happened in the interim? Who were the missionaries who perpetuated Smith's legacy?
LAU's former Vice President for Development Robert D. Stoddard (1999-2005) spent a decade researching and writing the book that would tell the stories of those historical figures who had faded in the shadows.
In Sarah and Her Sisters: American Missionary Pioneers in Arab Female Education, 1834-1937, he gives voice to the missionaries who endured war, epidemics, famine, and isolation in a foreign land to educate Arab girls and women.
His hope was that their struggles would inspire and motivate LAU coeds to persevere. During these turbulent times in Lebanon, they are likely to resonate more than ever.
To what extent did Sarah Huntington Smith's experience with teaching American Indian children inform her mission to educate Syrian women?
With no formal training, Sarah Huntington had only her Sunday School in Norwich and her Mohegan School teaching experience to draw on for establishing a girls' school in Beirut. So, what informed her teaching American Indian children?
I believe both Sarah's Mohegan and Beirut schools were modeled on her Chelsea grammar school and that she taught her students primarily by repetition and memorization as she herself had been taught by a strict and sometimes harsh schoolmistress. But I think she also applied some of the more progressive methods and positive reinforcement used by her later teachers, Nancy Hyde and Lydia Huntley. To those she added a degree of refinement gained during her "finishing school" year in Boston and later evident in the polished manners and neat appearance of her Beirut students.
To this mix must be added the teaching methods she learned from Samuel Wilderspin's Educating the Infant Poor. Therefore, when she left Beirut in July 1836, she left behind a groundbreaking school where the methods for educating Arabic-speaking girls combined all these elements and altered the trajectory for generations of girls and women in the Middle East for the better.
Did the 'sisters,' appalled by the treatment of Syrian women as 'slaves,' primarily aim to enlighten them through education rather than evangelize them?
Make no mistake about it. The missionary 'sisters" primary goal was to make Protestants out of Syrian girls and women including Eastern Christians. But, to do so, their subjects had to be able to read the Bible. Hence, education became the means to their original religious end. Despite their best efforts, though, they had little success in making converts and establishing Evangelical churches but were increasingly successful in educating native females and establishing girls' schools and eventually a women's college. Thus, over time, the Syria Mission's emphasis shifted from evangelism to education as well as healthcare and founding hospitals.
As teachers, the missionary 'sisters' affirmed the self-worth and abilities of their Syrian 'sisters.' Once 'enlightened' through education, indigenous girls and women could become more assertive and able to break free of their subservience in a patriarchal society. They could advocate for themselves, better care for their families and play constructive roles in their communities and society. Though they made few converts, the American 'sisters' achieved, I believe, a higher goal of affirming the human rights of Arabic-speaking 'sisters' and unleashing the female potential that continues to reshape the MENA region beyond their teachers' wildest dreams.
How important a role did native teachers, particularly those adopted by the missionaries, play in advancing women's education?
The missionaries' plan was twofold: first, to educate as many native females as possible and second, to train some of the brightest to become teachers of other girls and women. Therefore, training native teachers was essential to the success of the Mission's educational efforts.
Sarah Smith's adopted daughter Raheel Atta is the outstanding example of this practice in elementary education. Being exceptionally bright and an early learner of English, she not only assisted Sarah and later Rebecca Williams in the Beirut girls' school but went on to run it herself. She was also a great help in establishing the De Forest's Female Seminary.
Equally worthy of praise was Rufka Gregory. Adopted at the age of two by Mathilda Whiting and taught in her Jerusalem Girls' School before going to the De Forest's Seminary, Rufka was called upon to start up the female seminary when it was relocated to Abeih. When all the American teachers left after the 1860 Mount Lebanon civil war, Miss Gregory was the native teacher recruited to set up an independent, all-Syrian Female Seminary in Beirut. As the school's first principal, she did an outstanding job of raising the level of secondary education for Arabic-speaking girls and laying a strong foundation for the Beirut Female Seminary.
Although not officially 'adopted,' the "indomitable" Miss Lateefeh Daoud was certainly a favorite student of Frances Irwin and Winifred Shannon. She was not only an exceptional student in science, but she also had a special love for her junior college, and they viewed her as someone to be groomed as a future faculty member. They were thus thrilled when, after fits and starts in her graduate studies, Miss Daoud breezed in the door after finishing her AUB exams and was "hired on the spot" as the first AJCW graduate to join them as a teaching colleague. There were other 'adoptees' who became teachers named in the book, but I think the missionary 'sisters' would consider all you LAU coeds to be their 'adopted' daughters and heirs.
The missionaries' lives and work in Syria were fraught with misfortunes and difficulties, ­from epidemics to wars, not to mention the cost of lives. What made them persevere?
The perseverance of the women missionaries came primarily from a strong sense of calling rooted in their Protestant faith. Another factor was the support they received from their missionary husbands, or if they were unmarried, from the strong 'sisterhood' that they developed. Married or single, all these women had also the backing of their Syria Mission family plus their families and church women back home.
Inspiration was a huge factor in enabling them to persist through hard times. They were inspired by their love for their students, by the joy of teaching, by their pupils' progress and by the gratitude of the girls and their parents. They were inspired all the more by the success and growth of their schools and the positive impact they were having on families and communities.
Practically speaking, quitting the field and returning home had its drawbacks too. They could not board a plane and fly home in a day. Rather, they had to contemplate thousands of miles at sea over several weeks if not months – sometimes during wartime. In retrospect, would it have been better for Sarah to have foregone her tiring, dangerous and fateful trip home and remained in Beirut as other gravely ill 'sisters' did?
Sarah's legacy survived thanks to the dedication of the missionary women who succeeded her, but would you say that it was the fundraising efforts and infrastructure set up by male missionaries that made it possible?
The administrative and fundraising efforts of male missionaries and their oversight of school construction projects greatly enhanced the success of their female counterparts in educating and training females. It began with Isaac Bird who planned and supervised the building of Sarah's schoolhouse as well as managed its finances, freeing her to run the school and teach. As an affectionate acknowledgement of Bird's role in acquiring and improving the Mission House, missionaries and natives alike called it Burj Bird.
Henry Jessup played a crucial role in launching the independent Syrian Female Seminary. With Daniel Bliss's guidance, he raised the funds for the new seminary building from wealthy American Presbyterian businessmen and then recruited Eliza Everett to replace Rufka Gregory when she fell ill. Supporting and protecting his beloved Beirut Female Seminary remained his highest priority for the rest of his life.
Frances Irwin depended heavily on the assistance of Rev. James Nicol in several ways. He was her main ally within the Syria Mission and became the chief male missionary advocate for female higher education. It was, in fact, Nicol who secured the Ras Beirut site for the junior college campus. He also acted as a mediator between Miss Irwin and native male contractors who were not likely to take direction from a woman. Like Jessup, he raised some funds in the United States. But the bulk of fundraising was done by Presbyterian women and their staff in New York. Nicol's valuable contribution to the college continues to be recognized in the Beirut campus building bearing his name.
In tracing LAU's history, you had hoped to inspire and motivate LAU students to excel. Does that hope seem even more pronounced today with the threats to higher education that the economic and health crises have posed?
Yes! I fervently hope that reading this early history of the university will "inspire and motivate" current, former and future students – coeds and alumnae especially – to keep on excelling in these dark times in Lebanon. So too, faculty members, staff and administrators. I urge you all to please read how these pioneering women educators dared to teach girls and young women despite strong cultural prejudice and opposition. Learn how they kept their schools going in times of violence, disease, famine, war, pandemic and economic collapse. Be inspired by their commitment and perseverance. And take heart, LAU coeds, from how your predecessors and their families endured hardships and made personal sacrifices to take advantage of the educational opportunities offered them. Be encouraged by how these female student pioneers excelled and achieved academic and professional heights never expected of Arabic-speaking girls and women.
So yes, more than ever, my hope is that these inspiring stories will motivate all of you at LAU to push on believing that if they could do it, then you can do it now!
You can order your copy of Sarah and Her Sisters here. A Kindle version is available on Amazon.com.
This interview has been edited and condensed for the sake of clarity.