LAU Continues to Offer Full Graduate Scholarships for Fall 2022
By waiving full tuition, the Graduate Program Scholarships aim to help students focus entirely on advancing their research skills in preparation for their doctoral studies.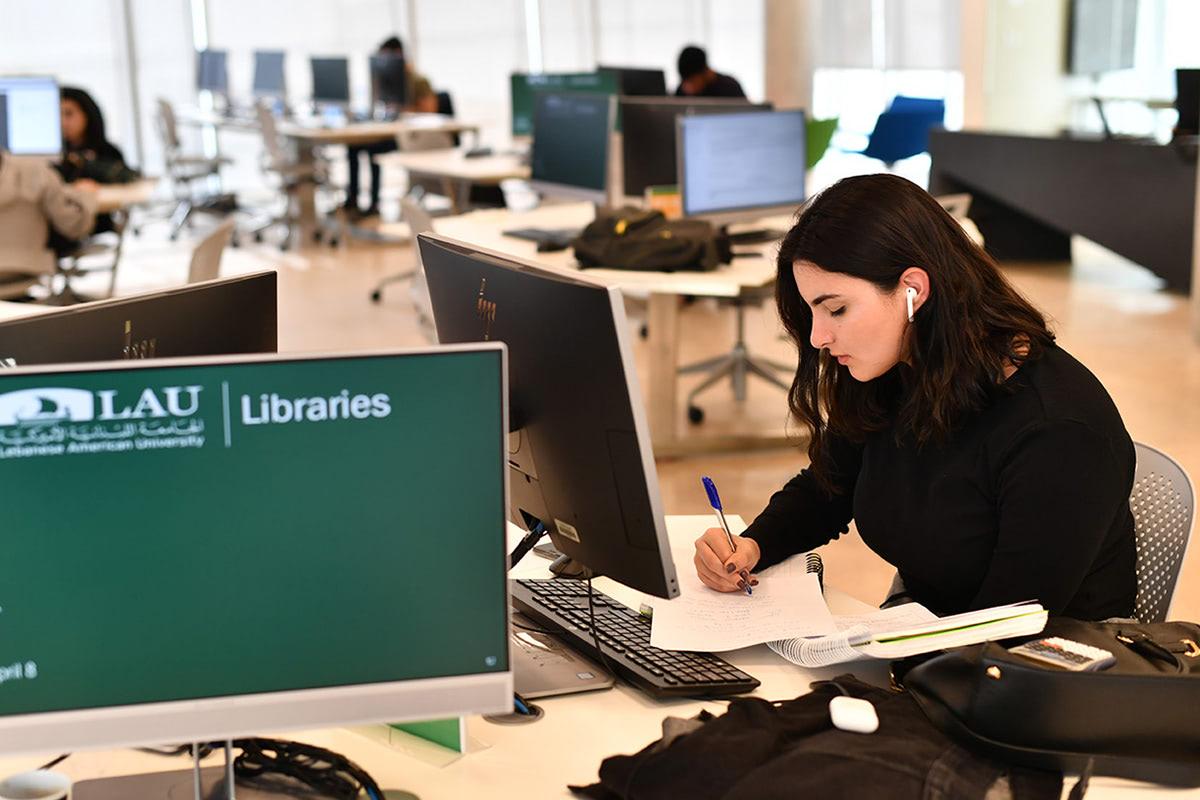 In an effort to sustain a research-oriented milieu that has proved to enhance the competencies of promising students and elevate its intellectual capital, LAU has now launched the Graduate Program Scholarships for fall 2022.
The scholarships – initiated in 2020 by the Office of Graduate Studies and Research (GSR) – present a unique opportunity for students interested in developing a research edge while completing their postgraduate studies. The tuition is fully waived, and a monthly stipend of $200 is allocated for the duration of the program.
"We are now providing a stipend in addition to the tuition waiver to allow students to focus on their studies and research, which will create appropriate conditions for their future success, be it in academia or industry," explains GSR Dean Samer Saab.
The scholarships cover 16 different master's programs ranging from Applied Economics, Biological Sciences to International Affairs and Business Administration.
"The program promotes excellence in graduate studies and creates conditions of research synergies between graduate students and faculty members," says GSR Assistant Dean Walid Marrouch.
To be eligible for the program, candidates must have a minimum CGPA of 3.7/4 or equivalent. The candidate ought to be admitted to the program without any remedial courses and submit proof of English proficiency. Having authored or coauthored a peer-reviewed publication, in addition to previous research experience, is a great advantage for interested candidates, adds Dr. Marrouch.
Besides working with faculty members on research topics of mutual interest, the program allows eligible candidates to get published by the time they receive their master's degree, gain a solid preparation for doctoral studies, and be guided by excellent supervisors in their thesis or research project.
"For the past two years, the program has shown a great deal of collaborative work between students and faculty and has helped improve the quality of graduate education at LAU even amidst the economic collapse," says Dr. Marrouch.
Obtaining the scholarship, says applied economics major Jana El Chaar, was an incentive to continue with her graduate studies. "It was a great recognition for the work that I put in my undergraduate degree," she says. "More generally, it provides students with the opportunity to advance their studies without worrying about finances and just concentrate on fostering their research skills and expanding their knowledge."
While the program motivates the students to achieve their best and focus on research, it does not entail the academic pressures that usually come with having a scholarship, says Renata Chantiry, who is also majoring in applied economics.
The challenge for El Chaar was more in pushing herself to maintain a high GPA and producing a publishable research paper. It is a challenge that stems from "a healthy competitive environment that forces you to be up to standard when it comes to quality papers, presentations, and exams."
Both Chantiri and El Chaar agree that the program helps graduates advance their professional and academic skills through several workshops on research while benefiting from the expert guidance of professors.
Graduates get to cultivate their research skills in their respective fields and are consistently encouraged by faculty members to publish their term papers. But the Graduate Program Scholarships "compel you to do more than what is required in your course work, such as further editing and revising your research papers and attending research workshops," explains El Chaar.
So, while "graduate programs at LAU give students an equal opportunity to advance their research skills, the Graduate Program Scholarships ensures that they do," she adds.
Students interested in applying can do so online before June 1 and are welcome to contact the Office of Graduate Studies and Research for any query.