LAU Pharmacists Urged to Break Boundaries and Shape their Profession
The annual School of Pharmacy Hooding and Graduation of Residents Ceremony honors a new group of pharmacists as they "graduate to a sector in crisis" and pledge to contribute to its uplifting.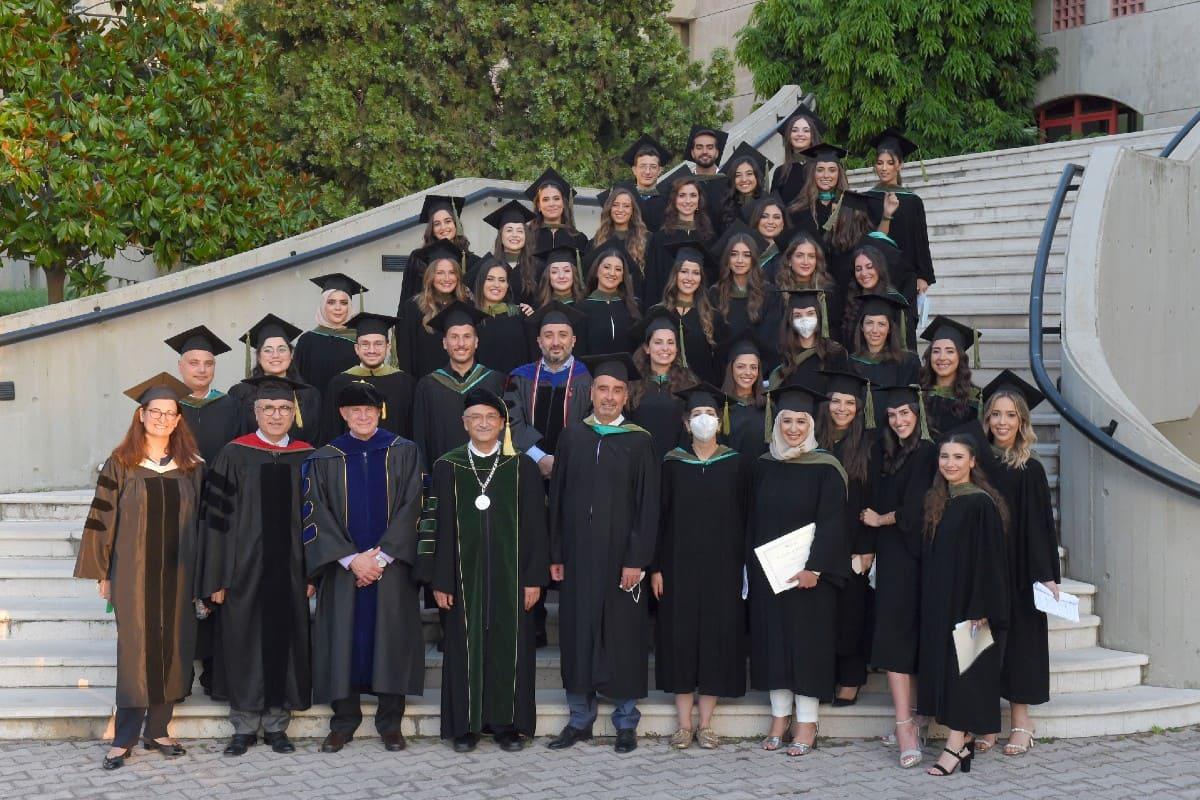 The LAU School of Pharmacy (SOP) honored 29 PharmD graduates – the only such program outside the US that is accredited by the Accreditation Council for Pharmacy Education – as well as two postgraduate pharmacy residents at the annual Hooding and Graduation of Residents Ceremony, held on July 18 on Byblos campus.
The event was attended by President Michel E. Mawad, SOP Dean Naser Alsharif, President of the Order of Pharmacists in Lebanon alumnus Joe Salloum (BS '03), former SOP Dean and Professor Imad Btaiche, as well as deans, faculty, staff, parents and friends.
In his opening remarks, Dr. Mawad expressed a two-fold joy in seeing the ranks of LAU pharmacists bolstered by a new group, and "in the satisfaction of the new contingent arriving just in time for the beleaguered community of health professionals in Lebanon." He invited them to embrace constant upskilling and self-renewal, and to seize opportunities that lie amid crises.
Dr. Alsharif, in turn, commended the graduates' spirit of resilience that powered them through the adversities of the past three years. He exhorted them to take an active role in the lifelong learning process, bring honor to the profession, work collaboratively with interprofessional health teams and act with the highest integrity.
"Throughout your career and especially during these challenging times, it is important to be an innovator and disruptor to find solutions and opportunities for you, your patients and society at large," said Dr. Alsharif, noting that the possibilities are limitless, and urging them to "advocate for their profession – which is not a job, but rather a calling."
These thoughts were echoed by the words of Clinical Associate Professor and PGY1 Residency Program Director Nibal Chamoun, whose speech was delivered by Clinical Associate Professor and Chair of Pharmacy Practice Soumana Nasser, as she was unable to attend.
She encouraged the graduates to be data-driven, to implement practice models that will expand patient outreach, to incorporate medication safety into daily practice, collaborate with clinicians and administrators, and "to always be ready to advance the practice."
Addressing the residents, she spoke of a residency year where the focus had been on fostering their wellbeing, "to ensure a healthy workforce that would be able to provide optimal patient care," in line with the American Society of Health-System Pharmacists – that had accredited the SOP PGY1 Residency Program in 2021 – and the National Academy of Medicine's Action Collaborative on Clinician Well-Being and Resilience.
The year, she said, had been "marked with rebirth and uplifting spirits, learning to live with COVID-19 and with all the changes around us, as, together with our residents and preceptors, we tapped into being present, appreciating the now and reconnecting with each other."
PharmD valedictorian Maria Ghattas spoke about the invaluable experiences she had had throughout her journey in Lebanon and her residency in the US. She attributed her success to her faculty mentors, and pleaded with her peers not to be discouraged by the difficulties: "Instead, be grateful that you have the skills to help others and put those skills to good use."
Loulwa Abi Saad, recipient of the Sara Khatib Inspiration Award, which was presented to her by Khatib's parents, delivered a moving account of the challenges she had faced after her mother, like Sara Khatib, had succumbed to cancer two years ago.
While dealing with her grief, Abi Saad had also had to take over her late mother's pharmacy, and run the household, while attending to her studies. "I managed to move forward," she said, "pushing through the obstacles and to walk in my mother's path to preserve her legacy and work ethic as a pharmacist."
Abi Saad expressed her deep gratitude to her family, her friends for nominating her and to her advisor Dr. Jad Abdallah, dean of students and associate professor in the Department of Pharmaceutical Sciences, for his support and for always making the time to listen to her.
Honored to have been bestowed the award, Abi Saad drew similarities between her mother, Sabah, and Sara Khatib, "both strong women who battled an awful sickness without letting it take over their lives; both invincible, limitless souls who truly lived and loved although a piece of them was dying."