Nutrition and Dietetics Graduates Take the Oath and Embark on Clinical Journeys
A new cohort of 24 graduates donned the white coat, marking their rite of passage.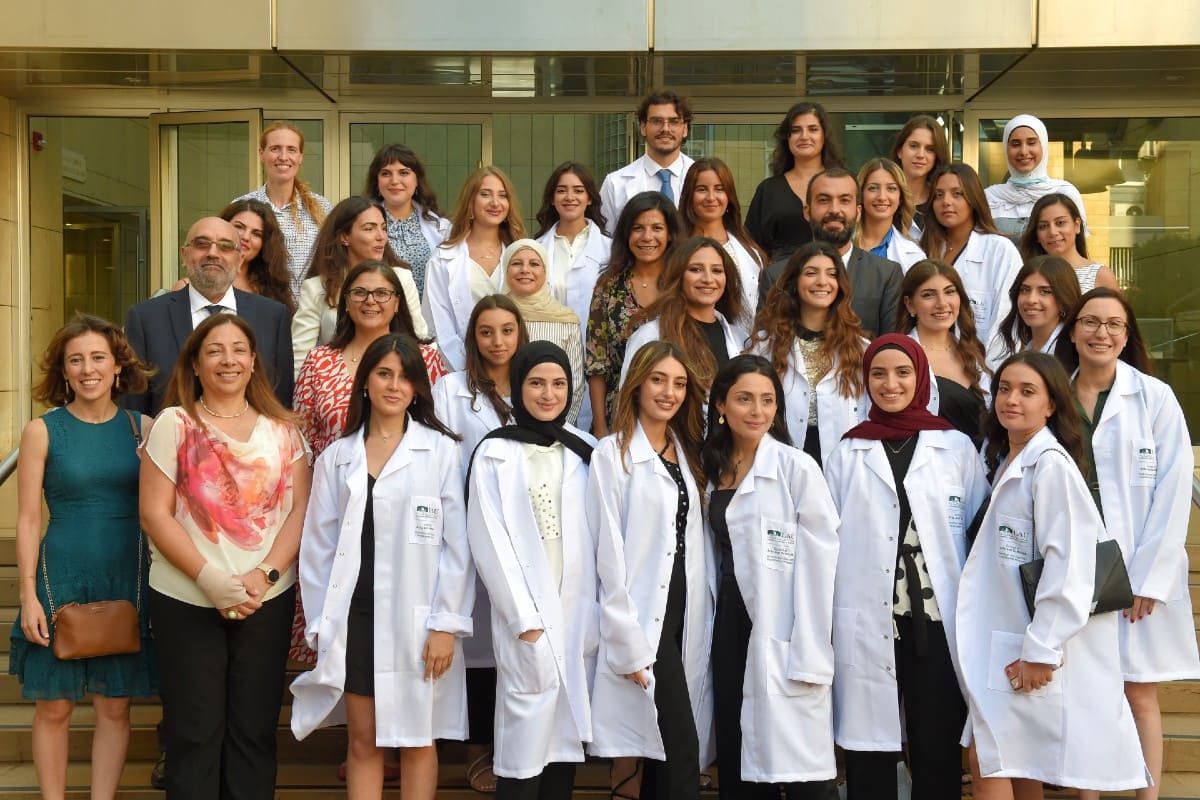 The Nutrition and Dietetics Program at LAU celebrated a new cohort of dieticians who have successfully moved on to clinical practice at the annual White Coat Ceremony held on Beirut campus on September 16.
At the ceremony, 19 of the 24 graduates who were able to attend in person took the professional oath and were cloaked with white coats, marking their entry into professional ranks.
Their induction comes at a critical period in their country's history, noted guest speaker and Head of Monitoring and Evaluation at the World Food Programme in Lebanon Soha Moussa. "Currently in its third year of a deepening and severe economic crisis, Lebanon needs bright and motivated people like you," she said.
Graduates from the program can branch out into fields ranging from clinical, food service and community nutrition in both the public and private sectors, all of which are in demand as much locally as globally.
"There is a dire need today for compassionate and knowledgeable dietitians. Food security, health and food safety, and food waste are only a handful of important topics today that need constant addressing by experts in the field," remarked Provost George E. Nasr.
While acknowledging the graduates' competence, Dr. Moussa advised them to be emotionally ready. "You will be connecting with vulnerable people every day, and you will be their sole source of strength, so nurture the trust and be kind at all times."
This thought was echoed by Dean of the School of Arts and Sciences Cathia Jenainati, who said: "You are not only experts – you are agents of hope who can make significant, positive changes in people's lives."
Dr. Jenainati further exhorted the graduates to remember that their profession is not a trade, but rather a calling that entails responsibility, a sense of duty and compassion.
This spirit of service has been embedded in the core of their program, noted Dr. Nasr, who reassured the graduates that their expertise is highly sought after as "vast professional opportunities and enriching experiences" await them despite the many ills that plague Lebanon and the region.
Indeed, the Nutrition program grew organically but exponentially over the past years and has offered standardized internships for all graduates at the LAU Medical Center-Rizk Hospital as well as at 20 affiliated hospitals and community centers.
The Nutrition and Dietetics Coordinated Program (CP) track secured candidacy for accreditation by the Accreditation Council for Education in Nutrition and Dietetics (ACEND), the accrediting agency of the Academy of Nutrition and Dietetics, in April 2020. As the first step in a four-year accrediting process, the candidacy by ACEND grants current and future students the same rights of a fully accredited program.
Out of only seven international programs with ACEND accreditation, the CP in the Department of Natural Sciences was granted the title of International Coordinated Program (ICP) in August 2022.
"Ours is only the second program to have earned the title of ICP outside the US," explained Director of Nutrition and Dietetics Coordinated Program Joelle Abi Kharma. This status opens the door for graduates to sit for the Commission on Dietetic Registration examination (CDR) – the credentialing test that allows them to become registered dietitian nutritionists who can practice in North America, Europe and the United Kingdom.
Addressing the graduates, Associate Professor and Nutrition Program Coordinator Lama Mattar described them as "the core and the essence of our program. You have shown us that you can excel in the classroom, outshine the application in the lab, deliver research projects that led to many peer-reviewed articles, and serve your community."