A Regal Recognition for LAU's Newest Residents and Fellows
As they transitioned from supervised to unsupervised practice, the latest cohort of Gilbert and Rose-Marie Chagoury School of Medicine were hailed as "bona fide physicians."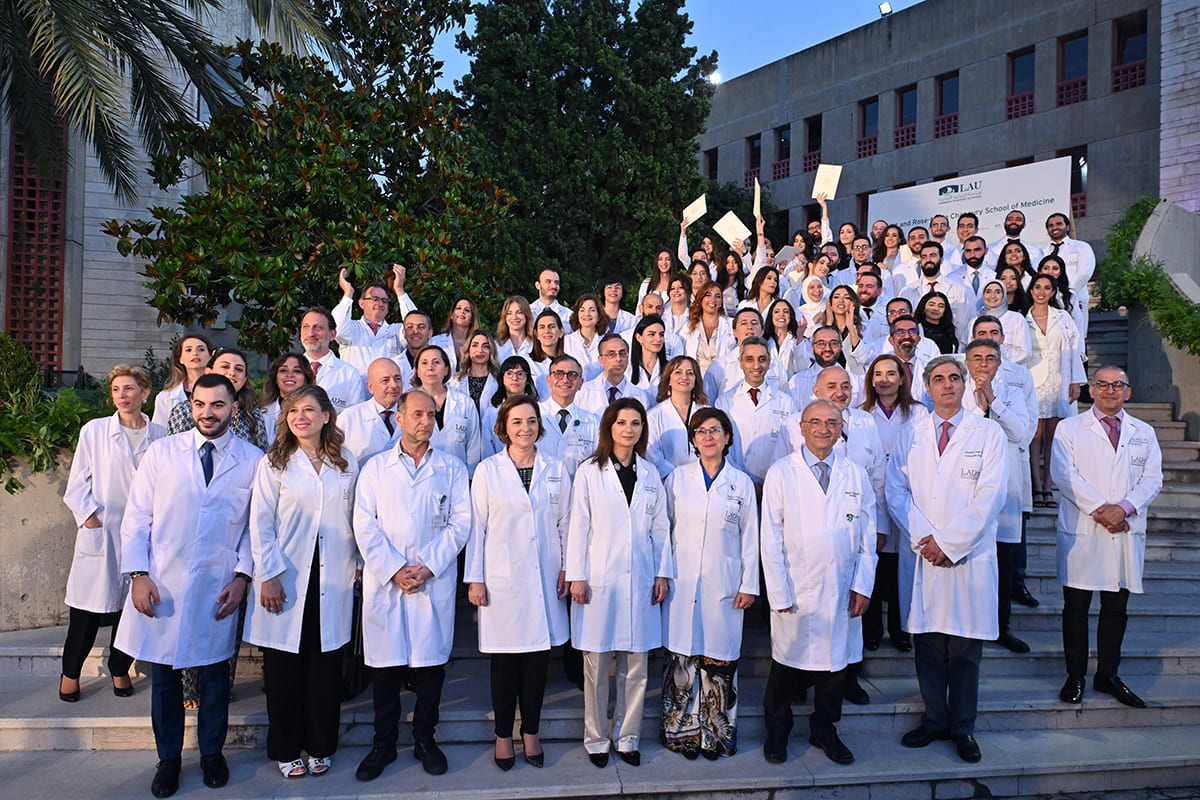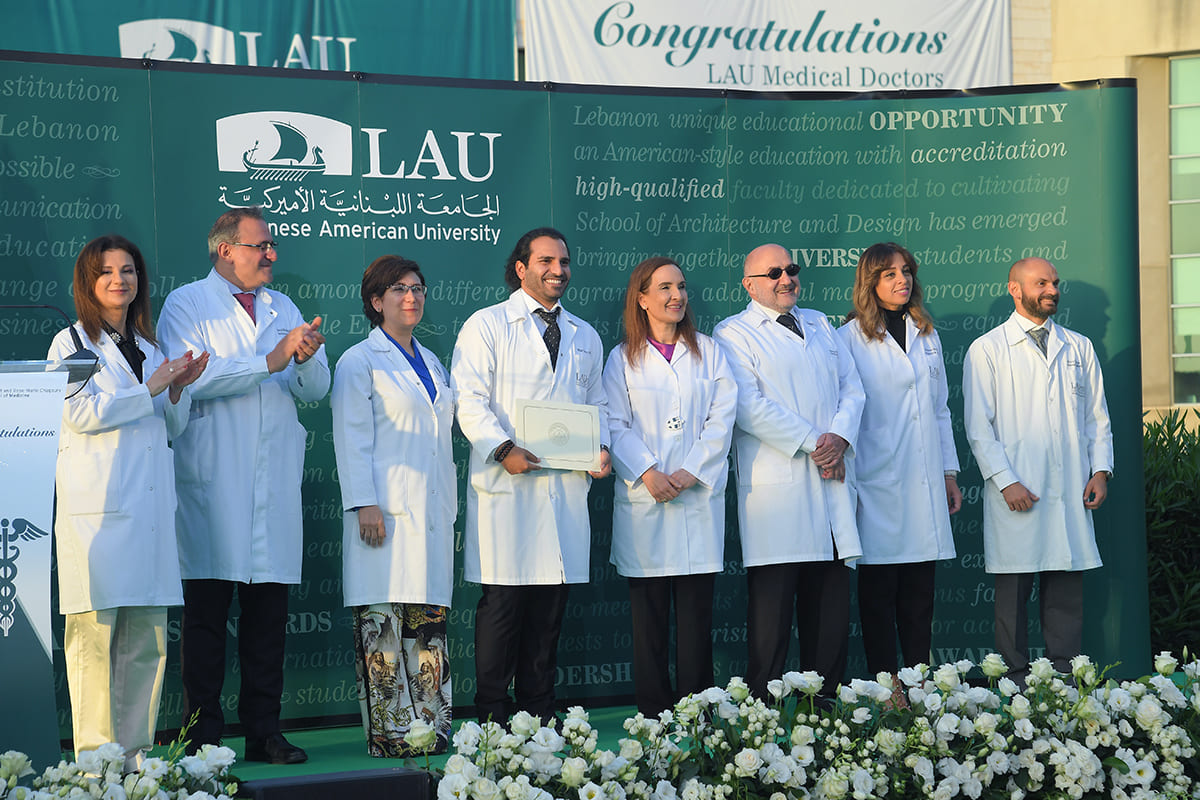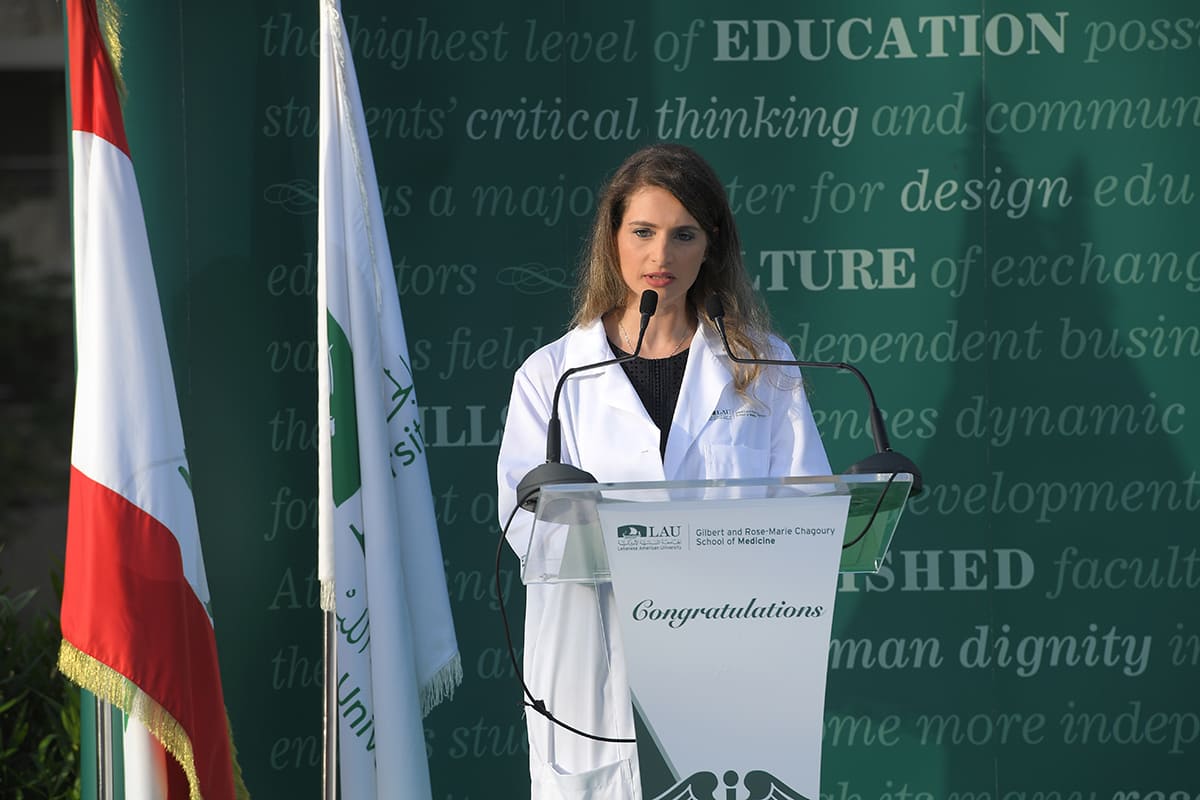 Following its annual Hooding and White Coat ceremonies, the LAU Gilbert and Rose-Marie Chagoury School of Medicine honored its 34 graduating residents and seven fellows, as they transitioned from supervised to unsupervised medical practice.
The ceremony on June 10 on the Byblos campus was attended by LAU President Michel E. Mawad, former trustee Mona Nehmé, Sister Mona Nassar, Provost George E. Nasr, Vice President for Health Affairs Tony Zreik, the school's dean Sola Aoun Bahous, LAU Medical Center-St. John's Hospital CEO Sally Rabbaa, and from the LAU Medical Center-Rizk Hospital: Deputy CEO Georges Ghanem and Assistant Chief Medical Officer Daniel Mahfoud, as well as LAU faculty, physicians, staff and proud family and friends.
Dr. Mawad lauded the graduates for their choice of profession, "a calling for helping others and serving them in their moment of greatest vulnerability." A renowned and accomplished neuroradiologist himself, he reminded the residents and fellows that "healing is science plus humanity, technical intervention plus an assuring smile, a listening ear, a kind word, a warm welcome, and a ton of patience."
Imparting valuable advice, Dr. Mawad invited the physicians to "move medicine to its next level, with skill and sensitivity, with competence and compassion, with superior ability tempered with genuine humility."
In the same spirit, Dr. Bahous underscored the graduates' sought-after role as healers who not only have the knowledge and expertise but also embody the dedication to principles of public service. "Your power lies not only in the prescriptions you write or the surgeries you perform, but in the empathy you show, the time you take to listen, the respect you show to your patients and colleagues in the workplace, the teamwork you embrace especially with other healthcare professionals, and the unwavering commitment to the wellbeing of your patients," she said.
Dr. Bahous also encouraged them to nurture creative pursuits as they practice the profession. "Embrace curiosity and remain open to new ideas. Seek inspiration from diverse sources, be it art, literature, music, or nature. Engage in interdisciplinary collaborations, for it is often at the intersections of fields where brilliance is born," she added.
Returning to a campus that he calls home, Dermatologist and Assistant Professor at the Chobanian & Avedisian School of Medicine at Boston University Elie Saliba (MD '16) delivered the keynote speech at the event. After graduating from LAU as a medical student and later as a dermatology resident, he had pursued two fellowships: one in dermatopathology at Boston University, and another in immuno-dermatology at the Warren Alpert Medical School of Brown University.
Drawing from his rich experiences in the field, Dr. Saliba spotlighted the direct impact on patient lives as the reason behind his passion, noting his mentors' immense role. "As future mentors I ask you to act as a constant source of inspiration. Share your stories of triumphs and failures as they will serve as beacons of hope, showing that even in the face of adversity, we can overcome and make a difference in the lives of others," he said.
Dermatology resident and class speaker Dr. Remie Chrabieh reflected on the past six years, which had been nothing short of challenging and trying. Addressing her colleagues, she urged them to acknowledge how far they have come. "You were trained by some of the best and brightest minds in medicine, and it is a testament to your abilities and grit that you have made it this far," she said.
"In the end, what really matters is not the degree on your wall but the impact you will make in the world," she added.