LAU and the Alumni Association Honor Two of Their Outstanding Members
Humanitarian Nabila Jabbour Fares and entrepreneur Toufic Kreidieh are the recipients of the Alumni Awards 2023.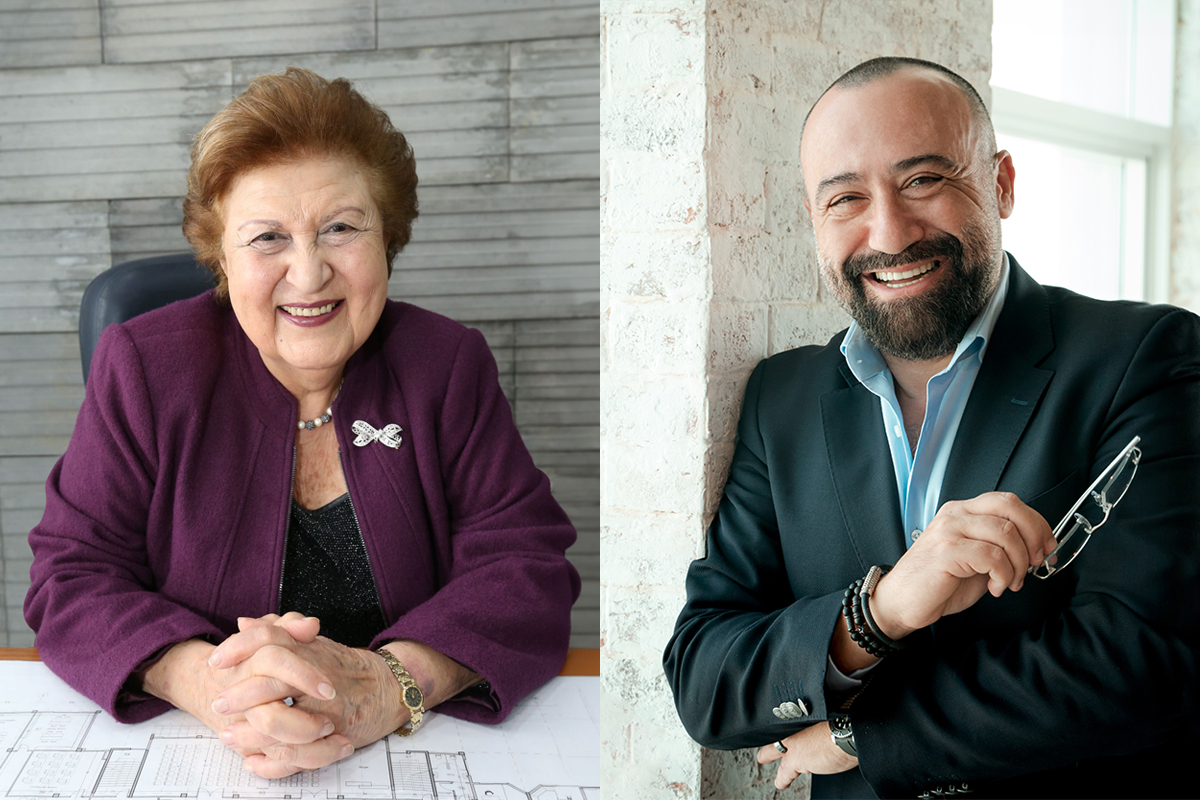 For its annual awards, the Alumni Relations Office invites its worldwide network to nominate two outstanding alumni who exemplify the values and spirit of their alma mater while distinguishing themselves in their profession and society at large.
The final decision rests with a selection committee, and with more than 50,000 alumni who bring pride to the university, it cannot be an easy task.
"Of the successful and accomplished LAU graduates, several have towering achievements in their fields, in their lives, and in how they impact the world around them," said Assistant Vice President for Alumni Relations Abdallah El Khal. "The two alumni we have the pleasure of honoring this year are humanitarian Nabila Jabbour Fares and entrepreneur Toufic Kreidieh."
Fares (BA '56), the recipient of the Alumni Recognition Award, graduated from LAU – then called Beirut College for Women (BCW) – with a bachelor's in social work, and devoted her life to humanitarian issues encompassing children's welfare, women's rights, gender equality, and family wellbeing among others.
During the Lebanese Civil War in 1979, she co-founded the NGO Acsauvel to help mitigate rising societal problems in health, education, displacement, disability and living conditions. In the '80s, Fares decided to focus the organization's mission on children with slight and moderate mental challenges. Today, the NGO operates as a school for more than 70 children and adults with the aim of promoting their capabilities and interactions through educational and vocational classes, workshops and theater performances.
Fares is also an active member in several other associations dedicated to safeguarding Lebanon's heritage and its artisans, an author of several books and articles on social affairs, and a speaker at conferences. As Mayor of Rabiyeh in El-Metn, a post she has held since 1985, Fares was an invited participant and speaker at the International Colloquium of Mayors on Social Development at the UN in 1994, and one of the five members who wrote the Final Declaration.
In December 2022, Fares received the Lebanese Order of Merit from President Michel Aoun and two Icons of Gratitude – from the Lebanese Maronite Order and Mount Lebanon Greek Orthodox Archdiocese – among other accolades.
Thanking the university for the numerous gifts it has bestowed on her and for honoring her with the award, Fares said: "Life's ups and downs form a significant part of our personalities, perhaps as much as our years of college. I am lucky to have the best alma mater, and I am grateful to God and my late parents for making my early formation at LAU possible at a time when only a few women were college graduates."
Recipient of the Alumni Achievement Award Toufic Kreidieh (BS '93), founding partner and CEO of Brands for Less (BFL) Group, built his enterprise on a concept he and a friend Yasser Beydoun developed to fill a gap in the retail market. Barely three years out of university, Kreidieh and Beydoun opened the store in Beirut, an off-price retail outlet that sells luxury brands of clothing, toys and home accessories. Four years later, they set up their first shop in the UAE.
During the COVID-19 pandemic, and as an alternative to the in-store experience, the graduate from LAU's Adnan Kassar School of Business adopted an e-commerce strategy and opened up a warehouse in the Jebel Ali Free Zone. With an eye on a fast-growing market and committed to providing good value to customers, Kreidieh gradually expanded the business to include more than 78 stores across seven countries in the Middle East and Europe, in addition to a range of newly acquired brands.
In 2022, the Brands for Less Group earned a certification from Great Place to Work – a global authority on workplace culture – for empowering its employees and placing them at the heart of its mission.
Receiving the LAU Alumni Achievement Award, Kreidieh said, was a great honor that deepens his connection to his alma mater and the LAU alumni network. "This recognition reaffirms the value of my education at LAU and inspires me to contribute to the success of future generations. I am grateful for the opportunities and lifelong connections this award represents," he added.
The awardees were nominated by their fellow alumni and selected by a committee composed of representatives from the Alumni Relations Office, the Alumni Association Board, Student Development and Enrollment Management and Academic Affairs.
Browse the list of previous honorees and update your contact information to be notified when nominations open up for 2024.