LAU Honors Faculty Members With Excellence Awards
The Teaching Excellence Award is granted to Dr. Reine Azzi and the Research Excellence Award to Dr. Sleiman El Hajj and Dr. Hussein Hassan.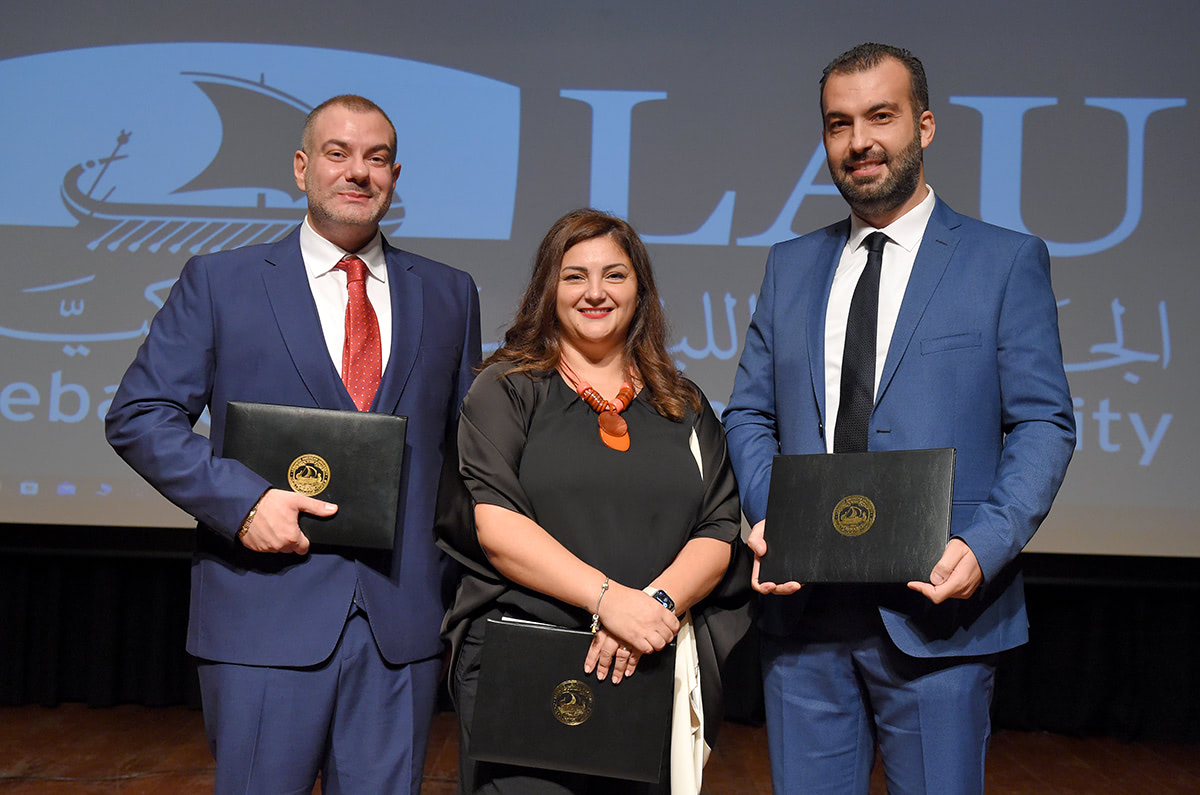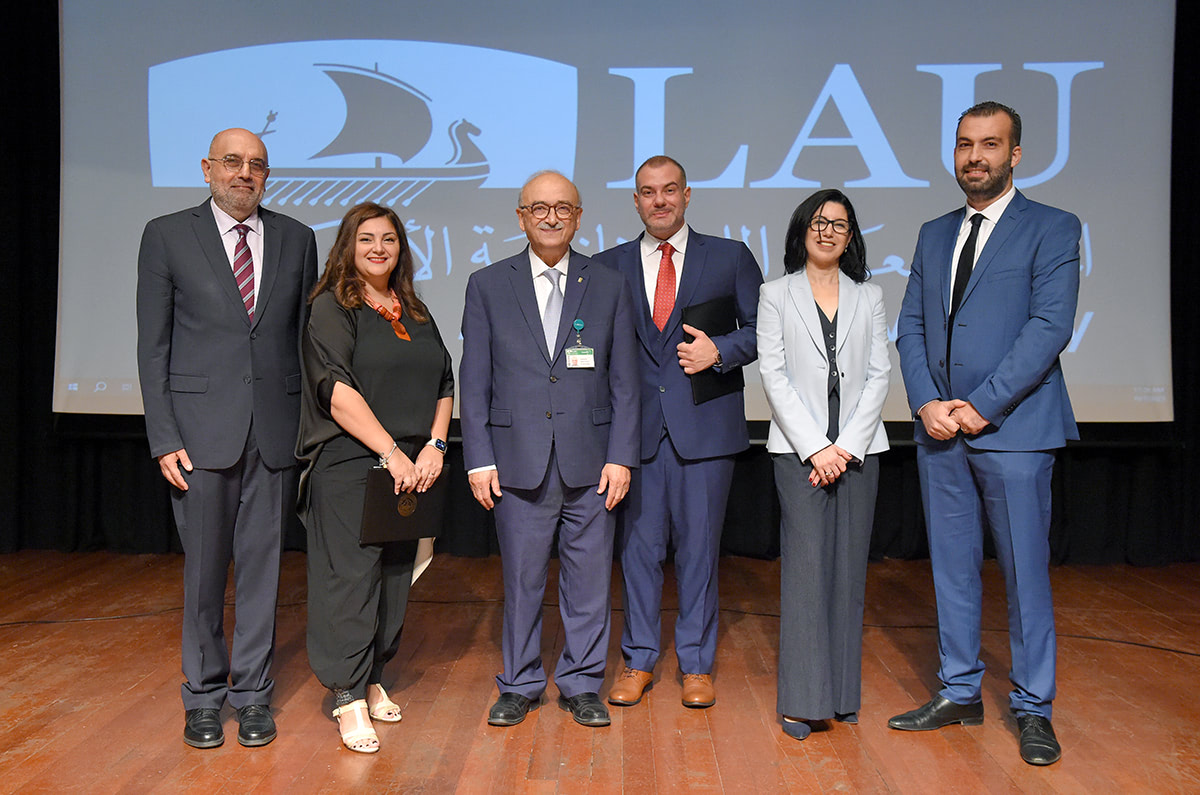 LAU faculty members' remarkable efforts to advance knowledge, enrich the educational experience, and engage in research have significantly enhanced the university's reputation as a hub for innovation and intellectual growth.
By way of recognizing their invaluable contribution, the Provost's office annually grants Excellence Awards to a select number of faculty members. During the annual LAU Faculty meeting on October 7, 2023, the awards in research and teaching were granted to three faculty members of the School of Arts and Sciences (SoAS).
Lecturer of English and Moral Reasoning and Coordinator of Liberal Education Arts Reine Azzi received the Excellence in Teaching Award, while the Research Excellence Award was granted to Assistant Professor of Creative and Journalistic Writing Sleiman El Hajj and Associate Professor of Food Science and Technology/Director of Academic Compliance in the Provost's office Hussein Hassan.
Provost George E. Nasr congratulated the recipients, applauding their exceptional accomplishments and recognizing their pivotal role in elevating the standards of teaching and research at LAU.
"Their unwavering commitment to pioneering pedagogical approaches and facilitating meaningful knowledge dissemination, alongside their innovative research endeavors, has helped propel our institution to new heights," he said.
Recipient of the Teaching Excellence Award: Dr. Reine Azzi
Since joining LAU in 2009, Dr. Azzi has taught an array of courses in English, debate, and moral reasoning, within the two departments of Communication, Arts, and Languages and Liberal Education, at the School of Arts and Sciences.
She was a member of the first cohort of Faculty Fellows at the Center of Innovative Learning (CIL) in 2019 and had begun exploring educational technologies before the transition to online teaching in 2020. In that capacity, Dr. Azzi was instrumental in devising various training videos and professional development opportunities for faculty during the transition to online teaching.
Dr. Azzi enjoys experimenting with student engagement platforms, social annotation, and experiential learning, and employs various novel pedagogical approaches in her classes, including the use of instructional technology and tools, working with real data, and employing creative writing in literary analysis.
She currently coordinates Liberal Arts courses in LAU's innovative Liberal Arts and Sciences Curriculum and has helped to create several new courses in the program. Her research interests include virtual exchange, innovative uses of AI in academia, and critical approaches to language teaching.
Co-recipients of the Research Excellence Award: Dr. Sleiman El Hajj and Dr. Hussein Hassan
A dedicated advocate of creative writing as a sturdy form of scholarship that can impact lives inside and outside the classroom, Dr. El Hajj is credited with restructuring and redesigning the creative writing track in the English bachelor's program at LAU.
In light of developments in narrative medicine and the medical humanities, he designed an interdisciplinary course in Illness Writing, which invites students to craft a spectrum of narratives exploring the intersection between physical/medical and cultural/social ills. He has conducted qualitative, life and illness writing, and research in the Lebanese context, authoring more than 15 publications in top refereed journals since joining LAU in Fall 2018.
Dr. El Hajj holds visiting research fellowships at the University of Oxford and Harvard University and is the editor of a just-published volume of autobiographical, autoethnographic illness narratives, titled Lebano-Pathography: Converging Pathologies and Lived Narratives Since August 4, 2020 – a book-length intervention providing an analytical frame that combines medical pathologies with cultural practice.
His research interests include creative nonfiction, gender studies, narrative constructions of home, queer theory, and Middle Eastern literature.
Dr. Hassan's research on non-microbial food safety, food processing, and food waste has been published and presented in more than 75 international journals and scientific meetings. He is an advisor and trainer in several local and international organizations, including the Lebanese Ministry of Economy, the Ministry of Industry, the Ministry of Public Health, the Food and Agriculture Organization of the United Nations, the United Nations Environment Programme, the United Nations Economic and Social Commission for West Asia, USAID, and Save the Children among others.
Dr. Hassan served as the associate chairperson of the Department of Natural Sciences from 2018 to 2020 and in addition to his faculty position at SoAS, is currently the director of Academic Compliance in the Provost's office.
Dr. Hassan received his BSc and MSc in Food Technology from the American University of Beirut (AUB) and his PhD in Food Process Engineering from McGill University, Canada.