PharmD Students and Graduates Match in Residency Programs Locally and in the US
The pharmacy residents share insights from their experiences as they fortify their academic and clinical journeys.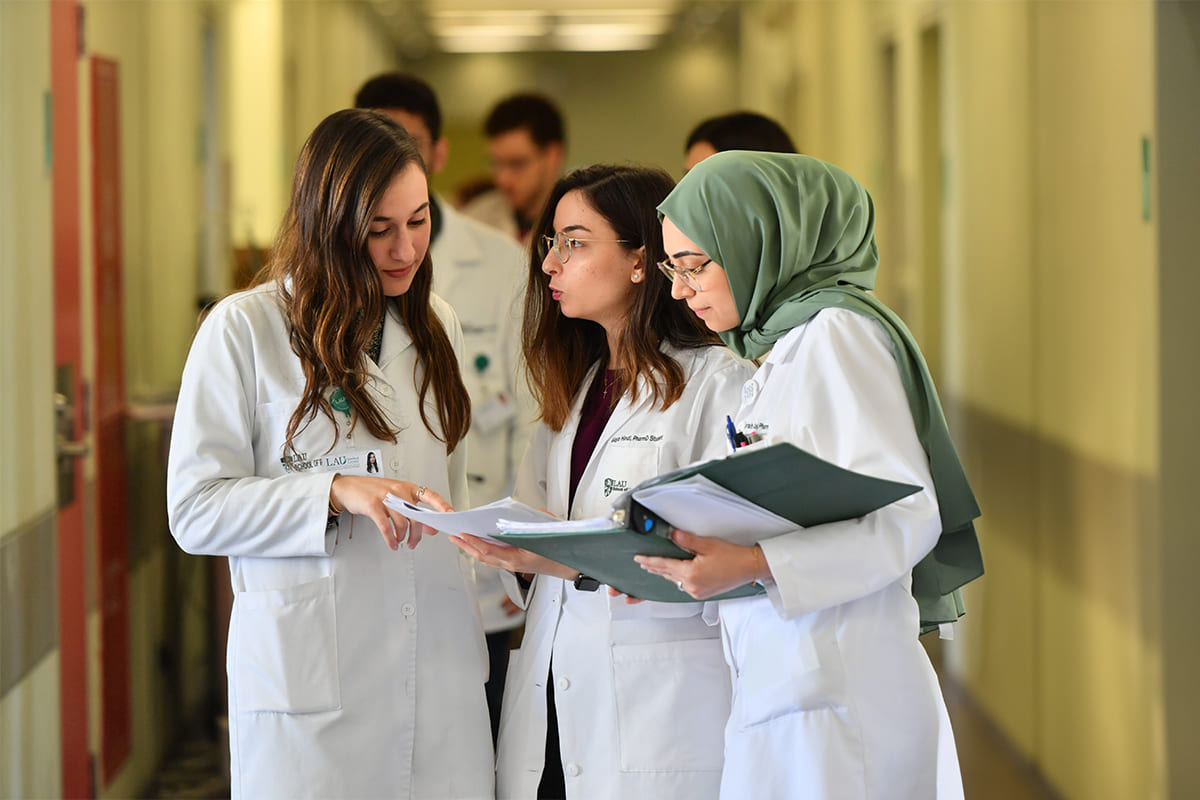 Although pursuing residency training in pharmacy education is optional, it is an opportunity for pharmacists to build on their clinical skills, and help them deliver optimal clinical care, according to the School of Pharmacy Clinical Associate Professor and Residency Program Director Nibal Chamoun.
This spring, 67 percent of LAU Doctor of Pharmacy (PharmD) students and graduates matched with leading institutions for postgraduate year one (PGY1) and postgraduate year two (PGY2) pharmacy residency programs accredited by the American Society of Health-System Pharmacists (ASHP), including the LAU Medical Center-Rizk Hospital.
"The fact that eight out of 12 applicants matched truly speaks to the aptitude of our students, educational program, faculty and preceptors," said Dr. Chamoun. "We are proud to see our alumnae pursue postgraduate training and continuously advance pharmacy practice nationally, regionally and internationally," she added.
Of the six PGY1 students who matched, four senior students – Farah Feghali, Nassab Fakhreddine, Elissa Bou Mosleh and Diala Al Najjar – matched at local institutions, while two alumnae – Mealis Taouk and Daniella Abi Kheir – matched in the US at AdventHealth Orlando in Florida and Houston Methodist Hospital in Houston, Texas.
Driven by her hope to enhance patient care through an interprofessional approach, Feghali pursued the residency to develop her clinical training after completing the nine Advanced Pharmacy Practice Experience rotations in the LAU-SOP's PharmD program. Those were supervised by highly qualified, full-and-part-time SOP clinical faculty members at different training sites in Lebanon and at Houston Methodist Hospital.
"My previous experience helped me understand the different aspects of a clinical pharmacist's work – from the ambulatory setting and a hospital and health system to community pharmacy, my clinical rotations reinforced what I had learned at the school and gave me a great advantage when applying to the residency," said Feghali.
Taouk, who cited similar advantages from her time at the School of Pharmacy, hopes that her US pharmacy residency will help her advance her clinical skills while engaging her through research and teaching. "I will be conducting a research project, and hopefully publishing my first academic article. I also anticipate benefiting from valuable teaching experiences, while enhancing my leadership skills," said Taouk. She has her sights set on practicing as an oncology pharmacist after the residency.
Building trust with patients is the focus of Fakhreddine's professional pursuit. "I always try to go above and beyond, taking the initiative to utilize resources and evidence-based medicine to achieve the best possible care," she said, hoping to gain more connectedness to patients through her residency training.
As a former PGY1 pharmacy resident who is currently an Intensive Care Unit clinical pharmacist at LAU Medical Center, Dr. Mira El Masri noted the impact a resident can have on optimizing pharmacy practice within the institution. "My advice to upcoming residents is to stay confident, act proactively and work hard to prove themselves and be always remembered as role-model residents," she said.
Two additional alumnae in PGY2 – Maha Fansa and Donna Barakeh – matched with a residency in Internal Medicine at AdventHealth Orlando, and another in Critical Care at Houston Methodist Hospital, respectively.
Considering that the SOP PharmD Program is the only one outside the US that is accredited by the Accreditation Council for Pharmacy Education (ACPE), Fansa believes that this has played a big role in her matching for a US residency, together with four rotations that she had previously completed at Houston Methodist Hospital and an internship at the US Food and Drug Administration. "The SOP's clinical rotations offering and the high-level of calibrated preceptors made me a well-rounded pharmacist with exceptional soft skills outside the clinical field, and set me on steady clinical journey," she said.
Dr. Chamoun underlined the value of residency training in pharmacy, dispelling students' fear of competition. "Please let nothing discourage you from following your dreams and leaving an impact on patients' lives and healthcare," she advised, urging them to "apply yourselves until you achieve your dreams – and then persevere and inspire others around you."
Expressing his pride in the caliber of the PharmD program, its faculty, students and alumni, Dean Naser AlSharif affirmed the students' readiness "to enter the profession, and contribute positively to the health of our society, as well as become successful in obtaining acceptance for residency training in Lebanon and the US."
Such training, he added, offers them further specialization and future job opportunities in academia, clinical research, pharmaceutical industry, insurance companies, governmental regulatory agencies and specialized clinical-practice settings.