Residents and Fellows Cultivate Their Research Prowess
The Third Annual Graduate Medical Education Research Day presents a total of 32 projects, including 20 original research endeavors.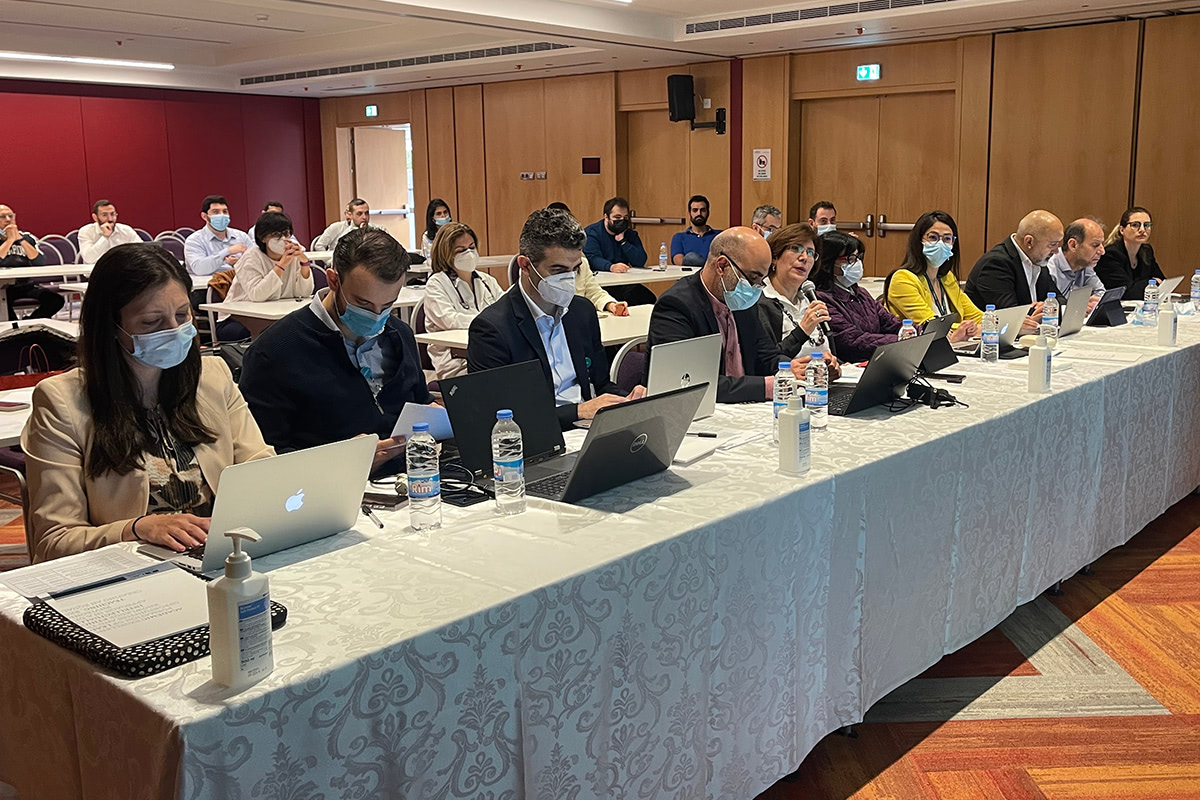 Research is at the core of knowledge generation and progress in all fields. In the health sciences specifically, notes Dr. Rajaa Chatila, assistant dean for Graduate Medical Education (GME) and clinical associate professor at the Gilbert and Rose-Marie Chagoury School of Medicine, "research is the basis for the discovery of the underlying etiology of diseases and their corresponding cures."
As such, the GME Office held its Third Annual Research Day last spring, where residents and fellows presented a total of 32 projects, divided between 20 in the original research category and 12 in the case report category. The projects spanned dermatology, gynecology, orthopedics, pediatrics, internal medicine, infectious diseases, psychiatry, ophthalmology, gastroenterology, general surgery and radiology.
"By learning how to conduct research," said Dr. Chatila, "young physicians gain insight on how to critically appraise the quality of data presented in published work and judge whether the conduct of any given study is ethical."
This level of engagement, combined with the soft skills that residents and fellows acquire in the process, empowers them to pursue learning beyond surface knowledge.
For third-year psychiatry resident Dr. Hicham Baba, presenting at the Research Day pushed him to be more selective and precise with data handling, advance his public speaking skills and explore better data visualization techniques.
Further to the skills he learned, Baba identified research gaps in his field which he aims to tackle. "There is still limited knowledge in psychiatry on how human behavior is shaped by changes in the brain, and I believe it is our duty as physicians to explore deeper and alternative diagnostic, treatment and preventive modalities," he explained. "Research is the pillar-stone upon which modern medicine stands," he added.
Leading up to the day of presentations, faculty supervisors worked closely with the residents and fellows to help them transform their ideas into research projects. At the event, a diverse jury impartially evaluated and critically appraised every project, providing constructive feedback to help presenters plan better for publishing their work. Its members hailed from various fields in the health sciences, offering a diverse output and enriching exchanges with the residents and fellows.
This year alone, 14 research projects were either published or accepted for publishing in medical journals. To reach that stage, the young researchers undergo thorough preparation, said Dr. Chatila.
A series of 10 lectures prime GME trainees to conduct research. Through these lectures, trainees learn to formulate a research question and select a methodology that best addresses it. They are also taught the various research designs, how to sample the targeted research population and the different statistical methods. The young researchers are also introduced to LAU's Institutional Review Board (IRB) and its ethical standards, as well as the available library resources at the university. They learn how to conduct a thorough literature review and are introduced to the subject of authorship and how to choose a publisher.
Ultimately, the hard work paid off. As per Dr. Chatila, creating a healthy competition, through the Research Day, has been a driver for increasing the scholarly activity and research output of the various GME programs.
"Trainees and their mentors have been keen on presenting their work and showcasing their efforts, especially as presentations were limited to research projects that had met prespecified criteria," she said.
Select poster presentations of the young physician's scholarly output – a welcome addition this year – will be displayed at the LAU Medical Center-Rizk Hospital.