Alumni Spotlight: Joe Ibrahim Sketches his Path to Success from Beirut to Antwerp
MS in Molecular Biology graduate builds solid ground in research at LAU, emphasizes importance of bioinformatics in light of COVID-19.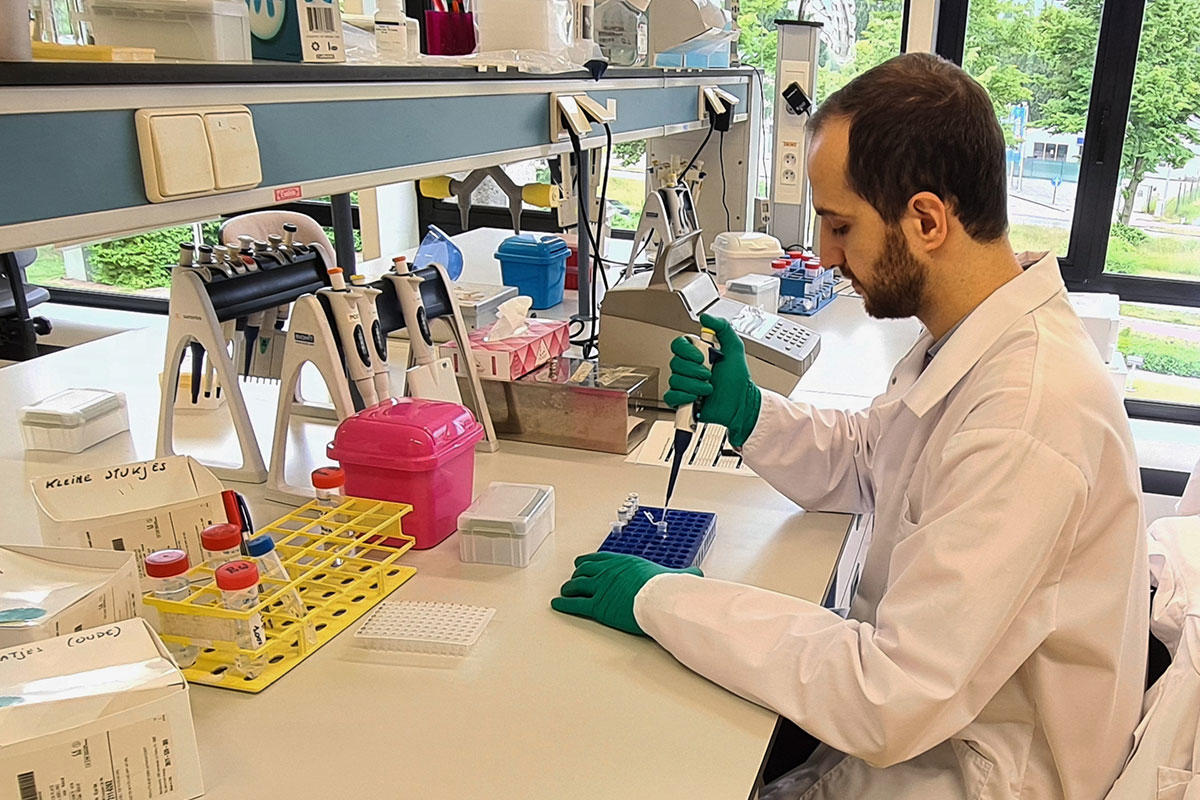 In this first-person account, alumnus Joe Ibrahim (BS '13 MS '15) recounts his journey from completing a BS in Biology and an MS in Molecular Biology (now MS in Biological Sciences) at LAU, to pursuing a PhD in Bioinformatics at the University of Antwerp, Belgium, and penning several published studies in oncology as well as a patent for a diagnostic cancer gene marker.
At LAU, Ibrahim studied under the supervision of Professor of Microbiology Sima Tokajian and Associate Professor of Bioinformatics Georges Khazen in the departments of Natural Sciences and Computer Sciences and Mathematics respectively. He furthered his studies with an MS course in Bioinformatics and Systems Biology at the University of Manchester, UK.
He was awarded the prestigious Flemish Research Foundation Grant for his ongoing PhD work. His research currently involves identifying diagnostic and prognostic cancer biomarkers, using next-gen DNA methylation and expression data.
It All Started Here…
As early as my undergraduate years at LAU, the biology program brought me in direct contact with biological research, especially during my senior project for which I had to complete a "mini" study with the microbiology research group – now pathogenomics group – headed by Dr. Tokajian.
A glimpse of the research at Dr. Tokajian's lab was enough to get me interested in pursuing a graduate degree at LAU. The MS in Molecular Biology program opened my eyes to the wonders of biomedical research, and provided me with formal training in the basics of molecular biology techniques.
I had the chance to work with one of the most recent technologies available at that time: next-generation sequencing. LAU, and in particular the pathogenomics group, was one of the first research entities in Lebanon to perform whole-genome sequencing experiments on clinical samples and I was able to experience this revolutionary technology first-hand.
Due to the multidisciplinary nature of my research project, combining genome sequencing and large-scale data analysis, the use of bioinformatics was a requirement for success. We enlisted the computational expertise of Dr. Khazen as co-advisor, whose input proved invaluable for the completed work.
The state-of-the-art labs – the cornerstone of any biomedical research – offered all the tools necessary to complete my experiments, and the LAU high-performance computing cluster allowed me to run my computational analyses in-house. Throughout the project, I had access to top biomedical research techniques and the newest molecular methods for my research, thanks to the support of my supervisors and lab staff.
A critical aspect of any biomedical research is accessibility to clinically relevant samples for study. These were available in our group through our affiliation with the LAU Medical Center-Rizk Hospital and through Dr. Tokajian's contacts in other hospitals across Lebanon. I was even able to acquire clinical samples from outside Lebanon, which would ultimately be included in my project making it, at the time, one of a kind in the Middle East.
Training, Research and Exposure
Our group's reach extended beyond LAU and Lebanon; we had several collaborations with American and British institutes, namely the University of California and Newcastle University. We worked regularly with international laboratories and biotech for sample processing or analysis, as our lab at LAU was the only accredited facility in the Middle East for epidemiological sequence typing. All of these opportunities enhanced my exposure in the scientific field and better prepared me for future prospects.
Dr. Tokajian, who has a track record of publications and proven experience in microbial genomics, was always ready to offer me and my peers guidance throughout our projects, pointing us to helpful sources, encouraging us to follow courses or trainings relevant to our research, and notifying us about interesting workshop and conference opportunities.
Possessing a positive mastermind approach to problems, Dr. Khazen offered extensive guidance in conceptualizing, utilizing and developing bioinformatics tools needed for experimental data analysis. The laboratory staff and other supervisors also helped us set up, run and optimize our experiments, which guaranteed the fulfillment of research projects.
The courses in the master's degree curriculum were a mixture of practical and theoretical sessions tackling diverse subjects in the field of biomedical and molecular sciences, and have proven invaluable for my PhD.
Support, Personal Growth and Competitive Edge
In addition to financial support, the graduate assistantship program gave me the chance to engage with younger students and practice the skills I acquired through my graduate training. I was encouraged to participate in several symposia and present my work. I also attended monthly lectures by renowned academics hosted by the Department of Natural Sciences, which broadened my perspective on the opportunities in the scientific research track.
The numerous presentation-based projects and courses I undertook at LAU reinforced my self-confidence and communication skills, which I brought to bear in the many talks and project defenses I hold as part of my PhD track.
The several side research studies and collaborations I took part in at LAU, all of which have been published in international scientific journals, gave me an edge in my applications for grants and boosted my prospects for a PhD position at renowned institutions both in Lebanon and abroad. Students in European institutes do not finish their master's courses with as many publications as is usually the case for LAU students.
Although I eventually changed disciplines in the field of biomedical research, the training and exposure I got at LAU prepared me to be a flexible and solution-oriented individual who takes on challenges outside his comfort zone and still succeeds.
Biomedical Research in the Time of COVID-19
As a researcher in the biomedical field during the COVID-19 pandemic, I am pleasantly surprised to see the world rally around researchers and medical workers. The current crisis has highlighted the importance of biomedical research to an unprecedented level, mobilizing the scientific community in ways that no other outbreak or medical mystery has done before. Scientists who are not directly related to the fields of microbiology or virology rose to the challenge. Special funds and grants were put in place for COVID-based research. Tedious paperwork and bureaucracy essential for clinical trials were waived to fast-track studies. All of this reflects the scope of the pandemic and the fact that, for many researchers, the hot zone is no longer an impoverished village in the developing world; it has become each person's hometown.
Another aspect that has received renewed interest in the research community is the call for "open science." Now, more than ever, the need for such an initiative is evident. As a scientist, the COVID-19 crisis has highlighted the possibility of fairly sharing essential findings with the scientific community and publishing them later, something that would have not been possible otherwise. Several high-quality websites and data repositories have been made freely available in the wake of the pandemic, giving scientists and young researchers unprecedented access to scientific data and manuscripts.
As a young scientist, interaction and the exchange of ideas are essential to building a career. The crisis has altered the regular course of things, but we were able to adapt and overcome.
The Era of Bioinformatics
Being a bioinformatician, my work was not directly affected as it was for more wet lab-focused PhD students. I could continue work as usual, given that I had access to high-speed Internet and a computer system. I believe that this underscores the need for every biomedical scientist to have a basic or even semi-advanced knowledge in bioinformatics to be able to keep their research going even during a global crisis. Many of my colleagues have taken up courses in computational biology during this pandemic or were forced to tinker with software on their own to analyze data that they had previously generated. Several projects have even shifted to analyzing raw biological data already experimentally generated in international consortia and deposited in accessible databases.
If there is one piece of advice I would share with young prospective students, it would be to get into some form of bioinformatics as early as they can because the age of large-scale data analyses is now, especially in times such as these. In our research center, even before the crisis, fewer students worked at the lab bench with most spending time behind a screen.
In the face of the current challenges, the scientific community has responded with resilience, adaptation and ingenuity. Though first responders and health professionals are at the frontlines of the fight against the virus, the scientists remain at the core of the solution. The need for governments, universities and funding bodies to support scientists through these troubling times has never been higher. Nothing can replace human to human interaction, but I hope we can learn from our experiences that all sectors of society can work together for everyone's benefit.
The COVID-19 pandemic will come to an end at some point in the next months or years. The threat of cancer, diabetes, cardiovascular diseases, or the plethora of other human diseases, however, will remain indefinitely unless, we as researchers, do something. This crisis will also result in new avenues of biomedical research in the future, which will also be interesting to explore.
My mission is still unchanged; I will go about my research with renewed vigor for perseverance and success. Not even a global crisis of this magnitude will stop us making progress; we, as a scientific community, have too much momentum.