Our Youth's Future Hangs in the Balance
LAU steps up its Emergency Financial Aid Fund in support of students whose education is at stake.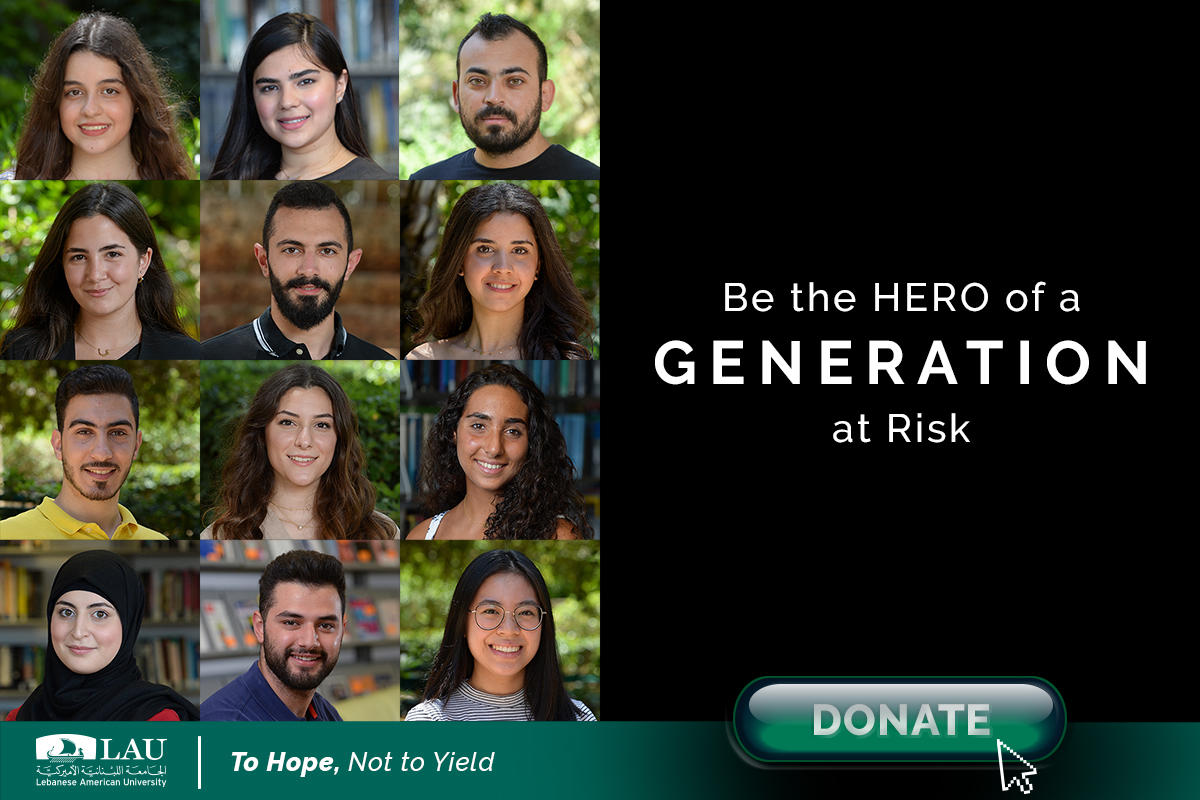 Putting on a brave face, biology major Nour Ghoussaini describes how she had set her hopes on a career in medicine. Hopes that have been dashed by the financial strain her family has suffered due to the economic crisis. As a compromise, she may take up a minor in psychology and pursue an MA in the field. If that ever happens.
Although Ghoussaini had received a generous scholarship from LAU, it was not enough to secure the future she had aspired for. With a brother also at university, she has no choice but to make the best out of a difficult situation. A swimmer and a runner who is unable to enjoy her hobbies under the circumstances, the young student admits that she is not used to dealing with so much stress, compounded by uncertainties and a fear of unemployment.
Ghoussaini though is one of the lucky ones. Friends of hers have had to drop out of university altogether. Others are having to rely on the income of a single parent, if he or she is still employed. And when these young men and women look for a stopgap measure, finding work is not guaranteed in a stagnant job market.
To address their increasing need for financial assistance and help them secure the future they deserve, LAU is stepping up the Emergency Financial Aid Fund, launched in December 2019. Donations raised to-date covered approximately 44 scholarships. In this second phase, the fundraising aims to meet a target of 250 scholarships.
As soon as the economic crisis hit last year, LAU was quick to act. It implemented a series of steps to help alleviate the financial burden the economic crisis placed on students and parents. Raising the financial aid target to $50 million for the 2019-2020 academic year to assist 65 percent of its students, LAU set up the Emergency Financial Aid Fund.
In spite of the fluctuations in the exchange rate of the Lebanese pound, now reaching a figure anywhere above LL 3,500 to the US dollar, the university accepted tuition payments at the official rate of LL 1,500. Significant cost savings realized by an austerity plan were diverted toward financial aid. It also reintroduced loans with no interest until graduation.
And yet, there remains a great number of students who are in dire need of support – a reflection of the magnitude and gravity of the economic crisis that shows no signs of abating. Having exhausted all possibilities, LAU is compelled once again to call on its community whose contributions will not only help students like Ghoussaini but will go much further to safeguard the country's historical edge and its human capital, as always through education.
"The implications of our students forgoing their education are far-reaching," said LAU President Joseph G. Jabbra. "What it means, ultimately, is curtailing the growth of a generation of democratic, civic-minded, free-thinkers who will shape the future of our beloved Lebanon. Investing in their education is an investment in the destiny of our country."
In parallel with the Emergency Financial Aid Fund campaign, said Vice President for Advancement George K. Najjar, "LAU will abide by its austerity plan to limit expenses. But the truth of the matter is we have stretched ourselves to the very limit. We need every support we can get to protect our youth against becoming a casualty of the economic crisis."
Contributions to the fund can be made online at the Emergency Financial Aid Fund.