"No Hierarchy in Healthcare:" Interprofessional Education Put to Practice at LAU
Seminar sheds light on the program's recent accomplishments and restructure.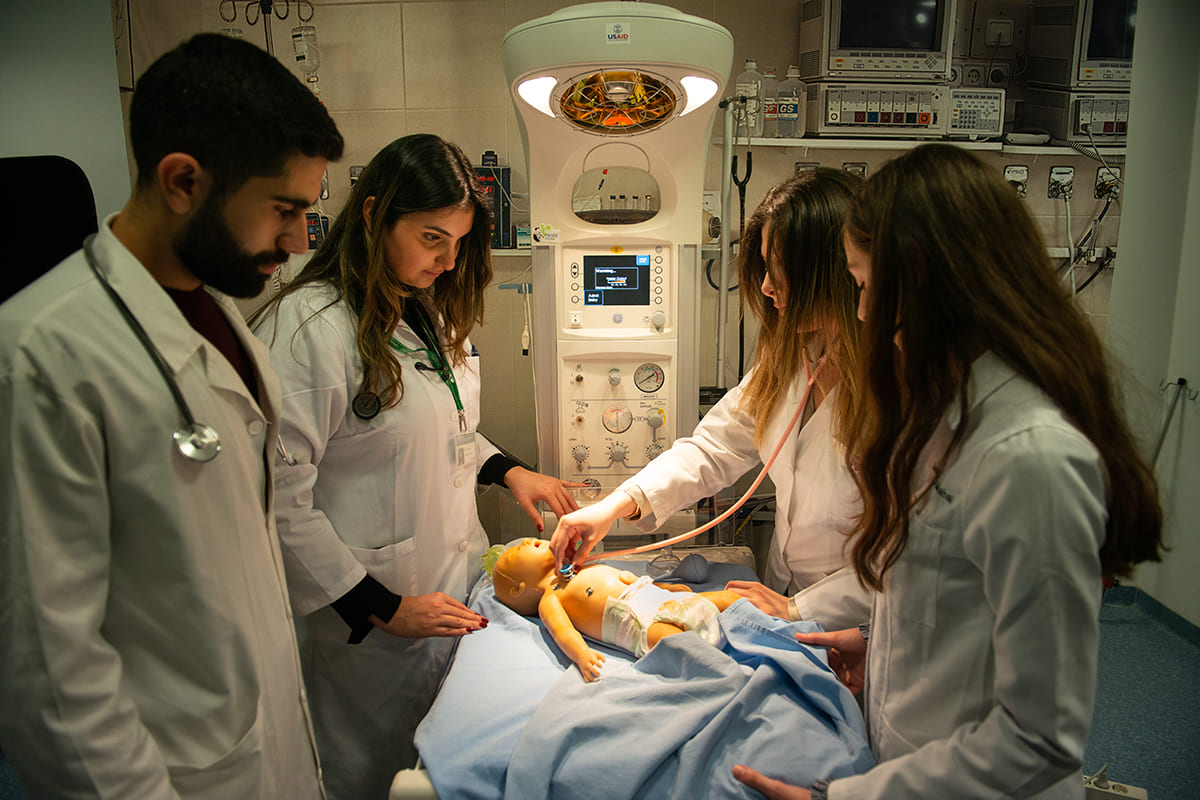 In 2010, LAU pioneered in bringing Interprofessional Education (IPE) to Lebanon where faculty from the Gilbert and Rose-Marie Chagoury School of Medicine, the School of Pharmacy, the Alice Ramez Chagoury School of Nursing and the Nutrition and Dietetics program at the School of Arts and Sciences worked together to design and implement the program.
Following guidelines from the Health Professions Accreditors Collaborative (HPAC), the IPE program at LAU was revised to further foster collaborative practice in the early stages of health education with the aim of improving patient outcomes. Medical, nursing, nutrition and pharmacy accrediting bodies require interprofessional team practice as part of their curricula.
At LAU, the program is led by a workgroup that has devised a program with three core courses and simulation and practice-based experiences to meet IPE competencies for all the respective students.
Over the years, more effort was directed to provide the students with first-hand experience of interprofessional practice at the university's medical centers and health clinics. A number of conferences and seminars have shed light on timely topics within the field, from curriculum integration to maximizing patient safety and preventing medical errors, among others.
"If we invest the time and effort to inform and educate our students about the importance of working as part of a healthcare team, healthcare delivery will be much more efficient," explained the Chairperson of the IPE Program and Dean of the School of Pharmacy Naser Alsharif.
But the above is not enough, added Dr. Alsharif, underscoring the value of exposing students to role models, especially in hospital and clinical settings where pharmacists, physicians, nurses, social workers, nutritionists and other healthcare team members have to work together to optimize patient care. "There is no hierarchy in healthcare and that needs to be put into practice," he said.
At a recent IPE lecture that took place online and in person at the LAU Medical Center-Rizk Hospital on April 27, LAU faculty highlighted the program's milestones, its recent accomplishments and restructure. Titled "Walking the Talk: From Interprofessional Education to Collaborative Practice," the session was co-organized with the Office of Continuing Medical Education (CME), and was well-attended by healthcare professionals, students, faculty and staff.
"We believe that interprofessional education is crucial in preparing healthcare professionals to work collaboratively and provide patient-centered care," said Associate Dean for Faculty Affairs and Development at the school of medicine Vanda Abi Raad.
"This event is a testament to our commitment to providing high-quality education that addresses the changing needs of the healthcare landscape," added Dr. Abi Raad.
Associate Professor of Pharmacy Aline Milane gave an overview of the program's progress at LAU, emphasizing how it has bolstered the university's research footprint. "We have had more than seven abstracts, posters and podium presentations, through which our work, program and data have been visible at three international conferences in the US, Qatar and Switzerland," she said, adding that two original research manuscripts have been published, as well as a book chapter.
As the program is led by an IPE workgroup that is composed of faculty members from the four schools, it benefits from the expertise of each professional, while keeping the patient at the center, said Instructor of Nutrition and Director of the Nutrition and Dietetics Coordinated Program Joelle Abi Kharma.
With the recent restructure, the program opened doors for more clinical practice, through an expansion of the elective course offerings, as Clinical Assistant Professors Wael Salame and Maha Habre explained.
Dr. Habre stressed the importance of having small groups where IPE students benefit from learning in a specific patient scenario, while Dr. Salame invited faculty and healthcare providers, especially physicians, to contribute their ideas on additional elective courses, research topics and opportunities for collaborations in IPE.
At a recent retreat for the IPE workgroup, members stressed the need to further the efforts to build a culture of interprofessional and intraprofessional collaborations between students and practitioners from different disciplines and among students and practitioners within the same discipline.
By impressing the value of teamwork on health sciences and nutrition students, the IPE program ultimately aims to improve safety in care. Effective communication and respecting the role of each professional go a long way in optimizing patient outcomes.