Seminar on Pharmaceutical Waste Spreads Life-Saving Practices
Students were brought up to speed on the importance of pharmaceutical waste treatment and encouraged to take part in international mobility training.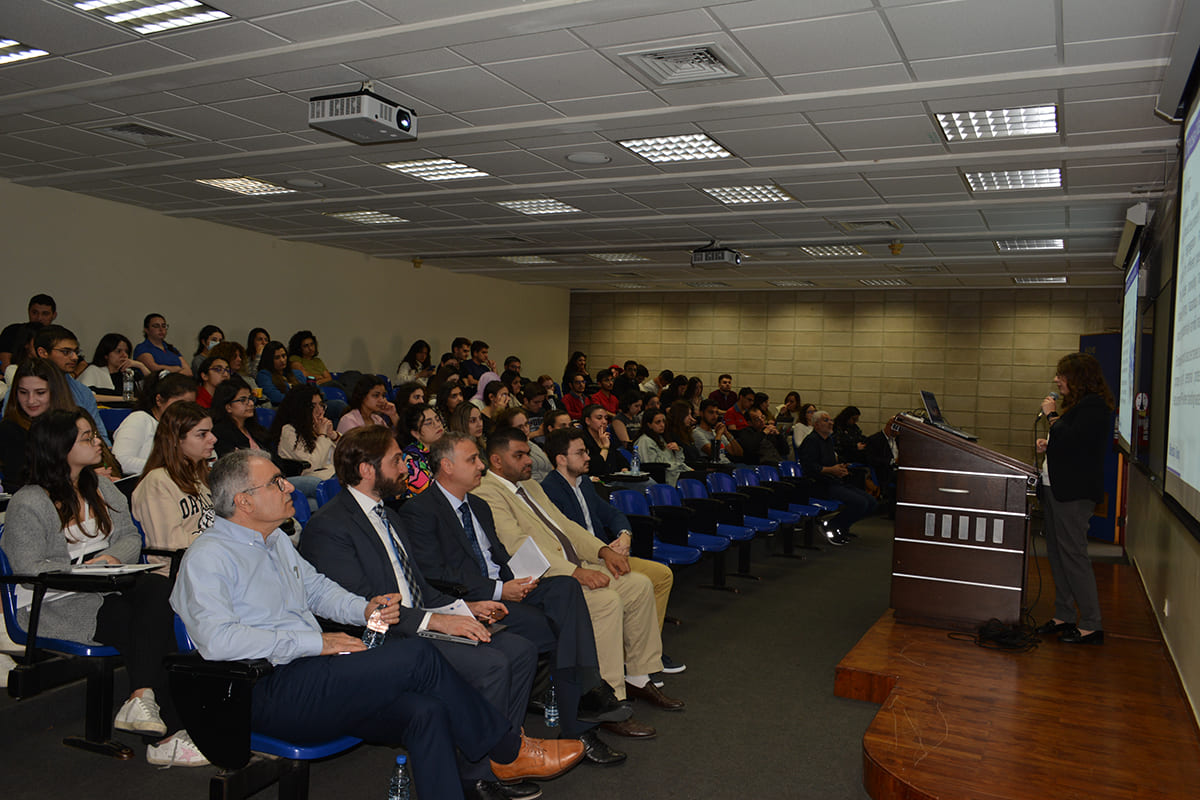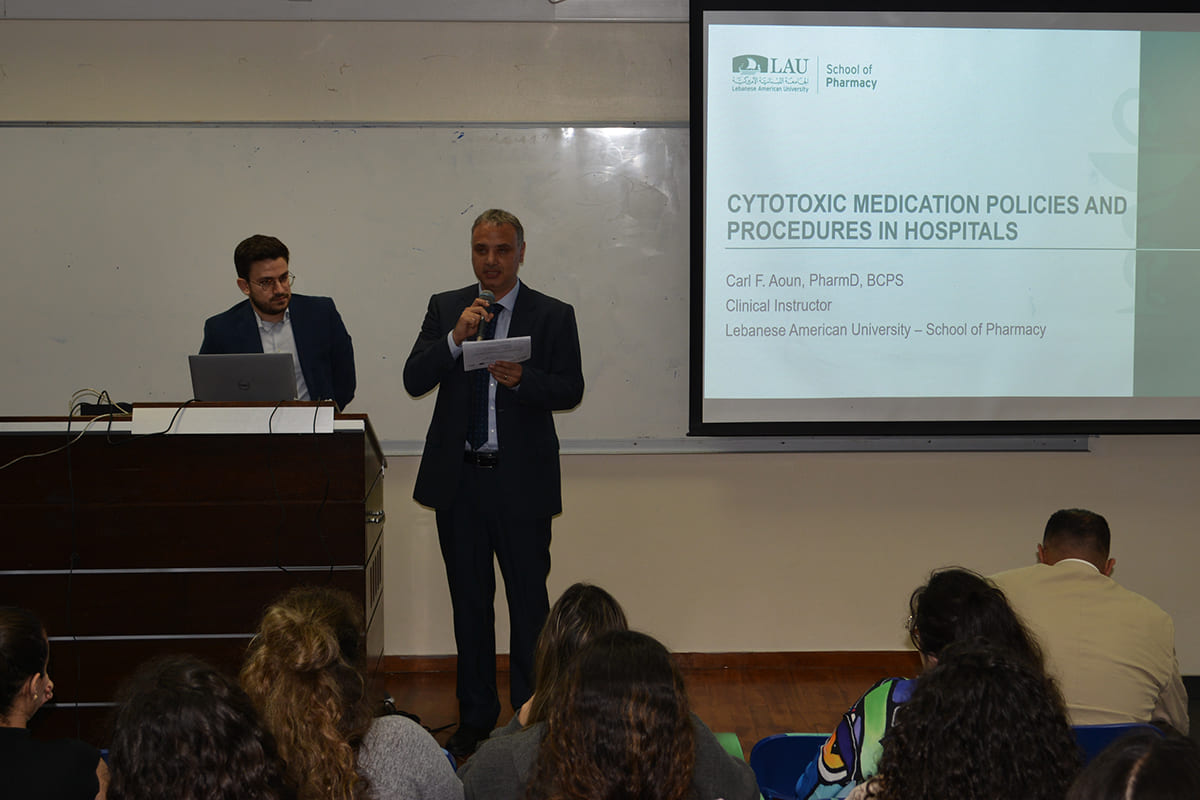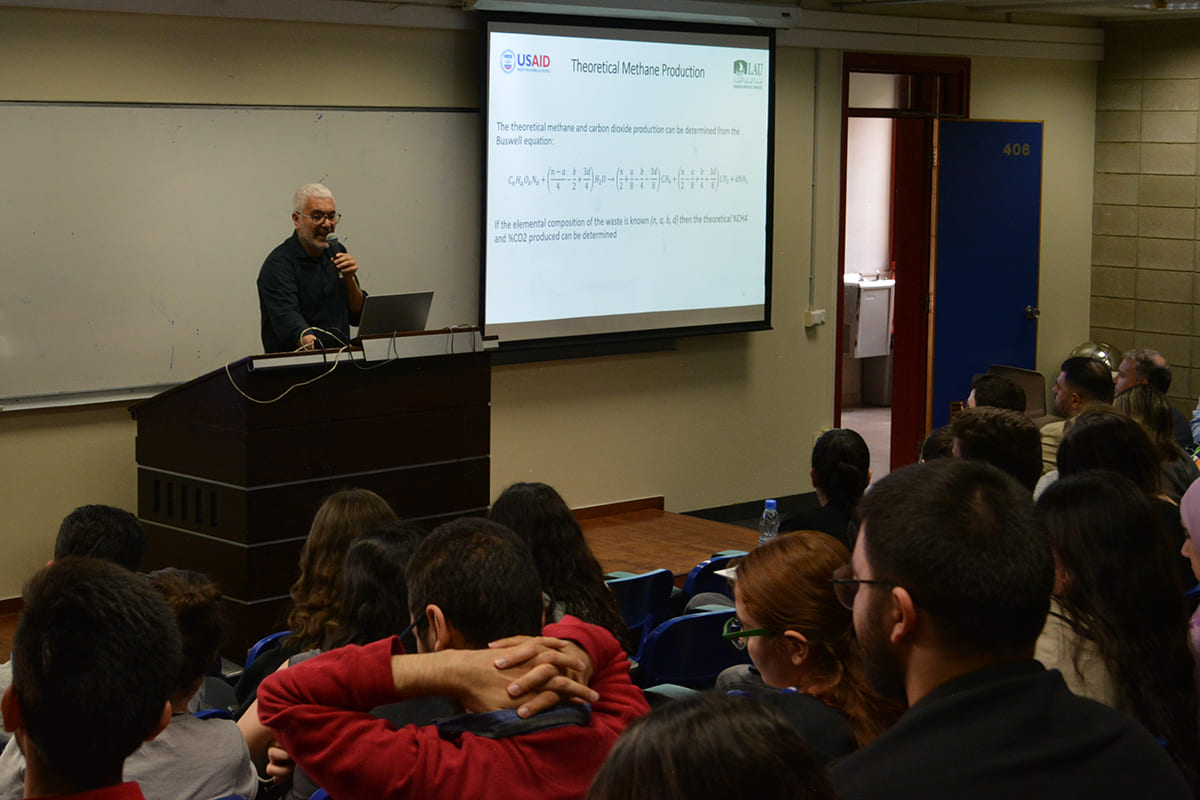 As part of the Erasmus+-funded Sustainable Wastewater Treatment for Hospitals (SWaTH) project, the LAU School of Pharmacy hosted a seminar on pharmaceutical waste with the participation of its faculty and industry professionals.
LAU is among 11 organizations that are part of SWaTH, which is aimed at evaluating hospital wastewater treatment in Lebanon and sharing best practices in hospital wastewater treatment in France, Sweden, Finland and Spain with academics, researchers and students from five Lebanese universities.
Back in 2021, faculty and graduate students from the school joined a group of other Lebanese academics on a mobility training at the University of Granada Faculty of Science in Spain.
At the seminar, SWaTH Project Coordinator and Assistant Professor at the University of Balamand Makram Bachawati urged pharmacy students to apply to the mobility training opportunities available to them through the program.
The program offers an invaluable capacity-building opportunity for faculty and students alike. The seminar falls under the "knowledge-transfer aspect of the program so that more of our students are aware of this unique partnership and the doors it opens," explained Associate Professor and Associate Dean for Academic Affairs Roy Kanbar.
The students' participation in the project is essential as they stand to learn about innovative wastewater management practices, thereby enhancing their academic or career prospects. "Seeing how some of the facilities in Europe treat wastewater first-hand is an unmatched experience that would not otherwise be accessible for them in Lebanon," said Associate Professor Jad Abdallah.
LAU is leading the pharmaceutical aspect of the SWaTH project, namely designing and running a national survey that assesses wastewater management across 136 hospitals in Lebanon while the other Lebanese universities tackle the engineering side, added Dr. Abdallah. An overview of the baseline assessment results was presented by Drs. Kanbar and Bachawati.
The seminar explored correct procedures for disposing of pharmaceutical waste – including expired or unused medication – to mitigate its threat to public health and the environment.
A presentation by Joelle Kawerk, deputy quality control manager of Benta Pharma Industries, a local pharmaceutical manufacturer, discussed the various types of pharmaceutical waste and their impact on human and ecological health. LAU alumnus Antonio El Hajj, who is also a research and development pharmacist at Benta, elaborated on the thermal, physical, chemical, and biological approaches to pharmaceutical waste treatment.
Drawing on examples from LAU's medical centers, Clinical Instructor of Pharmacy Carl Aoun spoke about the proper handling of cytotoxic medications at hospitals.
School of Engineering Professor Mahmoud Wazne shared an alternative perspective on industrial wastewater management based on his extensive experience and research on treating industrial wastewater. In collaboration with the Litani River Authority, Dr. Wazne developed an innovative eco-friendly technology to treat wastewater. Anaerobic digestion – a process through which bacteria break down organic matter in the absence of oxygen – he said can be effective in managing pharmaceutical waste.
Thanks to the faculty and experts, pharmacy students in attendance gained a comprehensive view of pharmaceutical waste treatment, its negative impact, and its management in hospitals.