LAU Faculty Forges Lasting Partnership with BMW
SOE Associate Professor Joe Tekli builds a partnership with BMW that takes students to Germany and back, with opportunities for internships and future degree programs.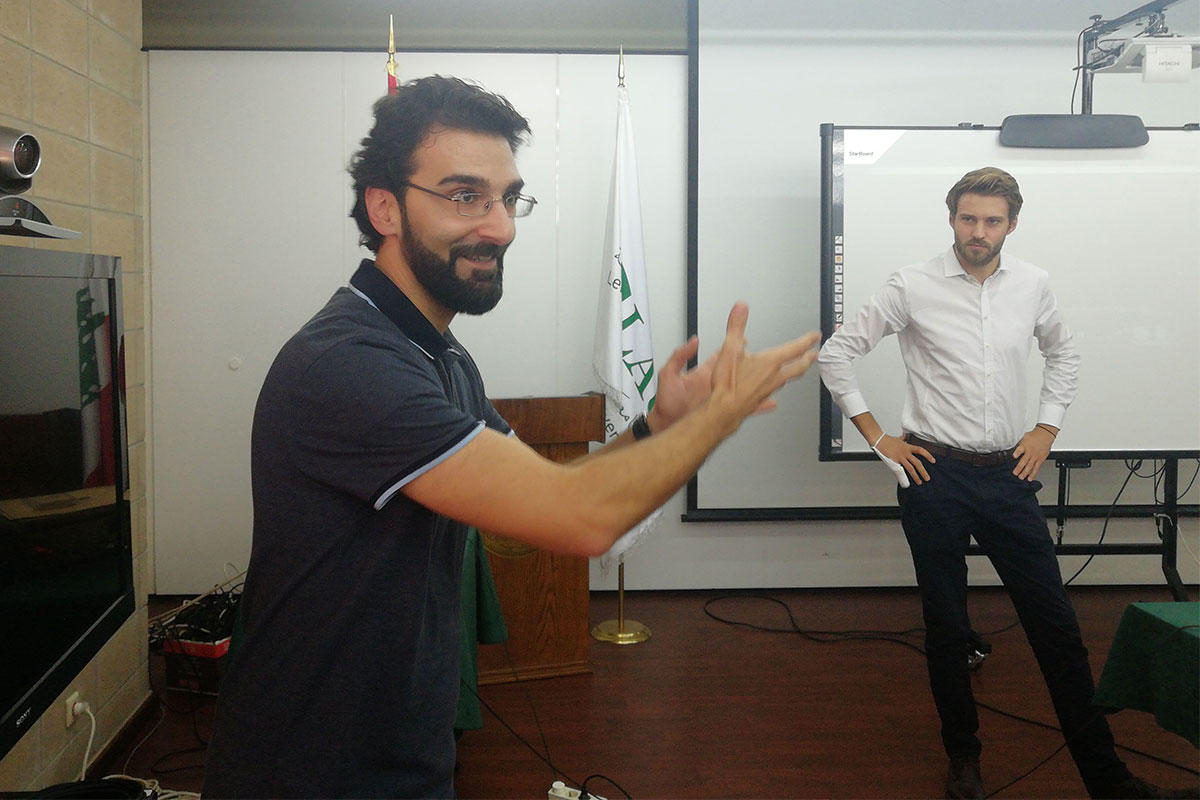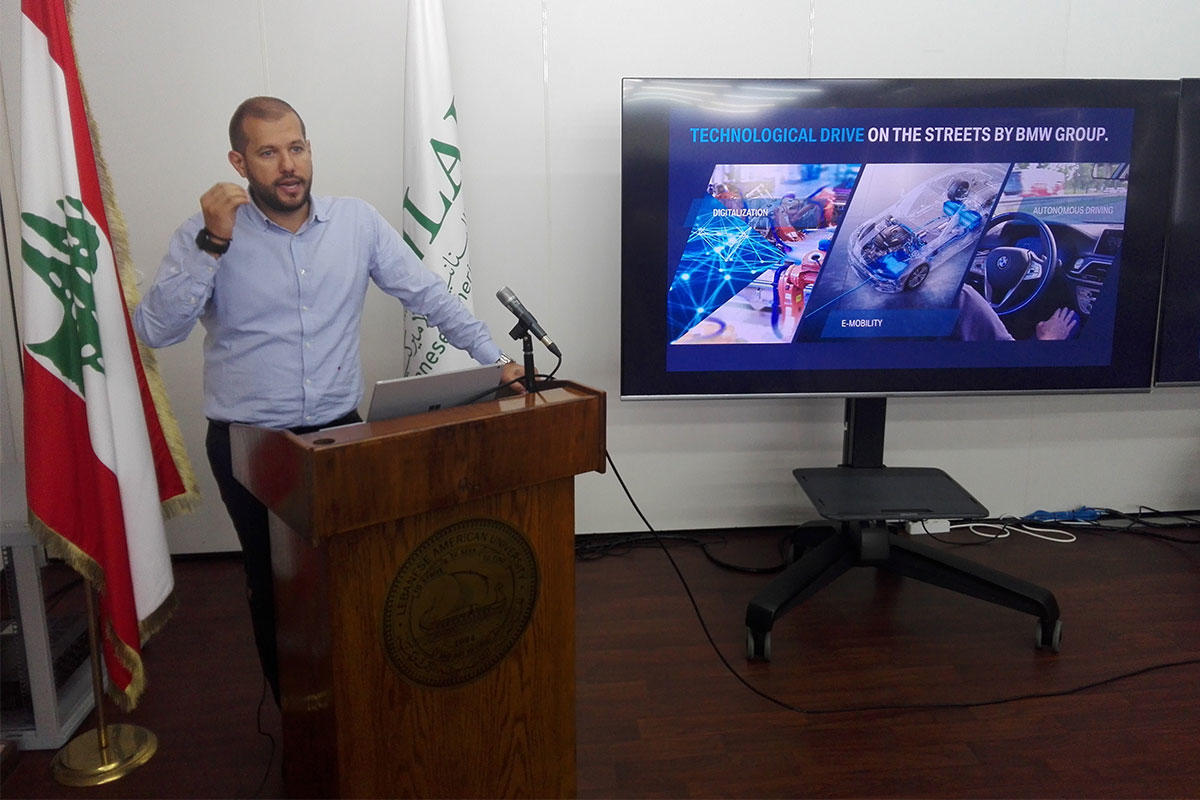 LAU's School of Engineering (SOE) cements its three-years-and-counting partnership with BMW Group, one of the world's largest automobile manufacturers, to promote research and internship opportunities that benefit the students, LAU and BMW at large.
As part of this collaboration, the SOE and BMW committed to developing research and innovative projects which have allowed more than 37 students to complete their internships at BMW Group in Munich, Germany, with an additional 22 students scheduled to start their internships in Summer 2020.
Dr. Joe Tekli, SOE associate professor of electrical and computer engineering, has taken the lead in working with BMW to make the partnership successful.
"LAU currently boasts the largest number of interns at BMW Group compared with all other Lebanese universities combined, which is a testament to the caliber of our students and faculty," he said.
In addition to securing internships for SOE students, Dr. Tekli played a key role in organizing the BMW Group Beirut Hackathon 2019, which was held on Beirut campus in October 2019.
Head of IT Planning Systems at BMW Group Logistics Jimmy Nassif lauded the growing partnership between LAU and BMW through events like the hackathon.
"With the Lebanese American University, we have had a very fruitful and supporting cooperation since 2017. Three years on, we can proudly look back on many interesting projects in very important and trendsetting fields as well as a very successful BMW Group Beirut Hackathon in 2019 on LAU campus, thanks to the SOE team and especially to Dr. Tekli," said Dr. Nassif.
The hackathon brought together 72 distinguished students from eight major Lebanese universities in a 24-hour programming marathon competition with BMW-specific use cases. With the participation with the Ministry of Information Technology in Lebanon, Alfa GSM provider-Lebanon, NVIDIA Corporation and Oracle Corporation (US), this event established stronger scientific collaborations and provided top LAU engineering graduates with opportunities for internships, Master and PhD scholarships, and job opportunities at the BMW Group headquarters in Munich.
"Thanks to this close coordinated cooperation, we ensure that both innovative technologies and highly qualified graduates find their way into future markets," said Dr. Nassif, and students have already reaped the benefits.
Christelle Saliba, a graduate in electrical engineering, participated in the BMW internship program from June 2019 through March 2020.
"My internship was one-of-a-kind experience," she said. "Not only did I gain academic and engineering skills in an international work environment, but I also gained communication skills as teamwork was the most essential aspect of the whole internship."
Current SOE student Mirna el Rajab, echoed the value in an international internship opportunity. "I learned a lot, not only practically, but also socially, especially with all the different cultures and perspectives where ideas merged."
In addition to hands-on collaborative projects, the SOE has also established two iterations of the joint LAU-BMW Group Workshop on Vision Intelligence and Robotics Applications (VIRA '18 and VIRA '19) in August 2018 and September 2019, respectively. The workshops allowed 18 distinguished SOE students who completed their internships at BMW Group to present and highlight their projects and share knowledge and experience with LAU faculty and BMW experts in common fields of interest, including computer vision, artificial intelligence, robotics systems, electronic hardware, mechanical engineering, mechatronics engineering, and control systems.
VIRA '2020, the third iteration of the workshop scheduled for September, will be organized at a national scale and will include former BMW interns, faculty, and students from all major Lebanese universities to present, participate, and build collaborations.
The SOE seeks to further solidify the collaboration between the university and its industrial partners. LAU looks forward to acquiring the BMW I8 – a fully electric prototype car that will deepen the collaboration, contextualize research and innovative projects in automotive-related areas, and mutually benefit both LAU and BMW.
"Staying one step ahead and shaping the logistics of tomorrow is an integral part of our business philosophy," stated Dr. Nassif. "That is why we are constantly working to find innovative solutions for the topics of the future – together with LAU."
As LAU continues to grow and expand, and in accordance with the university's Third Strategic Plan, its students and faculty will continue the drive toward new and challenging application-oriented and research projects.
"We are working with Dr. Nassif and his team to deepen the relationship with BMW Group, who will be offering LAU a brand new BMW I8 plug-in hybrid electric car to be housed in SOE's ELRC starting October 2020, striving to forge a lasting culture of collaboration and applied research, and placing the SOE smack in the middle of the action and breakthroughs that are unfolding in the automotive industry," said Dr. Tekli.
Dr. Lina Karam, SOE dean, is keen to see this partnership flourish further: "The BMW-LAU SOE partnership is a great example of the type of partnerships we would like to nurture with industry partners to promote innovation, use-inspired R&D, technology transfer, and skill development in much needed areas. I would like to congratulate Dr. Tekli and Dr. Nassif for their dedication and for the efforts they put into building and sustaining such a successful partnership. We look forward to working with BMW on strengthening our partnership through joint impactful initiatives."