LAU Celebrates Three Faculty Members for Teaching Innovation and Research Output
Dr. Nadine Zeeni is granted the Teaching Excellence Award, while Drs. Guy Assaker and Jad Melki earned the Research Excellence Award.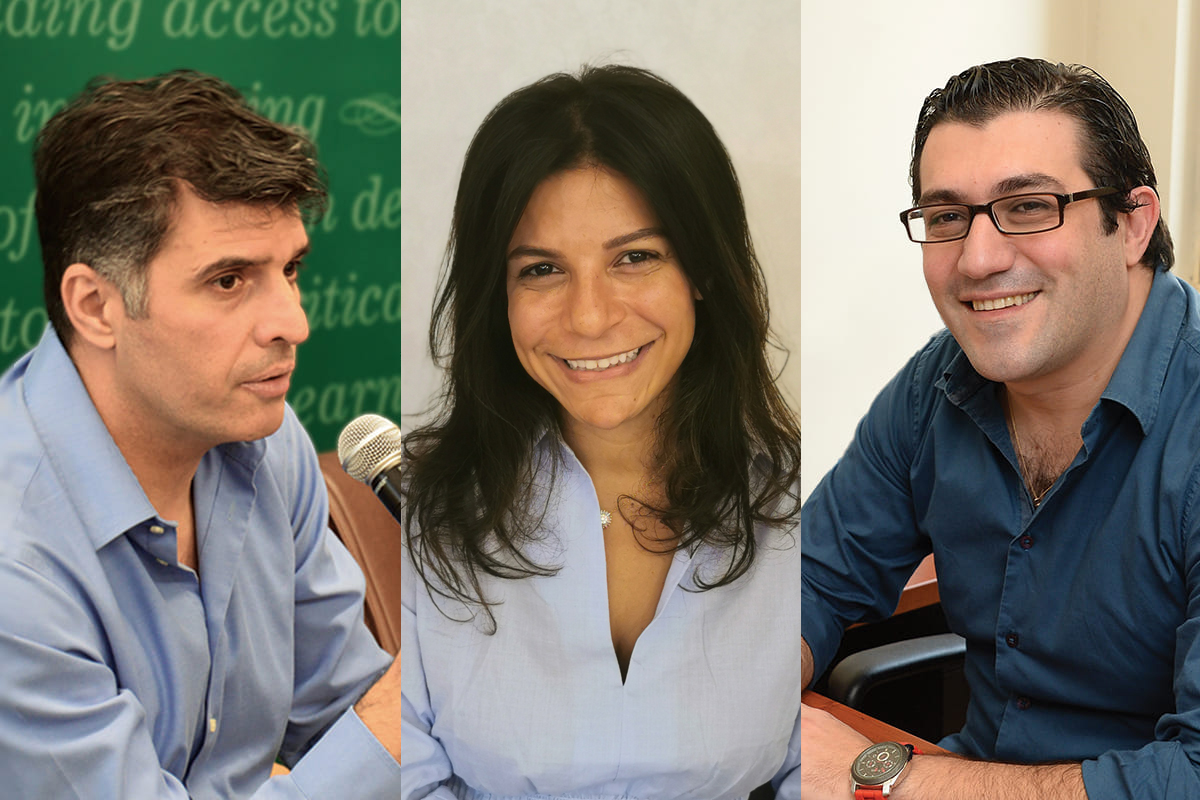 As part of its continuous effort to maintain and raise its academic standards, the Provost's Office at LAU recognizes outstanding faculty every year with two excellence awards.
In this year's faculty meeting, the Teaching Excellence Award was granted to Associate Professor of Nutrition Nadine Zeeni at the School of Arts and Sciences (SoAS), and the Research Excellence Award to Professor of Hospitality and Marketing at the Adnan Kassar School of Business Guy Assaker and Associate Professor of Journalism and Media Studies at SoAS Jad Melki.
Provost George E. Nasr congratulated the awardees whose achievements, he said, "exemplify the university's pursuit of innovation and contribution to knowledge, be it through new learning trends or impactful research."
Recipient of the Teaching Excellence Award: Dr. Nadine Zeeni
Dr. Zeeni has been instrumental in establishing and expanding the Nutrition program since she joined LAU in 2009 and served as the program coordinator for nine years. An active member of the Center for Innovative Learning (CIL), she took on a summer fellowship that helped her revamp her courses and integrate several learning methods such as debates and discussion forums.
She created course trailers and interactive syllabi and shared these innovative teaching methods with her peers, showing how they can be applied both in-person and online. Most recently, Dr. Zeeni has developed and taught a state-of-the-art course on Sustainable Food Systems, in line with the United Nations Sustainable Development Goals. As the coordinator of liberal education for sciences, she works closely with faculty from various disciplines to develop more of these signature courses.
Co-recipients of the Research Excellence Award: Dr. Guy Assaker and Dr. Jad Melki
With more than 50 high-impact publications, as well as technical papers and book chapters on structural equation modeling techniques in hospitality and business, Dr. Assaker serves on the editorial board of high-impact Shanghai journals and scientific committees of leading conferences.
He has garnered several research grants and awards such as the Emerald Literati Award of Excellence for a highly commended paper published in the Journal of Modelling in Management. More recently, in 2019-2020, Dr. Assaker received the Arab Fund Zamalat Fellowship for working on a collaborative research project along with colleagues from France and Australia. He was also a co-recipient of this award at LAU in 2017.
Apart from his work at LAU, Dr. Melki is a visiting faculty member at the Salzburg Academy on Media and Global Change, and an affiliated researcher with the International Center for Media and the Public Agenda at the University of Maryland. He is currently on sabbatical leave at Emerson University in Boston working on his upcoming book Media Literacy of the Oppressed.
His research is at the intersection of digital media and journalism, feminist media, health communication, war and crisis communication, and focuses on Arab media and digital literacy. Throughout his research, Dr. Melki has used a variety of research methods that span quantitative, qualitative, textual analyses, in-depth interviews, focus groups, participant observations / ethnographies, and multinational surveys.
In addition to several institutional and international awards, Dr. Melki received an award for his research on media and genocide in 2019 from the Association for Education in Journalism and Mass Communication, and the prestigious Shoman Arab Researcher Award in 2020, for his scholarship on the impact of social media in the Arab World.
Dr. Melki also received the LAU Teaching Excellence Award in 2019.